Buyer Alert! These 10 New Cars Look Nice But are Cheaply Made
So you're thinking about buying a brand new car and your online research has lead you to this article. An article that features 10 poorly constructed vehicles that are flying off the lots. An article that more than likely features a vehicle you've had your mind on. Well, we're sorry to do this to you; however, the vehicle you were thinking about buying isn't quite the deal you think you are getting.
10 Poorly Made 2017 Vehicles You Shouldn't Buy
We've listed these vehicles in reverse order. Enjoy!
#10 Cadillac Escalade
Interior complaints start with the uncomfortably low height of the second-row seats, then spread to the abysmal legroom found in the third row. From there critics find issue with Cadillac's Cue infotainment system, which remains frustrating at best, and ding it a reliability rating that's worst in its class. Along with Consumer Reports, we suggest looking toward loaded SUVs from GMC and Chevy over this one, because the Escalade just doesn't seem to being cutting the mustard.
#9 Land Rover Discovery Sport
Although legendary off-road prowess can still be found, on the street ride quality and handling are far from sporty. Inside, you'll find a bland cabin, an infotainment system that lags considerably, and while reliability points for the British brand are better than ever, only time will tell how this SUV holds up in the long run.
#8 Maserati Ghibli
While the Ghibli is plenty of fun thanks to its agile handling characteristics, beefy brakes, and sharp engine note, that's about where the good times end in this $80,000 land yacht. Big sedans with a cramped backseat are never a good thing, and overall the interior suffers from being loaded with cheap-looking parts that have been sourced from the FCA parts bin.
#7 Mercedes-Benz CLA
Buying something from an iconic German luxury brand doesn't save you from the risk of buying a dud. The CLA fails to offer Mercedes-Benz levels of ride quality, handling, or refinement expected of the brand, and features a cramped cabin. Accessing the interior can be difficult as well, and while the base price is indeed affordable (the low $30k range), buyers need to spend asinine amounts of money to get the CLA to feel like it belongs on the Mercedes-Benz roster.
#6 Dodge Journey
When we tested the Journey a while back we found it to be one of the most sub-par offerings in the SUV segment. With a confining interior, steering feedback that borderlines on abysmal, atrocious handling, and a V6 that rewards drivers with the worst fuel economy in its class, you can see why we weren't a fan of this compact oddball.
#5 Nissan Altima
Critics complain about the Altima's superficially soft ride, which supposedly loses its cushy buoyancy when sharp bumps appear. Although reliability has improved to the point where it's now ranked as "average," the Altima continues to score poor ratings for its economy-grade interior, driving characteristics, and uneven power delivery.
#4 Chrysler 200
Critics have been slamming the poor 200 ever since it hit dealers, and the latest and final version is accused of offering a vague driving feel that seems like it's straight out of the 1980s. Testing finds that the 200's base four-cylinder engine struggles to inspire, and that its automatic gearbox remains both uncooperative and plagued with recalls.
#3 Mitsubishi i-MiEV
Mitsubishi's i-MiEV is one of the cheapest, smallest all-electric cars on the market today, but we think you'd be better off spending the extra dough and looking elsewhere. Critics refer to this miniature machine as, "underdeveloped, slow, clumsy, and stiff riding," and being so small, the i-MiEV has the crumple zone of a beer can.
#2 Fiat 500L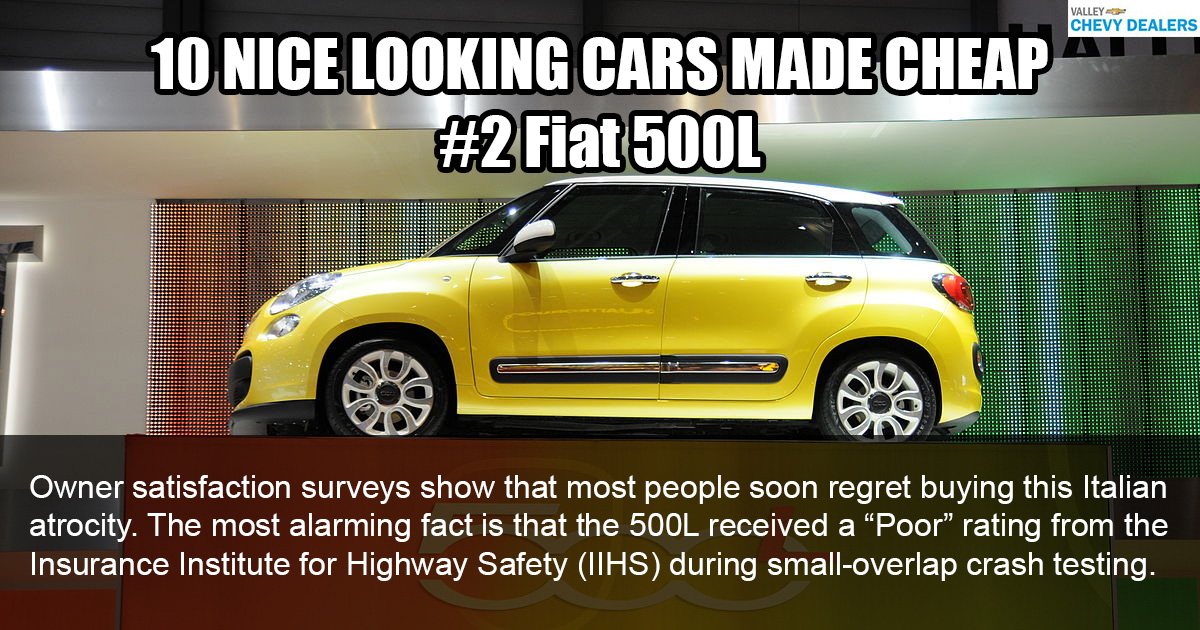 Year after year the Fiat 500L continues to be labeled as one of the worst cars being sold in America. The bubbly compact may respond reasonably well on twisty roads and sports a spacious interior, but that's about where the fun stops. Road-test scores give the 500L low points for its stiff ride, flat seats, and uncomfortable driving position.
#1 Mitsubishi Mirage ESL
All those aesthetic updates can't hide the fact that it's still being powered by an anemic, rough-idling three-cylinder engine that delivers laughable acceleration. Being so small, you could assume that this subcompact handles nicely, but think again. Despite having a fairly roomy cabin, critics and consumers alike find it to be "drab, cheap, and insubstantial," leaving shoppers with little reason to buy one when a base Honda Fit costs about the same.
Ready to Test Drive a Chevy?!
If you're ready to test drive a car that wasn't on this list, visit your
nearest Valley Chevrolet dealer
to test drive a car that won't let you down.
Read more:
This article,
Careful! These 10 Cars Look Nice, but They're Made Cheap
, first appeared on CheatSheet.