How Much Does an Electric Car Cost?
At times, it seems as if the entire country is gravitating towards ditching gas-powered vehicles and going all-electric. Some states have announced that they would like to ban the sale of gas-powered cars in the next few years. With all the talk about going electric, many people are worried about the price of these new all-electric vehicles.
Luckily, Chevy has a new lineup of all-electric vehicles coming out. And Chevy is using innovative technology and manufacturing techniques to help keep the prices down. Here is a look at everything you need to know about the cost of electric cars.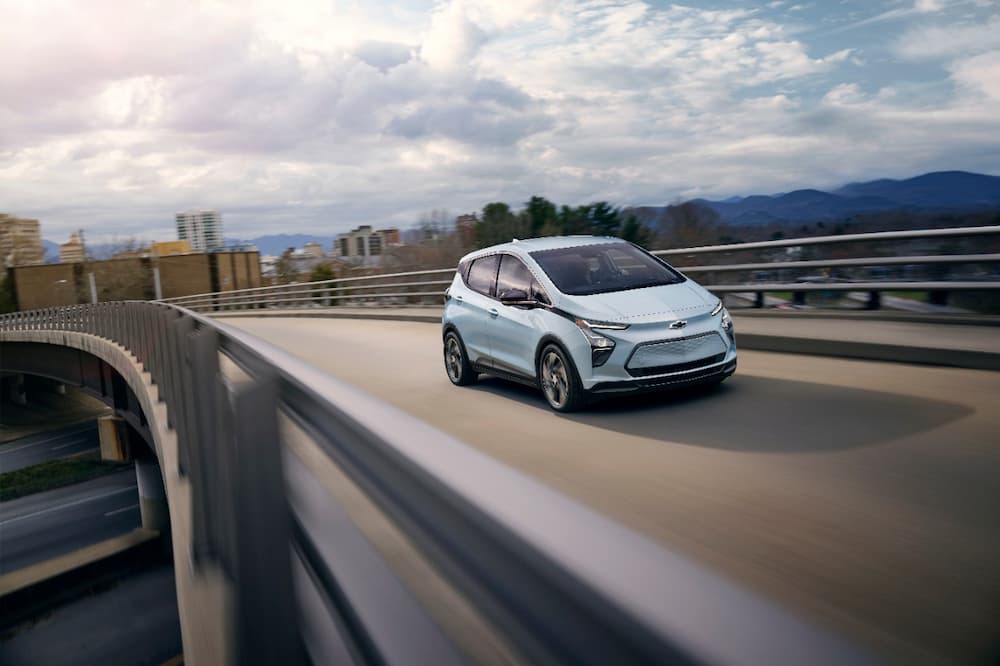 Electric Cars
The average cost for an electric car is around $35,000. However, many all-electric vehicles cost a lot more. The Hyundai Ioniq 5, for instance, has a starting price of about $42,000. If you want additional tech and safety features, it could cost you around $55,000 to $60,000 for the Ioniq 5.
Chevy has an affordable and powerful electric car that is sold at a fraction of the cost of its competitors. The Chevy Bolt EV is a sporty and stylish all-electric car. Its compact design makes it more agile than other cars in its class, as it can easily maneuver in tight spaces. Even though it is a compact car, it is still surprisingly spacious inside and can easily fit up to five passengers while carrying all your luggage and other cargo.
The 2022 Chevy Bolt EV features a powerful electric motor that can deliver 200 horsepower and 266 lb-ft of torque. More standard features come on this year's model as well. However, it has a lower price than last year's model. This year, the Bolt EV has a starting price of around $31,000, which makes it one of the most affordable cars in its class.
Electric SUVs
SUVs are one of the most sought-after types of vehicles. These vehicles are both spacious and versatile, making them an excellent choice for many drivers. And when you take this popular vehicle and add an eco-friendly, all-electric motor to it, it becomes instantly more favored.
Because there is such a high demand for all-electric SUVs, many manufacturers have increased the price of these beloved vehicles. On average, the current price for an electric SUV is around $55,000 to $65,000.
Chevy has the perfect solution for you if you are looking for an inexpensive electric SUV, also known as an EUV. The Chevy Bolt EUV is one of the most budget-friendly vehicles in its class. It comes with an all-electric powertrain that can deliver 200 horsepower, go from 0 to 60 mph in a little over six seconds, and travel up to 247 miles on a single charge.
The interior is spacious and luxurious. It comes standard with an extra-large 10.2-inch touchscreen infotainment display, a digital instrument cluster, and a wide range of standard safety and driver-assist features. Because Chevy uses innovative manufacturing techniques, they created this stunning vehicle at a fraction of the cost of other cars in its class. The 2022 Chevy Bolt EUV has a starting price of $33,500.
Luxury Electric SUVs
Luxury all-electric SUVs are another hot commodity right now. Usually, the interior is adorned with premium materials and features all of the latest technological updates. If you want to purchase an electric luxury SUV, you will probably spend over $70,000. However, Chevy has an exceptional all-electric model for a fraction of the cost.
The all-new Chevrolet Blazer EV is a stylish, luxurious, all-electric SUV set to hit dealerships in 2023. This vehicle has a spacious interior that can seat up to five occupants and offers plenty of cargo room in the back. In the front, drivers and passengers can enjoy the massively sizeable 17.7-inch touchscreen infotainment display and the extra-large 11-inch, fully customizable driver information display.
The electric motor is impressive and can go from 0 to 60 mph in just four seconds. It also has an estimated range of 320 miles. The starting price for the 2024 Chevy Blazer EV is around $45,000.
Electric Pickup Truck
Chevy pickup trucks have long been known as some of the market's most rigid and capable pickup trucks. This year, Chevy announced that it would transform its highly popular Chevy Silverado into a powerful, eco-friendly vehicle.
The all-new 2024 Chevy Silverado EV has an impressive electric motor that can travel up to 400 miles on a single charge, tow up to 10,000 pounds, and deliver up to 664 horsepower. The interior is also spacious and well equipped. Chevy will offer the Silverado EV in a few different trim levels, but the base model will have a starting price of around $40,000.
Test Drive a New Chevy EV in Phoenix Today!
There are so many budget-friendly all-electric Chevy vehicles to choose from currently. If you have any questions about any of the vehicles listed or would like to schedule a test drive, don't hesitate to get in touch with any of our local Valley Chevy dealers today.
Photo Credit: Chevy Pressroom