2021 Chevrolet Chevelle Release Date, Price and Specs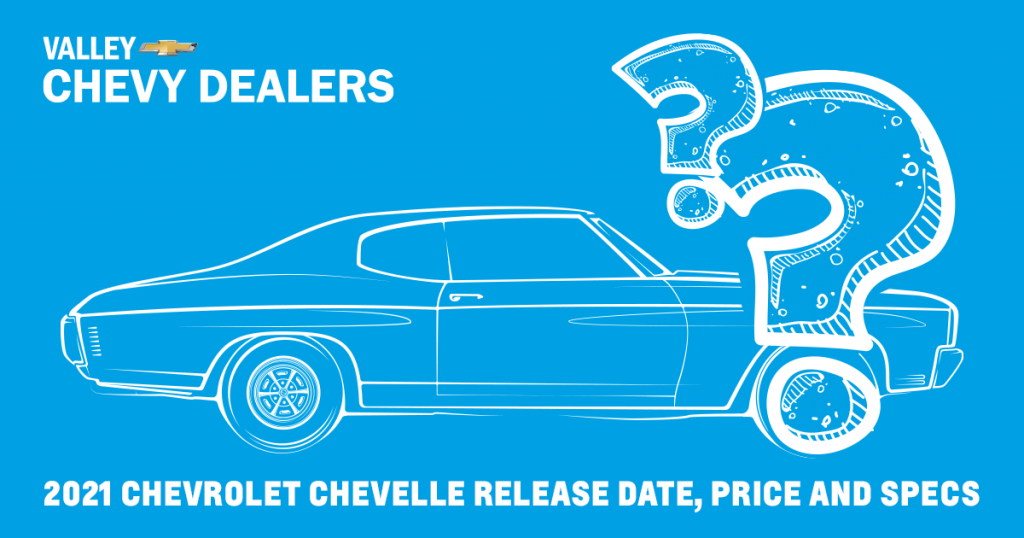 The original Chevrolet Chevelle was produced in 1964 and quickly made a name for itself among midsize cars. It was in production through the rest of the 1960s and most of the 1970s before being discontinued in 1978.
Even though GM discontinued producing the vehicle, many automobile enthusiasts have made it become one of the brand's most successful products. The Chevelle's run left behind a lot of fans who were wondering if they'd ever get the chance to buy a new Chevelle again.
Is Chevrolet Bringing Back the Chevelle?
We got excited when Chevrolet created a Chevelle concept model and showed it off at the North American International Auto Show back in 2003.
That model looked phenomenal thanks to its use of the Chevrolet SuperSuper design. It had the same aggressive posture and assertive lines that made the Chevelle such a hit when it originally came out in the 1960s. Unfortunately, that 2003 concept never went into production.
Now Chevrolet is making a new Chevelle Concept car to be introduced to the world in 2021. We're not sure yet how many different concepts Chevy will run through before they designate the vehicle for production.
They're using the 2003 model as a starting point, though, which may imply that they've made some sort of breakthrough to make this car more feasible.
For now, all anyone can do is wait until 2021 and see what Chevrolet's engineers have been working on when they display their newest Chevelle at an auto show. That gives us plenty of time to take a deep dive into this vehicle's storied history and consider how the past will inform the future.
Chevy Chevelle History
The first Chevelle hit the ground running, selling more than 76,000 cars right after being introduced in the 1964 model year. There were two separate engine sizes, each of which was available with multiple configurations. In 1964, the Chevelle could already achieve a maximum horsepower of 300.
The least powerful Chevelle available still managed 195 horsepower, which is still impressive compared to many midsize cars (especially considering that it was almost six decades ago).
In the middle of the 1965 model year, only a year after the Chevy Chevelle concept was introduced, Chevrolet took this already-powerful vehicle to the next level. They released the V8 engine known by some as the RPO Z-16.
This brought the horsepower up to 350, and Chevy still wasn't finished improving. They also introduced the 1965 Chevelle Z-16 with a big-block V8 capable of up to 375 horsepower and 420 lb.-ft. of torque.
The Chevelle continued as a midsize car until 1973 when it was redesigned and became significantly larger. The car was no longer as sporty as it once was, and it was no longer available as a convertible.
Part of the reason there were no convertible Chevelles from 1973 to 1977 was that the top now had columns extending up from the side of the car to the roof.
This same period saw the Chevelle become less sporty and introduce a luxury series. A Chevelle coupe did arrive in 1976, but unfortunately, that was too little, too late for the legendary car.
Many people who are lucky enough to know what early Chevelles offered drivers have been waiting a long time for the revival of the beloved Chevy powerhouse. Now that we may be getting close to some big answers, excitement is swelling, and rumors are swirling.
It's hard to know when you can trust new car rumors and when you can't, but that doesn't stop people from talking. We expect the 2021 Chevelle to be a hot topic until it's released, especially as the big reveal gets closer, and anticipation reaches a crescendo.
2021 Chevrolet Chevelle Rumors and News
Sources had said that the 2021 Chevelle concept would be smaller than a midsize sedan, which makes sense when you remember how the Chevelle went on the path toward discontinuation when it got bigger in 1973. The vehicle will have a classic style about it, which is in line with what we saw from the 2003 concept model.
There are also rumors that Chevrolet is preparing the Chevelle for the Detroit Auto Show in 2021. Otherwise, the renowned American carmaker is staying pretty quiet about the potential 2021 Chevelle concept. As the concept unveiling gets closer and the design is refined, we may start to get more hints about things to come.
Chevy Chevelle Nameplate
Chevrolet filed for a trademark related to the Chevelle back in 2013, which shows that they were already thinking about the vehicle they're currently working on. The trademark was related to exterior badging for display on this vehicle. Trademark regulations require that companies have something to show before they're eligible for a trademark, so it seems reasonable to believe that Chevy has made strides since the last concept car in 2003.
Some might say that new exterior badging isn't the thing they're most excited for when it comes to the new Chevelle, and that's a fair point. Most will likely be more interested in the overall appearance as well as the power of this new vehicle.
All the same, this trademark suggests that Chevrolet is putting a lot of thought into how they want this vehicle to look, and coming up with some original ideas worth protecting.
Furthermore, it's even more proof that they're taking the 2021 Chevelle seriously and have already been making progress toward it for years. You can't rush art, and this new vehicle is likely to be a masterpiece.
2021 Chevelle Design
It's hard for car enthusiasts to wait while companies take the time to figure everything out for new designs. The great thing about designing concept cars, though, is that they allow carmakers to make bold decisions and set high goals.
Things can be tweaked, improved, or scaled back for future iterations as necessary. Given that a concept vehicle was introduced in 2003 without being put into production, we trust that the new Chevelle won't be produced until it's ready.
The engineers at Chevrolet are known for making the most of all available technology to craft vehicles that can offer beautiful appearance as well as incredible performance. It's interesting when that approach to building cars combines with a classic vehicle.
We've recently seen this company pull off a modern approach to classic power with the newer Corvettes, so it can definitely be done. We already have a few ideas of how it might look for the 2021 Chevelle concept.
2021 Chevrolet Chevelle Engine
Those who loved the original Chevelle will want to know what kind of innovation the newest concept can offer. We've heard rumors that the Chevelle might come with a six-liter V8 engine sending formidable power to a six-speed manual transmission.
The very first Chevelle had 300 horsepower in 1964, and we wouldn't be surprised if the 2021 concept brings 400. That kind of power in a compact to the midsize body would make for a thrilling experience.
The manual transmission would certainly add something that's likely to appeal to people who would already be interested in this car. The Chevelle is likely to make headlines for both its power and for the history behind it.
Many serious drivers who want a sporty and powerful vehicle will be interested in the control afforded to them by a manual transmission. Those who find the Chevelle appealing more because of its place among the all-time American classics will respect the stick shift out of nostalgia.
GM Zeta Platform
There is some speculation that the new Chevelle will use GM's Zeta platform. Developed by GM's Australian subsidiary, Holden, Zeta has also been called the "Global RWD Architecture." The architecture is designed to be extremely flexible and accommodate vehicles with a wide range of different wheelbase lengths, rooflines, and ride heights.
It will be interesting to see if a Zeta platform Chevelle becomes a reality since we haven't seen GM deploy this particular rear-wheel-drive platform since they stopped making the Holden Commodore for the Australian market back in 2017. We don't know that Chevrolet would resurrect an idea so quickly after putting it aside, but it could be that the new Chevelle has them in the mood to revisit some of their other promising designs.
Chevelle Concept Technology
Any new version of the Chevelle has always been destined to be a blast from the past, and many of the rumors we hear support that idea. Even so, car enthusiasts have to know that Chevrolet isn't going to release anything that's outdated or underwhelming.
This concept will surely marry a rich history with an exciting future to produce something that can only be described as a present to the automotive community. Expect it to have state of the art technological features both in the dash and under the hood.
Chevy has proved time and time again that, while they never stop improving, they also know how to stay true to their past. There will be homages paid to the things that made the earlier Chevelle such an icon, but it will also be a step forward for the American automotive industry. The 1964 Chevelle was ahead of its time, and this one will be too. The classic design will have contemporary touches, and the performance will be something new for us to enjoy.
2021 Chevelle Appearance
When you think about the Chevy Chevelle, some things immediately come to mind. It was known for long, straight lines that started right up front with a wide grille. It was the angles and contours of the Chevelle that really made it so special and memorable.
The way Chevrolet's design team was able to connect relatively flat planes helped make the car look rigid and tough without being boxy. At the same time, it was sleek and sporty without being whimsical or pretentious.
It was those seemingly impossible combinations that made the original Chevelle such an icon. The 2021 concept model is likely to be aiming for a similar balance. It might be one of those cars that looks like a luxury vehicle from far away but seems to transform into a track-ready monster when it pulls a little bit closer. It's just not possible to say what the new Chevelle will look like at this point. Given Chevy's track record, though, we're sure it will be worth a second look and then some.
2021 Chevelle Release Date
We've heard the rumors that this concept will be unveiled at the 2021 Detroit Auto Show, but there isn't much to substantiate that. Realistically, this vehicle could be displayed for the first time at any point in 2021. We certainly hope it's sooner rather than later.
Even if the 2021 concept is a success and the vehicle gets designated for production, it will likely be at least a year or more before the new Chevelle model is available for sale. It's been so long since we've had new Chevelles that it's worth waiting just a few more years to get something polished.
Test Drive the 2021 Chevelle
For now, all we can do is speculate about whether or not the return of the Chevelle concept will live up to our expectations. Looking at the quality vehicles, Chevrolet has been releasing recently; it's safe to be optimistic.
Based on the work they did to make the 2020 Corvette the most powerful Corvette ever, it seems evident that the engineers behind these vehicles have a solid understanding of how to deliver massive amounts of muscle. As soon as this car becomes available, we'll be bringing it to Arizona.
Find your closest Chevy Dealer location and prepare for the return of one of the most epic vehicles in American automotive history.