Chevrolet's Electric Corvette – Coming Soon?
The 2025 Corvette EV, the first of its kind, will make an appearance in 2024. This is an exciting new development for the American supercar, and it marks a big change. For as long as the legendary Chevrolet Corvette has been around, its powerful gas engines have been a key topic of conversation. 
A few years ago, the track-ready performance car made a splash by literally putting the engine at the center of the vehicle. It was a massive step forward for the 'Vette when the mid-engine Corvette hit the scene. Now the engineers at Chevrolet have set their sites on a new innovation: the Electric Corvette.
Electrified Chevy Corvettes Are Coming!
It's become clear in recent years that Chevrolet wants to make electric vehicles for everyone. At first, we thought this meant making versatile, capable, and affordable EVs. The next thing you know, there are rumors about an electric supercar under the Corvette name.
GM President Mark Reuss has confirmed that the Corvette EV is going to make its debut shortly after the Corvette hybrid comes out in 2023. The carmaker has been fairly tight-lipped about the details of the all-electric Corvette EV so far. It's hard to keep things quiet when something is this exciting, though, so we already know a few things about the electric 'Vette.
Preparing for the 2025 Chevrolet Corvette EV
The Corvette brand is a massive asset for GM. They're not exactly going to slap the race flag emblem on a big, goofy EV. Can you imagine the uproar from gearheads if the first all-electric vehicle to bear the 'Vette badging was anything less than a beast at the track?
There are rumors that the Corvette EV will be able to produce roughly 1,000 horsepower and come with all-wheel-drive as a standard feature. For reference, the 2023 Corvette Z06 has 670 horsepower. That's already enough to get the gas-powered 'Vette from 0 to 60 in only 2.6 seconds. If the rumors are true, the electric version will be adding another 330 horsepower to that.
The Corvette EV's interior is expected to be similar to the cockpits in the gas-powered 'Vettes of today. So when all of that electric power throws your head back in the seat, it will be the same kind of seat. This will create a consistent experience that should please even the most old-school Corvette purists.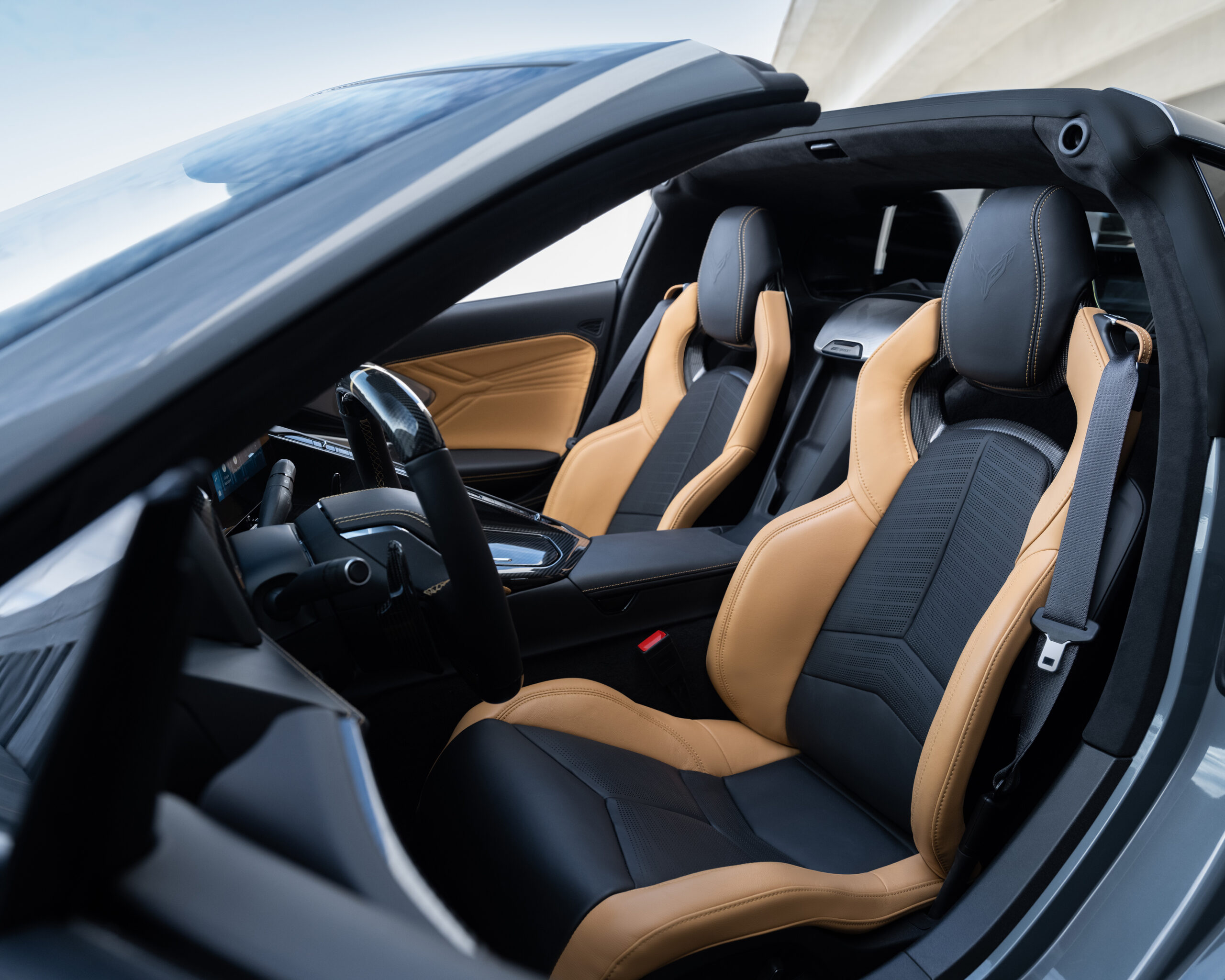 Electric Corvette C9 Release Date
Chevrolet hasn't even announced a firm release date as of the beginning of 2023. While automotive reporters and internet sleuths have done a good job getting ideas of what the Corvette EV promises, there aren't too many hard details to be had. We'll all have to keep waiting for the specifics to trickle out in announcements over the course of the next year or two.
The best bet, for now, is probably that the first electric Corvettes will roll off the assembly line sometime in 2024. The 2025 Corvette EV will likely be the first model year.
Corvette EV Price
Chevrolet hasn't announced a price for the all-electric Corvette yet. If details like the release date and specs are still up in the air, even GM might not know exactly where they'll have to set the pricing. It seems likely that the starting price will be closer to the Corvette Z06's base price than the Corvette Stingray's. 
That means you can expect to pay closer to $100,000 than $60,000 if you want to get the Corvette EV in your garage. To be fair, the price for an average electric vehicle is $66,000, according to a Kelley Blue Book estimate from September 2022. Corvettes have never been average, so it stands to reason that the electric version will retail for a premium price.
What We Learn From the Corvette E-Ray
The first hybrid Corvette, the E-Ray, is scheduled to arrive in the Summer of 2023. Because a hybrid is a partial step toward the all-electric Corvette, it's worth noting the information that's leaked about the E-Ray so far:
Widebody design like the 2023 Corvette Z06

Hybrid power

6.2-liter V8 with 495 horsepower like the 2023 Corvette Stingray

An additional electronic motor contributes an unknown amount of added horsepower

Rumored total horsepower of 650

The rear wheels draw power from the V8, while the electric motor sends power to the front wheels
This is a totally different model because it still uses a gas-powered engine, but at least it's an early glimpse of what Chevrolet can do with its technology.
Why Are They Building an Electric Corvette?
This comes as part of Chevrolet's plan to stop producing diesel- and gas-powered vehicles by 2035. To prepare for an all-electric vehicle lineup, the legendary automotive brand has announced all kinds of future Chevy EVs. The leadership at Chevrolet certainly has a vision. 
GM CEO Mary Barra has been upfront and open about the company's goals for the next decade or so. She told CBS News, "We want to lead in EVs. Full Stop. And That's where we're aggressively moving." 
If the famous American auto brand wants to be a leader in EVs, why wouldn't they create an electrified version of the Corvette? This vehicle has already been a leader among gas-powered sports cars for decades. Next, it's going to become a leader among performance EVs.
Chevrolet made this commitment to electrifying its line of vehicles partially to do its part in the fight against climate change. At the same time, the brand remains intimately in touch with what drivers want. In an interview with TODAY, Barra said, "I think we're actually getting close to a tipping point where consumers now are much more willing to consider an all-electric vehicle because they see the benefit."
Releasing electric Chevrolet Corvettes will certainly win some hearts and minds. This is only one more piece of the automotive company's plan to hit its environmental goals and delight drivers at the same time. It sure is an exciting one, though.
A Corvette EV Isn't Entirely Surprising
Ten years ago, or even twenty years ago, it would have been hard to imagine an all-electric Corvette. At that time, electric vehicles had reputations for being underpowered and unexciting. Such an experience would never do for a 'Vette. A lot has changed since then, though, and EV technology has advanced enough to empower performance that's worthy of the Corvette badge.
We've seen other electric vehicles post impressive track speeds, so it stands to reason that the Corvette would rise to the challenge. We know Chevrolet has the resources to make it happen, too. After all, we've even seen plans for the 2024 Silverado EV that will produce 754 horsepower without using a drop of gasoline. Once the engineers at Chevrolet started creating that kind of goosebump-inspiring power with electricity, it was only a matter of time before they developed a new, environmentally-friendly Corvette.
Find a Phoenix Valley Chevy dealership near you to learn more about the upcoming Chevy Corvette EV and Chevrolet's fully electric vehicle lineup.
Photo Credits: Chevy Pressroom