2022 Chevy Sports Cars & Supercars
2022 Chevy Sports Cars
Are you in the market for a new sports car and interested in learning which Chevy vehicles match your criteria? If so, click here to see the line-up of Chevrolet's exciting 2022 supercars and two-door sports cars. 

The Corvette Stingray began its life as a small, sporty convertible; it evolved with the times but remained an icon throughout its eight current generations.
Starting at just $62,195, the 2022 Corvette Stingray brings exotic mid-engine looks and performance in an accessible package. 
Design
The Corvette Stingray is available in either a removable Targa top or fully-automatic retractable convertible, open-air highway runs have never been more fun. Taking inspiration from fighter jets, a luxurious driver-oriented cockpit of leather and brushed aluminum envelops the driver with leather and brushed aluminum, with lines of buttons and optional carbon fiber accents. The Custom Interior Trim package allows owners to select from a range of colors and materials for seating surfaces, featuring perforated or suede microfiber, as well as seatbelt color.
Performance
The naturally-aspirated 6.2L V8 engine resides behind the passenger seats, visible through the rear coupe hatch. It is rated at 490 horsepower and 465 lb-ft of torque. Power is sent to the rear wheels via a dual-clutch eight-speed automatic transmission. It only takes 2.9 seconds to reach 60 mph from rest with the Z51 package.
The Z06 Brings the Corvette Stingray to proper supercar territory. It features a 5.5L flat-plane crank V8 and is the world's most powerful naturally-aspirated V8 with 670 horsepower, 460 lb-ft of torque, and an 8,600 RPM redline. The Z06 reaches 60 mph with launch control engaged in a blistering 2.6 seconds. Stopping all that speed are 6-piston Brembo brakes. Exterior styling becomes more aggressive front functionally-aerodynamic front fascia and side intakes that channel air to heat exchangers to cool the engine. The quad-tip center-exit exhaust and staggered (20" front, 21" rear) wheels are available in forged aluminum and carbon fiber.
Features
An electronic front lift system is available that raises the front suspension to help clear obstacles like speed bumps or steep driveways; the system saves up to 1,000 GPS-pinned locations. 
Driver Mode Selector allows drivers to electronically adjust 12 performance variables to customize their drive for any road.
Since 1953, the Corvette has remained an American icon, an evolving symbol of speed and power. 
To experience the performance best sports car and American supercar Chevy has to offer, schedule a test drive with Valley Chevy today!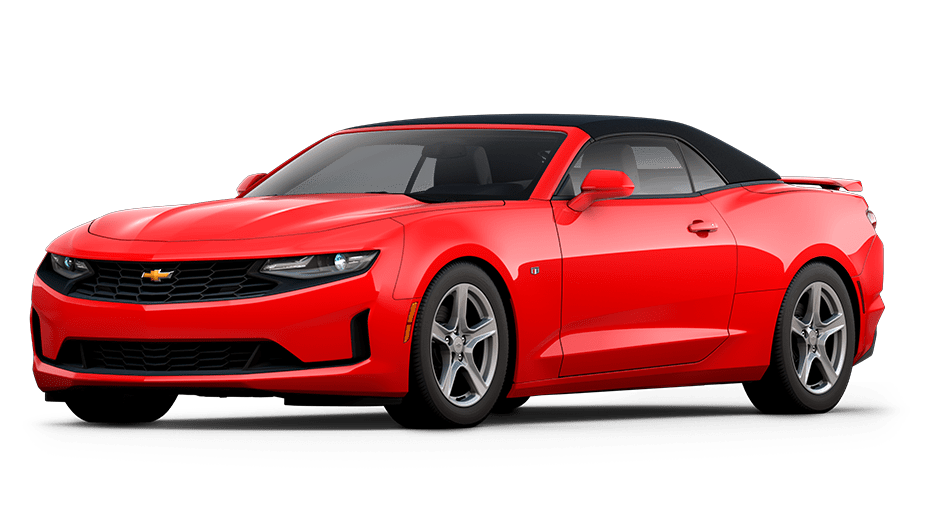 From the athletic daily driver to the full-blown track-ready monster, the Camaro presents an opportunity for spirited driving no matter your experience behind the wheel.
Design
The Camaro offers a host of unique design and style elements that makes it stand out from the rest of the American muscle car competition.
Available in convertible or coupe featuring a low-slung aerodynamic stance, with LED ribbon headlights under the sculpted overhanging hood, leading to an aggressive grille. Rear elements include oval taillights and polished two or four-tip dual exhaust. 
Performance
The base 275 horsepower 2.0L four-cylinder engine comes with a six-speed manual or 8-speed automatic transmission. An optional 335 horsepower 3.6L V6 in 1LT through 3LT is paired with a 6-speed manual or 10-speed automatic. LT1 and SS trims receive a healthy 455 horsepower 6.2L V8. If that is still not enough power for you, the ZL1 trim's supercharged 6.2L V8 features 650 horsepower and lb-ft of torque, rocketing from 0 to 60 in 3.5 seconds. Available on SS LT1 trims, Magnetic Ride Control ensures tactile responsiveness and high-speed stability for increased wheel control.
Whatever your choice may be, this car will not disappoint in terms of performance both on the street or track.
Features
Notable standard features include 7" Apple CarPlay and Android Auto infotainment, leather-wrapped steering wheel, 8-way power driver's seat. Options include performance data recorder, driver mode selector, heated/ventilated leather seats, Bose premium sound system, WiFi hotspot, heads up display, collision warning, lane change alert, blind-spot monitoring, and rear cross-traffic alert.
The 2022 Camaro is the Chevy sports car you've been waiting for – from approachable to rowdy, there is a Camaro to fit your sports car desires.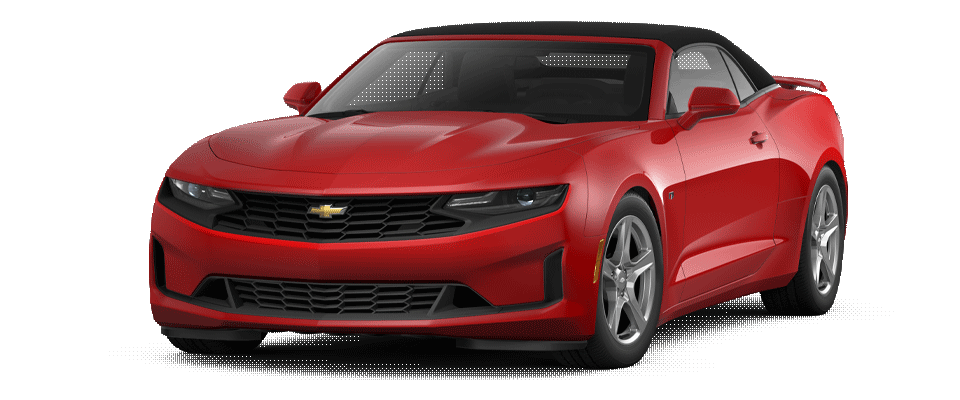 The 2021 Chevy Camaro is now in its seventh generation and is showing the refined engineering that comes from maturity and attention to detail. From the athletic LS to the track-ready Zl1, each outside is as sharp as ever, but it's what's on the inside that really counts.
0-60 in 3.5 seconds with Camaro ZL1
4 available powertrain options
650 max horsepower and 650 lb-ft. of torque
Starting at $25,000
When you think about fast Chevy Cars, the Corvette typically comes to mind immediately, and this 2021 Chevrolet Corvette (Mid-Engine) brings the high performance you've come to expect – and then some. The artfully sculpted exterior and state-of-the-art cockpit are only part of the Corvette experience.
6.2L LT2 V8 engine can take you to 60 mph in just 2.9 seconds
495 horsepower and 470 lb-ft. of torque
Standard Dual Clutch Transmission
Some fast car enthusiasts think this could be the greatest Chevrolet sports car ever. This supercar was built with the racetrack in mind, but you can drive it wherever you'd like.
Supercharged aluminum 6.2L V8 engine gets you 0-60 in 2.95 seconds
7-Speed Manual or 8-Speed Paddle Shift Automatic Transmission
2019 Car and Driver 10Best
Starting at $79,495
Sophisticated aerodynamics help the Grand Sport make the most out of its legendary Corvette power. Combining the force of the LT1 V8 engine with immaculate handling, drivers feel closer to the road more than ever before.
Aluminum 6.2L V8 engine gets you 0-60 in 3.6 seconds
460 horsepower with 465 available lb-ft. of torque
2019 Car and Driver 10Best
Starting at $65,495
The new year brings a new king of the road. The ZR1 has returned to the throne as the fairest of them all in the Corvette legacy. This supercar combines luxury, capability, speed, power, and performance into the greatest Corvette model to date. Get ready.
Supercharged 6.2L V8 engine gets you 0-60 in 2.85 seconds
Top track speed of 212 MPH
2019 Road & Track Performance Car of the Year
Make Your Dream Car Last Forever
The excitement of driving some of the fastest cars in the world can make it hard to think about anything else. That's why Chevrolet Complete Care thinks of everything for you. It comes on every 2021 Chevy and includes things like maintenance, roadside assistance, and OnStar. The combination of exhilaration and peace of mind gives Chevrolet drivers a uniquely satisfying experience.
Find a Chevy Sports Car in Arizona
You can spend more time reading about these impressive and fast Chevy cars, or you can go drive one for yourself. There are Valley Chevy Dealer locations all throughout the Valley of the Sun and Central Arizona that are all waiting to serve you. Locate your nearest one and visit it today to test drive some of the highest performing sports cars on the market.