THE CHEVY TRUCK LINEUP
Sometimes big jobs require big vehicles, and Chevy never fails to rise to the occasion. The Chevrolet name is everywhere big trucks are discussed. The brand made a name for itself by building dependable machines for hauling gear to and from job sites.
Sometimes the payload is a car full of grown adults, so Chevy also cranks out some big SUVs to seat nine people comfortably. Some of the largest cars on the market are perfect for everyday drivers with big needs.
2019 CHEVY TAHOE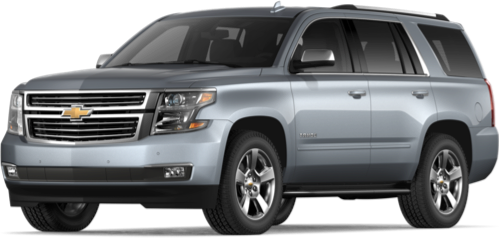 BIG
Seating options make room for as many as nine people and still leave room for cargo. You'll be grateful for the ample trunk space if you want to bring even more gear than the ample trunk space can hold. Rugged handling and segment defining fuel efficiency allow this full-size SUV to go anywhere your family wants to be – without leaving anything behind.
15 MPG city and 22 MPG highway with best-in-class V8 highway fuel economy
Available 4G LTE WiFi to keep the whole crew entertained
2018 Kelley Blue Book 5-Year Cost to Own
Available 420 horsepower 6.2L V8
Starting at $47,900
2019 CHEVY SUBURBAN
BIGGER
The Chevrolet Suburban is a veritable fortress with its truck utility, SUV versatility, extravagant aesthetic, and enough safety features to keep even young drivers secure. The roomy cabin creates a luxurious experience that belies the monstrous power under the hood. With its V8 fuel economy of 22 MPG highway, the Suburban is the best of all worlds.
Seats 9 people comfortably
121.7 cubic feet of cargo space
Available built-in 4G LTE Wifi Hotspot
420 horsepower with 6.2L V8 engine
Starting at $50,600
2019 CHEVY COLORADO
BIGGEST
The new Colorado is a mid-size truck with huge ambitions. Choose from three engine options depending on the size of your load. Superior horsepower and towing capabilities give this pickup gargantuan strength.
America's most fuel-efficient midsize pickup truck with 30 MPG highway
Best-in-class 308 horsepower with optional 3.6L V6
Segment-topping 7,700 pound towing capacity with 2.8L Turbo-Diesel
Wide track for stability and space
Starting at $20,500 MSRP
2019 CHEVY SILVERADO
JUMBO
This heavy-duty truck is even bigger up close, and it's all muscle. This full-size pickup will work harder and perform longer than any other vehicle in its class. The Silverado makes your choice easier by being both the strongest and the most dependable contender in the large truck segment.
Up to 420 horsepower
6 advanced powertrains
Available advanced trailering technology and active safety features
15 MPG city and 20 MPG highway
Starting at $28,300
Find Big Trucks for Sale in Arizona
Choose Chevrolet if you're dreaming big for your next vehicle. Chevy offers large sizes in every style. Visit a Valley Chevy Dealer near you to test drive them all. You're sure to find the right fit for your family and lifestyle.