2019 Chevy Tahoe & Suburban RST Engines
The new Chevy Tahoe RST and Suburban RST use a turbocharged engine to cram even more power into two of America's most beloved SUVs. The RST performance package brings a lot to the table, but the turbo engine definitely steals the show. Regardless of which of the trims you choose, you won't be disappointed with either a Tahoe or a Suburban.
New RST Engine for 2019
Read on to learn all about the massive engine poised to shake the entire SUV industry to its core.
The Pinnacle of Automotive Engineering
Some people are sports car enthusiasts, and look to new land-speed records as the benchmark for automotive prowess. There's nothing wrong with a need for speed, but we get just as excited for a big behemoth of an SUV that can haul like a transit van, tow like a truck, and handle like a small car. That's exactly what the Tahoe RST and Suburban RST are capable of thanks to this 6.2L V8 engine.
This absolute unit of a motor supplies a whopping 460 lb.-ft. of torque in addition to the 420 horsepower. You'll be ready to move just about anyone and anything with the power and acceleration these SUVs give access to. When connected to a 10-speed automatic transmission, this motor becomes something of a gentle giant. It has ample power, and it uses it in a focused manner. Acceleration is smooth, and the transmission helps the engine squeeze even more out of every gallon of gasoline.
Tahoe RST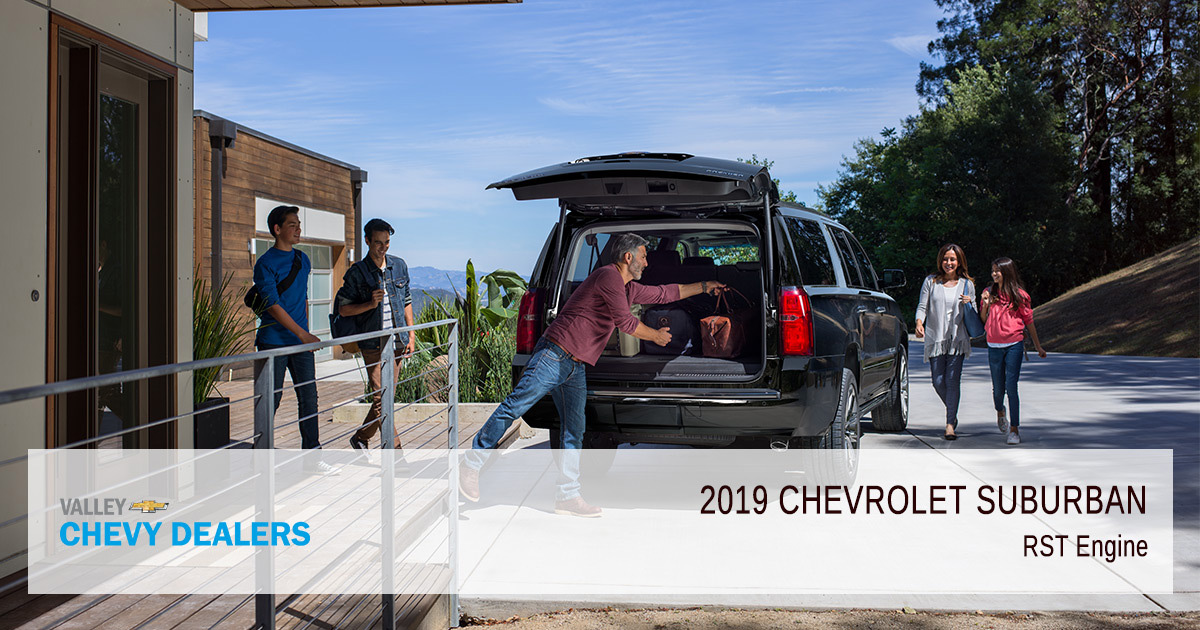 RST stands for Rally Sport Truck, and the Chevrolet Tahoe RST does everything it can to show you the true meaning of those words. It seems impossible that an SUV of this size would be as fast as it is, but Chevy's not in the business of doing what seems possible. They're in the business of making better SUVs. By the look of this big, quick, nimble 2019 Tahoe, business is very good.
The 420 horsepower races through the 10-speed automatic gearbox and to large wheels, which turn quickly enough to take this car from zero to 60 miles per hour in only 5.7 seconds. Considering the size and weight of this vehicle, people will have a hard time believing their eyes when you leave a stoplight.
All this strength comes with some cosmetic benefits, too. Blacked out badges and an intimidating grille might scare people out of your way, and that's probably for the best, because you're faster than they are anyway. If you want to add some acoustic enhancements, consider the optional Borla exhaust upgrade to bring a little bit of extra thunder along with your lightening-fast speed.
Suburban RST
The RST performance package appeared on the Tahoe last year, and now the bigger model is following its lead thanks to an overwhelmingly positive response. Chevrolet is committed to ruling the large SUV segment, and they're doing everything they can to prove that to drivers. As long as they keep making advances like this, it's hard to imagine them losing their control of the big SUV game.
The 420 horsepower engine and 10-speed automatic transmission come available for either the rear wheel drive or the all-wheel-drive Suburban RST. Take advantage of that four-wheel drive if you really want to maximize your potential to go anywhere at any time in any weather. The package also includes some chassis tweaks.
Roll over any type of terrain with 22-inch wheels and 285-series bridgestone tires that perform well on all types of surfaces. If you want to mate that traction with additional stopping power, consider an upgrade to enormous rotors with six piston calipers for your front brakes.
You'll be able to tell there's something different about this large SUV, and so will everyone else thanks to the style upgrades. The famous Chevy bowtie emblem now comes in black, and you can find it on top of a gloss black grille when you're viewing this beast from the front. Black mirror caps are included as well. This car looks good, it feels good, and it performs better than any other SUV in its class. Throw in that legendary Chevy dependability, and you're dealing with a vehicle that will be extremely hard to top.
See also:
Suburban LS vs LT Trim Options
Tahoe LS vs LT Trim Options
Test Drive a New RST Suburban or Tahoe in Phoenix
Maybe you need hauling and towing capacity that you just can't find with more standard SUV engines. Maybe you want performance that can take you just about anywhere you'd ever want to go. Maybe you just have a thing for power. Valley Chevy Dealers won't question your motives, they'll just be happy to show off their impressive new vehicles. Keep an eye on your nearest Chevrolet dealership, and you can be one of the first to test drive these powerful new SUVs. Start bracing yourself now, because these vehicles will hit our lots before you know it.