2019 Chevy Silverado's Best Features
The Chevrolet Silverado 1500 is one of America's most popular trucks, and with good reason. It's the ultimate tool, and has resulted from 100 years of hard work and innovative engineering on the part of Chevy. All that effort culminated in a new generation of reliable, long-lasting full size pickup trucks. There's a Chevy Silverado for any occasion thanks to the flexibility offered by this diverse model.
What to Expect in the New Silverado
Read on to learn what you can expect from all the different varieties of the 2019 Chevy Silverado.
New Exterior
The Chevy Silverado exterior is easy on the eyes and comes in a variety of different styles or colors. The smooth lines on the side panels are the perfect complement to the rugged and intimidating front grille. The legendary Chevrolet bowtie emblem sits above a tough bumper and between effective headlights. Every line was carefully planned to create a stylish look, but as with any great pickup truck, the function got even more attention than the form.
The new Silverado is made of roll-formed steel to give even more strength to this naturally tough material. You've come to expect legendary durability from the Chevy brand, and the 2019 Silverado exceeds even your greatest expectations. The Durabed gives you the best functionality of any truck on the market thanks to features like the following:
A CornerStep bumper makes the bed more accessible than ever before. Large footwells make this feature useful for loading and unloading even when you're wearing your most rugged boots.
Best-in-class cargo box volume allows you to load this truck up and reduce the number of trips back and forth.
The 12 fixed tie downs are rated at up to 500 pounds, so you can rest assured that your cargo is secure everywhere from the highway to the bumpiest job site.
An optional 120v outlet combines with the LED Rear Task Lighting so you can work whenever and wherever you want. Let a lesser truck handle the easy jobs.
New Interior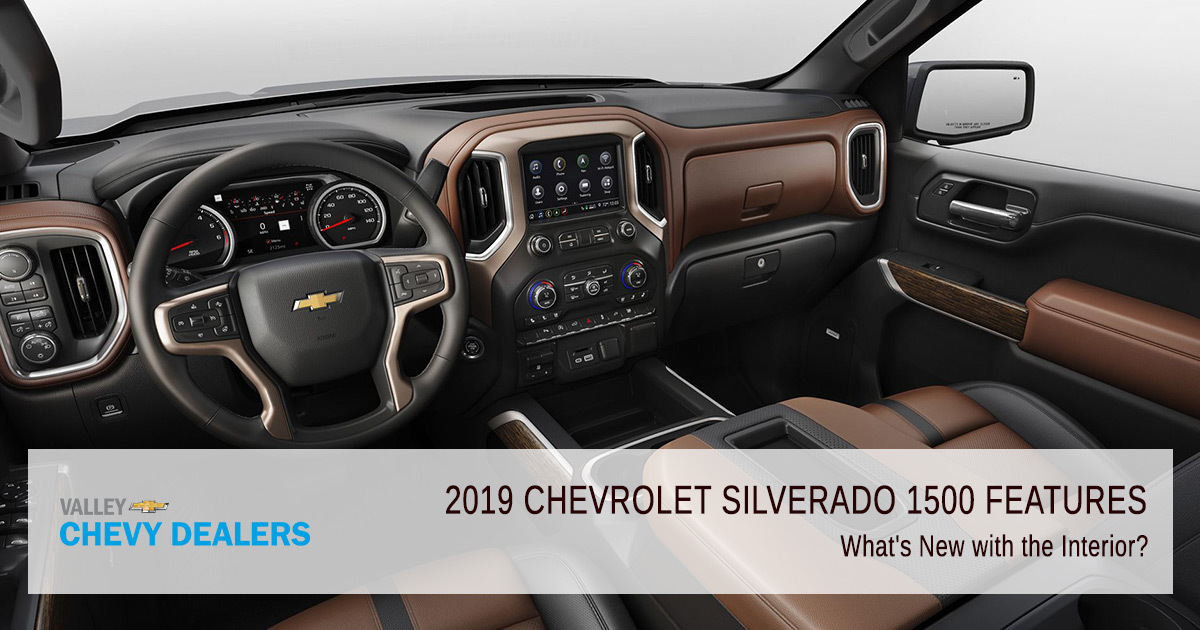 For all the ruggedness this truck brings, the interior is luxuriously comfortable. Our favorite features have to do with technology and safety, like the braking assistance and assortment of cameras that make it easier than ever to tow a trailer. After all, performance is king when it comes to pickup trucks.
New Technology Features
The new Silverado 1500 gives you the choice between three engines, and there are no bad options here. Choose between varying degrees of greatness with the following:
6.2L V8 with Dynamic Fuel Management
This engine gives you everything you want from a V8 and then some. 420 horsepower and 460 lb.-ft. of torque help you haul and tow just about anything you need. The 10-speed automatic transmission makes for a smooth ride and helps preserve fuel, and the automatic starting and stopping technology makes it even more eco-friendly. That's something you just don't get from most pickups in this class.
5.3L V8
This engine comes with either Active Fuel Management and a six-speed automatic transmission or Dynamic Fuel Management and an eight-speed automatic transmission. The Dynamic Fuel Management engine includes start/stop technology to get even more from every gallon of fuel. Either way, you're getting 355 horsepower and 383 lb.-ft. of torque.
2.7L 4-cylinder Turbo with Active Fuel Management
Automatic stopping and starting combines with the eight-speed automatic transmission to set a new bar for the combination of efficiency and power. 310 horsepower and 348 lb.-ft. of torque make sure you and your gear get where you need to be.
2019 Silverado Trims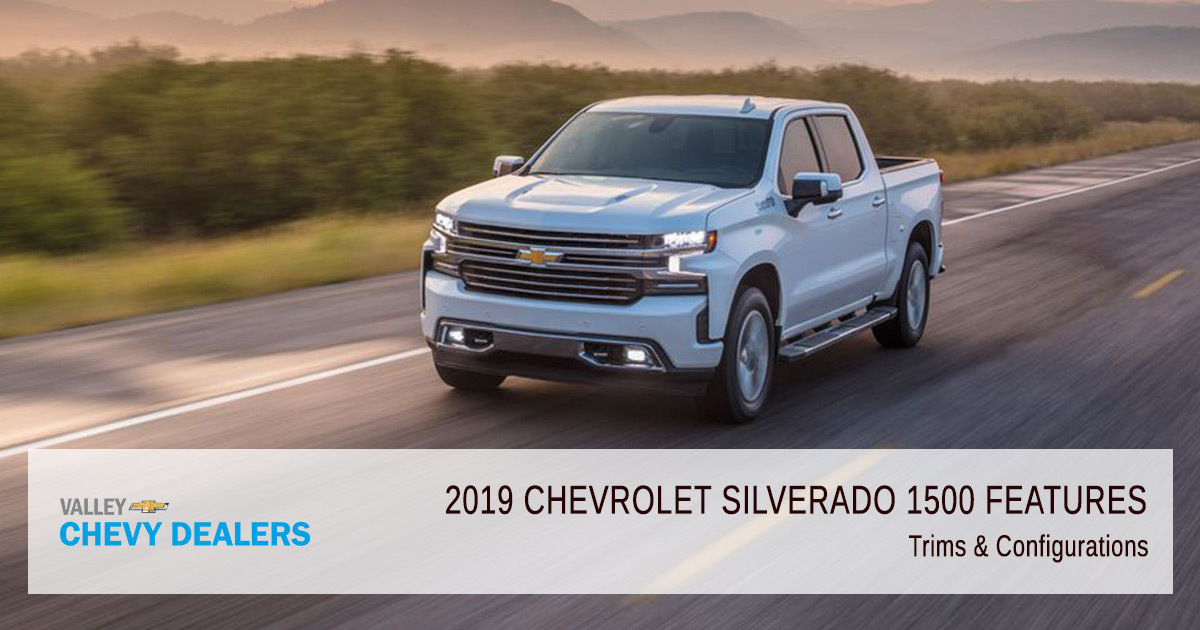 The United States is a melting pot, which means there's something here for anyone who wants to work hard. America's most dependable pickup truck also offers something for everyone who understands the value of a long day's work. Chevrolet has eight different trim levels to accommodate the wide range of styles and requirements different drivers navigate on a daily basis. Each one of these long-lasting full-size pickup trucks provides a unique set of benefits:
High Country Trim Level
LTZ Trim Level
LT Trail Boss Trim Level
RST Trim Level
LT Trim Level
Custom Trail Boss Trim Level
Custom Trim Level
Test Drive the New Chevy Silverado in Phoenix
The 2019 Silverado will no doubt be one of the finest trucks to hit the market within the next year. Keep an eye out for this new Chevy Silverado on the lots of Valley Chevy Dealers, and you can be one of the first to take it for a test drive. Good things come to those who wait, but you won't have to wait long for the new Chevy pickup, so find the closest Chevrolet dealership today. Ask to see the Centennial Edition Silverado while you're there!