2018 Chevy Tahoe Fuel Efficiency & Gas Consumption
The 2018 Chevy Tahoe is the newest edition of America's best-selling SUV, and it's better than ever. Compare it to the competition to see why both drivers and critics love this versatile SUV. What J.D. Power called America's Most Dependable Large SUV now has excellent fuel economy to go with its powerful performance; regardless of which Tahoe trim configuration you choose.
2018 Tahoe Fuel Mileage
The latest Tahoe fuel economy starts from a powerful V8 engine, found in LS and LT trims, which makes the performance even more impressive. Depending on your engine choice, either 355 or 420 horsepower gets delivered to an automatic transmission. The 5.3L V8 engine uses a six-speed automatic transmission, while the 6.2L V8 combines with a 10-speed automatic. Both engines use smart Active Fuel Management technology to disable some of the cylinders while coasting, and bring them back to life when you need more power. This helps achieve the best in class Tahoe fuel economy drivers love. Best of all, the active fuel management system transitions the cylinders from active to inactive and back again so smoothly that you might not even notice it's happening.
2018 Tahoe Fuel Efficiency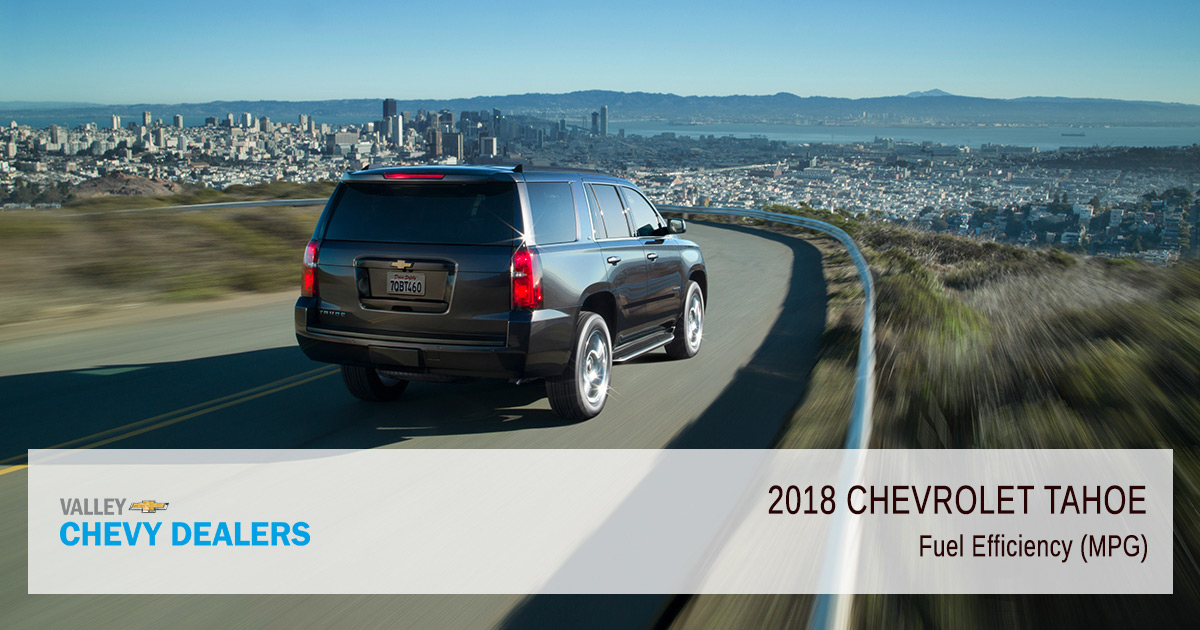 Both combinations of engine and transmission get unbeatable mileage for every gallon of gas when compared to other SUVs with this size and capability. This is especially impressive considering that the Chevrolet Tahoe is a truck-based SUV. The United States Department of Energy reports the following official estimates for the 5.3L engine and six-speed transmission:
23 miles per gallon highway
16 miles per gallon city
19 miles per gallon combined
Those numbers are for the two-wheel drive option, and upgrading to four-wheel drive only shaves off one mile per gallon. The 6.2L engine offers even more power and retains an impressive efficiency.
23 miles per gallon highway
14 miles per gallon city
17 miles per gallon combined
Thanks to the added power of the larger engine, this mileage stays almost completely consistent with four-wheel drive. The 6.2L Tahoe (2018) engine only loses one mile per gallon highway when upgrading to four-wheel drive, and it keeps the same city and combined mileage.
Test Drive a New Tahoe in Phoenix Today
At the highest combined rate of 19 miles per gallon combined, the enormous 26 gallon tank gives drivers a cruising range of just under 500 miles. Expect that range to be even higher on long road trips at highway speeds.
This unbeatable efficiency is only one of the many reasons drivers choose Tahoe more than any other vehicle in its class. Come see all the other superior features at your nearest Phoenix Chevy dealership and take a test drive today! Ask about the Tahoe's towing capabilities.