2019 Chevrolet Silverado RST Engines
The Chevrolet brand is proud of the new turbocharged engine you can find in the 2019 Silverado RST. Chevrolet has achieved so much they can take pride in, and their newest flagship truck is certainly worthy of admiration. It will hit dealership lots as soon as fall of 2018, and drivers are excited to try out the turbo boosted inline engine. Learn what to expect from this new development, and it will be easier to pick your jaw back up off the floor when you experience it for yourself.
Silverado's New RST Engine Options
Without further ado, here's what's in store for the newest RST Silverado 1500.
What is Chevy's Newest Engine?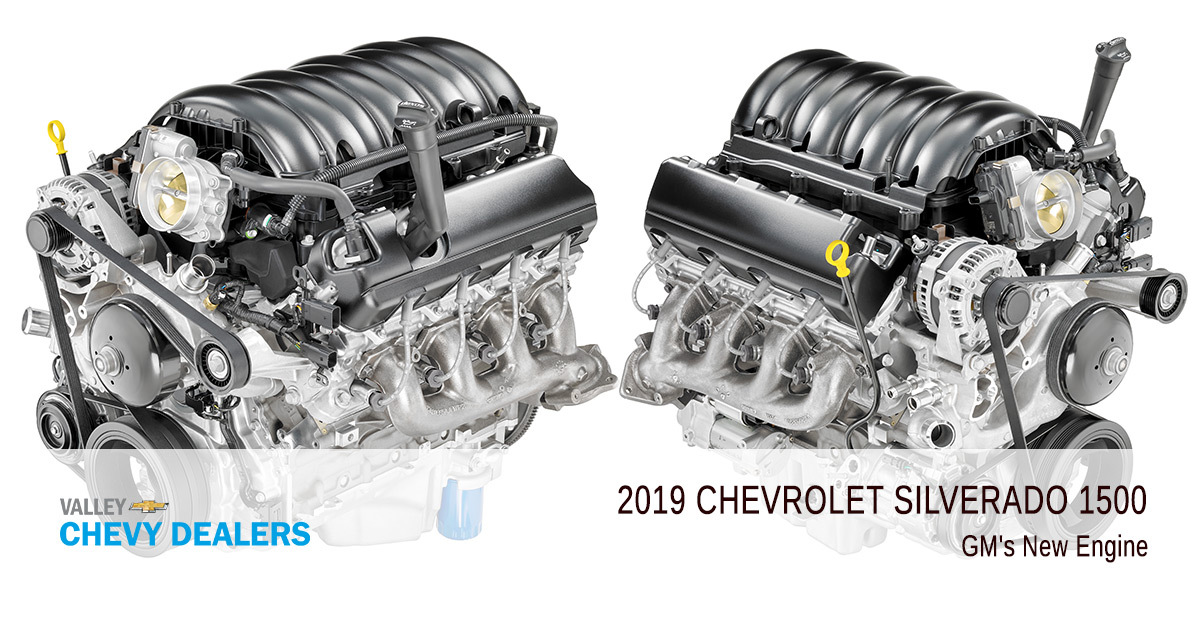 Chevrolet put their best and brightest engineers to the test when they asked for a motor to give a turbo boost to their most popular trucks. Those talented scientists rose brilliantly to meet the task at hand, and returned a 2.7L engine that was designed specifically to deliver both power and fuel efficiency without adding too much weight to the vehicle that carries it.
Officials at Chevrolet speculate that the new development will widen the gap between their trucks and the competition. Much as technology is offering amazing power in smaller than ever packages, the new inline four-cylinder engine replaces a 4.3L V6 for the RST trim level, and it generates 310 horsepower and 348 lb.-ft of torque. The 2019 Silverado's new inline four-cylinder engine also weighs 380 pounds less than the previously offered V6.
The common school of thought surrounding trucks is that big things come in big packages, but this new feat of engineering proves that the old adage is true even in the pickup world: big things can, in fact, come in small packages. The I-4 is lighter, smaller, and still provides enough energy to conquer enormous tasks.
How Can an Engine Be Both Smaller and Better?
This engine uses an aluminum block and cylinder to reduce the overall weight. The innovative design allows weight to be distributed throughout the truck, which leads to a better overall driving experience. Drivers will be able to feel the difference when it comes to agility and maneuverability.
Because the engine uses turbo charged technology, it will get power, performance, and fuel economy that is not otherwise possible. The fuel efficiency will be especially important for truck drivers who are otherwise inclined to pursue the biggest engine available. An analyst observed that one single test drive should be able to convince drivers that the turbo I-4 engine outperforms its V6 competitors.
I-4 Versus V6 Engines
A V6 engine is called that because the cylinders are arranged in the shape of a V. As they churn, this creates a sort of rotating motion, which creates a movement counterproductive to the forward motion of the vehicle itself. This inefficiency is corrected by I-4 engines, where the "I" stands for, "inline." These types of engines are arranged such that all cylinders are firing in the same direction, eliminating the counterproductive rotations in a V engine. The improved design allows for smooth and rapid acceleration, which is enhanced by some of the other features in the new Chevy RST engine.
What Else Has Chevy Done for the RST Engine?
Tom Sutter, the chief engineer on Chevrolet's new engine, goes into more technical detail about why this engine works so well. They used a state of the art design to eliminate any delayed acceleration that turns drivers off of some other turbocharged engines in trucks. The specific design feature that comes into play here is called an advance dual-volute turbocharger. In other words, there are two separate chambers with their own gas introduction systems.
Other turbo engines in trucks often rely on a single chamber that's shaped like a spiral. Doubling the chambers allows the engine to get up to speed more quickly. There are twice as many sources of power, so the motor gets what it needs in a hurry.
Other Facts About the Chevy I-4 Engine
The I-4 engine has a secret weapon that allows for even more fuel efficiency. It engages all four cylinders to create a burst of power when you need it, and it can run on only two cylinders in low-pressure situations. For example, when you're cruising at a steady speed, two of the cylinders will deactivate to conserve gas. Combine this with the eight speed automatic transmission, and you're getting the smoothest, most efficient ride you can find with this much authority.
Test Drive the New Silverado 1500 RST in Phoenix
Test drive a true American pickup truck with the RST package and other trim levels as soon as they become available, because this is not the kind of experience you'll want to deprive yourself of. The impressive styling is sure to turn some heads, and a turbo engine will make the most of the attention. You'll get your opportunity soon if you watch the lot at your nearest Chevy dealership. Visit your local Chevy dealer to find out when when you can take this turbocharged engine for a spin.