2018 Chevy Sonic Fuel Efficiency & Gas Consumption
The 2018 Chevy Sonic is a top contender among the 2018 subcompact cars on the market. With an ample engine power, available in the LS and LT trims, this car can deftly navigate a crowded parking lot and scoot past underpowered competitors on the highway. If you're looking for a small car that's comfortable, fun to drive, and loaded with value, the Chevy Sonic is a great buy.
Many new cars try to deliver the fuel efficiency aspect you are looking for, but they fall short in the ability to offer it combined with spirited performance and reliability. The 2018 Chevrolet Sonic is a car meant to make a lasting impression thanks to its long list of technology features, great interior space, advanced safety equipment, comfort options, and sporty looks. But the cherry on top is really its remarkable fuel economy rating. The 2018 Sonic earned an EPA rating of 8 out of 10 on its fuel efficiency.
2018 Sonic Fuel Mileage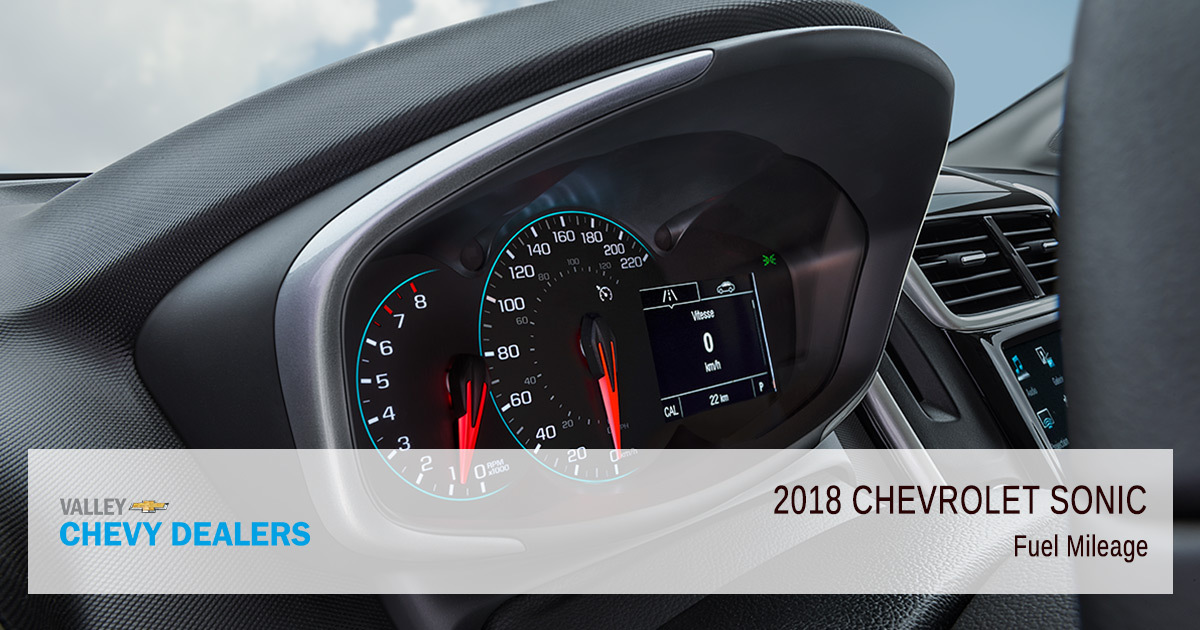 If you're looking for an engine that shines in everything from performance to fuel economy, you'll want to consider the version with the best gas mileage rating for 2018. In the new Chevy Sonic, that has to be the optional 1.4-liter turbo-4 engine, which has a 6-speed manual gearbox that's rated at 37 mpg highway, 28 city, and 32 combined. This is then followed by a Sonic equipped with the same 1.4-liter engine and the 6-speed automatic transmission. This gives a 27-mpg city, 35 highway, and 30 mpg combined.
Underneath the hood, you'll have the advantage of choosing from two powerful, spirited, and fuel-efficient engines. The base comes equipped with a 1.8-liter four-cylinder engine powerful enough to scoot you around town without complaint. Whether you spend a considerable amount of time of the road or just want something a little livelier, the Sonic Premier or Sonic LT can deliver beyond your expectations. These Sonic trims are powered by a 1.4-liter turbocharged engine, making the car a ride in its own league.
2018 Sonic Fuel Efficiency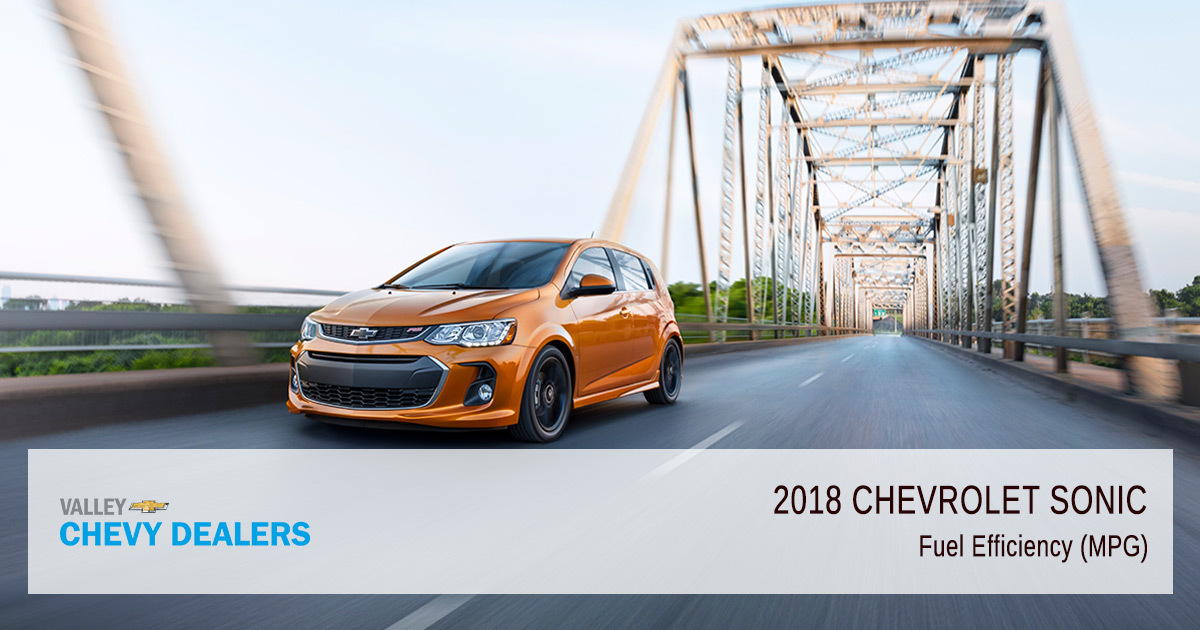 Conversely, the 1.8 liter falls short with the 6-speed automatic version bringing 25/34/28 mpg and the 5-speed manual coming in at 26/35/29 mpg. Similar Chevy Sonic mpg results are displayed in the four-door sedan and five-door hatchback versions. The estimated fuel cost per year for the 2018 Chevy Sonic is $1,353. Competitors, including, Hyundai Accent, Honda Fit, and Ford Fiesta just can't match the Sonic's great fuel economy rating.
Unlike other subcompacts with handling suited for city streets, the Chevrolet Sonic is smooth enough for highway journeys and nimble enough for urban landscapes. It is highly reliable and an excellent vehicle to consider no matter which engine you choose.
See also: 2018 Chevrolet Sonic Reliability & Customer Satisfaction
Test Drive a New Sonic in Phoenix Today
Want to experience the Chevy Sonic fuel economy firsthand? Schedule a test drive at your nearest Valley Chevy dealership today.