10 Major Benefits of Buying a New Car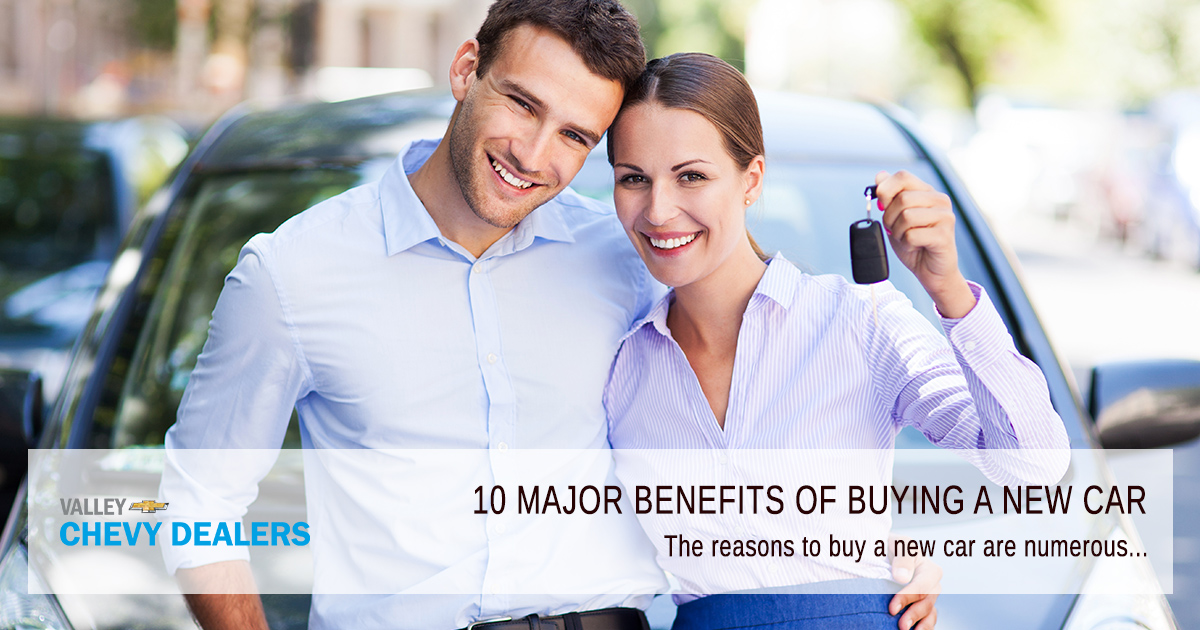 If you're thinking about buying a car, choosing between new and used models can make it a tough decision. There are many advantages of buying a new car, but some people still have a hard time weighing new car vs. used car options. In fact, it's one of the most common questions we get: "is it better to buy a new or used car?"
10 Reasons to Buy a New Car Over a Used One
There are really only two reasons we can think of that people usually buy used cars:
They want a specific vehicle that isn't being produced anymore. For example, you may decide you want to become the envy of gear heads everywhere by buying a 1955 Corvette. In that case, you'll definitely have to buy a used car.
It's cheaper.
That's about it. Other than those two advantages of buying a used car, all we see are the benefits of buying a new car. Some of the advantages of a new car are more obvious than others, so here are the 10 best reasons to buy new:
Freedom of Choice
There might be some great used options in the lot, but those options will still be limited to what people chose to return at the end of their lease or trade-in when buying their own new car. If you're aiming for a new car, the dealership is going to not only have all of the different options but the various packages for those individual cars as well.

Even if the dealership doesn't have the exact vehicle you want, there's a good chance they can find it for you. They may be able to trade some of their inventory to another dealership to get the color or option you want. If not, they may simply find your dream vehicle in another dealer's inventory and buy that vehicle to resell to you.

Good luck finding a used car dealership that will go through that kind of effort to get you the right options packages!

 

Durability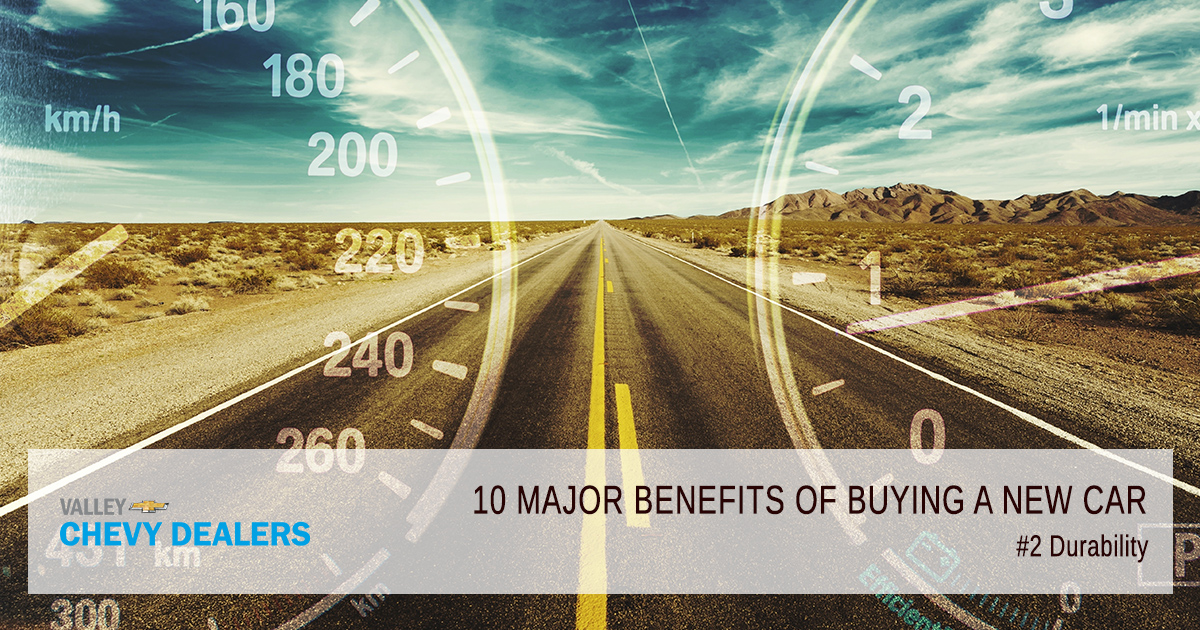 Choosing the right cars known for their durability is important in this factor, but driving a vehicle off the lot with only the miles you test-drove it on means that you get to put all those miles on the car instead of someone else. It's going to last you longer than buying pre-owned would.

Some people think they can avoid this problem by buying a late-model, low-mileage used car. Unfortunately, many of the used vehicles that are only one or two years old may have been rental cars. These cars aren't always treated very well. Another possibility is that someone was having many problems with their new car, so they decided to turn it in after only a short amount of time.

 

Higher Fuel Efficiency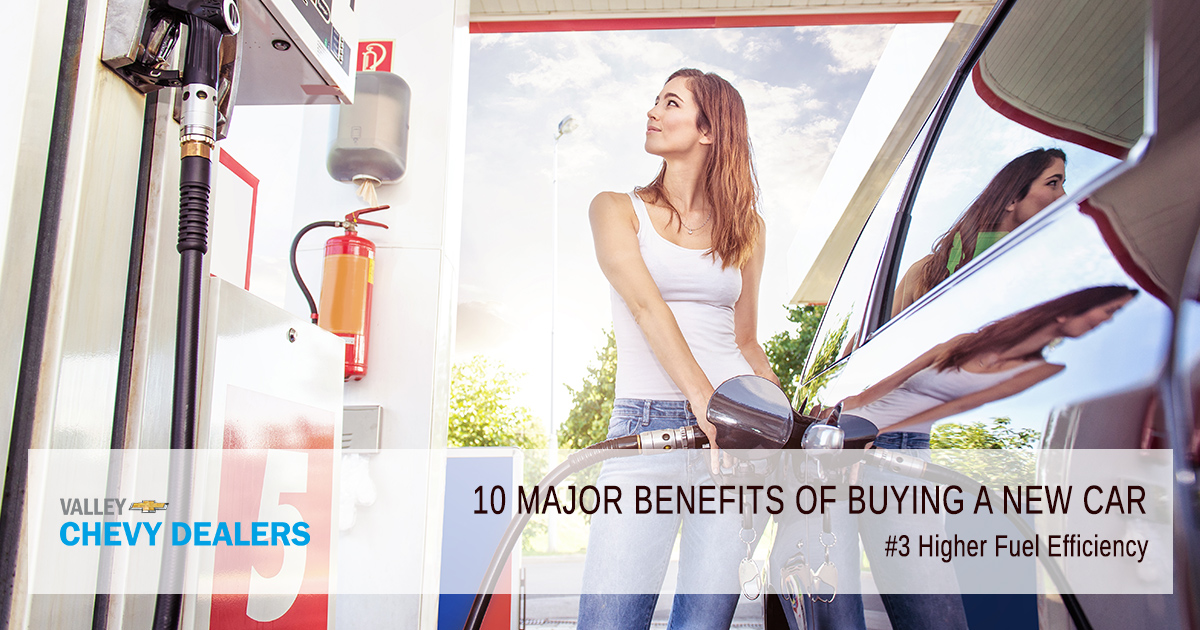 As cars get newer, so do the features. One of the more significant upgrades we see as cars are improved is fuel efficiency, meaning you're going to help your wallet and the environment. Emission rates are also improving, doubling up on keeping the air clean.

If fuel efficiency is a top concern for you, you should almost definitely buy a new car. Electric vehicles are more accessible now than they ever have been before, so you may be amazed by how easy it is to put gas stations in your rearview mirror forever when you buy a new car.

 

Safety Features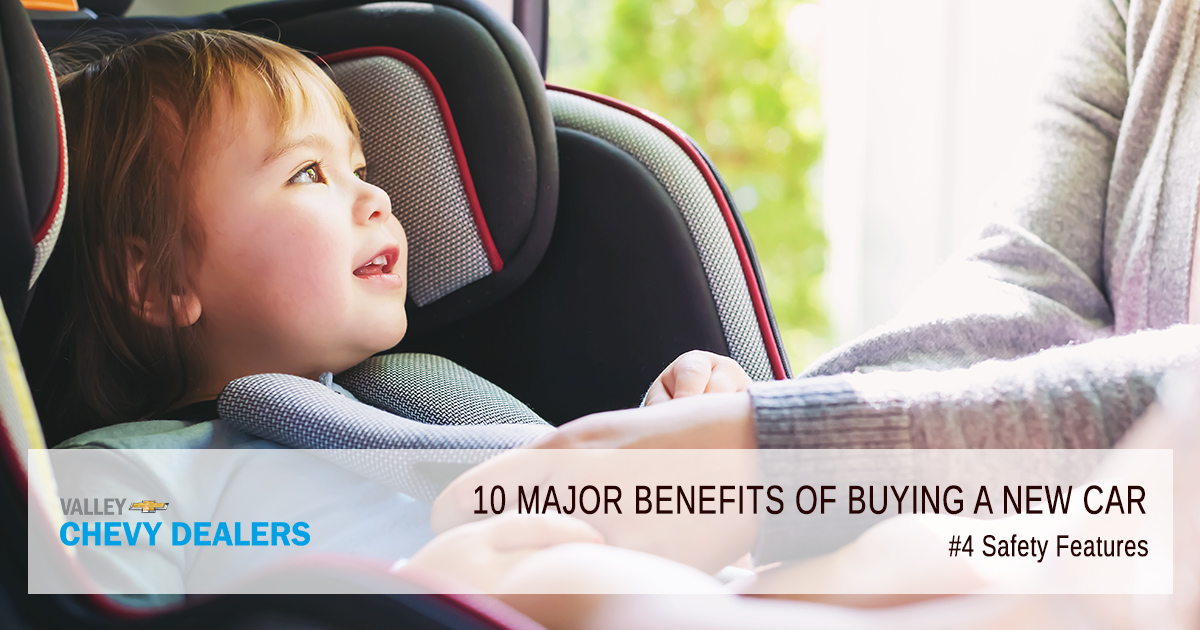 Along with improved fuel efficiency, cars are getting safer as we learn more about how to protect you and your loved ones on the road. Beyond standard safety features like anti-lock brake systems, cars can come equipped with side airbags to help protect you in the event of a side collision or roll, have better balance and come with standard cruise control.

If you haven't bought a new car in several years, you'll be amazed by what's possible. The backup camera is great, but it gets so much better. Many new vehicles have things like adaptive cruise control, lane departure warnings, and even automatic emergency braking to help prevent or minimize accidents. You can even get the Chevrolet Teen Driver technology, which allows you to set speed limits and audio volume limits for your vehicle's secondary drivers.

 

Maintenance Plans
Many cars come with a maintenance plan, so you don't have to worry about spending that money on an oil change every 5,000 miles. Your dealership will work with you to keep your car running to its very best during the length of the warranty. Between the limited warranty and the powertrain warranty, you'll have at least a few years of stress-free driving in your new vehicle.
 

 

Technology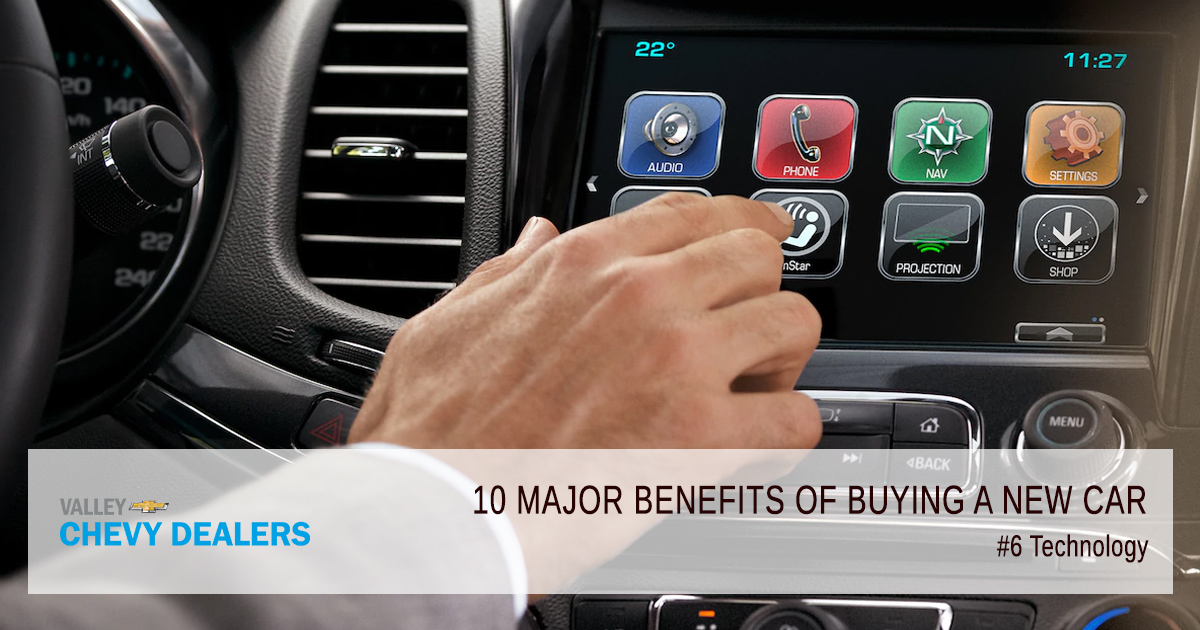 Cars aren't the only things getting improvements – technology all around us is getting stronger and more efficient, and in turn, helping make cars better. Better sound systems, better control of the interior environment, and better rearview cameras are just some of the features that make riding safer and more fun.

A few years ago, Bluetooth was an exciting feature as cell phone laws and driving practices started to evolve. Now, Bluetooth is old news. Modern cars have Apple CarPlay, Android Auto, and a wide variety of other high-tech features. You can even find new vehicles with wireless device charging and WiFi hot spots.

 

New Car Financing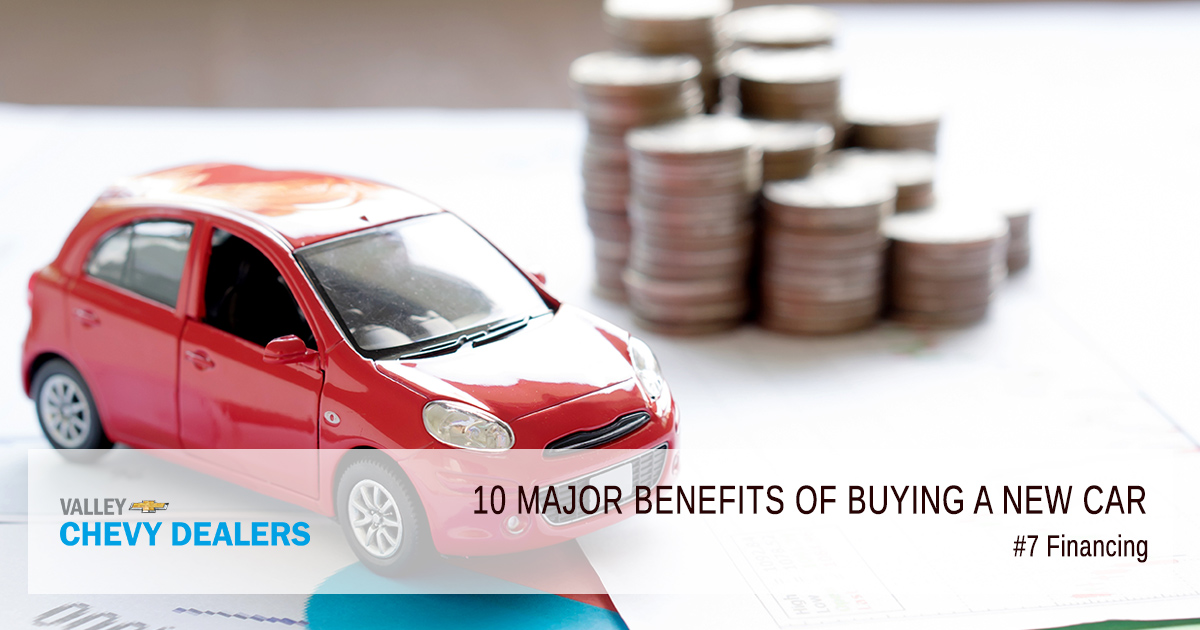 Getting a new car might require a larger bank loan, but the rates on getting one for a newer car are better than if taking one out for a used car. Many people get bad deals when they try to get used car financing. This makes sense when you consider what a high risk it is to take out a loan for a used car.

One of the main advantages of buying a new car is that you can feel confident it will keep working until you've at least paid it off. Few financial feelings are worse than making continued payments for a vehicle you don't even have anymore.
 

Value
A new car is more valuable than a used one, obviously. It's part of why you get a better rate on a loan for a new car, and it means that when you're ready to sell, you'll get better value as well. You're the only one in control of the value when you buy a new car– no worrying about what the previous owner might have done or what problems the used car dealership didn't warn you about.
 
 

Convenience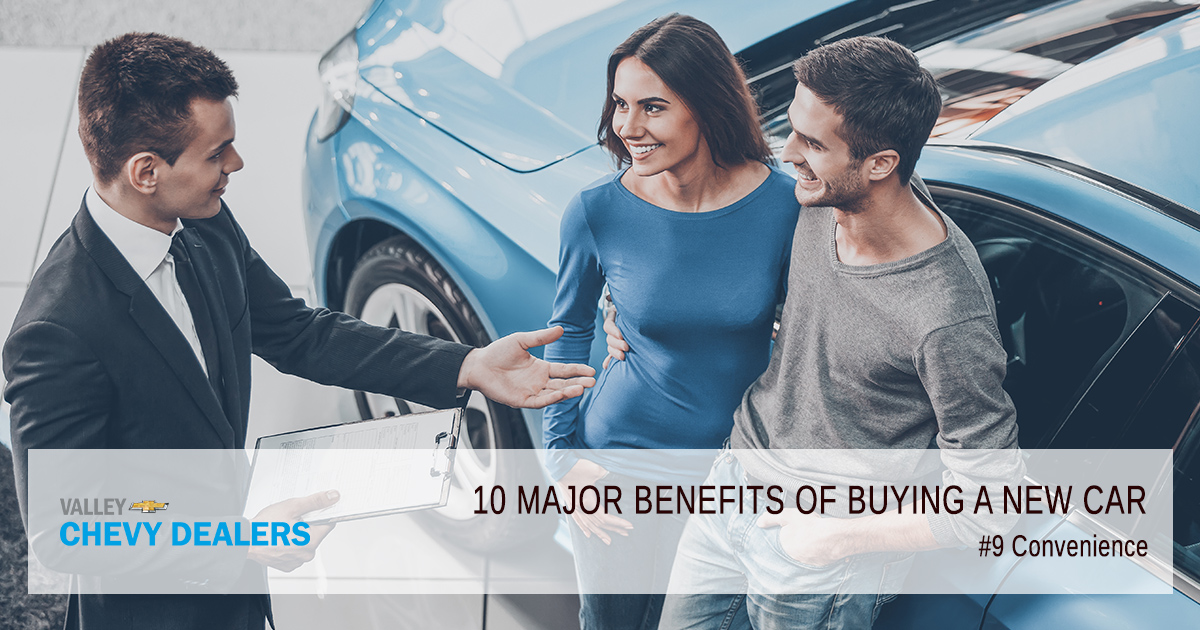 Finding the perfect used car can be a lot of work. It's getting easier nowadays with dedicated websites, but it still requires making sure the car is what the seller claims online. When buying new, not only are the options laid out in one place for you, but the salesman will be there to help find the exact car you want. You can focus on the design and features, too, without inspecting each car on an individual basis to see what kind of shape it's in.
 

It's New!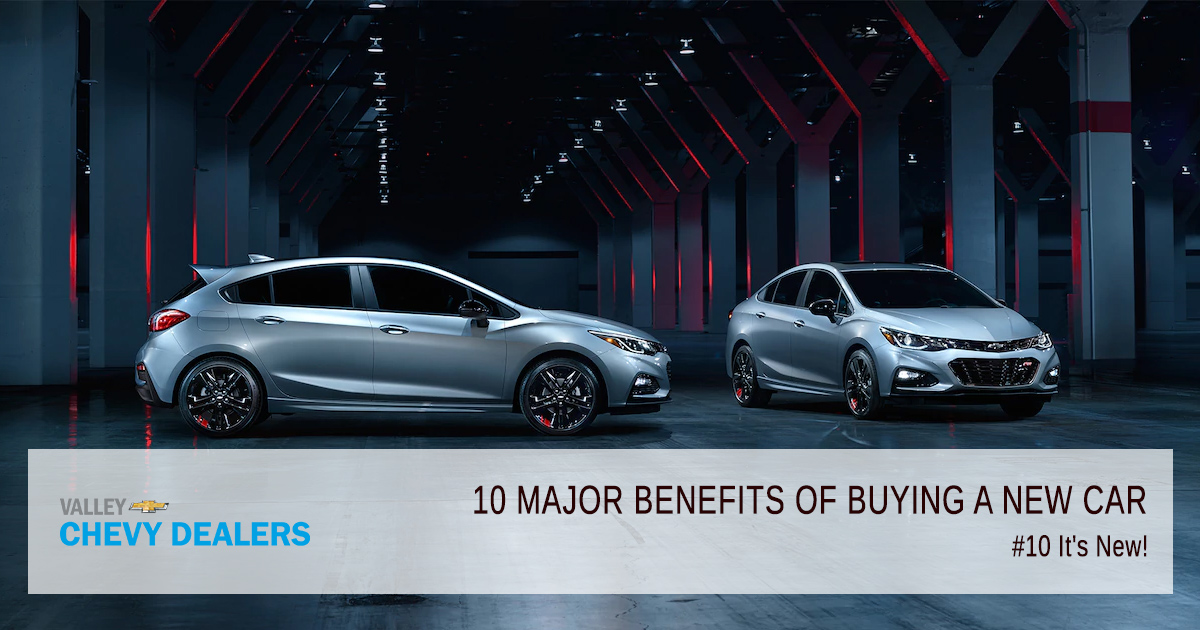 This one carries some emotional value as well because driving off the lot, knowing you're the first person to own your new car feels excellent. The possibilities of where you'll go in it are endless. When you buy a new car and drive it off the lot, there's a good chance that most of its miles will be from your test drive.
Test Drive a New Chevrolet Today!
Ready to buy a new car? Make sure you have what you need and find the nearest Chevrolet dealership. Even after you decide that you want the benefits of buying a new car, there are way more than 10 reasons to buy a Chevy. We'll help you pick out the perfect Chevrolet vehicle for you and your family. Today, stop by to take your test drive and explore all of the many benefits of a new car.
See also: 10 best new cars to buy