10 Major Benefits of Buying a New Car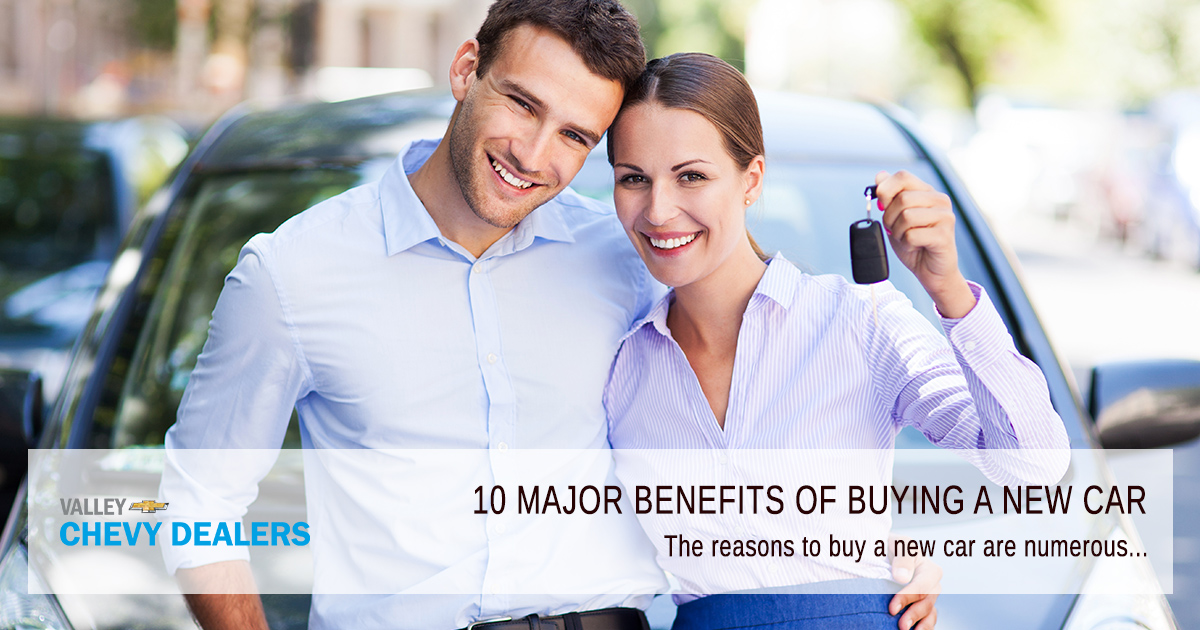 If you're thinking about
buying a car
, choosing between new and used models can make it a tough decision. The reasons to buy a new car are numerous and here's a look at 10 of them.
See also: What is the best small car to buy in 2017?
10 Reasons to Buy a New Car Over a Used One
Here are the 10 best reasons to buy new:
Freedom of Choice

There might be some great used options in the lot, but those options will still be limited to what people chose to return at the end of their lease or trade in when buying their own new car. If you're aiming for a new car, the dealership is going to not only have all of the different options, but the various packages for those individual cars as well.

Durability

Choosing the right cars known for their durability is important in this factor, but driving a car off the lot with only the miles you test-drove it on means that you get to put all those miles on the car instead of someone else. It's going to last you longer than buying pre-owned would.

Higher Fuel Efficiency

As cars get newer, so do the features. One of the bigger upgrades we see as cars are improved is fuel efficiency, meaning you're going to help your wallet and the environment. Emission rates are also improving, doubling up on keeping the air clean.

Safety Features

Along with improved fuel efficiency, cars are getting safer as we learn more about how to protect you and your loved ones on the road. Beyond standard safety features like anti-lock brake systems, cars can come equipped with side air bags to help protect you in the event of a side collision or roll, have better balance and come with standard cruise control.

Maintenance Plans

Many cars come with a maintenance plan so you don't have to worry about spending that money on an oil change every 5,000 miles. Your dealership will work with you to keep your car running to its very best during the length of the warranty. 

Technology

Cars aren't the only things getting improvements – technology all around us is getting stronger and more efficient, and in turn helping make cars better. Better sound systems, better control of the interior environment and better rear view cameras are just some of the features that make riding safer and more fun. Many new cars are even equipped with Bluetooth, an ever-important feature as cell phone laws and driving change.

Financing

Getting a new car might require a larger bank loan, but the rates on getting one for a newer car are better than if taking one out for a used car. 

Value

A new car is more valuable than a used one, obviously. It's part of why you get a better rate on a loan for a new car, and it means that when you're ready to sell you'll get better value as well.

Convenience

Finding the perfect used car can be a lot of work. It's getting easier nowadays with dedicated websites, but it still requires making sure the car is what the seller claims online. When buying new, not only are the options laid out in one place for you, but the salesman will be there to help find the exact car you want.

It's New!

This one carries some emotional value as well, because driving off the lot knowing you're the first person to own your new car feels really good. The possibilities of where you'll go in it are endless.
Test Drive a New Chevrolet Today!
Ready to buy a new car? Make sure you have what you need and find the
nearest Chevrolet dealership
. We'll help you pick out the perfect Chevrolet vehicle for you and your family.
See also: 10 best new cars to buy