The Top Ten Best Cars to Buy in 2017
This year, all major car segments have many excellent choices available to those who are looking for a new car. As a result, new car buyers have an overwhelming list of options to consider and choose from. To help you narrow down that long list and make a decision you won't regret, let's review the top 10 cars to buy in 2017 across different segments.
Top Sedans to Buy
If it's a sedan you're looking for, here are the three best in their respective classifications.
Mid-size car: Honda Accord
Source:

honda.com
As
Car and Driver describes it
, the 2017 Honda Accord is famous for "a comfortable ride, engaging handling, and top-notch build quality." However, if you're looking for a car with all-wheel drive and top-tier technology features, the 2017 Honda Accord may not be a good fit. According to
Car Buying Strategies
, this model offers front-wheel drive only, its touch-screen display is not user friendly, and the integrated safety technologies are a little too touchy.
Luxury car: Audi A4
Source:

audiusa.com
Look to the 2017 Audi A4 for an interior that includes
Audi's MMI
infotainment system and the Virtual Cockpit gauge cluster. However, the MMI control system  definitely hikes up the price on this model, and
Consumer Guide Automative
reports that Audi's MMI system can be difficult to use. So if an MMI infotainment system isn't on your priorities list, or if you want a user-friendly system, you may want to pass on the 2017 Audi A4.
Full-size car: Chevrolet Impala
Source:

chevrolet.com
We hardly have room enough to list all the reasons to check out the
2017 Chevrolet Impala
. From a beautiful, sleek body design to an ultra-quiet, spacious interior, the Impala shows dignity, class and refinement without sacrificing power. The V6 provides quick acceleration, which you'll hardly feel thanks to the smooth ride. Enjoy the
MyLink touchscreen
information and entertainment system, Apple CarPlay and Android Auto smartphone integration – as well as plenty of safety features. This is a model that you surely don't want to overlook.
Top SUVs to Buy
SUVs are a great option, especially for a growing family. If you're in the market for an SUV, here is what the car gurus say to buy.
Small SUV/crossover: Kia Sportage
Source:

kia.com
The 2017 Kia Sportage offers a 2.4-liter four cylinder, six-speed automatic and front-wheel drive. While these features are definitely valuable,
Car Buying Strategies
 points out that the 2017 Kia Sportage still has its drawbacks: a poor fuel economy, limited cargo capacity and average power. So if you're looking for a vehicle that is spacious, fuel-efficient and fun to drive, the 2017 Kia Sportage probably won't be your first pick.
Mid-size SUV/crossover: Honda Pilot
Source:

honda.com
Steer for the 2017 Honda Pilot if you routinely need to seat seven or eight in an SUV. It has a quiet and spacious interior, as well as strong acceleration. However,
Motor Trends
reports that the 2017 Honda Pilot's acceleration can be slow and jerky, which can be a deal-breaker if you're looking for a smooth ride. Also, if you need an SUV that can tow heavy loads, you'll want to opt for a full-size SUV rather than the Pilot.
Full-size SUV/crossover: Chevrolet Tahoe
Source:

chevrolet.com
According to Car and Driver
, the 2017 Chevrolet Tahoe "rules the SUV world." With a boat hauler and RV puller, it's the ideal family vacation solution. The
Chevy Tahoe
also has a 355-horsepower V8 and six-speed automatic transmission with rear-wheel (optional all-wheel) drive. You'll also be able to keep everyone happy with Apple CarPlay, 4G LTE connectivity with Wi-Fi and up to six USB ports and six power outlets. Needless to say, this car is certainly a people-pleaser.
Top Vans, Trucks & Outliers to Buy
Perhaps you have your mind set on a new family van or work truck. Maybe you'd like something more sporty or a vehicle you can drive in the HOV lane with.
Minivan: Chrysler Pacifica
Source:

chrysler.com
The 2017 Chrysler Pacifica reclaims Chrysler's presence in this segment with its new look and innovative seating system. However, if you care more about having a reliable car than an attractive one, don't let the Chrysler Pacifica's good looks fool you. Other 2017 minivan models can certainly measure up to (and even outlast) the 2017 Chrysler Pacifica, so be sure to make a list of your minivan must-haves and explore your options.
Truck: Ford F-150
Source:

ford.com
The 2017 Ford F-150 benefits from the second-generation, 375-horsepower V6
Ecoboost engine
and a 10-speed automatic transmission. Although this truck certainly boasts amazing power, 
Car Buying Strategies
 points out that it lacks a diesel engine and manual transmission, which are common features for trucks. Also, due to the car's aluminum body, repairs can be expensive for the average car owner.
Sports/performance car: Porsche 718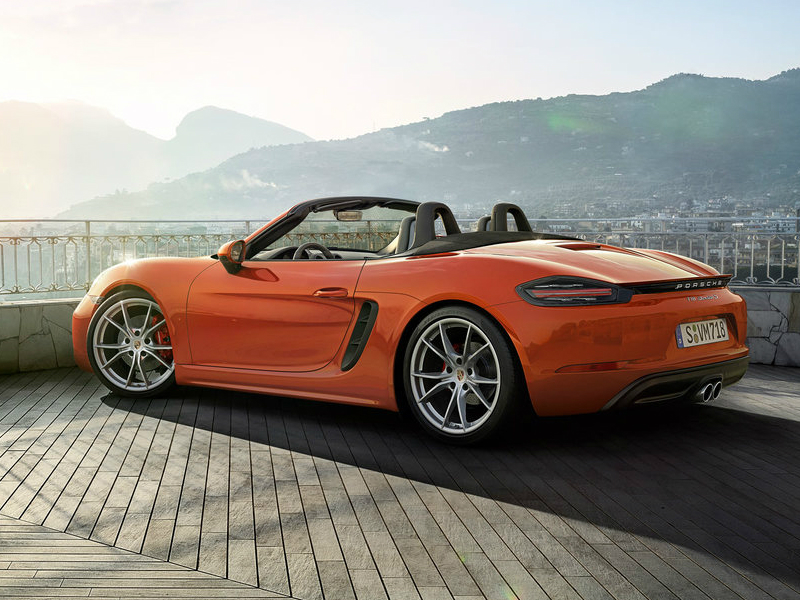 Source:

porsche.com
The 2017 Porsche 718 Boxster starts at $57,050 MSRP, and 
Road & Track says
that it "does everything right." It accelerates beautifully and has impressive build quality, but the driver experience isn't exactly ideal. According to 
Consumer Guide
, the 2017 Porsche 718 Boxster has a low-slung cockpit that offers poor visibility when the convertible top is up. If you can't see the road, you certainly won't be able to take advantage of everything this car has to offer, so be sure test drive it before making a purchase decision.
Electric/hybrid: Toyota Prius
Source:

toyota.com
Check out the 2017 Toyota Prius Prime for the ecological choice. As
HybridCars.com points out
, Toyota "swung for the bleachers in maximizing the Prime's 'miles per gallon equivalent' (MPGe) – its electrical energy efficiency – above any other plug-in hybrid or all-electric vehicle sold in the U.S." However, you will need to deal with the buzzy sound of the Prius' gas engine and its distracting infotainment screen if you want to reap its fuel-efficient benefits.
Test Drive a Chevrolet in Phoenix Today
No matter what kind of car you're looking for this year, one of these top 10 cars to buy in 2017 is bound to meet your needs and exceed your expectations. If you're still torn on which option is best for you, locate and visit your
nearby Chevrolet dealership
to test drive some of these incredible models before making a decision.