2021 Chevy Malibu LS Vs. LT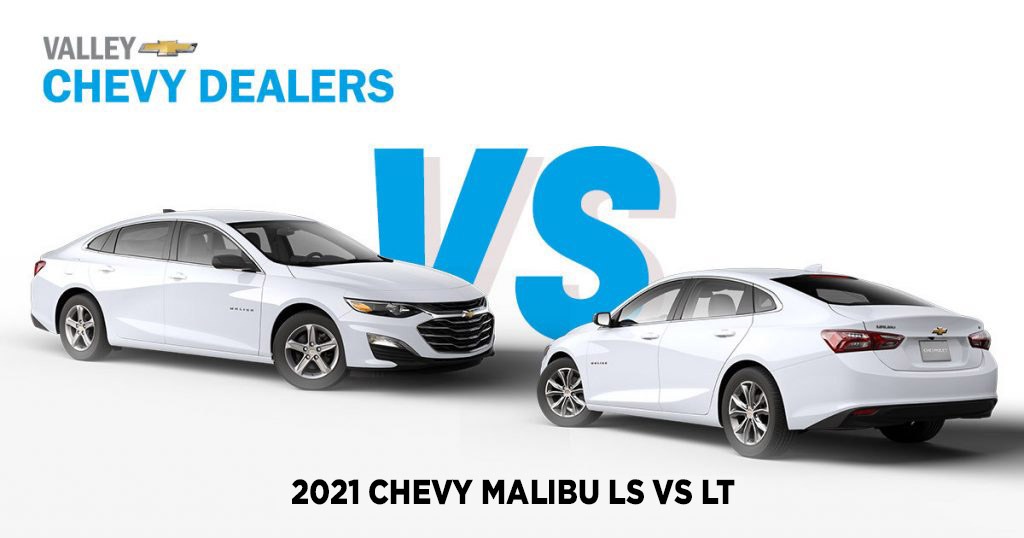 The Chevrolet Malibu has made a name for itself in the last several years. It's an extremely reliable mid-size sedan, and it also offers a variety of different configurations, which allows drivers to really make this vehicle their own.
The only downside to having so many great options is that it can be hard for some people to make a choice. Luckily, you really can't go wrong with any of the Chevy Malibu trim levels– it's only a matter of matching the features with your budget and lifestyle to take this vehicle from good to great.
The 2021 Malibu Has six different trim levels:
2021 Chevy Malibu L Trim Level
2021 Chevy Malibu LS Trim Level
2021 Chevy Malibu RS Trim Level
2021 Chevy Malibu LT Trim Level
2021 Chevy Malibu Premier Trim Level
2021 Chevy Malibu Hybrid (Offered With Just One Trim Level)
The Malibu is regularly considered to be at the top of the class of mid-size sedans, and each one of these trim levels offers a great combination of features and value. You can count on every 2021 Chevy Malibu trim level to offer smooth handling and an excellent driving experience overall. Most of the differences between trim levels come down to powertrain, technology, and luxurious comfort features.
The Hybrid trim level has obvious appeal to anyone who wants their vehicle to be more environmentally friendly. Other than that, though, the differences between the different trim levels may be more subtle. The differences will become more apparent once you start to get a better understanding of each of the options. Learn more about all of the different 2021 Malibu configurations to decide which is the right one for you.
Malibu L Vs. LS Trim Levels
The Chevy Malibu L trim level is the base model, but it's still completely sufficient for most people. This vehicle is likely to have most, if not all, of the features you're looking for in your next mid-size sedan. Even the standard features make this car capable and comfortable. Both the driver seat and passenger seat are adjustable in six different directions, allowing people to get comfortable for daily driving and long road trips alike.
You'll also be able to stay entertained on the road thanks to the Chevrolet Infotainment 3 system. This car has an excellent brain inside of it, and drivers can take advantage of a smooth user interface through an eight-inch color touchscreen. Put on your favorite music, and enjoy clear sound through six speakers in this vehicle. The infotainment system is far from the only impressive technology in the 2021 Malibu L trim level.
In addition to this great infotainment system, drivers can enjoy the convenience features like keyless entry, Connected Access, and headlights that turn on and off automatically. If you've ever driven a Chevrolet vehicle before, you know this carmaker goes above and beyond to make sure their drivers are safe on the road. That's why even the base model is equipped with state-of-the-art safety features like electronic braking.
Upgrading to the Malibu LS trim level makes this car even more impressive. The driver information center now includes a compass as well as a reading of the exterior temperature. Vanity mirrors are now available for both the driver and the passenger. It's also more stylish on the outside, thanks in large part to aluminum rims. Upgrading to the LS also unlocks some optional features like remote start capabilities, upgraded mats, and rear window shades.
One of the biggest differences is that the LS trim level includes a 4G WiFi hotspot, which is an important feature for those who like to stay connected on the go. Other big technological improvements include Chevrolet's Teen Driver technology, which is designed to benefit families that have a secondary driver. The Malibu LS gives parents more control when they have a new driver in this mid-size sedan.
2021 Chevy Malibu LS Vs. RS
The RS isn't too much more expensive than the LS, and it brings features some drivers will appreciate. A black grille makes this mid-size sedan look sharper, as do additional bowtie emblems and a dual-outlet exhaust. The exterior is further upgraded with a rear spoiler, which makes this vehicle look sportier and gives it a slightly more aggressive aesthetic, especially when combined with the other new features. Finally, the wheels increase in size from 16 inches on the L and LS trims to 18 inches on the Chevy Malibu RS.
While most of the benefits of upgrading from the LS to the RS are related to the exterior of the vehicle, there are some small changes to the interior as well. The Malibu RS features a leather-wrapped shift knob and steering wheel, making for a more luxurious feel. The steering wheel can also tilt and telescope at this level, allowing the driver to get more comfortable. Driver comfort goes one step further, too, with the power driver seat being upgraded from six-direction adjustment to eight-direction adjustment.
Chevrolet Malibu RS Vs. LT
The difference in price between the RS and LT trim levels is more significant than the one between the LS and RS trim levels. Still, the increase in cost may seem like a great deal for some drivers who appreciate all of the new features offered by the Chevy Malibu LT. The upgrades are significant, and some of them aren't even available as options on the lower trim levels. That makes this trim level extremely attractive to some drivers.
This trim level introduces automatic climate control, making it even better by offering two zones. Both of the front seats are heated, which makes it even more comfortable. The driver and the passenger are both treated to illuminated visor vanity mirrors, so they can primp their hair while they ride in style and comfort. Power windows round out the changes to the inside, and the outside is upgraded as well.
The 2021 Malibu LT has LED running lamps for daytime driving as well as LED taillamps which require much less battery power to light. This trim level offers heated power mirrors. The exterior mirrors are also the same color as the body with the Malibu LT trim level, while they're black on lower trim levels. The wheels on the Malibu LT shrink from 18 inches to 17 inches, but they make up for the loss of an inch with a sharp style.
2021 Malibu LT Vs. Premier
The 2021 Malibu Premier trim level definitely lives up to its name. The highest trim level of the non-hybrid Malibu offers premium features that are sure to satisfy even some of the pickiest drivers. There is a somewhat significant jump in price to upgrade from the LT trim level to the Premier trim level, but it will all feel worth it when you see all the ways this vehicle spoils you.
The driver seat goes from an eight-direction adjustment to a six-direction adjustment, a rare downgrade from other trim levels. This sacrifice is more than worth it because now the driver's seat can remember different drivers so there's no need to adjust your seat every time you share the car. Furthermore, most drivers don't really need to adjust their seats in eight different ways.  It's still very easy to get into a comfortable position in this vehicle, and all the other features will make you feel downright pampered.
The infotainment system now runs through an eight-inch HD screen. Heated seat capabilities extend to the rear outboard seats, making sure that all passengers are as comfortable as possible. Even the trunk mat is carpeted to provide a more luxurious experience. Technological upgrades include a 120-volt outlet to keep your devices charged and an audio system with nine speakers (up from six). Flashy exterior upgrades include turn signal indicators on the mirrors and 18-inch aluminum wheels.
2021 Malibu Hybrid
The biggest benefit of upgrading to the 2021 Malibu Hybrid is the engine, as you might expect. It has many of the same excellent features as the Malibu Premier trim level, and it also reduces environmental impact thanks to the hybrid performance and thoughtful touches like halogen headlights. Chevy's Stabilitrak system improves traction and handling. Drivers can also choose optional features like rear park assist and stainless steel sill plates on the front door to make this car even more impressive.
Which Chevy Malibu Trim Level to Choose
All of these trim levels have a lot to offer, which makes the decision between them even more difficult for some drivers. If it's in the budget, the 2021 Chevy Malibu Premier and Malibu Hybrid both offer a lot of great features that come completely standard. The Malibu L and LS might be better options for people who are trying to control their budget as much as possible and don't necessarily need a lot of features in their mid-size sedan.
Test Drive 2021 Malibu Arizona
The best way to choose between the different 2021 Chevrolet Malibu configurations is to see them all in person for yourself. Taking a test drive can help you understand the difference between Malibu LS and LT features, or compare the comfort of the Malibu Premier trim level to the hybrid option.
Find your nearest Valley Chevy dealer to see all of the available models in person, and an experienced member of our staff will help walk you through all of your different choices. Stop by today to take a test drive, or contact us online if you have any additional questions about the Chevy Malibu trim levels.