The 2017 Chevy Equinox vs. Traverse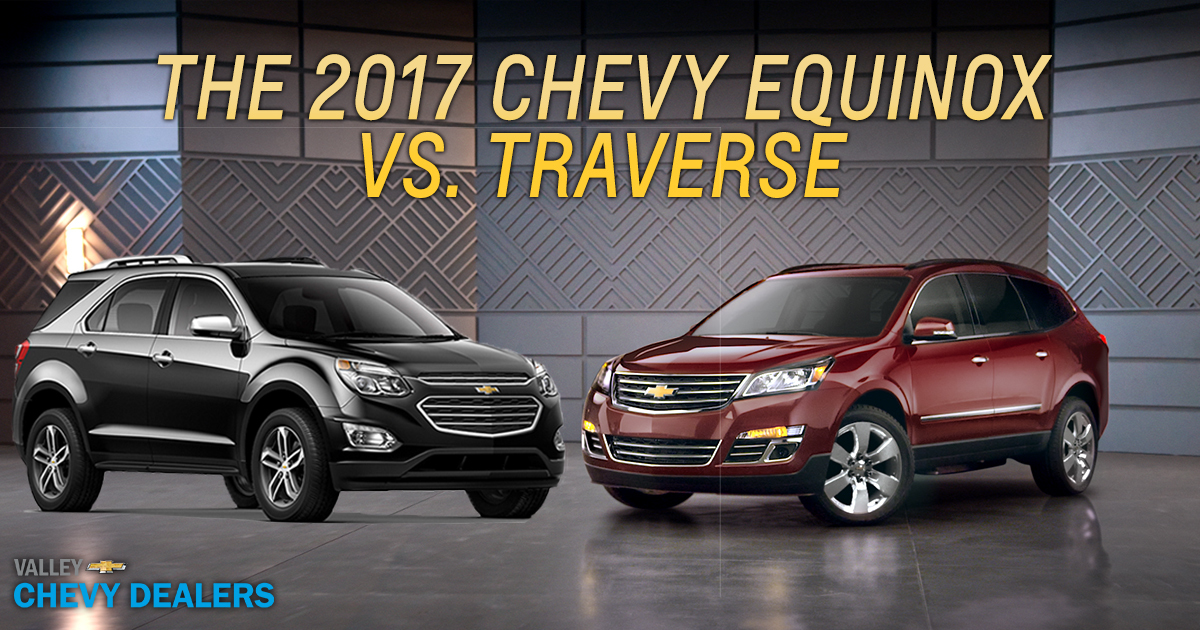 Stuck choosing between the 2017 Chevy Equinox or 2017 Chevy Traverse? You're not alone. Both of Chevy's 2017 crossover SUVs are incredible vehicles, which might make it hard to settle on one of the two.
While that's a good problem to have, it still is a problem. You have your own needs and desires from a new SUV, and the differences between the Equinox and Traverse may be significant enough to make one a better choice for your particular needs.
Decisions, Decisions

We'll compare the Chevy Traverse and Equinox in terms of safety, cargo and passenger capacity, performance, fuel economy and affordability. Are you ready to learn more? Read on! 
Safety

Winner: Chevy Traverse
With a phenomenal 9.7 out of 10 safety rating from U.S. News and a five-star overall rating from NTHSA, the Traverse is the clear winner in the safety battle. However, the Equinox is no slouch either, winning an excellent 9.3 rating from U.S. News and five stars for side barrier safety from NTHSA.
These two actually earned higher safety ratings than many 2017 sedans, compact cars, and even minivans! If safety is a big concern for you, this should give you a lot of peace of mind.
The risk of rollovers and tipping over is the biggest safety concern for SUVs — and for any other vehicle with a relatively high center of gravity. Chevy's engineers spent a lot of time and effort and performed a lot of research to alleviate this problem, earning both vehicles a less than 20 percent risk for rollovers. An analysis of NTHSA's 2012 rollover safety ratings shows other SUVs range up to a 34 percent risk.
In summary, both the Chevy Traverse and the Equinox are incredibly safe cars and offer the same set of high-tech safety features, including: 
ABS brakes
Rollover protection system
Traction control
Blind spot monitor
Driver airbag
Passenger, curtain and front-side airbags
Automatic forward braking
Collision alert system
Post-collision safety system
Fuel Efficiency

Winner: Chevy Equinox
Not surprising, considering that the Equinox is lighter by about 1,000 pounds on average and boasts a considerably more compact design and comes standard with an efficient 2.4-liter engine – although a more powerful 3.6-liter engine is also available. If fuel economy is one of your major concerns, the difference between the Equinox and Traverse is clear, and by electing to go for front-wheel drive rather than all-wheel drive you can maximize your fuel economy.
With front-wheel drive, the 2017 Equinox achieves an impressive 31 miles per gallon on the highway and 21 in the city. The Traverse, in comparison, achieves 22 mpg on the highway and 15 in the city with all of its possible drivetrain configurations – which is still pretty impressive considering its weight and the power of its engine.  
Storage and Passenger Capacity

Winner: Chevy Traverse
Big, powerful and spacious, the 2017 Traverse is a fantastic choice if you need to carry a lot of passengers. Combined with its incredible safety rating, the Traverse is the ideal family crossover SUV -- able to carry up to eight adult passengers (seven passengers in higher-end trim levels that have second-row captain's chairs).
Folding down the rear two rows of passenger seats brings its cargo capacity up to 116.3 cubic feet, almost twice that of the Equinox. You can also just fold down the rear seats since it has three rows, which makes the Traverse a little more versatile when it comes to passenger and cargo capacity than the Equinox.
That being said, the 2017 Equinox does boast 31.5 cubic feet of dedicated cargo space in the rear compared to the Traverse's 24.4. In addition, you can fold down the rear seat to slightly more than double its cargo capacity to 63.7 cubic feet.
Affordability

Winner: Chevy Equinox
The 2017 Equinox's has seven trim levels, with an MSRP starting from $23,100 for the L class all the way up to $31,790 for the top-of-the-line Premier. The Traverse, being more spacious and in general a little higher-end, starts from $28,700 for the base LS up to $42,045 for the Premier, which is an absolutely luxurious ride. 
In addition, Edmunds estimates the five-year cost to own a 2017 Equinox starts at $34,643, compared to $44,682 for the 2017 Traverse. If you're looking to get the most bang for your buck, the Equinox is your best choice.
Performance

Winner: Chevy Traverse (by a hair!)
Every trim level of the 2017 Traverse sports a powerful 3.6-liter V6 engine under the hood that outputs 281 horsepower and 266 foot-pounds of torque on the base LS, which increases to 288 horsepower and 270 foot-pounds of torque with the dual exhaust system on the Premier trim level. An all-wheel drive and a more fuel efficient front-wheel drive configuration are available, both of which are paired with a six-speed automatic transmission. All things considered, the 2017 Traverse can tow up to an impressive 5,200 pounds if you equip it with the right gear.
However, the 2017 Equinox can still pull its own weight, so to speak. Under the hood you can either find the Equinox's standard 2.4-liter, four-cylinder engine, able to provide a respectable 182 horsepower and 172 foot-pounds of torque. The 2.4-liter engine can tow up to 1,500 pounds with the right gear. You can also choose a more powerful 3.6-liter V6 engine that can provide a staggering 301 horsepower and 272 foot-pounds of torque, which means that the Equinox can actually generate more power than the Traverse! The Traverse still wins out on towing capacity though: The 2017 Equinox can tow up to a maximum of 3,500 pounds.
Customizability 

Winner: Chevy Equinox
They say that variety is the spice of life. If so, the 2017 Equinox is hot! You have a lot of options to choose from with this vehicle, with seven different trim levels. Power seats and leather upholstery are on the menu for the higher trim levels. You can have it with front-wheel drive or all-wheel drive, and as mentioned before, you have the option to choose between the standard 2.4-liter, four-cylinder engine or a more powerful 3.6L V6. 
There's a lot to choose from on the 2017 Traverse, too, with five different trim levels that offer a wide variety of options for seating and engine power, but overall the Equinox gives you more options than the Traverse does.
Infotainment System

Winner: Tie
When there are so many important points of comparison between the 2017 Chevy Equinox vs. Traverse, it's comforting to know that they share this in common: a fantastic, modern infotainment system in the form of Chevrolet MyLink. Via bluetooth, you can hook it up to your phone to make calls, have your texts read to you and use your phone's navigation tools – all hands-free so you can keep your hands on the wheel and your eyes on the road, where they should be!
Both vehicles offer USB and auxiliary inputs, trip computers and post-collision safety systems standard on their on-board computers among other great features. You also have the option to include SiriusXM Satellite Radio, Pandora Internet Radio or Stitcher SmartRadio, all of which give you access to a ridiculous quantity of stations to listen to any genre, from hard rock to talk radio to comedy to classical. 
Got a student driver in the family? MyLink includes a first-of-its-kind on-board driver report card that you can use to help encourage safe driving habits and teach your teen to drive. Among other features, the Teen Driver system can prevent safety features like parking assist and collision detection from being turned off, and it keeps records of data like whether the collision alert or forward automatic braking systems were triggered, and a record of trip speeds, including whether the vehicle ever goes over a specified speed.
Overview: You Really Can't Go Wrong with Equinox or Traverse

At the end of the day, choosing between the Chevy Equinox vs. Traverse will come down to what your needs and wants for a vehicle are. While they're both crossover SUVs, each has its own strengths. The Equinox was designed from the ground up for efficiency and safety, while the Traverse was made for engine power and the ability to carry a lot of people and gear wherever you need to take them.
They're pretty close when it comes to safety and technology options, which are probably the most important concerns, so you can easily narrow your decision points down to: Which vehicle would you rather drive? For instance, the 2017 Chevy Equinox is more affordable and efficient, while the 2017 Chevy Traverse is slightly safer, more spacious and a little more powerful.
Your Valley Chevy Dealers
If you really want to compare the Chevrolet's Traverse and Equinox and you live in the Phoenix area, you should find your nearby Valley Chevy dealership so you can get behind the wheel of each and go for a test drive. Whichever you choose will be an excellent choice for you and your family.