2017 Chevrolet Equinox: Exterior Features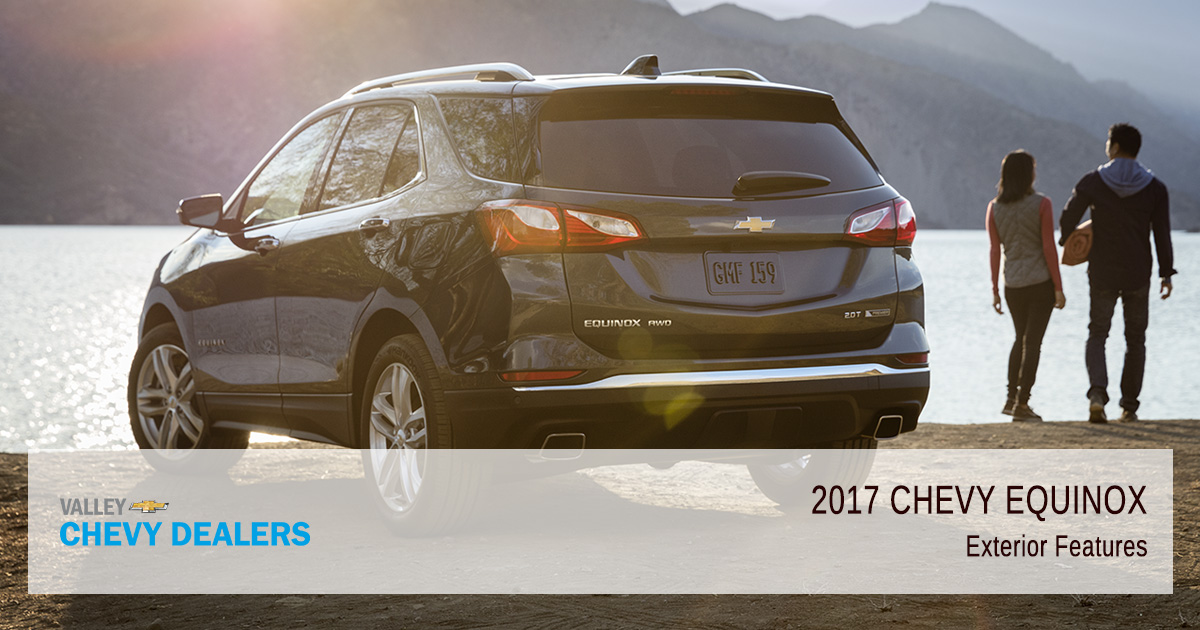 The features of the 2017 Chevrolet Equinox's exterior have to balance out the vehicle's passenger car elements along with its SUV aspects. Good thing that they all come together in a cohesive package across the various trim levels.
Stylish Yet Reserved
Lets go over some of the new Equinox's functionally aesthetic features.
See also: Compare the Chevy Equinox to the Traverse
Hot Wheels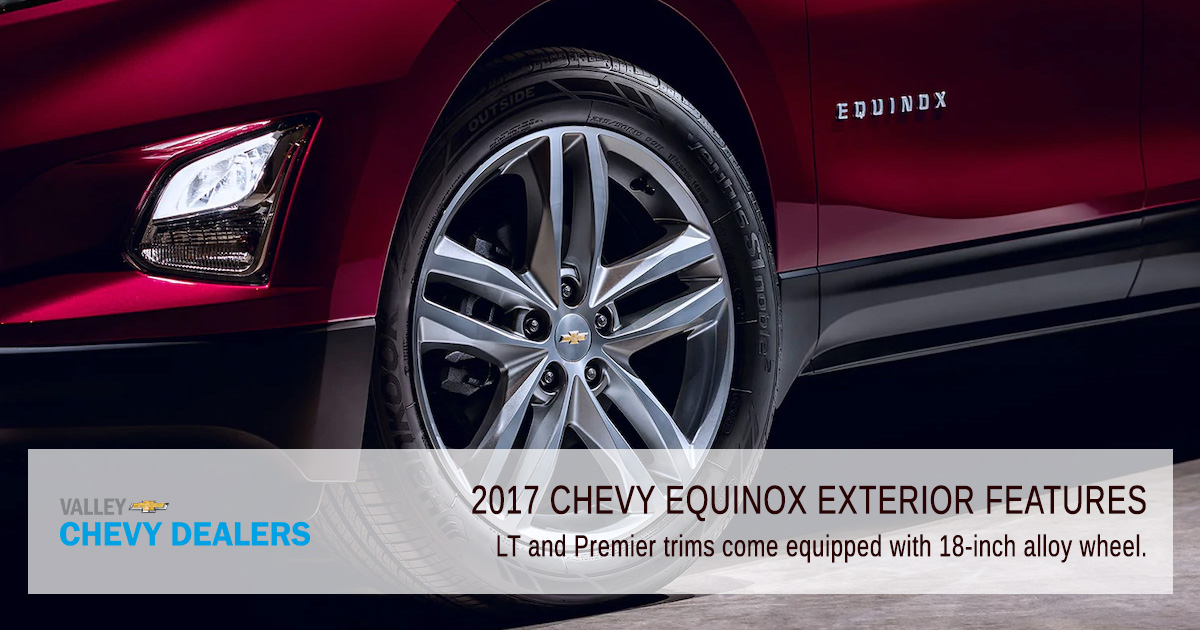 The L, LS and LT packages all come with 17-inch aluminum wheels, with 18-inch wheels an option for the LT and standard for the Premier package. With the exception of the L package, Equinox owners can keep those wheels in place with an optional set of manufacturer wheel locks.
Naturally, all trim packages come with a spare tire on a steel wheel for those unfortunate circumstances where a tire gets damaged.
Hauling Gear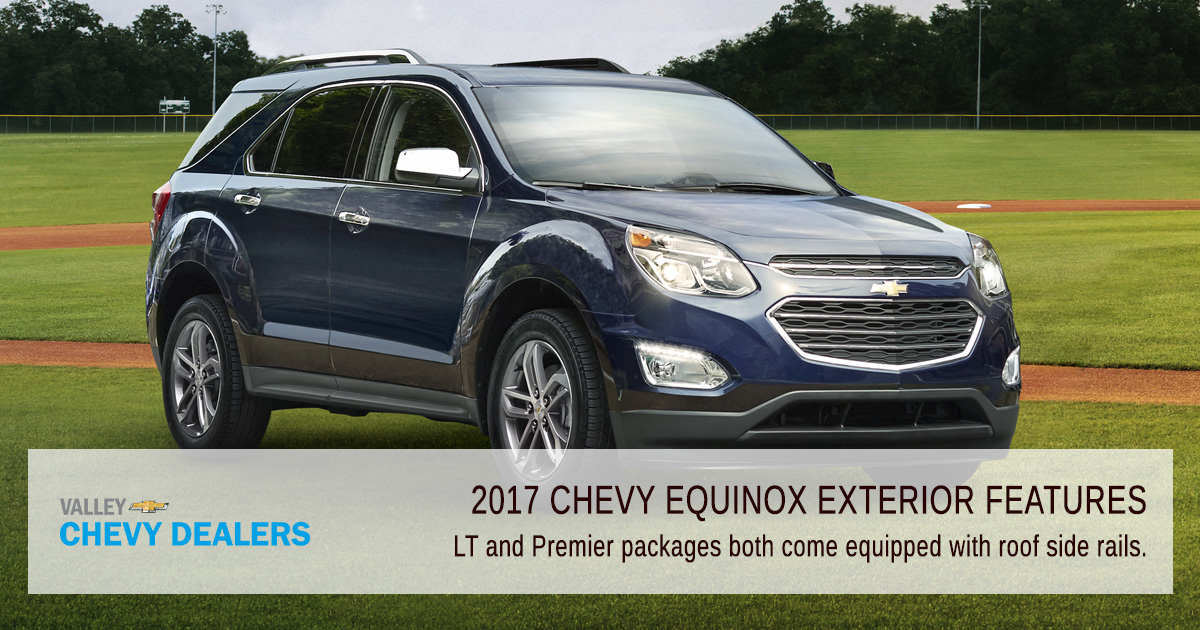 While there's a lot of room inside the Chevy Equinox, sometimes it's not always practical to haul cargo on the inside of the car. The LT and Premier packages both have roof side rails, which can allow owners to strap large and bulky packages on top of the roof and save space inside the vehicle.
Sometimes, though, even roof rails are not enough. For this reason, all packages except the L package have an optional Class II 1.25-inch trailer hitch that can be added, allowing owners to attach a trailer and hook up running lights for it to ensure the maximum possible cargo capacity available for the vehicle.
Lights and Shine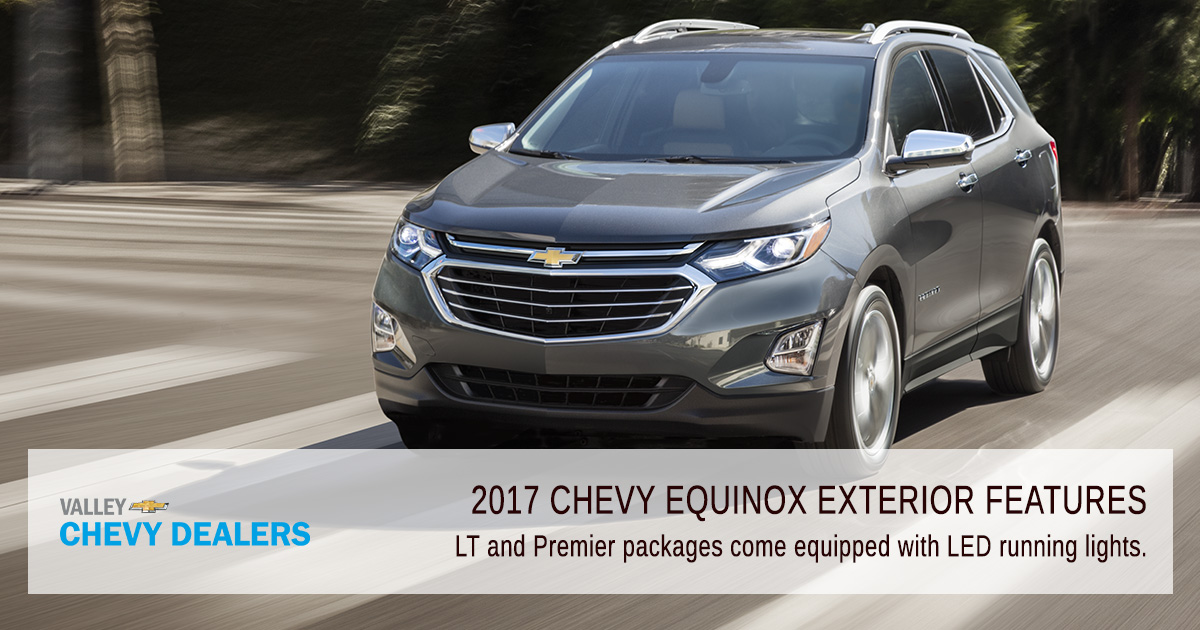 Daytime running lights are standard on all new vehicles. The Equinox's L and LS packages come with normal halogen running lights; the LT and Premier packages come with LED running lights. For night driving conditions, the Chevy Equinox comes with halogen projector lamps across all trim packages.
As for natural light from the sun, the L, LS and LT packages all come with tinted windows, while the Premier package has deeper tinted windows. In addition, the LT and Premier packages both have an optional sunroof to let some light in when driving down the road.
The Chevy Equinox's exterior features are varied and highly useful, just what you'd expect in a crossover SUV. And the 2017 Chevrolet Equinox colors vary from subtle to bold to suit every taste.
Test Drive a Brand New Equinox Today!
Visit your nearby Valley Chevy dealer today and set up a test drive to see the 2017 Equinox in action! We know you're going to love the interior of the Equinox plus you have several engine options, ranging from high powered to an economically sound diesel trim. You're going to be impressed by the Equinox's MPG and annual fuel cost too.
See also: Preview the 2018 Chevrolet Equinox
---
Infographic: 2017 Chevrolet Equinox Features

Share this Infographic On Your Site