Key Facts about the 2017 Chevrolet Equinox's Engine
The Chevy Equinox crossover is intended to work well both in urban environments and out in the wilderness. As a result of these sometimes mutually exclusive scenarios, an engine needs to be able to have the get-up-and-go for fast responses on city streets while also having the brute force necessary to haul its mass (along with passengers and cargo) up steep grades and over rough terrain.
The Best of Both Worlds
If you love the power of a V6 the Equinox has you covered. If you like saving money on fuel costs, guest who has you covered?! That's right, it's the Equinox. With an abundance of interior and exterior features, you're going to have a hard time buying something else.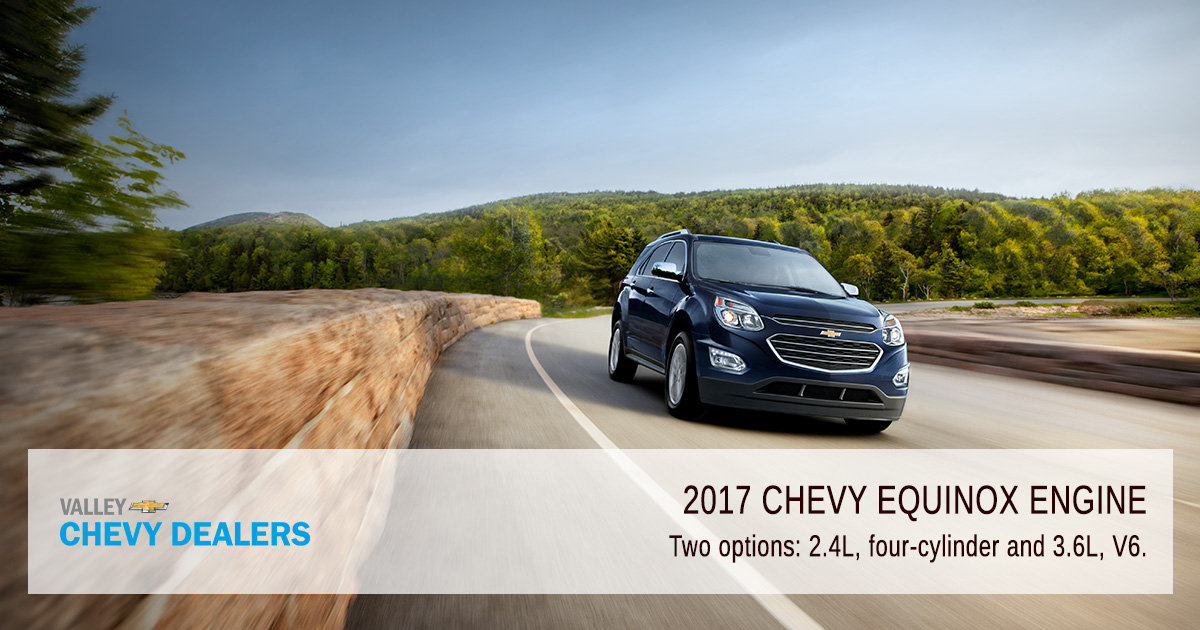 Straight or Bent
The Chevrolet Equinox's engine comes in two different varieties. The first is a 2.4-liter, four-cylinder engine with dual overhead cams and direct injection, a small engine relatively speaking, but one that does put out a respectable amount of power for its size. The other engine is a 3.6L V-6 engine, also with dual overhead cams and direct injection, but a third again as large as the 2.4L, which translates to power to spare.
The Long Haul
When it comes to torque and horsepower, both instances of the Chevy Equinox's powertrain provide exceptional performance. The 2.4L engine puts out a respectable 182 horsepower and 172 foot-pounds of torque, certainly enough for hauling light loads or full cabins of passengers around town.
As for the V-6, when placed in an Equinox it cranks out 301 horsepower and 272 foot-pounds of torque, more than enough for towing heavier loads than the 2.4L can easily handle, as well as more easily handling steep road grades during an ascent.
Fuel Concerns
Both the 2.4L and the V-6 engines have flex fuel capabilities, offering up the option to use either straight gasoline or E85 ethanol. When burning straight gasoline, the 2.4L engine can get 21 miles per gallon in the city and 31 on the highway. By comparison, the V-6 engine does not quite get the same gas mileage as the 2.4L, a natural consequence of the power generation that it provides. Even so, it's still enough to get a combined 18 mpg.
When burning E85, fuel economy in both engines drops, owing to the nature of the fuel and the efficiency at which it can be burned. This is countered by the lower exhaust emissions that occur when E85 is burned.
Test Drive a New Equinox Today!
Your
Phoenix Chevy dealers
can provide you with more information about the Equinox and its performance with both engines installed. Though the best way to find out is to take them both out for a test drive.
2018 Equinox's
have arrived!
---
Infographic: 2017 Chevrolet Equinox Features

Share this Infographic On Your Site