2019 Chevy Tahoe Trims & Specs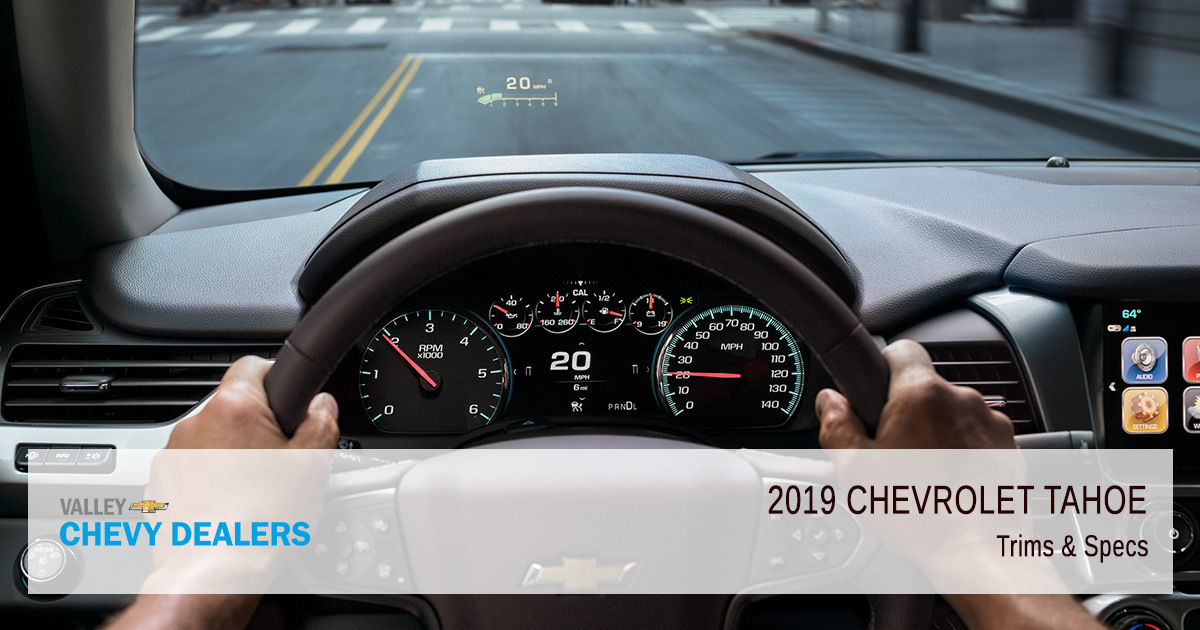 The 2019 Chevrolet Tahoe is rumored to be the last of the fourth generation Tahoes. If you're in love with this particular iteration of one of America's favorite big SUVs, now is the time to get the last model available. There will be a few great upgrades, but you can expect it to have all the features you love about Tahoes in recent years.
What's in Store for the Tahoe in 2019?
Here's an early look at some of the tweaks you can expect going into 2019.
2019 Tahoe Colors
There are a few color changes coming, as Chevrolet is refining the look of one of its most popular vehicles. Havana Metallic was discontinued as an exterior color midway through the 2018 model year, and Tungsten Metallic will be deleted as an option for 2019 Tahoes as well. Chevy is adding an attractive new Shadow Gray Metallic option for the exterior, which is now available on the 2019 Tahoe RST Edition.
This Shadow Gray Metallic color will also be available for the rear fascia closeout feature. This is a piece that gets installed at the dealer level to cover the trailer hitch for drivers who don't want to haul anything and prefer not to have the hitch exposed. Previously, for 2018, this rear fascia closeout feature came in only Iridescent Pearl Tricoat, Black, Summit White, and Silver Ice Metallic. All of those colors will be available again for the 2019 Tahoe.
2019 Tahoe Government Vehicles
If you're a government vehicle enthusiast, you may know about the Tahoe PPV (Police Pursuit Vehicle) and Tahoe SSV (Special Service Vehicle). These SUVs are equipped to handle the demands and dangers that come with those specific jobs, and will undergo some additional changes for 2019. The Radio Suppression Package now comes as a free-flow option on both of these specialized vehicles. This upgrade is designed to reduce static, interference, and any other unwanted noise that may interfere with communication in the line of duty.
2019 Tahoe Trims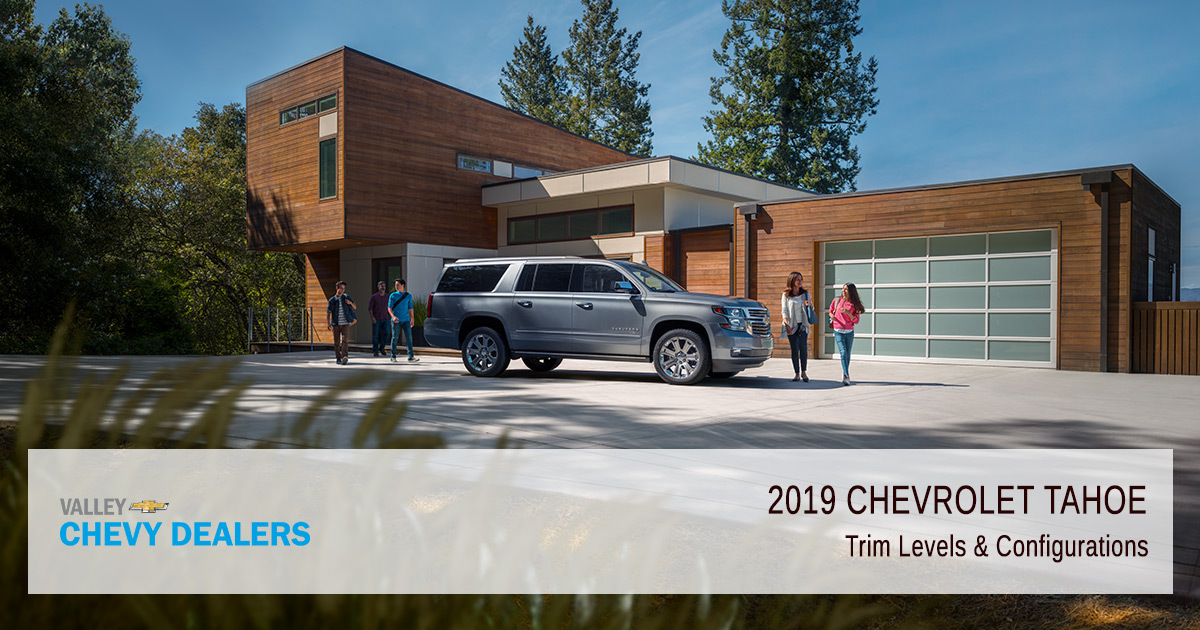 The trim levels and model styles will be largely unchanged from 2018. The available styles include all of the following:
Tahoe LS Four Door with Rear Wheel Drive - Starting at $47,900
Tahoe LS Four Door with All Wheel Drive - Starting at $50,900
Tahoe LT Four Door with Rear Wheel Drive - Starting at $52,900
Tahoe LT Four Door with All Wheel Drive - Starting at $55,900
Tahoe Premium Four Door With Rear Wheel Drive - Starting at $62,600
Tahoe Premium Four Door With All Wheel Drive - Starting at $65,600
This list doesn't include the new 2019 Chevy Tahoe RST. The RST edition was brand new for 2018, and Chevrolet hasn't given us too many hints about what we can expect from the next iteration of this powerful vehicle. Early estimates are that it will be at the top of the range for Chevrolet Tahoe price, but that's to be expected from such a high-performance full size SUV. Skip ahead to the section about the new engine for Chevy Tahoe if you want to see why auto enthusiasts are so eager to hear more about the upcoming RST.
All of the trim levels mentioned above come equipped with an eight-cylinder 355 horsepower engine, which sends its power to a six speed shiftable automatic transmission. All of these options get 16 miles per gallon of fuel in the city, and 22 miles per gallon on the highway with four wheel drive. If you opt for two wheel drive, you increase your mileage per gallon on the highway to get 23 miles per gallon of fuel.
One change you can expect is that the 2019 Tahoe Premier will include a Premier badge on the tailgate. This is a new feature that all 2019 Chevy models include.
New Engine for Chevy Tahoe
The 2018 Tahoe got a new engine that gave it a top range for its class, and you can expect more of that excellence going into 2019. The base engine gets 355 horsepower from its eight cylinders. This engine sends its considerable power to a six-speed automatic transmission for a smooth ride and responsible fuel efficiency from a large SUV. The Tahoe RST, which was brand new for the 2018 model year, will get an extra dose of power and performance. The RST gets a 6.2L V8 with 420 horsepower and 460 lb.ft. of torque.
Test Drive a New Tahoe in Phoenix
If you're already anticipating the arrival of the new Tahoe, keep an eye on your nearest Chevy dealership. The new model will be here before you know it, and they're sure to fly off the lots just like Tahoes always do. Stop by your local Valley Chevy Dealer today to find out how you can get notified as soon as the new 2019 Tahoe becomes available. You'll be towing your toys to lakes and camping sites in no time!