2019 Chevy Camaro's Best Features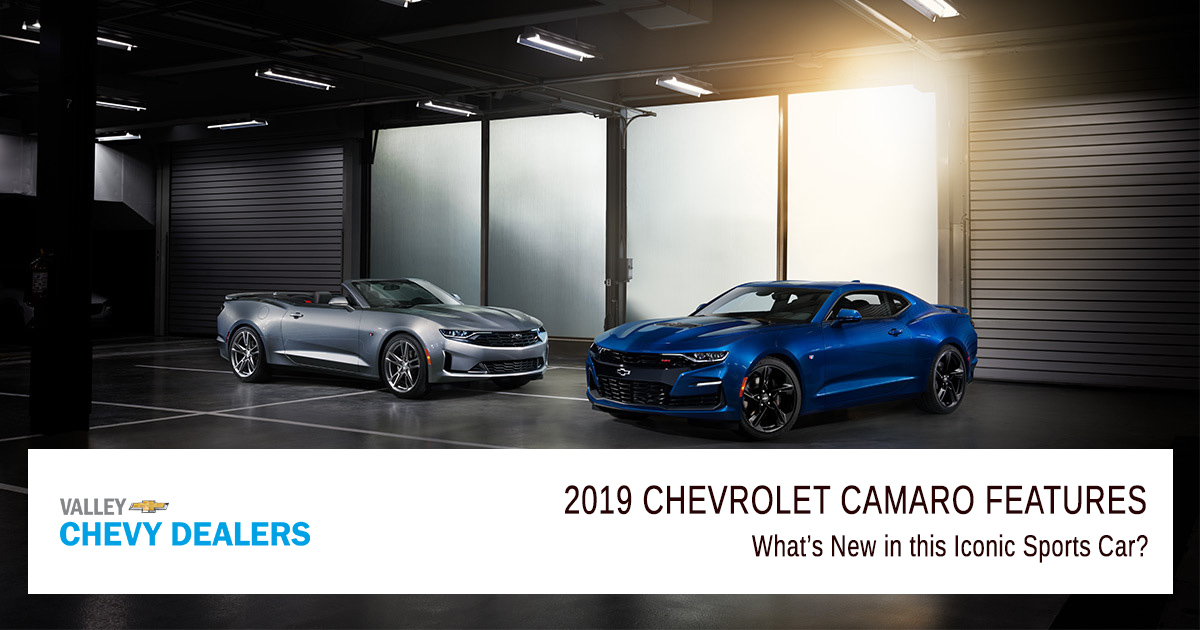 Chevrolet has released some photos of the new Chevy Camaro. Some photos on the official site warn that this is a pre-production model, and the actual production model may vary. We hope the new Camaro isn't too much different, because the pictures look awesome! This sports car absolutely looks like it's ready to live up to the legendary Chevrolet Camaro name, and early reports indicate that it's much more than just a pretty face. Read on to learn more about what you can expect from the brand new 2019 Camaro.
2019 Camaro Infographic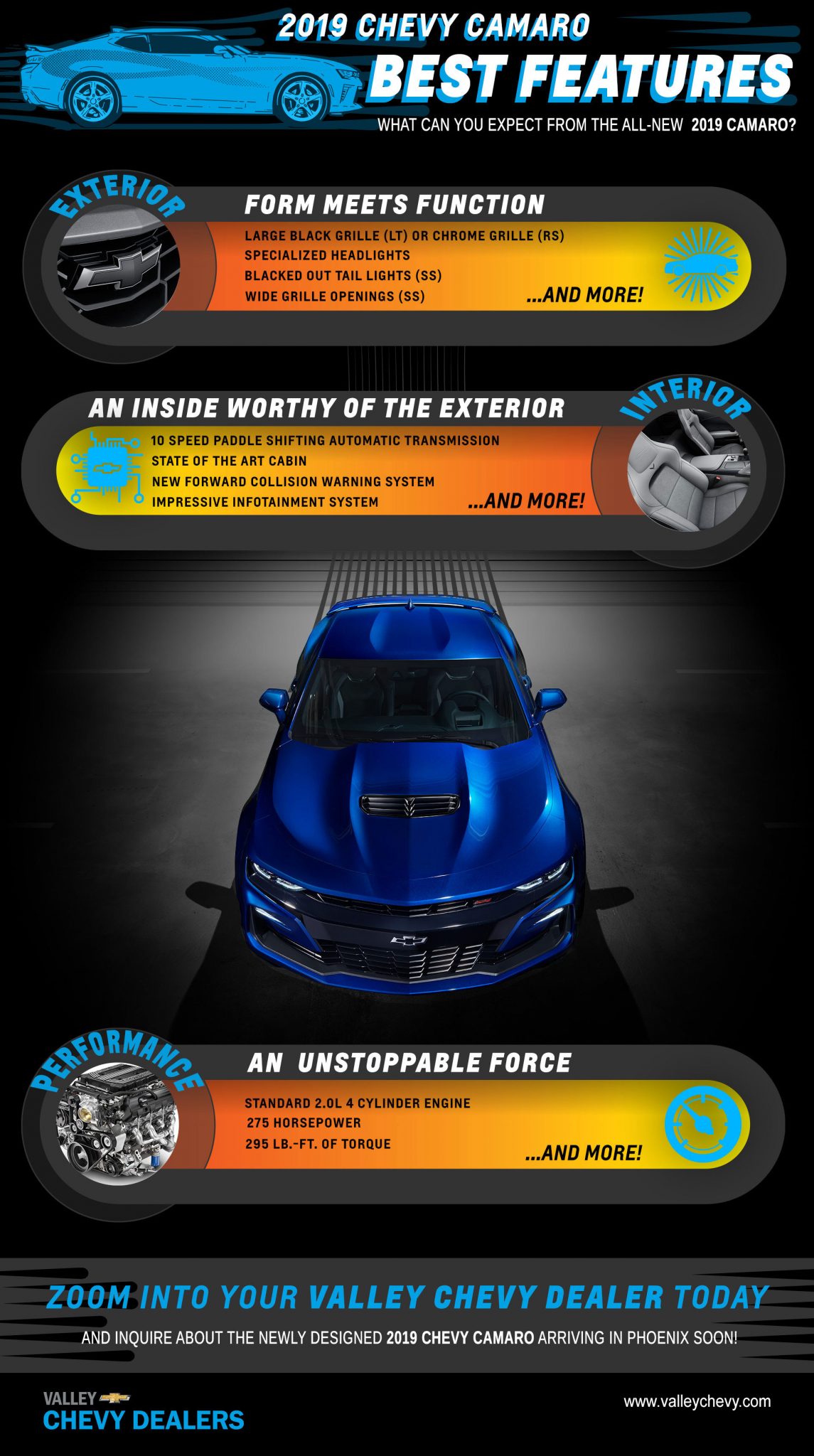 Share this Infographic On Your Site
What to Expect in Chevrolet's 2019 Camaro
Without further ado, here's what you can expect to find in the upcoming model year for the Camaro.
2019 Chevy Camaro Exterior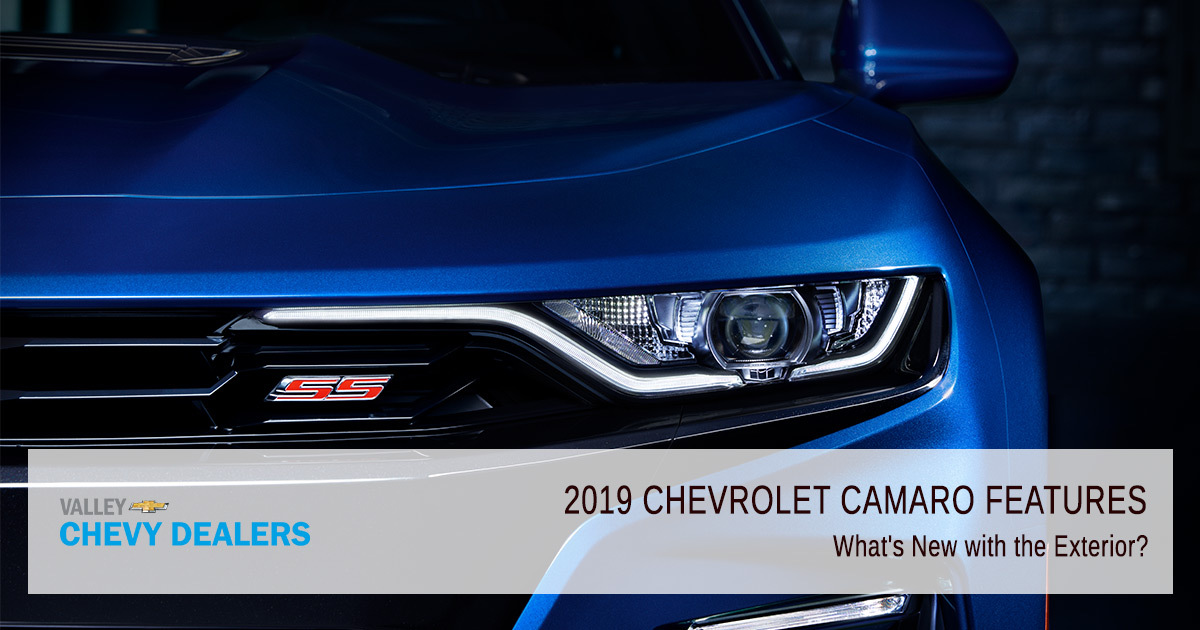 This car pulled off one of the greatest feats of automotive design we've ever seen. It stays true to its Camaro roots, and looks like it absolutely belongs in this distinguished lineage. At the same time, it also brings something completely new and fresh to the table. It somehow looks even more intimidating than the American muscle it descended from.
The hoods are taller and contain a level of sculpting that might just qualify them as art. Different trim levels have their own special features, like the large black grille on the Camaro LT trim level or the black and chrome grille on the 2019 Camaro RS trim level. The 2019 Camaro RS and SS trim levels get specialized headlights and an LED light bar that makes them look especially fierce.
Each car has a different front that gives it a unique personality, so there truly is a Camaro for everyone (or at least there will be as soon as they get to the dealerships). Some models include blacked out tail lights to really show their sinister side. The Camaro SS trim level has some stylistic elements that also improve performance, like an air extractor, hollow emblem, and wide grill openings to get as much flow as possible.
Speaking of air flow, feel free to choose the convertible option to let the wind rush over your face as you cruise down the highway. The new generation of Camaro truly pulls out all the stops. Each version of this car seems like it's trying to top the next, and it's hard to tell which one of these premium sports cars is our favorite.
Every single one of these cars looks like it belongs in a museum, but that would be a waste of the brilliant aerodynamics that guided the design process. Even the perfectly placed and expertly designed wheels come in different finishes. Form meets function to create the next generation of cutting edge automotive engineering, and that's only on the outside.
2019 Chevy Camaro Interior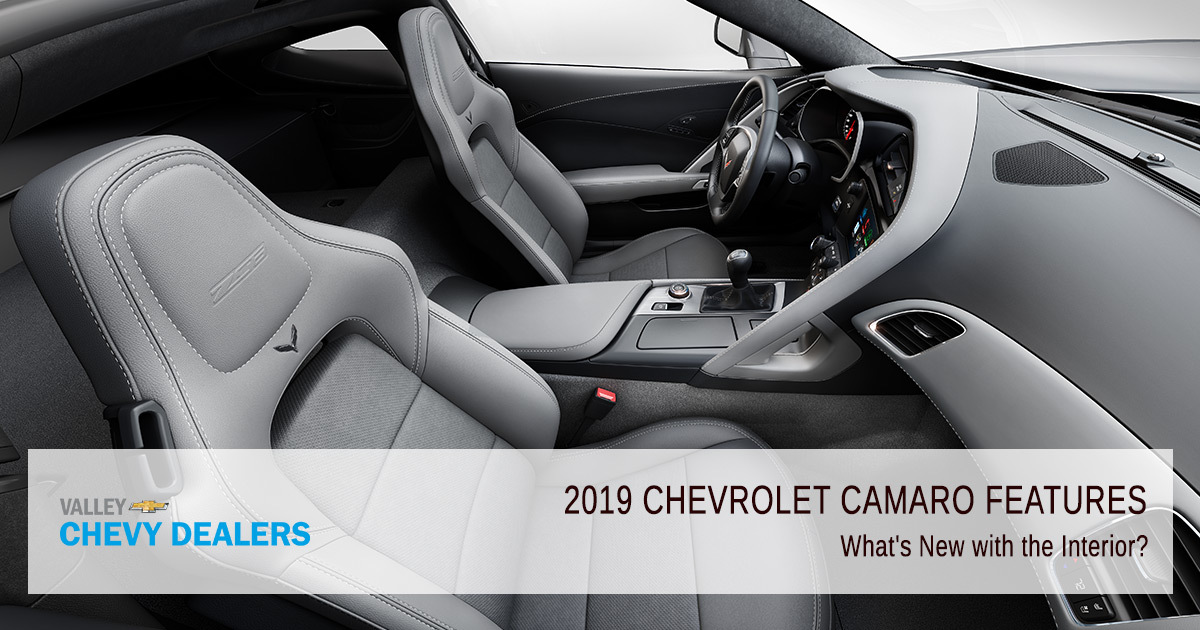 Chevrolet hasn't shared too many details about the 2019 Camaro yet, which makes it hard to know exactly what awaits once we get through the door. They've given us just enough hints to know that whatever's inside this car will be totally worthy of the exterior beauty. Expect to see the option for a 10-speed paddle shifting automatic transmission, which will accentuate the performance as well as creating the kind of state of the art cabin that speed enthusiasts crave.
The inside of this car is sure to include the innovative Chevy technology that's been setting the brand apart in recent years. This includes safety features like a rear camera mirror and other cutting edge additions that will keep your outings safe and let you focus on how much fun you're having.
The safety extends beyond the primary driver, too. You don't have to be afraid to hand your teen the keys to this beast thanks to Chevy's Teen Driver monitoring and report card technology. Other driver assistance includes a new forward collision warning system, too, so you don't have to worry so much about smashing that beautiful front end.
Of course, it wouldn't be right to talk about Chevrolet technology without at least mentioning their impressive Infotainment systems. Most recent Chevy cars have included massive color touchscreens, Bluetooth technology, Apple CarPlay, and Android Auto among other things, and the 2019 Camaro is sure to pull out all the stops as well. Expect this sports car to keep you connected with its own 4G LTE Wi-Fi connection.
2019 Chevy Camaro Performance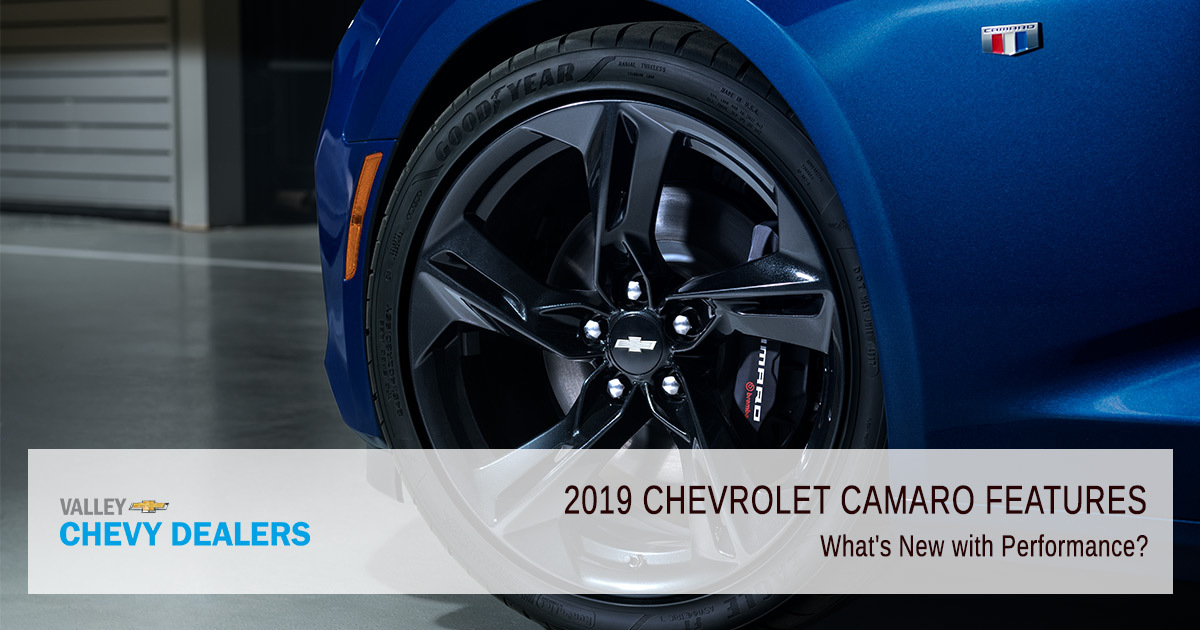 The Chevrolet Camaro didn't become what it is today just by looking great. It's also an unstoppable force on the road. The standard 2.0L four-cylinder engine generates an impressive 275 horsepower and 295 lb.-ft. of torque. You might zoom by other cars so fast they don't even have time to admire the redesigned body.
Inquire About the Newly Designed 2019 Chevy Camaro Arriving in Phoenix
Chevrolet has indicated that the new Camaro will be ready as soon as Fall of 2018, so we don't have too long to wait. This model should be gracing Valley Chevy Dealer lots, and local drivers are already pining to get their hands on one. Keep an eye on your closest Chevrolet dealership in Phoenix for the opportunity to be a part of one of these all new Camaros.