2018 Chevy Tahoe Reliability & Customer Satisfaction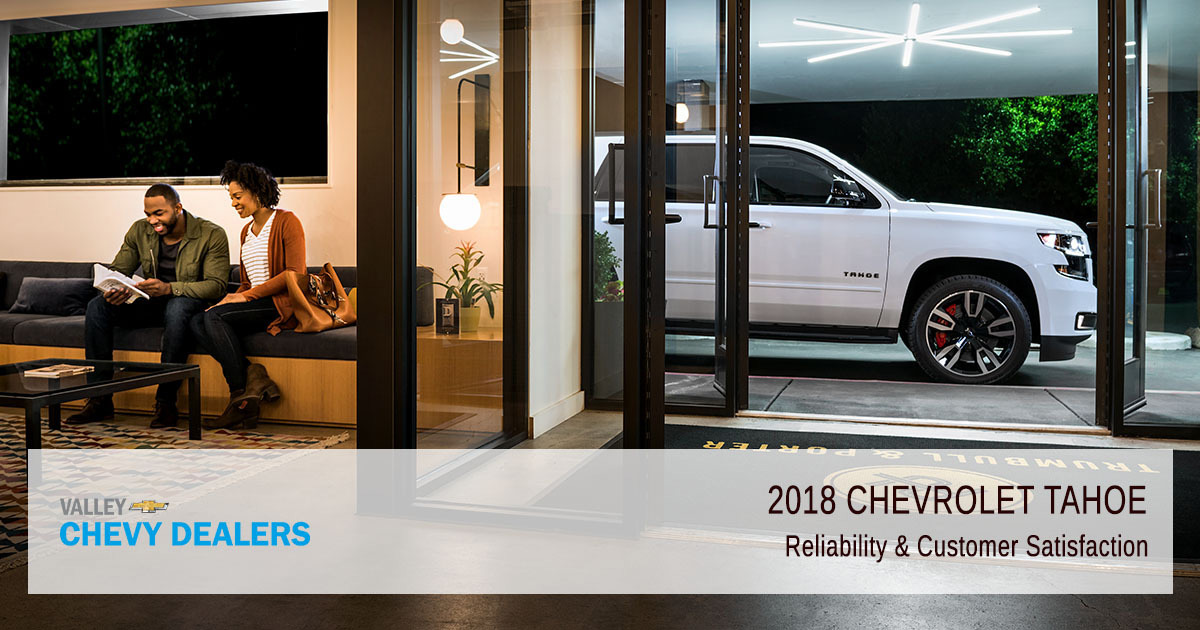 Compare 2018 Chevy Tahoe reviews to see all the great features that make the Tahoe one of the best-selling SUVs ever made. The new 2018 Tahoe scores well in owner satisfaction, the acceleration and transmission tests, and it provides the legendary Chevrolet dependability. The good Tahoe reliability ratings allow drivers to have the peace of mind that their investment in a new 2018 Tahoe will keep them on the road with minimal problems throughout the years, regardless of whether you buy the LS trim or the Premier model.
2018 Tahoe Part & System Ratings
The Chevrolet brand is famous for its dependability, and it continues to make vehicles that last for many years without constant maintenance problems. Consumer Reports has found that previous iterations of the Chevrolet Tahoe offer above average reliability in most areas, and don't need a lot of expensive work to stay on the road. It's no wonder so many smart shoppers choose a Tahoe when they need a dependable SUV. The Consumer Reports analysis comes from a thorough look at all of the following components:
Engine major
Engine minor
Engine cooling
Transmission major
Transmission minor
Drive system
Fuel system
Electric system
Climate system
Suspension
Brakes
Exhaust
Paint / trim
Body integrity
Body hardware
Power equipment
In-car electronics
2018 Tahoe Reliability Ratings
Consumer Reports is widely regarded as the most trustworthy source for reliability information available to customers, and Chevy's high marks here indicate what drivers can expect from the latest Tahoe SUV. Consumer Reports surveys drivers of more than 640,000 vehicles to gather a reliability history dating back to the year 2000. Consumer Reports keeps track of other performance data as well, and their prediction that Tahoe owners will be satisfied with their purchase is among the most important marks of distinction a vehicle can receive.
2018 Tahoe Overall Owner Satisfaction
Excellent Tahoe reliability combines with all the other great things about this SUV to make owners more satisfied than ever with their purchase. The best metric for owner satisfaction is how many owners want another version of the same vehicle they currently drive. Consumer Reports gives Chevrolet's Tahoe a four out of five-star rating for Predicted Owner Satisfaction. This comes as no surprise, considering how many families love to buy one Tahoe after another.
See also: Do I Want a New Tahoe or Expedition?
Test Drive the New Tahoe in Phoenix Now
The reliability of the newest Tahoe speaks for itself, but it's still a great idea to see your next SUV in person before you make a purchase decision. Visit your local Phoenix Chevy dealership for a test drive the dependable, big Tahoe 2018 SUV today and ask about other awards it has received. Your local Chevrolet professionals can fill you in on all the details that make this SUV a great buy.