2018 Chevy Equinox Fuel Efficiency & Gas Consumption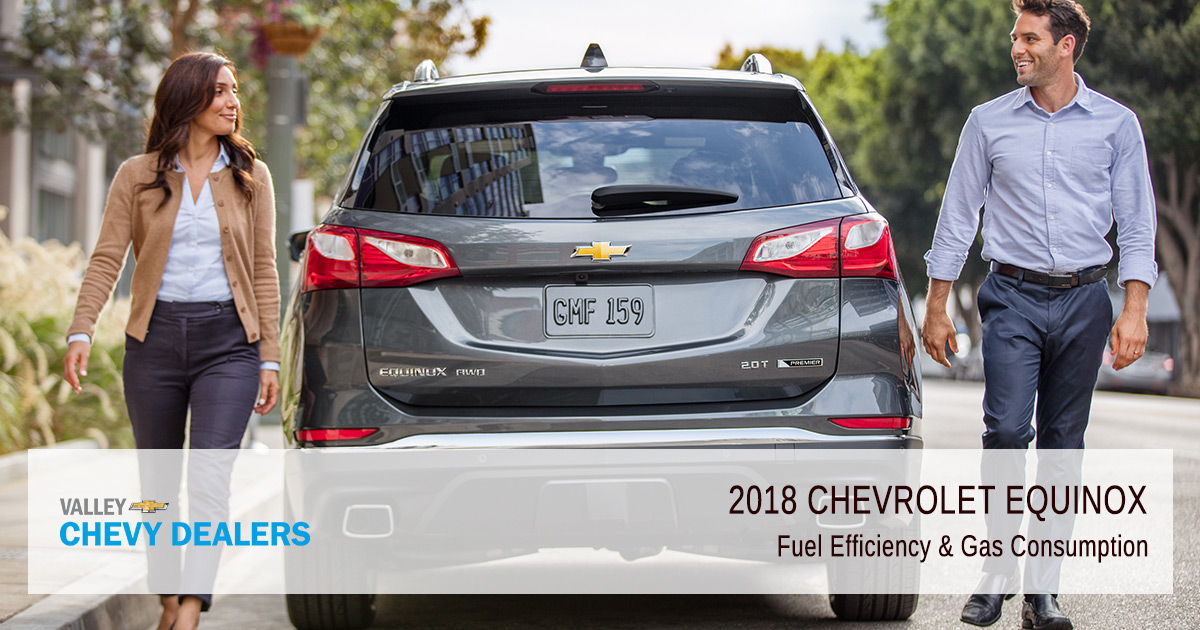 The 2018 Chevy Equinox has been redesigned for this year, achieving WardsAuto's 2018 10 Best Interiors recognition, and the new look comes with fuel economy that's better than ever. You'll be pleasantly surprised by the Chevrolet Equinox fuel efficiency, and that's great news for those who love to pack up the crossover for a long weekend road trip. The 2018 Equinox gives drivers plenty of options with three economical engines; no matter which trim level you decide upon - such as the LS or LT configurations.
2018 Equinox Fuel Mileage
The U.S. Department of Energy is the official U.S. Government source for fuel economy information, and they have conducted thorough tests on all three of Chevy's Equinox engines. The options include the standard 1.5L four-cylinder turbo gas engine, a 1.6L four-cylinder turbo diesel engine, and a 2.0L four-cylinder turbo premium engine.
The Department of Energy tested the 2.0L engine with premium gasoline and a nine-speed automatic transmission and found the following results:
29 miles per gallon highway
22 miles per gallon city
25 miles per gallon combined
The standard 1.5L engine uses regular gasoline, and found even better results when tested with the automatic six-speed transmission:
32 miles per gallon highway
25 miles per gallon city
28 miles per gallon combined
The 1.6L turbo diesel engine is especially impressive. It packs a punch with the power of diesel, and still manages to deliver the following fuel economy with a six-speed automatic transmission:
39 miles per gallon highway
28 miles per gallon city
32 miles per gallon combined
2018 Equinox Fuel Efficiency
The EPA found similarly impressive results when it comes to Chevrolet's 2018 Equinox fuel efficiency. Car and Driver compiled a report on EPA fuel economy ratings, and the results show Chevy leading the pack. The newest Equinox gets better gas mileage than all three of its competitors below:
2018 Ford Escape
2018 Jeep Cherokee
2018 Kia Sportage
Car and Driver has also devised their own fuel efficiency test. They try to impersonate how they think most people drive on the highway by taking a 200 mile loop and using cruise control as much as possible. Their results confirmed the EPA ratings and prove that the Equinox performs better than the competition.
Test Drive a New Equinox in Phoenix Today
The U.S. Department of Energy, Car and Driver, and the EPA all have their own methods for testing fuel economy, and each agency agrees that the new Equinox for 2018 helps drivers avoid the gas pump as long as possible. Ask about the Equinox's upgrades for 2018. Conduct your own test drive by finding your nearest Chevrolet dealership in Phoenix. You might not even notice a change in the fuel gauge!