Chevy vs Ford on Fuel Economy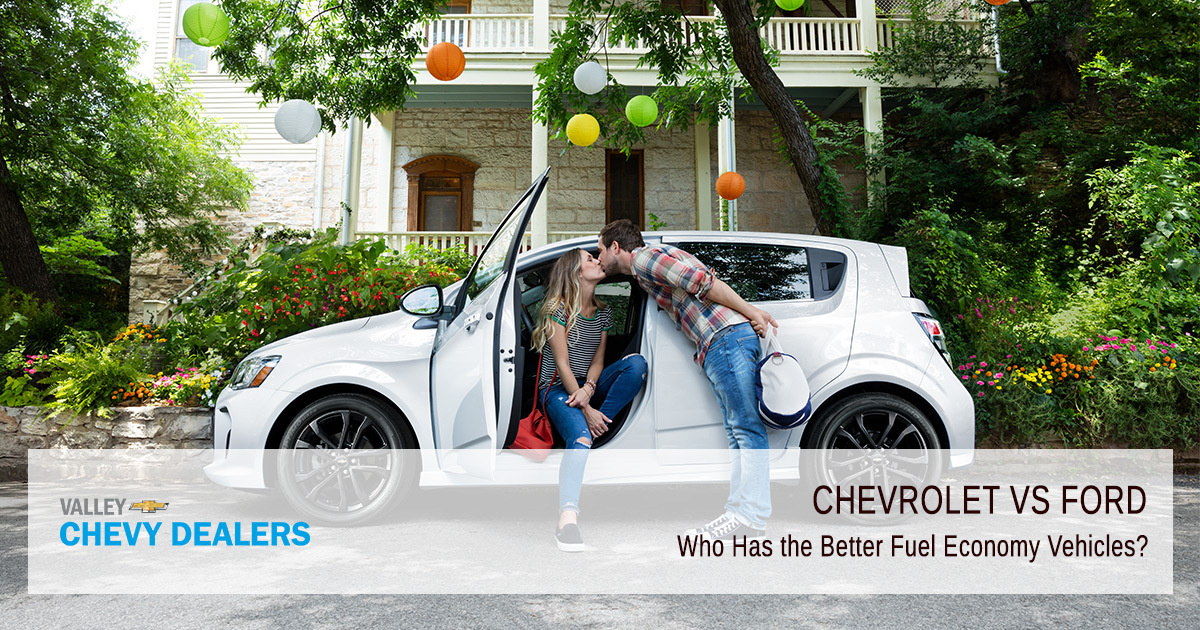 American auto connoisseurs, especially those who love trucks, often find themselves engaged in the great debate: Chevy vs Ford. The fuel efficient Chevy line of vehicles has a worthy opponent in Ford. Both are renowned American manufacturers. Both make great trucks. Both are doing their part to improve fuel economy and reduce their carbon footprint. At the end of the day, though, only one of these storied automotive manufacturers can be the best. Here's a deep look at how Chevrolet fuel consumption compares to Ford fuel consumption.
Most Fuel Efficient Cars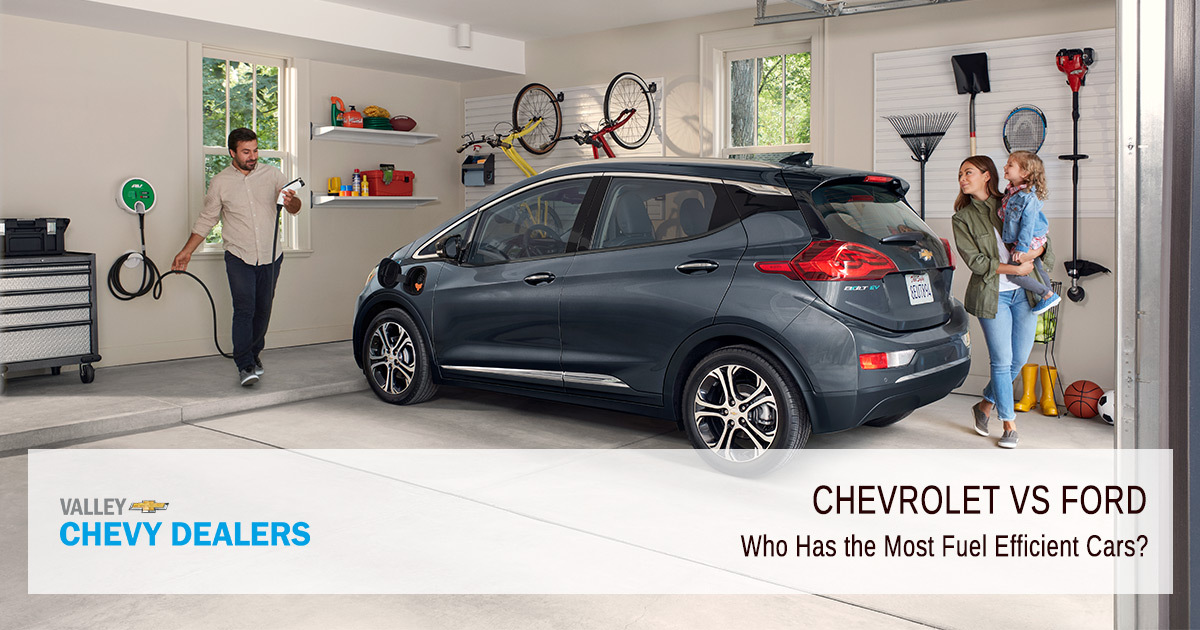 Consumer Reports is perhaps the greatest authority in the world when it comes to reviewing products with keen discernment for their capabilities in different areas. In recent years, Consumer Reports has paid special attention to how vehicles do with fuel efficiency. Sure, gas prices are down right now, but that can't possibly last forever due to resource scarcity. There's also the environmental impact to consider.
To assist the discerning car buyer, Consumer Reports conducted research using 50 different tests to determine which cars have the best fuel economy. These comprehensive tests consider only vehicles that rely on gas, ignoring cars that are strictly electronic. They named their top 10 most fuel efficient cars, and both Chevy and Ford made the list.
Chevy has two of the 10 cars that Consumer Reports said are easy on the gas (and therefore the wallet and environment):
Chevy Malibu Fuel Efficiency
Consumer Reports makes note of the advanced transmission and aerodynamic body offered by the Chevrolet Malibu. A hybrid version of the Malibu is especially sensible thanks to technology it shares with the Chevy Volt. This version can yield up to 41 miles per gallon combined according to the tests. That overall score is the combination of 33 miles to the gallon in the city and 49 miles per gallon on the highway.
Chevy Cruze Fuel Efficiency
Consumer Reports seemed almost surprised by their own results because of how comfortable and quiet the Cruze is. It certainly has qualities that you might expect from a bigger gas guzzling sedan. Chalk that up to superior engineering, because the Chevrolet Cruze actually offers great fuel efficiency for its segment. It uses diesel technology to get a mindblowing 60 miles per gallon on the highway. With 27 city miles per gallon, the overall rating is 41 miles per gallon from Consumer Reports.
Ford didn't fare quite as well, but still deserves an honorable mention. Ford Fusion fuel efficiency was measured at 39 miles per gallon overall. It gets an impressive 35 miles per gallon in the city, but only managed 41 highway miles per gallon.
Ford gave it a noble effort, but Chevy has the more fuel efficient vehicles in this segment.
Most Fuel Efficient SUVs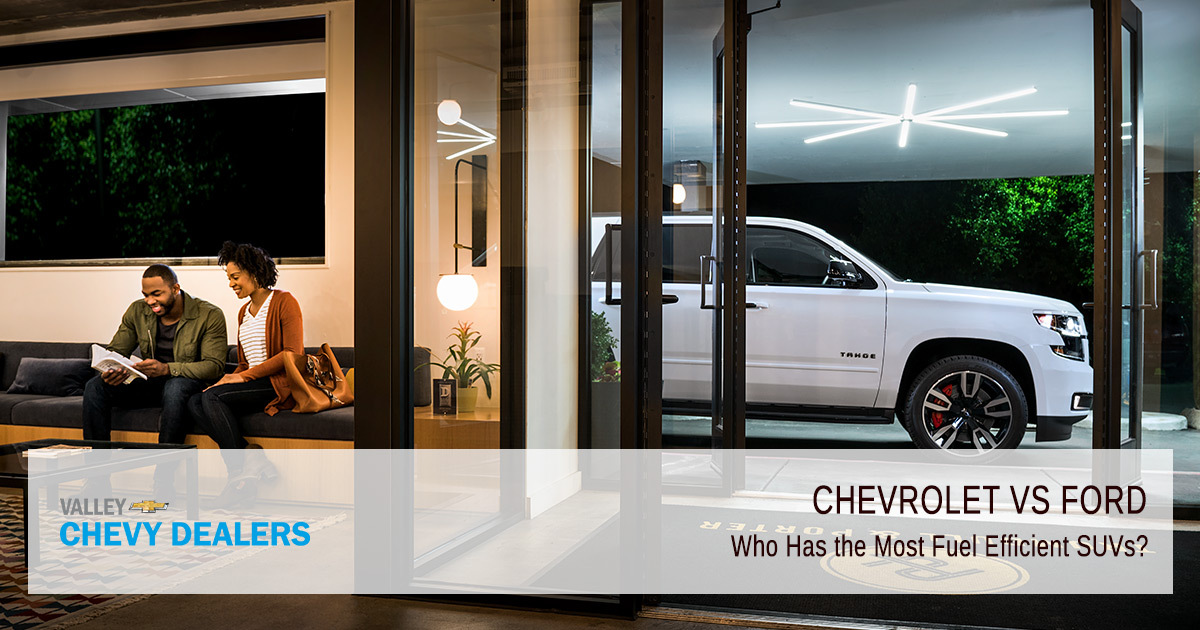 Consumer Reports notes (accurately, in our opinion) that fuel economy still matters when the vehicles get larger. They conducted their fuel efficiency tests on SUVs as well as sedans. This time only one of the two brands in question made the list.
The Chevy Equinox may be a surprising contender, considering it's one of the most spacious compact SUVs on the market. Once again, the power of Chevrolet diesel is what makes all the difference. The Chevrolet Equinox diesel fuel economy came in at 31 miles per each gallon of gas overall. This is the combination of 22 miles per gallon in the city and an astounding 41 miles per gallon on the highway. If you want to spend less time at the pump on your next family road trip, take the journey in a Chevy Equinox.
Chevy beats Ford one to zero in Consumer Reports' look at the SUV segment.
Most Fuel Efficient Pickup Trucks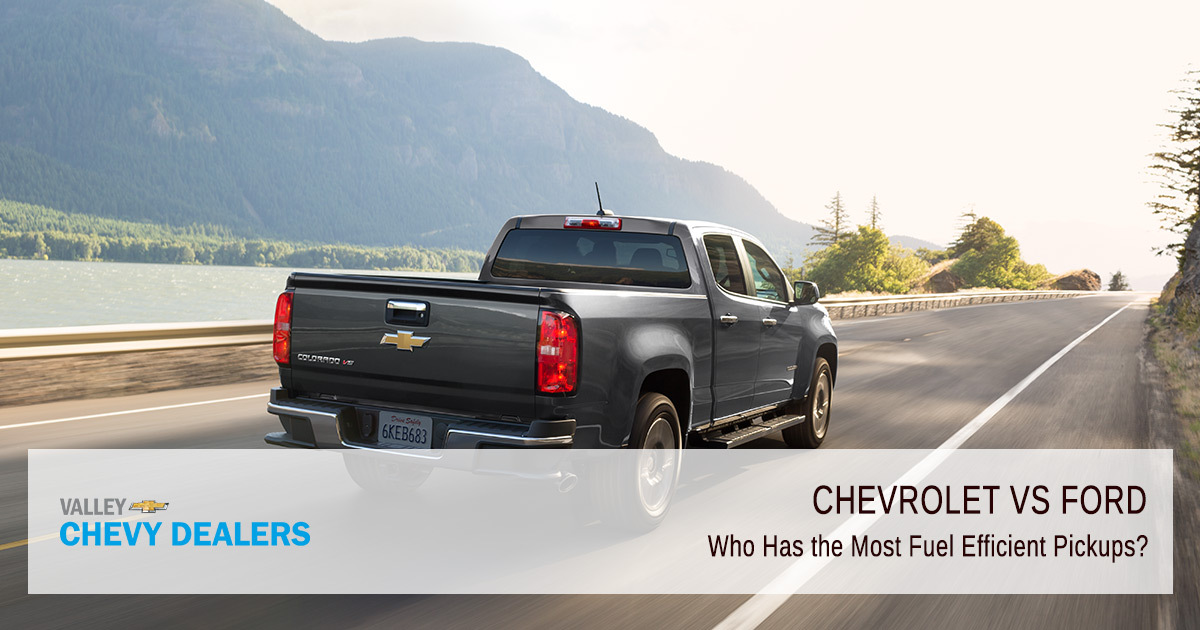 In a comprehensive study of the best and worst fuel economy by vehicle class, Chevy came out on top once again. The Chevrolet Colorado LT Diesel was named the most fuel efficient pickup truck by Consumer Reports driver Jeff S. Bartlett, who also noted the nimble handling. To be fair, he also noted that the Silverado didn't fare as well as Chevrolet's smaller truck. That's part of the reason Chevy gives its drivers so many great options to choose from, and lets everyone decide what they're looking for in the vehicle segment of their choice.
Test Drive a New Chevy in Phoenix, AZ Today
Chevy completed the clean sweep of Ford across all auto segments. At the end of the day, you'll have to pick your fuel efficient Chevy depending on what kind of vehicle you want. Luckily, Chevrolet's ability to efficiently surpass its competition means you only have to look at one car lot to determine which of this brand's models is just right for you.
Valley Chevy Dealers are proud to carry vehicles with excellent fuel economy in every class. Find your local Chevrolet dealership to test drive a few models until you find the perfect fit. You can rest assured that these efficient models will get the most out of every gallon of gas, and you'll be able to enjoy your rides without creating a negative impact on the environment.