2018 Chevy Traverse Safety Rating
A quick comparison of the Traverse shows a vehicle that was built for families on the move. This is evident in the spacious interior, the ample cargo space and hauling capabilities, and the sensible fuel efficiency. One of the most important things a family vehicle can do is offer peace of mind, and the dependable 2018 Traverse offers award-winning safety. Rest assured that you and your family are protected every time you buckle into the new Traverse, regardless of whether you choose the LT or LS or one of several other trim options (like the turbocharged RS).
2018 Chevrolet Traverse Safety Features
The Traverse offers a wide variety of standard and optional safety features, and you can find all the driver assistance technology you'd want from a new vehicle. Choose features like forward collision alerts with automatic braking for vehicles, obstacles, or pedestrians. The rear vision camera helps the driver maintain complete awareness of everything around the vehicle. The 2018 Chevrolet Traverse goes above and beyond to offer some extra special safety features. The teen driver system allows you to help protect your young drivers like never before. Set your teen's key fob to enable all safety features and disable the radio until everyone in the front seat has buckled their seat belts. You'll also receive a report to let you know where the vehicle goes, how fast it travelled, and if there were any close calls along the way. You can also use the Rear Seat Reminder to keep track of the even younger passengers. The driver will receive an alert if their rear doors have opened and closed once the engine started. This makes it easier than ever to stay connected with the back seat and make sure no passengers can get left behind.
2018 Chevy Traverse Safety Comparison
NHTSA gives the Traverse for 2018 a five-star Overall Safety Rating. While IIHS awards the Traverse as 'Good' for crashworthiness. Compared to the Honda Pilot, the Traverse has a few more safety features - front center airbag and rear cross-traffic alerts.
2018 Traverse Crash Test Safety Ratings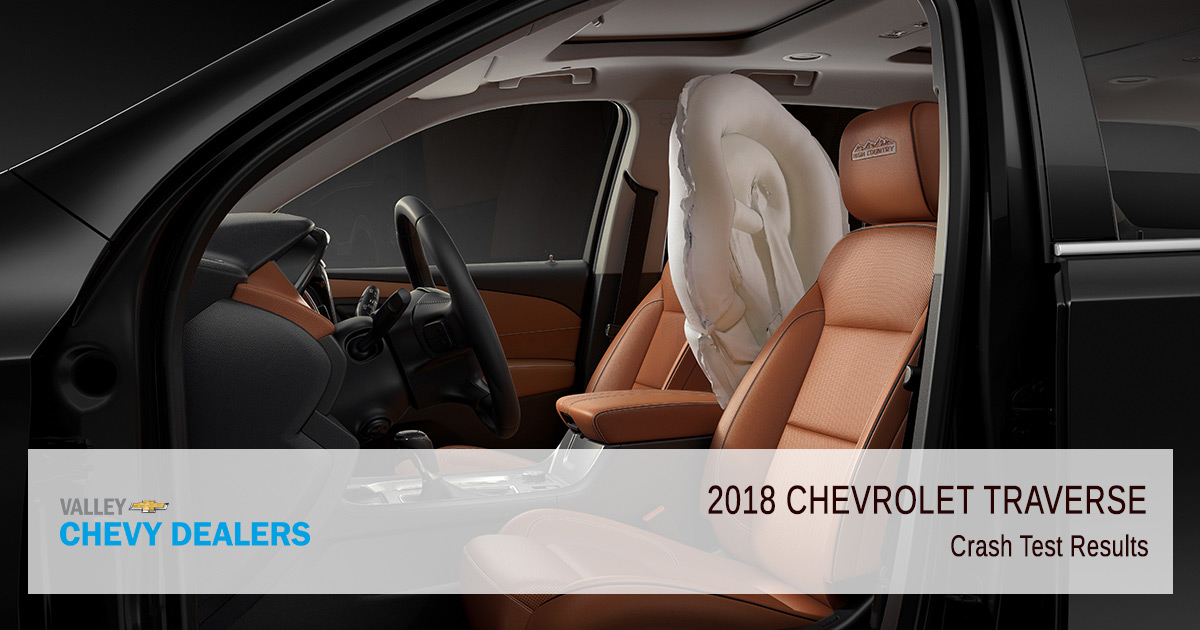 The new Traverse earned a perfect five-star safety rating from the National Highway Traffic Safety Administration (NHTSA). This rating is thanks to its success in front and side crash tests as well as rollover testing. The Traverse also received an impressive 8.5 Safety Scorecard rating from U.S. News. That makes it safer than the Jeep Grand Cherokee. See also: 5 Cars that Got Major Upgrades in 2018
Chevrolet Traverse Infographic (2018)

Share Our 2018 Chevrolet Malibu Infographic On Your Site
Test Drive a 2018 Chevy Traverse in Phoenix Today
Take the all-new 2018 Chevrolet Traverse for a test drive to see all of these brilliant new safety features for yourself. You can even bring a passenger to experiment with the rear seat reminder and see how it works in person. Take a 2018 Chevy Traverse test drive today by visiting your nearest Valley Chevy Dealer.