What's New in the 2018 Chevrolet Traverse?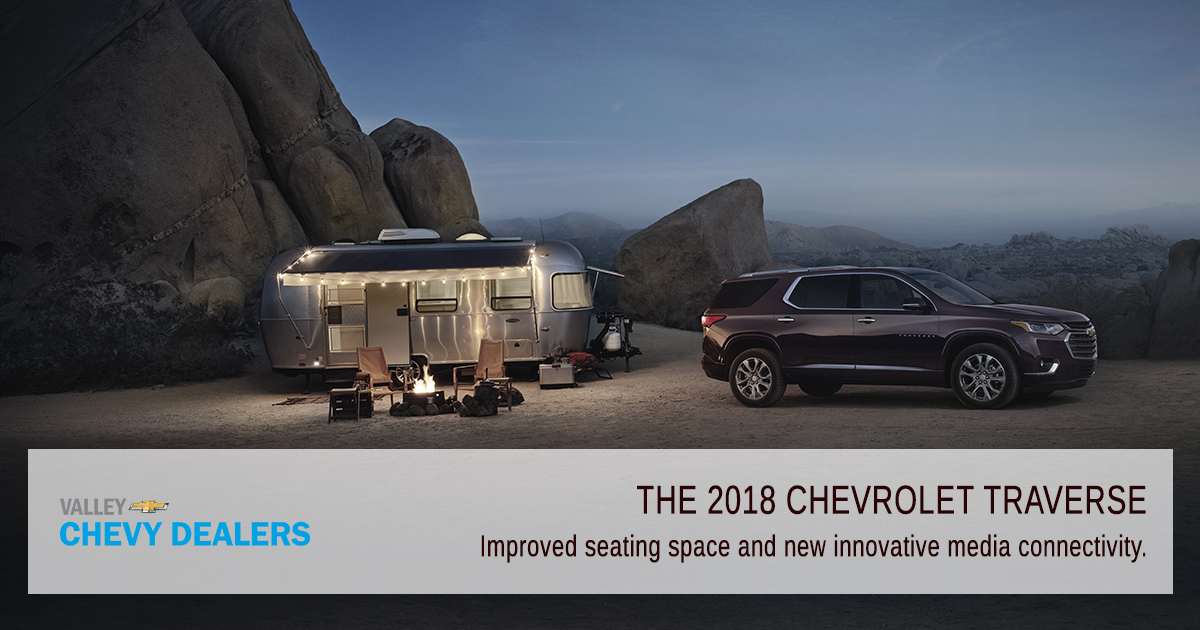 Sleek yet aggressive, the all-new 2018 Chevrolet Traverse has grown from a crossover utility vehicle into a powerful sport utility vehicle without sacrificing any of the benefits. With improved seating space and new innovative media connectivity, you will enjoy driving the Traverse, and your family will love the ride. Built to take you on whatever road you travel, the Traverse adds superior levels to comfort, control, safety, entertainment and performance – no matter where your journey may take you.
VIDEO: 2018 Chevrolet Traverse is All-New
See also: 2017 Chevrolet Traverse vs Equinox
5 Ways the Traverse Blows the Competition Out of the Water
If you're still up in the air over buying the Traverse, continue reading to see how the SUV stacks up to the competition.
#1 Comfort
With a seating capacity of eight passengers, you would be amazed at the improved leg and head room that has been added to the second and third rows, making the ride more comfortable and relaxing for any passenger, regardless of where they end up sitting. Add to this to convenience of the Traverse's Smart Slide Seating, which allows the second-row passenger seat to slide forward, even with a car seat in that seat, allowing easy access to the third-row seats for any passenger.
The adaptive cruise control makes long trips easier by utilizing safety technology already installed in the vehicle to keep your Traverse a preset distance from any vehicle in front of you. No more manually slowing down your vehicle when you come up on a slow driver or traffic is too heavy to pass. The Traverse takes care of that for you.
#2 Control
The 2018 Traverse comes with several options to help you control your vehicle whether you or your teenage new driver is behind the wheel.
With the Traction Mode Select you can maintain the control you need no matter what the driving conditions.
Normal mode is your everyday driving mode. When equipped with the available all-wheel drive option, this will keep your Traverse in front-wheel drive to give you a smooth ride and improved fuel economy.
Depending on your Traverse, you will have either a 4x4 mode (AWD models) or Snow mode (FWD models). This mode allows your Traverse to maintain better control in snow and icy conditions, lowering your chances of slipping and sliding in slick road conditions.
Off-Road Mode, available on the AWD models, gives more power to your rear wheels, providing improved traction on loose dirt, grass, gravel or other low-traction surfaces.
If you plan to tow a trailer, whether it's for gear, moving or camping, make sure to consider the available trailering package, which provides you with a Tow/Haul mode. The Tow/Haul mode keeps your Traverse in lower gears, giving you the torque needed to pull your toys, gear or camping trailer.
Chevrolet's Teen Driver technology allows you to feel secure when you let your teen take out your Traverse. Teen Driver gives you the ability to set speed and volume limits to keep your teen driving safely. In addition to these safety features, Teen Driver provides a report card to show you how well your teen is driving, as well as what you might want to coach them on. This mode can be set to a certain vehicle key, automatically engaging Teen Driver when that key is used to start the vehicle.
It doesn't stop there. Teen Driver also can mute audio until the driver and front seat passenger have buckled their seat belts and automatically turn on safety features like Side Blind Zone Alert, Forward Collision Alert and Front Automatic Braking, providing your teen with the safest possible driving situations – and you with the comfort of knowing your teen is safe behind the wheel.
The 2018 Traverse also includes Chevrolet's Intelligent Stop/Start Technology, which automatically turns off the engine when your Traverse comes to a stop at a red light or in heavy traffic. All you need to do is remove your foot from the brake, and your Traverse restarts, saving you money on fuel, avoiding the gas guzzling ever-idling engine at long lights or in stop and go traffic.
#3 Safety
Chevrolet cares about you and your family and wants you all to be safe on the road. Because of this, they have added a collection of safety features to help avoid an accident and to protect you and your loved ones.
Forward Collision Alert uses cameras on the front of your vehicle to alert you to slowing vehicles in front of you. VIDEO: How Chevy's Forward Collision Alert Works
Front Pedestrian Braking alerts you to the presence of a pedestrian in your path and can automatically apply the brakes, helping to avoid hitting the pedestrian or at least lessening the impact.
Low Speed Forward Braking allows your Traverse to automatically apply the brakes for potential collisions, potentially lowering the damage of impact, or at low speeds avoiding the accident completely.
Lane Keep Assist notifies you if you accidentally move out of your lane, and will even give gentle steering turns to help you get back in your lane.
The Rear Vision Camera provides live video of the space directly behind your vehicle as you are backing in or out of a parking area, showing you the space you have in small lots and helping you to avoid objects or people.
Rear Cross Traffic Alert uses radar sensors to alert you of an oncoming vehicle, helping you to avoid a collision when you otherwise can't see a vehicle heading to where you're backing out.
Lane Change Assist gives you alerts in your side mirrors when a vehicle is coming up in the lane you intend to move into. This allows you to avoid a collision with a vehicle that is flying through traffic.
The Side Blind Zone alert lets you know when another vehicle is in your blind spot.
The 2018 Chevrolet Traverse's Intellibeam Headlamps automatically switch your Traverse's lights to high beam when the night is dark, and back to low when it senses an oncoming vehicle, providing you with the light you need to see as far ahead as possible without having to manually switch back and forth.
With Rear Seat Reminder, you will be automatically reminded to check your rear seat anytime you leave your Traverse when a rear door has been opened and closed during or before a drive. This will ensure you never leave valuable items or loved ones in the back seat.
In addition to the Rear Vision Camera, the Traverse is available with surround vision, which provides a bird's-eye view of your Traverse, allowing you to see all surroundings side-by-side with the video from your Rear Vision Camera.
#4 Entertainment
With the available MyLink display, you can easily connect your smartphone with Apple Carplay or Android Auto compatibility, allowing you not only to stream music from your phone to your stereo, but also use select apps, like navigation, your phonebook and much more. You can make and receive calls directly through the stereo, leaving your phone untouched and your eyes on the road, using voice control.
The Traverse also comes with the option of 4G LTE Wi-Fi, allowing up to seven devices to connect and avoid the annoying data overages that lead to expensive mobile bills. Each passenger connected can be enjoying the 4G LTE data to watch their own movies, stream their own music or simply browse the web.
#5 Performance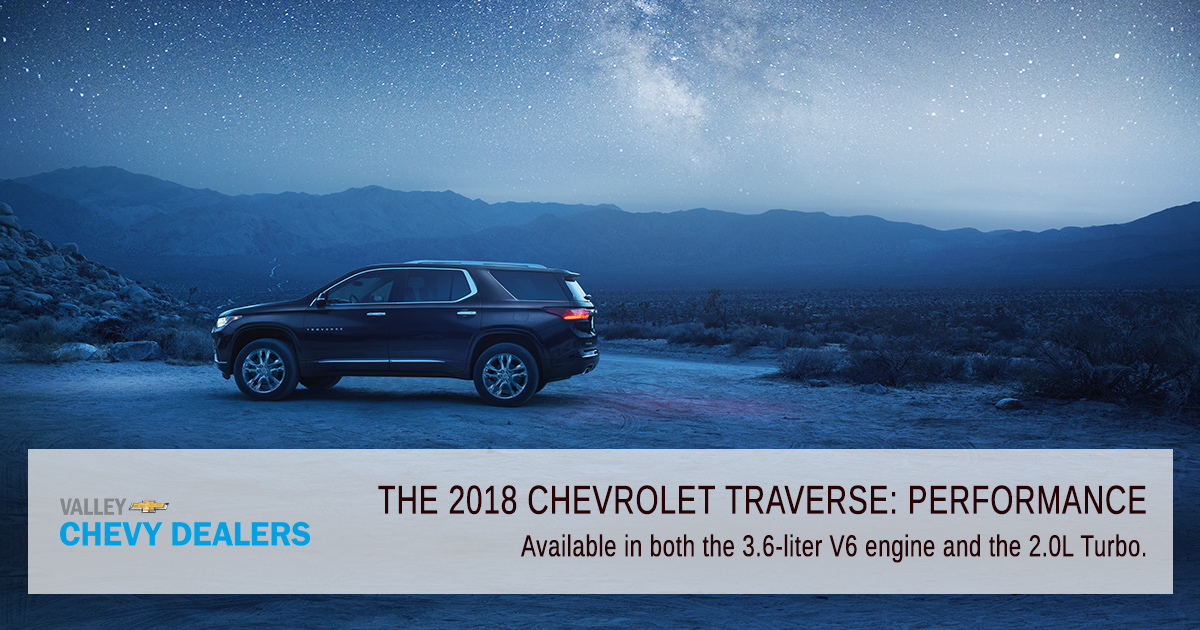 Available in both the 3.6-liter V6 engine and the 2.0L Turbo, the Traverse's nine-speed automatic transmission brings smooth shifting and improved fuel economy: an estimated 18 miles per gallon city and 25 highway with the 3.6L V6 and 20 city, 23 highway with the 2.0L Turbo.
In the Traverse High Country, Chevy has included advanced, twin-clutch, all-wheel drive. When in tough road conditions, the twin-clutch AWD directs torque to the wheel with the best traction, improving the control you have in even the worst situations.
The 2018 Chevrolet Traverse is available in a variety of options, from the LS with signature LED daytime running lamps, to the sporty RS with 20-inch Dark Android painted aluminum wheels and black roof racks, to the Traverse High Country with power-folding third row seat and the Intellibeam Headlamps.
With a starting MSRP of $30,875, the Chevy Traverse is a comfortable and safe vehicle that will be fun for you and your passengers, allowing you to find new roads and enjoy your journey along the way.
2018 Traverse Infographic

Share this Infographic On Your Site
Ready to Take the Traverse for a Spin?
Stop by one of the many Phoenix Chevy Dealerships around town to test drive and learn more about all of the options and features available in each trim of the 2018 Chevrolet Traverse. With its rugged looks and comfortable interior, you'll know, as soon as you drive one, that this is the perfect vehicle for you and your family.