2018 Chevy Traverse Fuel Efficiency & Gas Consumption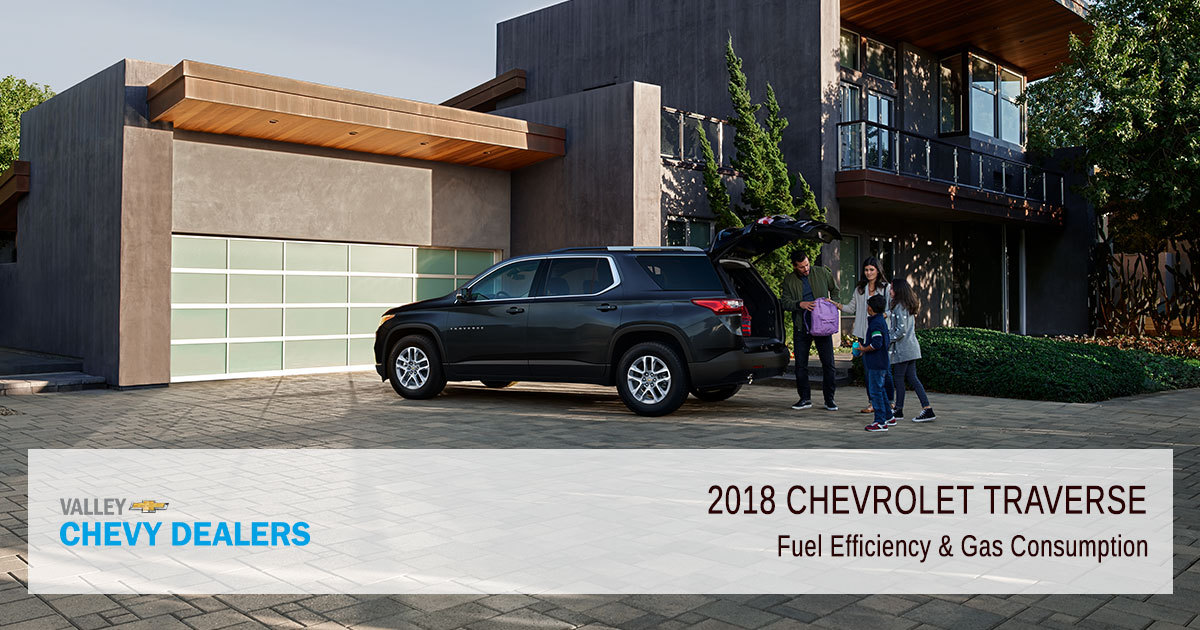 The 2018 Chevy Traverse compares favorably to other Sport Utility Vehicles in just about every aspect. It's perfect for any family on the move thanks to its spacious interior, impressive safety features, and unbeatable performance. The choice is especially easy for the discerning driver who cares about fuel efficiency; regardless of the Traverse trim you choose - LS, LT or Premier.
2018 Traverse Fuel Mileage
Consumer Reports conducts their own studies on fuel economy, and the new Chevy Traverse fuel consumption makes this vehicle their number one vehicle for efficiency. They run tests and compile data as well as any automotive reviewer in the industry, and the results are in. Consumer Reports has ranked the 2018 Chevrolet Traverse at the very top for their overall gas mileage. The new Traverse gets more out of every gallon of fuel than any other Sport Utility Vehicle. Here are just a handful of the competitors who can't keep up according to Consumer Reports: 2018 Ford Flex 2018 Dodge Durango 2018 Ford Expedition 2018 Toyota Sequoia 2018 Nissan Armada
2018 Traverse Fuel Efficiency
The Traverse has been redesigned for 2018, and it lost 362 pounds to establish its new look. The updated body comes with improved fuel efficiency that eco-friendly drivers will love. Now every gallon takes you a few miles further, so you can save money at the pump and feel great about reducing your impact on the environment. The EPA didn't pick up on the difference right away, but both Consumer Reports and Car and Driver observed that the Traverse beats every single competitor in real-world fuel consumption. Consumer Reports gathered data on the V6 engine with a nine-speed automatic transmission. The results are astounding for an SUV: 28 miles per gallon highway 14 miles per gallon city 20 miles per gallon combined This combined mileage gives the latest Traverse a Consumer Reports estimated 435 mile cruising range thanks to its large 21.7 gallon fuel capacity. That means an average driver who puts 12,000 miles on their vehicle each year can expect to use only 600 gallons of gas in that time. The engine runs on regular gasoline, so the estimated yearly fuel cost comes to $1,440.
Chevrolet Traverse Infographic (2018)

Share Our 2018 Chevrolet Traverse Infographic On Your Site
Test Drive a New Traverse in Phoenix Today
Consumer Reports sets the industry standard for automotive data, but don't let that stop you from making your own assessment! Drive the new Traverse (2018) for yourself and see how little the fuel gauge moves over the course of your cruise. Schedule your test drive, or stop into the dealership today. Valley Chevy Dealers are located all over the Phoenix Metro area, so click here to find the dealership closest to you. Ask to check out the Turbo RS Traverse!