FIND YOUR SMALLMATE
What is a Smallmate?
It is an awesome, yet small car ideally suited to being a close friend or adventuring partner. The small car sector has exploded in recent years. With options once reserved for the luxury market and stylish, modern redesigns, today's compact models are fun, fancy, and just as impressive as their larger counterparts.
Perhaps most importantly, the small car sector now proudly touts all of the safety options of larger models. Chevrolet is a major player in the small car sector, with three entries creating plenty of buzz among savvy consumers.
Here are the highlights for three Chevrolet models that should be on your radar – the Sonic, Trax, and Spark. Find your favorite Smallmate to get started!

2018 TRAX
SMALL
Mini sport utility vehicles are trending, and there's a good reason: a small SUV offers all of the convenience of its larger counterparts – think all wheel drive, cargo capacity, and roomy passenger compartments – but with none of the excessive bulk. The Trax is exciting because of its refinement, but it's also a smart, practical buy for drivers who want the feel of a bigger vehicle, without the actual bigger vehicle. Driving the Trax feels like a quiet, surprisingly comfortable ride in a mid-sized SUV, but the Trax is small enough to parallel park on the tightest city streets, sips gas like a subcompact, and the ride never feels clumsy or bulky. Like the rest of Chevy's small car offerings, even the base model Trax comes loaded with high-tech gadgetry and satisfying gauge configurations.
2018 SONIC
SMALLER
The Chevy Sonic is a pretty big deal. Edmonds calls it "a sonic leap forward," and there's a reason that the Sonic has generated so much buzz. It's a fun, frisky ride in a refined, feature-rich package. And it isn't going to break the bank. Inside, even tall drivers will note the surprisingly roomy feel, and generous trunk space means you don't need to feel like you're in a subcompact just because you're in a subcompact. Even at the base trim level, features are impressive. AC, tilt steering, and Bluetooth all come standard, as do an auxiliary jack and OnStar. Move up a trim level or two and you can add things like 17-inch wheels, heated seats and steering wheel, and Chevy MyLink.
2018 SPARK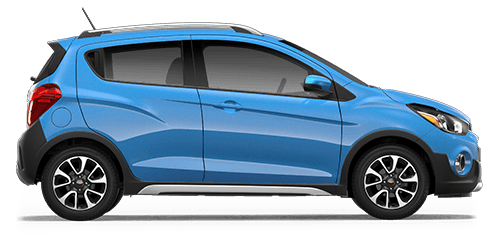 SMALLEST
Car and Driver says that urban drivers looking for small cars "will be happy" with the Chevrolet Spark. Climb inside and you'll see why – this is a micro-mini with a big heart, big safety features, and big tech options packed into a 40-mpg package. Room for four, on-board WiFi, 10 airbags, and forward-collision warning are some of the Spark's high points. Interior accents matching the exterior paint add style in a sector largely dominated by uninspired design. Zipping around town is genuinely fun in the Spark, with a gas-sipping 98-horsepower engine and style updates that include a slightly lowered roof and futuristic headlamps.
Your Valley Chevy Dealers
Cruise on down to any one of your local Valley Chevy dealers to check out the small car line-up in the Chevrolet family. Contact our expert sales team today to set up a test drive, or just have your questions answered about any of the great Chevy vehicles we have on our lots.