What is the 2018 RAM 3500 Towing Capacity & How Does it Stack Up?
Those who are serious about towing and hauling need a heavy duty truck, as light duty vehicles don't have the power and stamina to tow the 10,000 lb loads they need to move around. There are a number of choices out there, and you may have heard that the 2018 RAM 3500 is the one to spring for.
In terms of maximum towing capacity, you often see large looking numbers like 30,000 lbs thrown around about the RAM 3500, usually with phrases like "towing capacity up to" preceding them. It certainly is an eye-grabbing number, and likely higher than anything most people ever need to tow. There is a tendency to fixate on the highest number, which makes for great advertising copy, but doesn't necessarily help the customer make the best choice for their practical needs.
Who Tows More, RAM 3500 or Silverado 3500?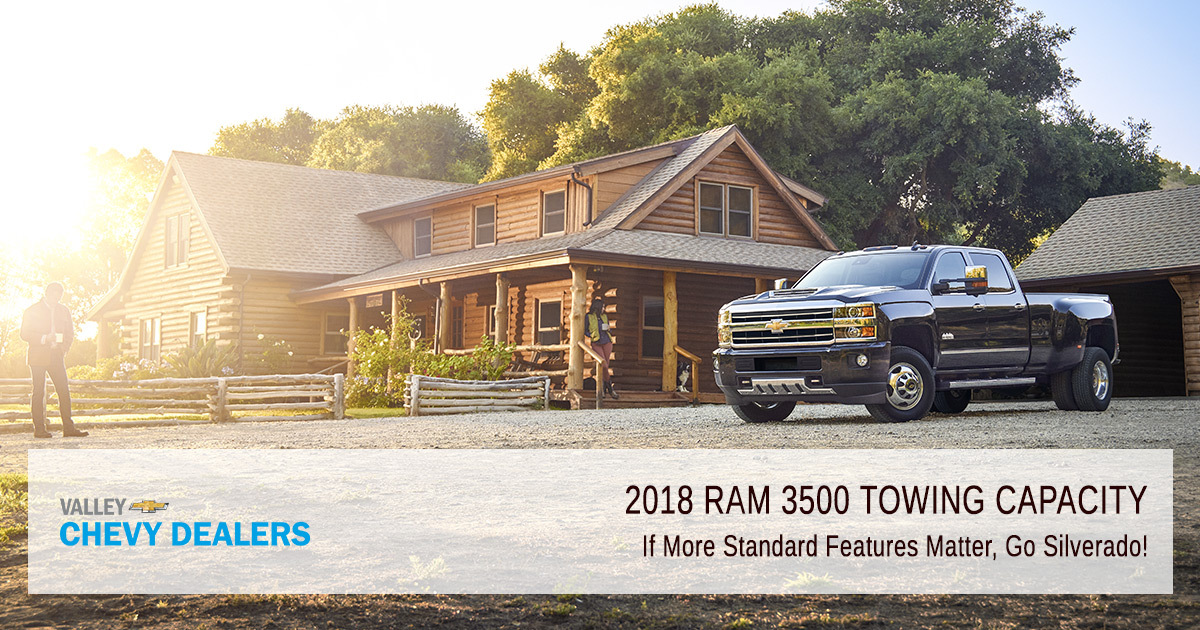 What is not often clear is that these numbers are only relevant for fifth wheel towing, and the highest numbers you see may only apply to the 3500 with the diesel engine option. In fact, most towing is done using a hitch and hitch coupler for which the base level RAM 3500 cites a maximum load of only around 10,100 lbs, according to ramtrucks.com, roughly in line with its competitors. The Chevy Silverado towing capacity using a conventional hitch, for example, is in the 13,000 to 14,500 lbs range according to GM Fleet, which is plenty for most people.
Determining the Right Full-size Pickup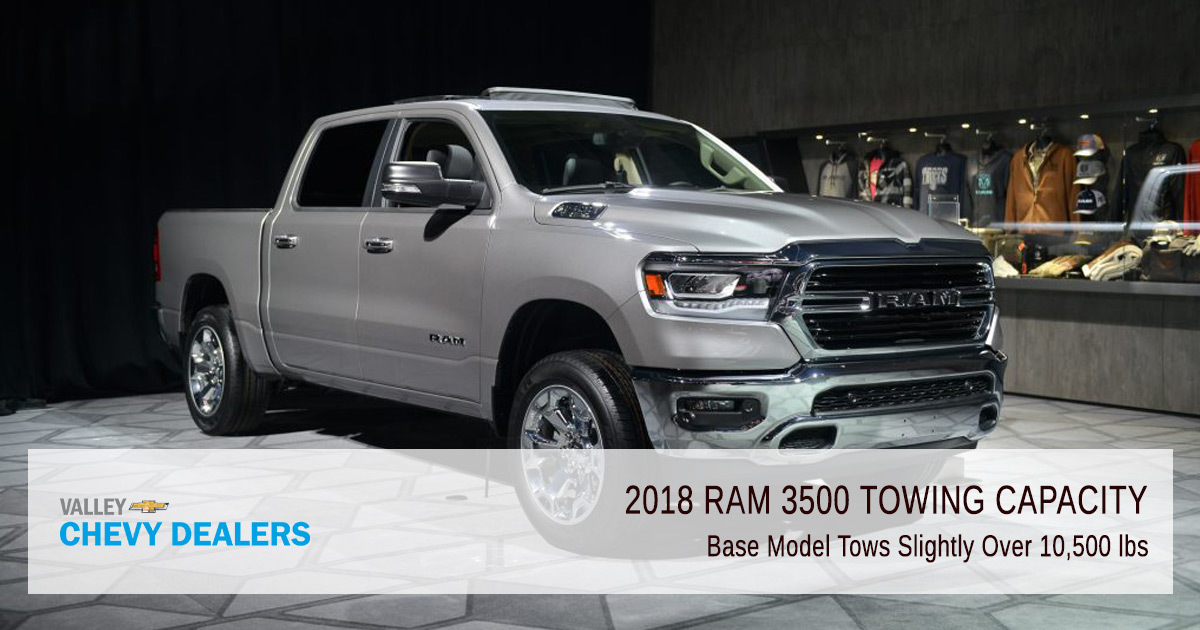 A better approach is not to focus purely on one number, but take a more real-world approach by asking yourself what your needs are for your new pickup. How much do you need to tow, or is hauling more important? That means looking beyond the max towing capacity of the RAM 3500 to find the truck that provides sufficient towing capacity for your needs, while hitting all the other important marks. Once you've looked at the 2018 RAM, and you've compared to other popular options like the Chevrolet Silverado 3500 and other competitors to identify all the trucks that can meet your towing needs, then you should look at other features to determine which is going to be the best fit.
If More Standard Features Matter
When towing or hauling heavy loads, in addition to basic power capability, you should consider how that truck will handle and how comfortable will you be when driving it. The Chevrolet Silverado 3500 in particular is known for its ability to tow big loads while maintaining excellent handling characteristics. The Silverado option also comes with standard features not found standard on the RAM 3500 to make your hauling and towing that much easier. If there's paperwork to be done, the extra cab space found in the Silverado makes it the best choice for the truck that has to double as your workspace sometimes.
If you're serious about finding the best heavy-duty truck for you needs, check out the big haulers at your local Chevrolet Dealer. You need something that's more than just a solitary bulked-up number, and our powerful stylish trucks deliver.
Feature image: Syda Productions/Shutterstock