The 2019 Chevrolet Malibu vs Impala: Which is Right for You?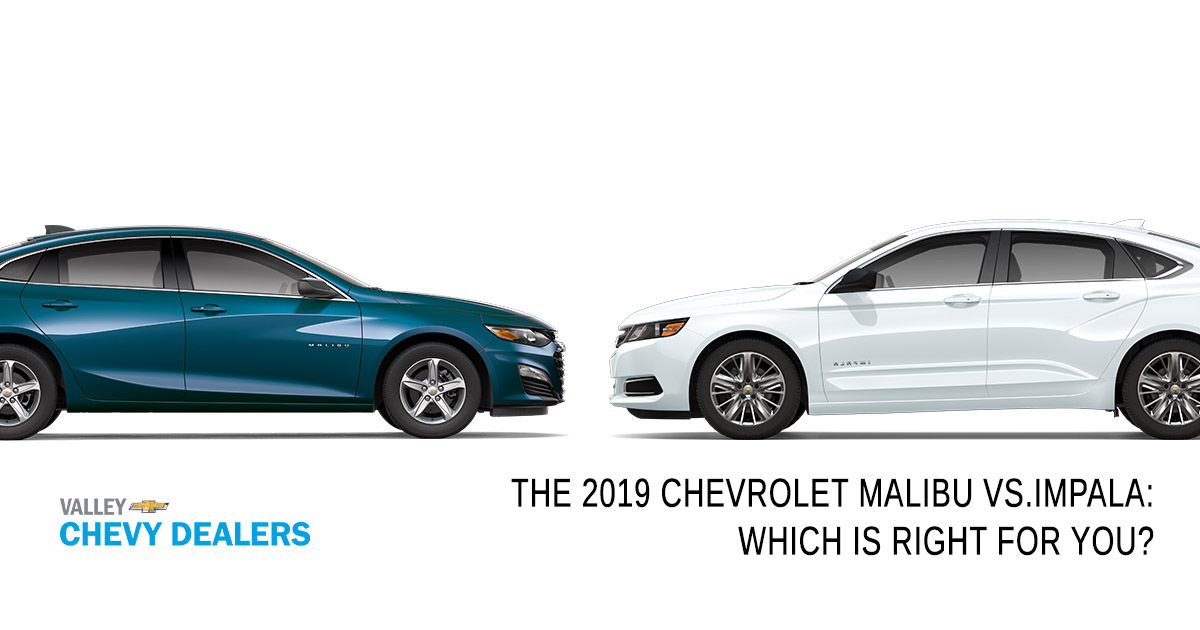 A Chevy sedan is a great choice for a new car. Chances are you've come here because your decision has reached an impasse between the 2019 Malibu and the 2019 Impala. Both cars are four-door sedans that seem similar on the surface, but there are specific differences that may make one better for you than the other. Let's take a deep dive into the details for each car and find the true difference between Malibu and Impala.

Does Size Matter?
Perhaps the most obvious difference between these two sedans is the size. The Impala is considered a full-size sedan while the Malibu is part of the mid-size sedan category. Both vehicles can easily seat 5 passengers, but the Impala will give each person a bit more space. The legroom for the Impala offers rear passengers 39.8 inches while the Malibu gives its rear-seat passengers 38.1 inches of legroom. Both measurements are generous when compared to other leading sedans and will keep everyone comfortable for long journeys.
The wheelbase for each car is almost identical with the Malibu coming in at 111.4 inches and the Impala at 111.7, but the length of the two cars offers a bigger contrast. The Malibu is squarely at the upper end of the mid-size sedan market with a 193.8-inch length, while the Impala's 201.3-inch length marks it firmly in the full-size category. This extra space takes on a new meaning when looking at cargo capacity.
Trunk space is where the 2019 Malibu vs Impala comparison begins to widen. The Impala trunk is very large by most standards with 18.8 cubic feet across all trim packages. The Malibu's trunk space measures 15.7 cubic feet in most trim packages, but the hybrid Malibu cuts the trunk space down to 11.6 cubic feet.

Malibu vs Impala Exterior Style
The look of a car is the hidden factor in a purchasing decision. How are you going to look in your car? Do you like how it looks from the outside? Often these questions aren't as important as many of the more practical ones, but there is no denying that this is a factor. The exterior style ultimately helps inform a decision on which car you buy. The Impala was built to compete against the Lincoln Continental and the Toyota Avalon, so it has a touch of class with a little bit of refinement and luxury styling. Subtle body creases and chrome touches reveal a car (and driver!) with a bit of sophistication. The 2019 Malibu offers a totally new look from previous model years. Now the Malibu appears as sporty as can be with a tapered roof and a large front grill that gives it an aerodynamic look. This more aggressive style contrasts nicely with the more luxurious Impala.
When Performance Is a Factor
Both cars have two or three engine options that can cut across trim packages. A four-cylinder engine comes standard on each model, delivering an efficient driving experience. There are also upgrade options available for both vehicles that offer slightly less fuel economy in exchange for more power.

2019 Chevy Malibu
The Malibu comes with a 1.5L Ecotec® engine on three of the trim packages. This turbocharged engine delivers up to 163 horsepower and 184 feet-pounds of torque. The upgraded engine on the Premier trim is a 2.0L Ecotec® turbo with an output of 250 horsepower and 260 foot-pounds of torque. The hybrid option splits the difference between the two other options in terms of size, offering a 1.8L Ecotec® engine that gets up to 182 max horsepower. The hybrid engine sacrifices turbo power for fuel-efficiency.

2019 Chevy Impala
The Impala standard for the LS and LT trim packages is a 2.5L engine delivering 197 horsepower and 186 feet-pounds of torque. This fuel-efficient engine comes with a start-stop system that shuts down during idling periods to deliver more fuel efficiency and a reduction in emissions. The Premier trim package comes with the upgraded V6 3.6L engine. This six-cylinder type delivers 305 horsepower and 264 feet-pounds of torque for a true luxury driving experience.

Gas Mileage That Goes the Distance
With the Malibu engines all sporting the latest Ecotec® technology, you are sure to save money on gasoline over the course of ownership. Ecotec® engines utilize a continuous variable transmission to maximize fuel efficiency. The 1.5L version achieves a 36 mpg highway rating, the 2.0L gets 32 mpg on the highway, and the hybrid 1.8L reaches a whopping 43 mpg highway rating.
For the larger Impala engines that require moving their heavier frames, they are surprisingly efficient. The 2.5L version can get up to 29 mpg on the highway, while the 3.6L V6 gets 28 mpg during highway driving. The V6 version sacrifices some fuel efficiency for added power.

When Interior Comforts Matter
The Impala and Malibu both feature comfortable and spacious interiors that can provide all passengers with something to be happy about. There are standard features that go above and beyond those found in similar sedans, but there are also added features with different trim packages that can be considered luxury car staples. Some of the standard features found in both sedans include the following items:
• Remote start
• Heated seats
• 4G LTE Wi-Fi hotspot
• Dual-zone climate control
• Touch screen controls
• MyLink Radio
• Android Auto
• Bluetooth®
• Apple CarPlay
There are differences between the two sedans as well. Some of these include these particulars:
2019 Chevy Malibu interior
The rear windows have manually-operated shades. A premium, nine-speaker audio system from Bose offers advanced sound technology.
2019 Chevy Impala interior
A Bose Centerpoint surround sound audio system utilizes multiple speakers and computerized algorithms to take stereo sound to the next level. There are also ventilated front seats that are not found on the Malibu. The general feel of the 2019 Chevy Impala interior is more spacious than that of the Malibu.

Safety and Security Features
Both the Malibu and the Impala have a certain set of safety features that are found in both models, across all trim styles. Law requires seat belts and airbags, of course, but there are some features that can be added for an extra cost. Both models feature the LATCH system, which allows child car seats a secure and easy connection to the car itself. There is a GM technology called Stabilitrak that helps vehicle stability during emergency driving maneuvers. This technology comes standard with both sedans. Think of Stabilitrak as a smart system that applies various brake and torque adjustments to a car skidding on a slippery road. The Malibu and Impala differ in a few different ways, based mostly around trim packages. Both sedans have achieved a five-star safety rating from the NHTSA. The new 2019 Malibu offers the Teen Driver upgrade option, which is a report card and built-in coaching tool for parents designed to encourage good driving habits in newer drivers. It can help you coach your children even when you're not in the car. Set speed alerts, volume limit controls and more. The Buckle-to-Drive feature is an industry-first tool designed to get young drivers to buckle up before driving.

Chevy Impala vs Malibu The Ultimate Decision
With all the different features that can be obtained through various trim packages, the lines between the Malibu and the Impala can get blurred. Many of the available technologies can be found in both sedans. What are the clearly defined criteria that can help you make a decision? Let's start with the eco-minded car shopper. Hybrid vehicles are gaining in popularity and having an option to go with here puts this shopper squarely in the Malibu space since the Impala doesn't have a hybrid option. A similar car shopper might be more interested in fuel-efficiency or saving money on gas. This type of consumer would probably also consider the Malibu. Overall, the Malibu engines are better for saving fuel and getting more miles per gallon.
Another consideration might be a consumer who plans on having above-average sized passengers in their car. This might mean they have family members on the taller or bigger side, or it might mean they simply plan on having more passengers riding in their vehicle. Either way, the Impala is going to provide more legroom and shoulder room for larger adult passengers.
Cargo is another factor in deciding which sedan to go with. Some drivers may be transporting larger pieces of luggage or boxes for work-related tasks while some drivers may only need limited cargo space. The Impala has a decidedly larger trunk space than the Malibu, especially when considering the smaller hybrid trunk space.
For those seeking engine performance, it's hard to go wrong with the turbocharged engines under the Malibu's hood, but the V6 option on the Premier trim packaged Impala can't be topped.
For creature comforts and technology options, the Impala tops the Malibu in terms of standard features and also upgrade options. These sure are nice things to have, but they don't come for free. In terms of overall cost, driving a Malibu off the lot is going to require less money, on average.
Being in Arizona, climate-control in your automobile is almost as important as anything else. Both cars offer superior air conditioning systems, but as far as the added fuel these systems require, the Malibu gets extra points on efficiency. If you plan on driving every day, especially a lot in the summer, this is something to consider since the Malibu has a better fuel economy. When it comes to steep grades, mountain driving or off-road driving, there are distinct advantages to each vehicle. The V6 Impala engine is likely to perform more dependently on mountain drives to Flagstaff and the Grand Canyon with its higher horsepower and torque outputs. That being said, there are advantages to the Malibu's nimble handling and responsive suspension designs that include agile driving ability on twisting roads like Oak Creek Canyon near Sedona.
Finally, the overall budgeting concerns that ultimately makes the decision comes into play one way or another. For some extra money, the Impala is going to offer more space, more up-to-date technology, superior luxury features, and the option of a powerful six-cylinder engine. For those that want to save some money while considering all the great things a Malibu can offer, the latter option works just as well.
Test Drive Your Dream Sedan Today at Valley Chevy! The best way to make that ultimate decision is with a couple of test drives. Find your closest Valley Chevy dealership and head over today to see how each vehicle feels to you. The best way to make a decision is with direct experience.