Chevy vs the Competition on Safety
Chevy is renowned for many reasons, especially for making some of the safest cars on the market. The Chevrolet brand has always put its drivers and passengers above everything else, and that commitment is perfectly clear in the attention this brand pays to safety features and sound designs. Every other automotive brand also cares deeply about the people inside their vehicles, and this makes for an amazing race to build the safest cars. Read on to see how Chevy compares to the competition when it comes to safety across multiple different segments of the automotive industry.
U.S. News Rankings for Safest Cars
U.S. News did comprehensive research to determine the the safest 2018 cars. Their work considered crash test results from the National Highway Traffic Safety Administration (NHTSA) and the Insurance Institute for Highway Safety (IIHS). These organizations are funded by the federal government and insurance companies, respectively, and are dedicated to the search for truth.
Both the NHTSA and the IIHS perform multiple crash tests, including an assessment or frontal crash, side crash, and rollover safety. The IIHS also looks into things like whether a vehicle has effective headlights, and how good a vehicle's advanced safety system features are. To keep their reports as current and accurate as possible, U.S. News adjusts their scores when new data or expert reviews become available. U.S. News uses the most up to date information to determine how vehicles score for safety on a scale from one to 10.
Safest Electric Car
This emerging segment hasn't been around as long as some other classes of cars. That leaves it with some catching up to do, but it hasn't taken long to bridge the gap, because these cars are built by manufacturers with long histories and the best technology in the auto industry. Electric cars leverage new advances to reduce environmental impact, and they do the same to keep passengers safe and secure.
U.S. News found that the Chevy Bolt EV earned a perfect 10/10 rating on their scale, which makes it one of the safest electric cars. The NHTSA has not yet tested the Chevrolet Bolt, but the IIHS gave it good ratings for all tests, and a Superior front crash prevention when equipped with the available forward collision alert.
The Chevy Bolt also has excellent advanced safety features. In addition to the forward collision alert, you can use a rearview camera to get a good look at what's behind you when you back up. Chevrolet takes things a step further, too, by offering all of the following:
A surround vision camera system
A rear camera mirror
Rear parking sensors
Blind spot monitoring
Following distance indication
Lane departure warning
Lane keeping assistance
Automatic high beams
Rear cross traffic alerts
One of the best things about the Chevy Bolt is that you can use the Teen Driver technology to get peace of mind even when someone else is driving your car. Set audio volume and speed limits for individual drivers, and know that secondary drivers are following best practices. This technology extends to most new Chevys.
Safest Hybrid
If you're intrigued by alternative energy, but not ready to go fully electronic, the Chevrolet Volt offers another perfect 10 rating from U.S. News. It employs the same kind of advanced safety features discussed above for the Chevy Bolt, and got excellent results from the key independent agencies. NHTSA gave it five out of five stars for all crash tests, and IIHS awarded it a Top Safety Pick.
Safest Truck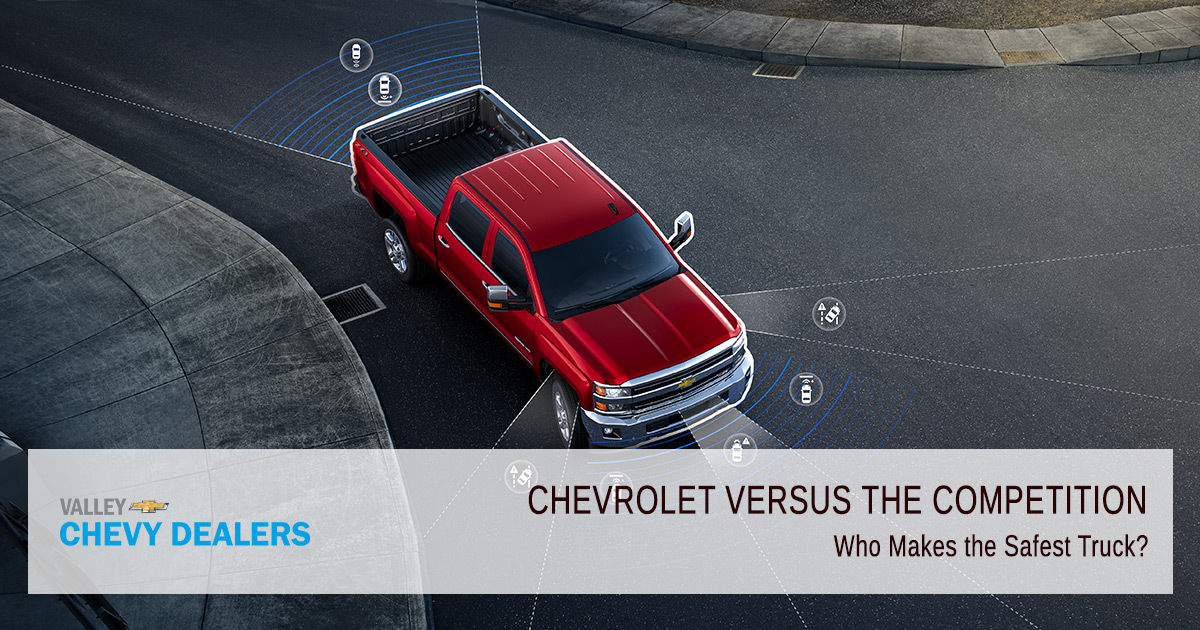 The Chevy Silverado also receives a five star overall crash rating. Other trucks like the Ford F-150 match this perfect score, but the Ford F-150 can't compete when it comes to advanced safety features. The safety technology detailed above sets the Chevrolet Silverado safety apart and makes it one of the safest trucks on the market.
Safest SUV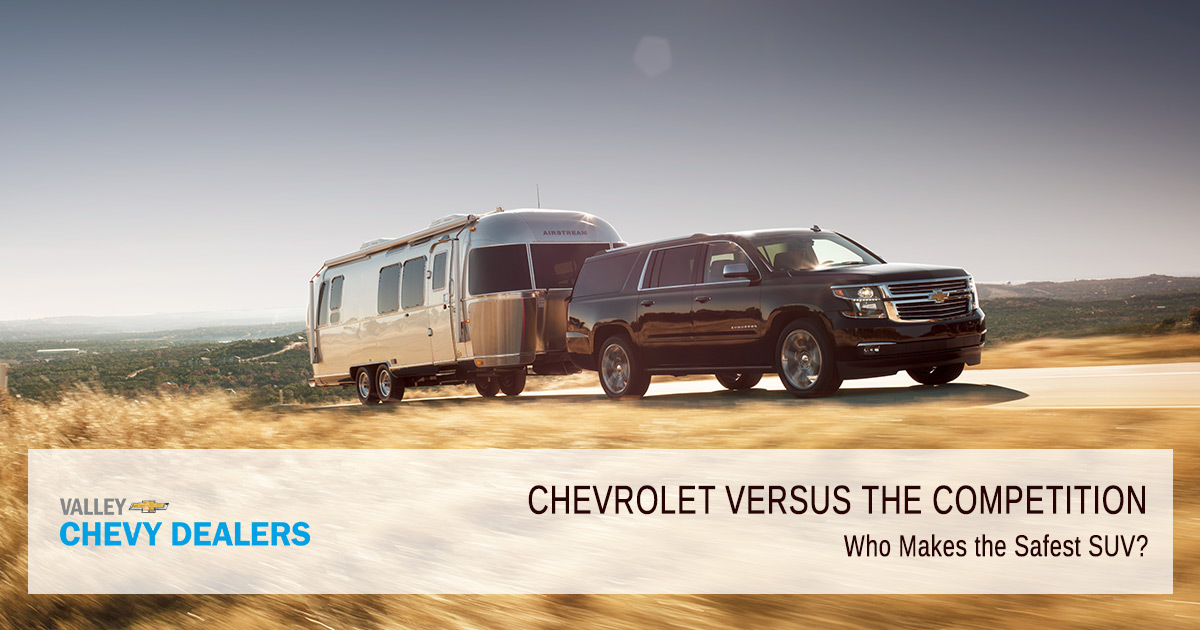 Even expensive brands like Acura can't compete with the Chevy Equinox in the effort to become the safest SUV on the market. The Acura RDX matches the Equinox in terms of airbags, available all wheel drive, and some limited safety features. The Equinox pulls away by paying better attention to detail. In addition to the same advanced safety features other new Chevys have, the Equinox has rear seat belts that can be specifically fitted for children. You'll also find better camera systems and safety alerts, too.
Test Drive Your Next Chevy at Your Local Dealer Today!
Make sure you and your family ride more secure by reducing your risk of an accident on the road. You can do that by choosing a vehicle with unbeatable durability and the most advanced safety features for cars. Check out the entire line of safe Chevrolet cars at a Valley Chevy Dealer today. You can bring your whole family along for the test drive with utmost confidence, because these cars were built to protect their most precious cargo: the passengers. Schedule a test drive today!