2019 Chevy Corvette Models
There are several different Corvette models coming out of Chevrolet in the next year, each one as exciting as the next. If you're eyeing a new Chevy Corvette, it's a good idea to familiarize yourself with all the options.
2019 Vette Models to Choose From
Read on to get a comprehensive look at all of the 2019 Corvette styles.
Stingray
The Stingray Corvette will make you feel like a teenager again. You'll enjoy open stretches of highway and tight corners so much you might want to start taking the scenic route for your daily commute. The 6.2L V8 engine offers up 460 horsepower and 465 lb.-ft. of torque to take you from zero to 60 miles per hour in only 3.7 seconds. Choose to send that power to a classic seven-speed manual transmission or a newage eight-speed paddle shift automatic transmission.
Even the 1LT (or so-called base model) offers features like a premium infotainment system and driver mode selector. As you upgrade to the 2LT, you unlock even more impressive features like a head-up display and heated and vented seats. By the time you reach the 3LT level you get to play with some of Chevy's newest and most impressive toys. The leather and microfiber interior will make your ride even more comfortable, but you won't forget about the real reason you bought a 2019 Corvette thanks to its Performance Data Recorder. You'll be able to review stats and video from your drive after every session.
Grand Sport
The Corvette Grand Sport helps you feel simultaneously as if you are connected to the road but also gliding over it. The power and acceleration can pin you back in your seat, and the handling ability makes cornering as smooth as ever. The 6.2L V8 engine takes you from zero to 60 in only 3.6 seconds thanks to 460 available horsepower and 465 lb.-ft. of torque.
This car looks exactly as fast as it really is thanks to its sporty styling and attention grabbing color options like Sebring Orange Tintcoat or Corvette Racing Yellow Tintcoat. More conservative color choices are available, but you don't have to worry about being too flamboyant because this car can deliver a performance that matches any appearance.
The driving experience is as pleasant as it is impressive. The transmission comes in either a manual or a paddle shift automatic option, so you can have it however you like it. Enjoy the thunderous sound of your own engine, or connect your smartphone with Apple CarPlay or Android Auto. You can choose music, directions, hands-free phone calls, or whatever else you think will most enhance your already memorable driving experience.
Z06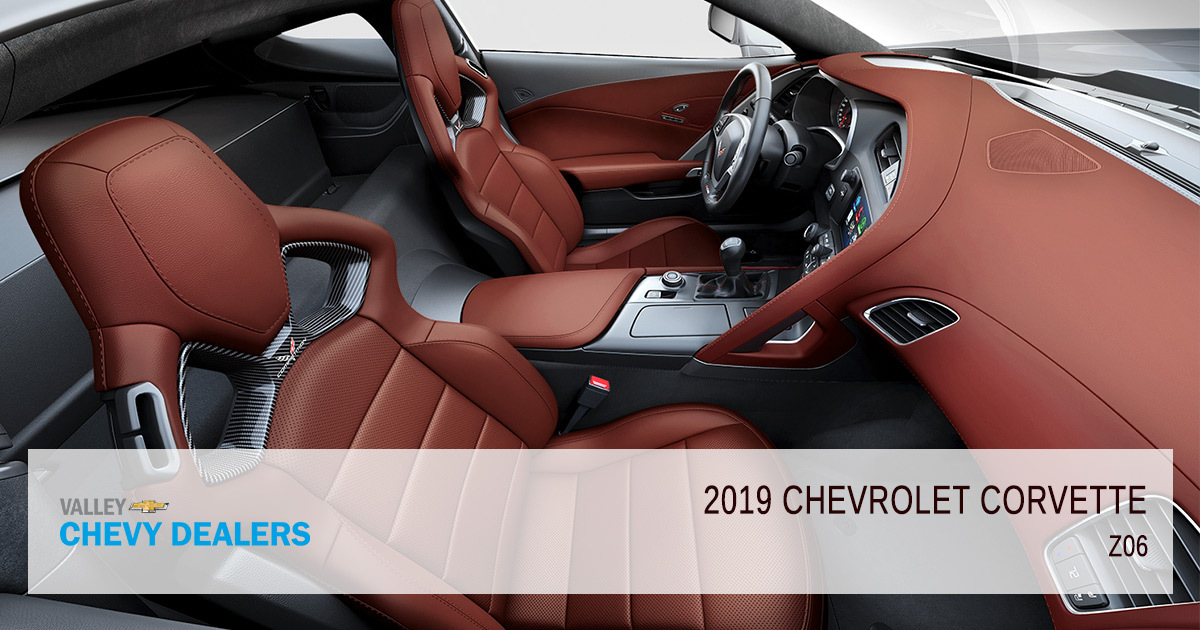 The Z06 is made for car fanatics. It was developed alongside the C7.R race car, and has a good deal in common with it. The supercharged aluminum 6.2L V8 engine offers both 650 horsepower and 650 lb.-ft. of torque. That's enough to take this feat of modern engineering from zero to 60 in 2.95 seconds. Choose from the seven-speed manual transmission or eight-speed paddle shift automatic depending on your driving preferences.
This car has plenty to offer in the style department as well. The convertible option allows you to lower your top and keep performance high. The top is full electronic, and can be safely lowered at speeds of up to 30 miles per hour. On either the convertible or the coupe version, large vents provide cooling and also contribute to the aggressive styling.
Once you get past the intimidating exterior, you'll find a comfortable and well-appointed interior. Premium materials like leather, carbon fiber, and microfibers make up the seating and other fixtures. Available 4G LTE Wi-Fi is the star of an impressive infotainment system that includes Bose audio components. The center screen drops down to expose a storage compartment and USB port, and it's easier than ever to integrate your smartphone. This car was built with the track in mind, but you'll still want to drive it every day.
ZR1
This new ZR1 Corvette is going to get a lot of attention among auto enthusiasts, because it's one of the most impressive supercars made to date. You'll appreciate the luxurious touches like the vented Napa leather seats, Bose audio system, and leather-wrapped steering wheel. At the end of the day, though, this car is all about performance. It even has a Performance Data Recorder so you can catalogue your outings.
The Corvette name has become synonymous with legendary American muscle, and this car had to pull out all the stops to make a claim for the crown. That's where phenomenal attention to details like the sound profile come into play. This car has four distinct exhaust modes so you can tune the sound to be just how you want it. Options include Track, Sport, Tour, and Stealth. The different modes change how your exhaust system uses its valves, and the profiles range from an attention grabbing roar to an almost inaudible hum.
Of course, Chevrolet paid attention to the big things, too. The 6.2L V8 engine is perhaps the most important part of this car, and the 755 horsepower is what will help this car go down in history. This engine is assembled by hand and looks almost as beautiful as it sounds thanks to a carbon-fiber cover. Chevy reports a top track speed of over 200 miles per hour, and this car can go from zero to 60 miles per hour in 2.85 seconds. The power goes to either a seven-speed manual or eight-speed paddle shift transmission, so either way the driver has optimal control.
This car was born and raised on a race track, which helped it develop a sophisticated sense of aerodynamics. The standard rear wing helps eliminate drag while still creating more downforce than you can find from the Z06. The high wing option creates even more downforce, and even offers mechanical adjustment of up to five degrees so you can finetune your aerodynamics. You'll even find (for the first time ever on a Corvette) a front underwing that comes straight from the racing world. All of this comes complete with sophisticated cooling and ventilation to help control the temperature without increasing drag or lift too much.
The inside of this supercar is as advanced as some cockpits. Choose from tour, sport, and track driver modes. Configure your display to show varying levels of information, including G-force, tire temperature, and other specific feedback. The head-up display helps you get crucial information without having to ever look away from the road, and the performance data recorder is logging data and video for more in depth analysis at a later time. Do not miss the arrival of this special car.
See also: 2020 Corvette Spied - Pics & Specs
Test Drive a 2019 Corvette in Phoenix Today!
If you want to check out the new types of Corvettes for 2019, get familiar with your nearest Valley Chevy dealer. Chevy dealers all over the Valley will have all the different Corvette models as soon as they become available. Feel free to stop by a dealership today and take a new Vet for a spin!