2018 Chevy Silverado 3500HD Fuel Efficiency & Gas Consumption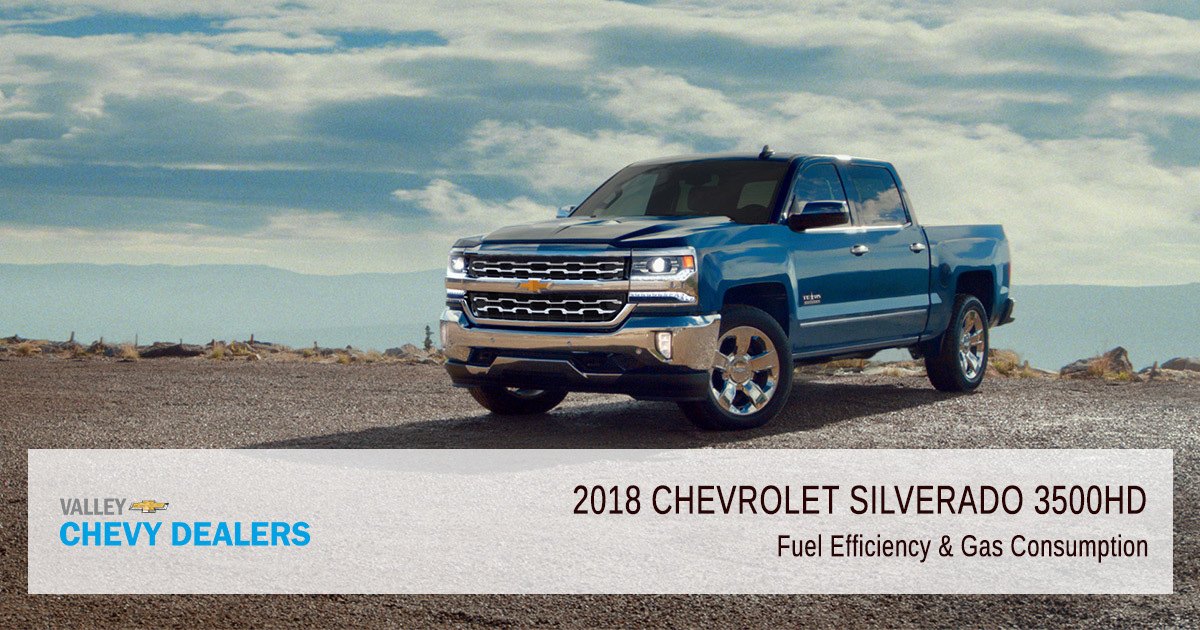 With a trailer-towing capacity of 23,300 pounds and a payload of up to 7,100 pounds, the
2018 Chevy Silverado 3500
remains the king of Chevy pickups. When it's not
towing or hauling
, the Silverado 3500 is the most fuel-efficient pickup in its class. It has a powerful 6.0-liter turbo diesel V8. Handling this truck is a breeze, especially when hauling a heavy load, thanks to its stability features such as StabiliTrak and Digital Steering Assist. This is a powerful, reliable piece of equipment; whether you buy the
WT or LT trim
.
2018 Silverado 3500HD Fuel Mileage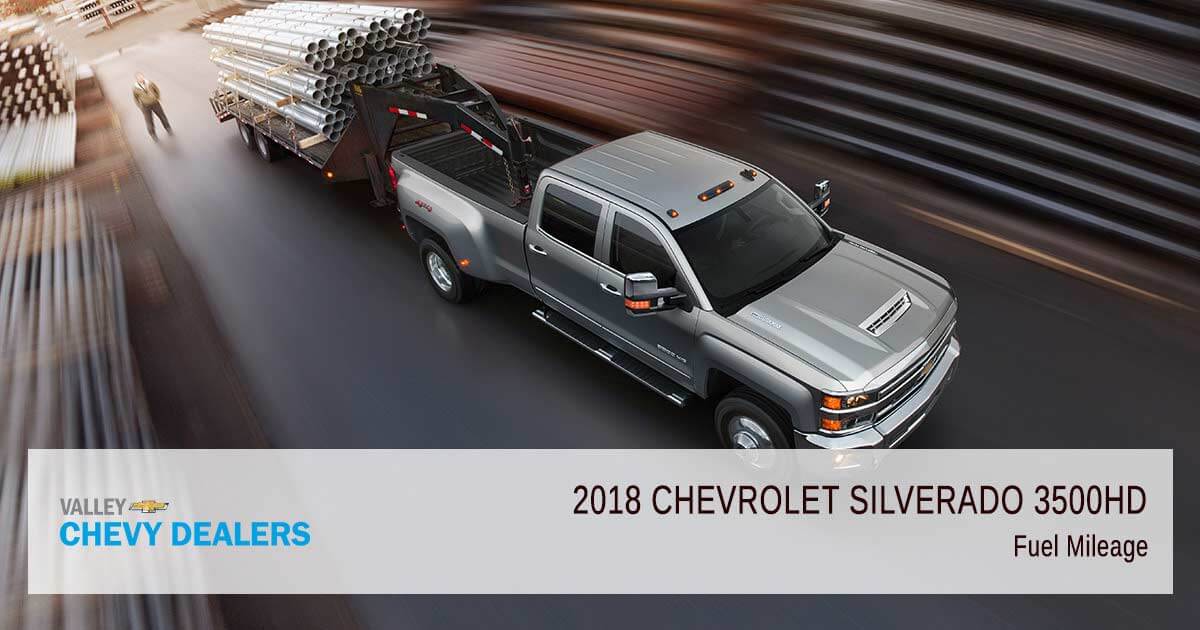 The diesel Silverado's best-in-class average 18.5 mpg is remarkable for a truck this size. Most drivers receive around 17 miles per gallon on the highway and 12 mpg in the city, regardless of engine choice. The Duramax engine is designed in a manner that enhances fuel efficiency so you get the most miles per gallon possible. Compared to other trucks in its class, the Chevy 3500 is the leader in fuel efficiency. The Silverado HD has a 36.0-gallon fuel tank, making it one of the longest range in its class. This means that you'll have to stop at the diesel pump less frequently than the Silverado's competitors. Given that nothing was altered under the hood for the 2018 Chevrolet Silverado 3500, there are no alterations of the Chevy's real-world fuel economy figures. The hood scoop together with other modifications within the air system, allow the diesel engines to function with ease in extreme heat, wet, or cold weather conditions.
2018 Silverado 3500HD Fuel Efficiency
Its intake system is properly designed to supply cold and dry air for efficient combustion. Approximately 60% of the air used by this engine is drawn in through the hood scoop, keeping its temperatures low by allowing free flow of heat out of the engine compartment. Also, the scoop allows a ram-air effect, enabling it to funnel larger quantities of air into the engine, especially when the truck is moving at speed. The Chevrolet Silverado 3500 HD is a
big truck
that offers a unique choice of two diligent, heavy-duty engines specifically designed to help you with your day to day duties. There is the Standard which is a Vortec 6.0-liter V8 that makes 360 horsepower and 380 lb-ft of torque, with a 6-speed automatic heavy-duty transmission. Though the gas engine is okay for normal heavy lifting, buyers who prefer more power can go for the truck's optional 6.6-liter turbo diesel that makes a muscular 910 lb-ft of torque, class-leading 445 hp and a 6-speed Allison automatic transmission.
See also:
2018 Silverado 3500HD vs RAM 3500
Test Drive a New Silverado 3500HD in Phoenix Today
Want to test Chevy's 3500HD workhorse gas mileage experience yourself? Come on in for a test drive at your
nearest Valley Chevy dealership
.