2018 Chevy Colorado Fuel Efficiency & Gas Consumption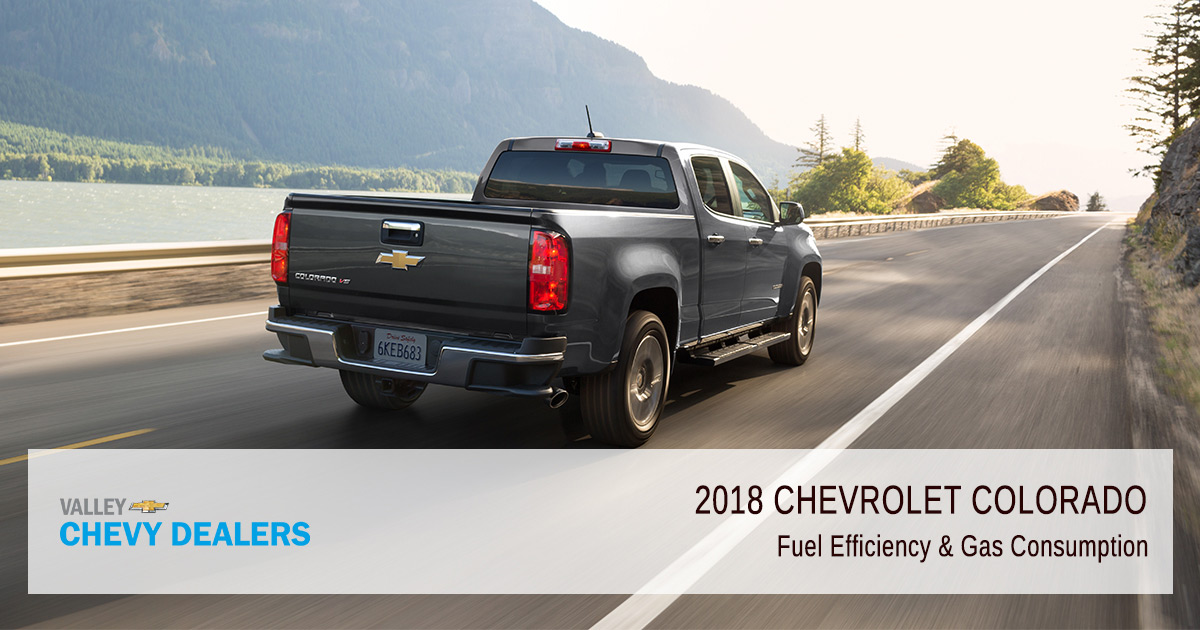 Compare the 2018 Chevrolet Colorado to see how it outperforms other midsize pickup trucks in every facet of its performance. Different packages and engines enable this versatile truck to go just about anywhere and haul whatever you'll need when you get there. It also brings something that many other trucks can't provide: excellent Chevrolet Colorado fuel economy. Keep in mind the different trims for the 2018 Colorado have different engines that each get different fuel efficiency.
2018 Colorado Fuel Mileage
The Chevy Colorado MPG of 24 makes this the most fuel efficient pickup you can find. The Chevy Colorado gas mileage varies some depending on how you equip this truck, so consider all your options if efficiency is important to you.
2018 Colorado Fuel Efficiency
For example, a Crew Cab LT with a four-cylinder engine and six-speed automatic transmission offers 24 miles per gallon overall according to Consumer Reports. That's a product of 15 miles per gallon in the city and an impressive 34 miles per gallon on the highway. With a 21 gallon gas tank, this gives the truck a total cruising range of 495 miles, so you'll spend less time at the pump and more time on the road, hitting the trails, or at your job site. Consumer Reports estimates that an average driver will put 12,000 miles per year on their truck. With this kind of fuel consumption, you can expect to use 510 gallons of gas in a year, and spend $1,270 at the pump.
Consumer Reports also tested the Crew Cab LT with a V6 engine and the eight speed automatic transmission. The results weren't quite as efficient as the other option, but still deliver excellent V6 engine efficiency. This setup allowed Consumer Reports to get 26 miles per gallon on the highway and 13 miles per gallon in city traffic for a combined efficiency of 18 miles per gallon. The same 21-gallon tank now gives a cruising range of 385 miles, and those who drive 12,000 miles per year can expect to use 650 gallons of gas in that time. The estimated yearly fuel cost is $1,560.
Test Drive a New Malibu in Phoenix Today
The data definitely suggests that the new Colorado outclasses its peers when it comes to gas mileage. The best way to prove it is by taking it for a drive yourself. Head to your nearest Valley Chevy dealership location to take the new Colorado for a spin today. Ask to see the Centennial edition Colorado. You'll be amazed by how little the fuel gauge moves over the course of your test drive.