2018 Chevy Colorado Trims & Options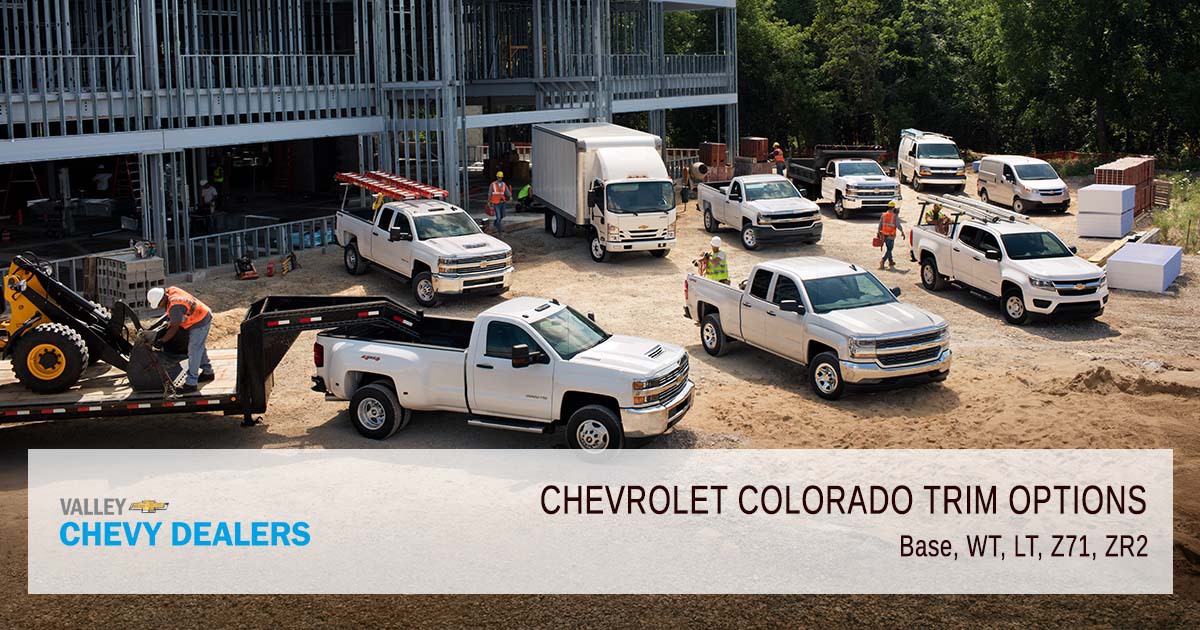 The 2018 Colorado is the perfect mid-size truck, and once you decide it's the one for you, nothing else will stand a chance. All it takes is a quick comparison of the new Colorado to see that this long-lasting machine has everything you could ask for in your next truck. It's only after you decide to make this truck yours that you really have some hard decisions to make.
Do you want to upgrade to the new Chevy Colorado diesel engine that can handle even the toughest jobs, or do you prefer a fuel efficient four-cylinder or V6 engine for everyday driving? Are you comfortable in a base model without all the bells and whistles, or would you like all the amenities in the 2018 Chevy Colorado ZR2?
The great news for big truck enthusiasts everywhere is that there are no bad choices when it comes to selecting your new 2018 Colorado. This versatile midsize truck can go anywhere, and that includes the ability to fit into tight parking spots when need be. The sensible size doesn't sacrifice anything when it comes to performance, either.
2018 Chevrolet Colorado Trims
The Colorado already received a few notable changes last year for the 2017 model year. These included an upgraded V6 that brought more horsepower and torque, and was more efficient at the same time, thanks to cylinder deactivation technology. A new eight-speed auto transmission joined the list of optional features, as did a controller to assist with trailer-braking for safer hauls. The infotainment system got a state of the art overhaul, as did some cosmetic features like exterior paint colors, and interior and exterior trim pieces. Upgraded seats provided more comfort for drivers, and the Teen Driver safety package gave countless parents additional peace of mind.
The 2018 Colorado builds upon those enhancements even more. There is an optional special edition package in honor of Chevy's 100 years in the business of making next-level driving machines. The anniversary edition includes several exclusive features to help the truck look every bit as impressive as it really is. You'll spot the attention to detail everywhere from the wheels to the bedliner to the grill.
Even without the 100th year celebration package, you'll notice some noteworthy improvements. Towing is easier than ever thanks to Active Tow technology and an alignment system that guides reversing drivers to their trailers. Heated exterior mirrors aren't often necessary in Arizona, but they can come in handy on long trips up north or into the mountains.
2018 Colorado Performance & Features
The newest Colorado leads its peers when it comes to style, technology, and safety. The roomy interior and cutting edge technology features make this truck just as well suited for everyday driving and road trips as it is for the job site.
It also excels in all the categories that have become synonymous with the Chevrolet brand. The comfortable interior will almost make you forget you're driving one of the most powerful driving machines in existence. That is, until you need to haul, tow, or even go offroad! That's when you'll be especially thankful for this unique combination of practical features and powerful performance.
Of course, all of this comes with Chevy's legendary reliability and durability. No matter where you take this truck or what you demand of it, you can count on it to get the job done and leave you completely satisfied.
The nearly endless combinations of cab options, bed styles, and trim levels make it easy to fit this flexible truck perfectly into your lifestyle. It's more than capable with any trim level or available packages you can select, so copy its style by proceeding without fear. Choose whichever options call out to you, then take pleasure in knowing that you own the finest midsize truck on the market.
Look into the different offerings below to see how highly customizable this truck is. It will fit your budget just as well as it fits your lifestyle.
Colorado Base Trim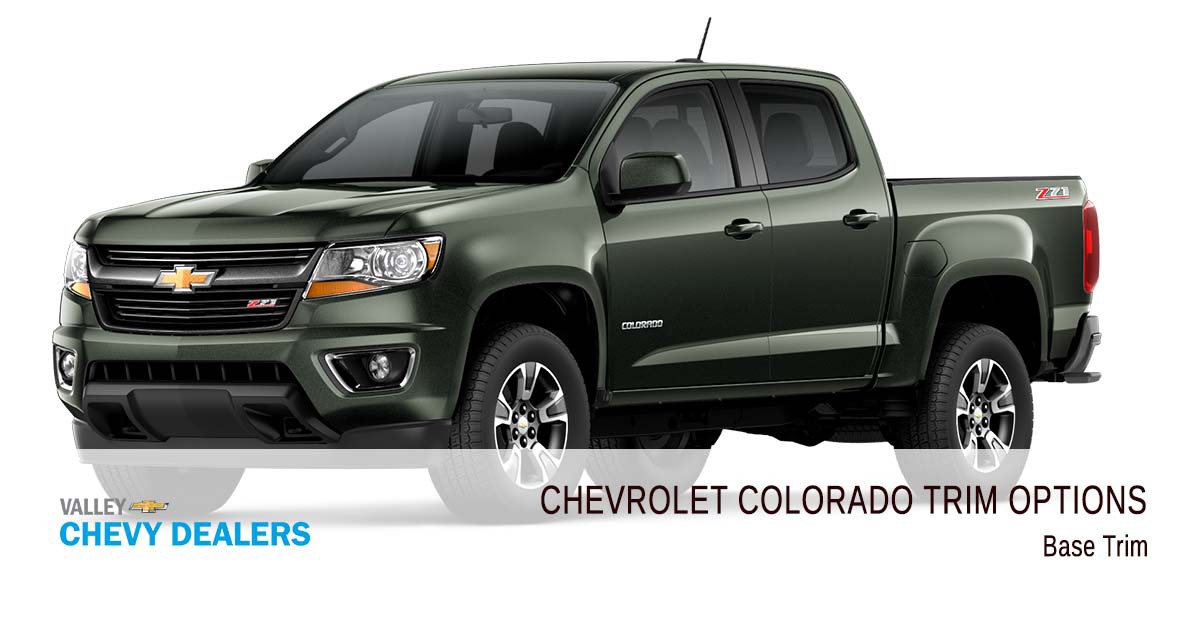 This is the entry level offering for the new Colorado, but it affords drivers comfort and performance they rarely see on base model trucks. Starting at only $21,195, this pickup includes the base 4x2 extended cab with a six-foot box and two-wheel drive. The 200 horsepower 2.5-liter I-4 engine runs on regular gasoline and sends power to a six-speed manual transmission. There are two seats in the cab, and you can add some pop with a full palette of nine classic colors.
Base Features:
Cargo box lighting
Teen Driver safety technology
Rear vision camera
Driver information center
Locking tailgate
Bluetooth technology for wireless connectivity
Disc brakes with ABS on all wheels
Seven-inch color touchscreen display infotainment system
Chevrolet MyLink Radio
16-inch metallic steel wheels
Colorado WT Trim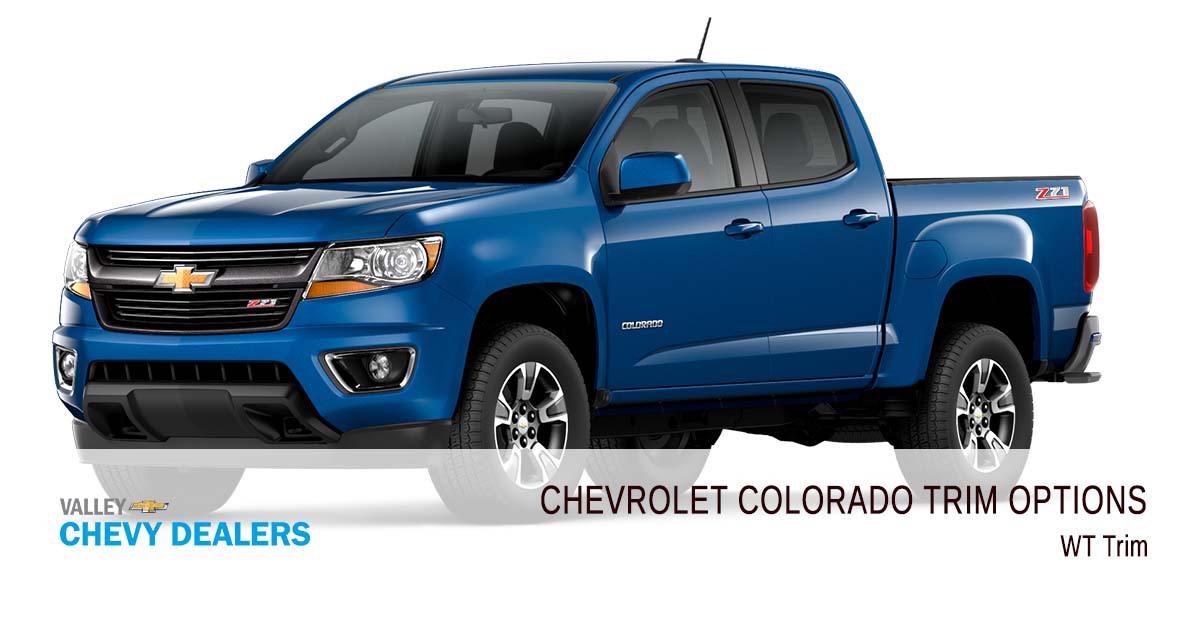 The WT trim is a good step up from the base for anyone who wants more versatility and performance in a pickup. A variety of cab and box options make it far easier to get a truck that feels like it was built just for you. This level offers more capability by adding options for an eight-speed automatic transmission. To go with the upgraded transmission, drivers can choose a 308 horsepower engine to increase power with or without a heavy payload. The WT starts at $29,495.
Additional Features (also includes features at lower trim levels).
WT Features:
Optional 3.6L V6 engine with direct injection technology available with crew cab, long box two-wheel drive, and crew cab 4x4
Six-speed manual transmission with extended cab two-wheel drive
Six-speed automatic transmission with crew cab and extended cab 4x4
Eight-speed automatic transmission available for crew cab, long box two-wheel drive and crew cab 4x4
Available extra storage under dual back seats in extended cab models
Carpeted floors and floor mats throughout entire interior
Folding rear bench seat for crew cab
Colorado LT Trim
The LT trim is where the Colorado starts to add more comfort and technology to its world-class performance. The lower levels are built for necessity, and the LT is too, but it also adds some extra perks. Style, convenience, and class all come standard with this truck. You can own an LT trimmed Colorado from $31,995.
Additional Features (also includes features at lower trim levels).
LT Features:
Six-speed auto transmission in extended cab two-wheel drive
On-Star
Standard cruise control
Leather steering wheel with radio controls
Remote keyless entry
Five USB ports - two in rear are for charging only
Driver information center with multiple colors
Chevrolet MyLink Radio
Eight-inch color touchscreen infotainment system
Chrome beltline molding
Cornerstep rear bumper in body color
17-inch blade wheels in silver metallic aluminum
Colorado Z71 Trim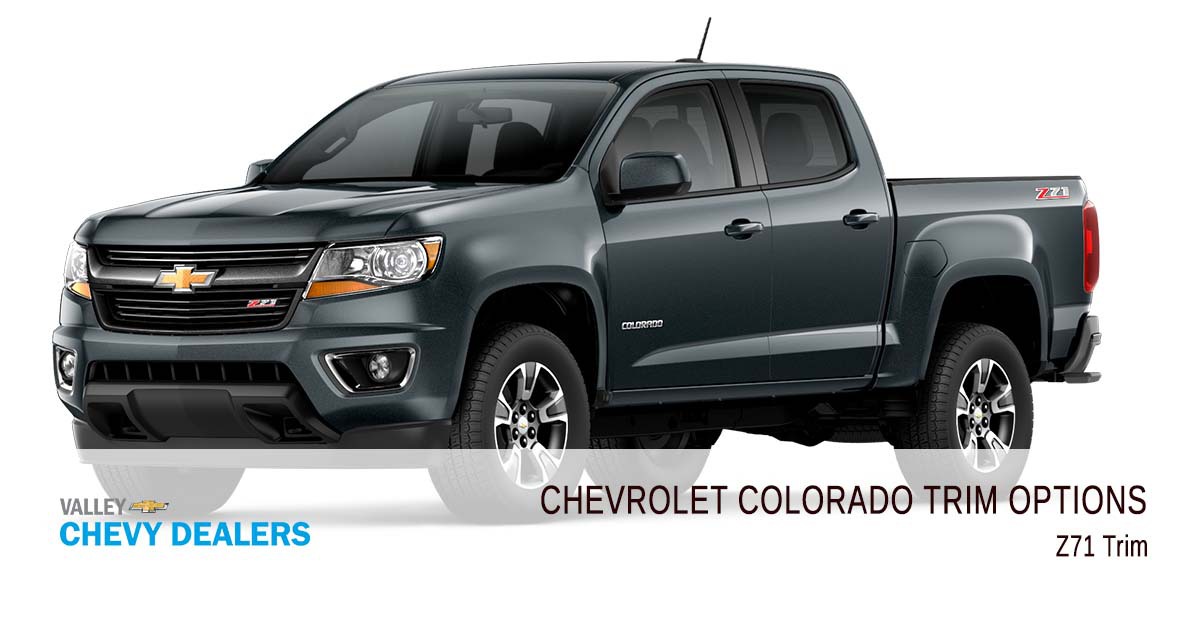 Every Chevy Colorado is an absolute beast on the road, but the Z71 gets rid of that pesky qualifier of staying on-road. Take this truck everywhere and let it amaze you with its features. Regardless of what you put it through, you'll be just as comfortable as ever in a cab that builds upon everything the lower trim levels have established. Own the Z71 today from $34,495.
Additional Features (also includes features at lower trim levels).
Z71 Features:
Z71 off-road package
Auto lock rear differential and transfer case shield
Enhanced suspension
Automatic climate control
Sliding rear window
Remote start
Hill Descent Control
Projector-beam headlights
EZ lift tailgate
Fog lamps
Black beltline moldings
Colorado ZR2 Trim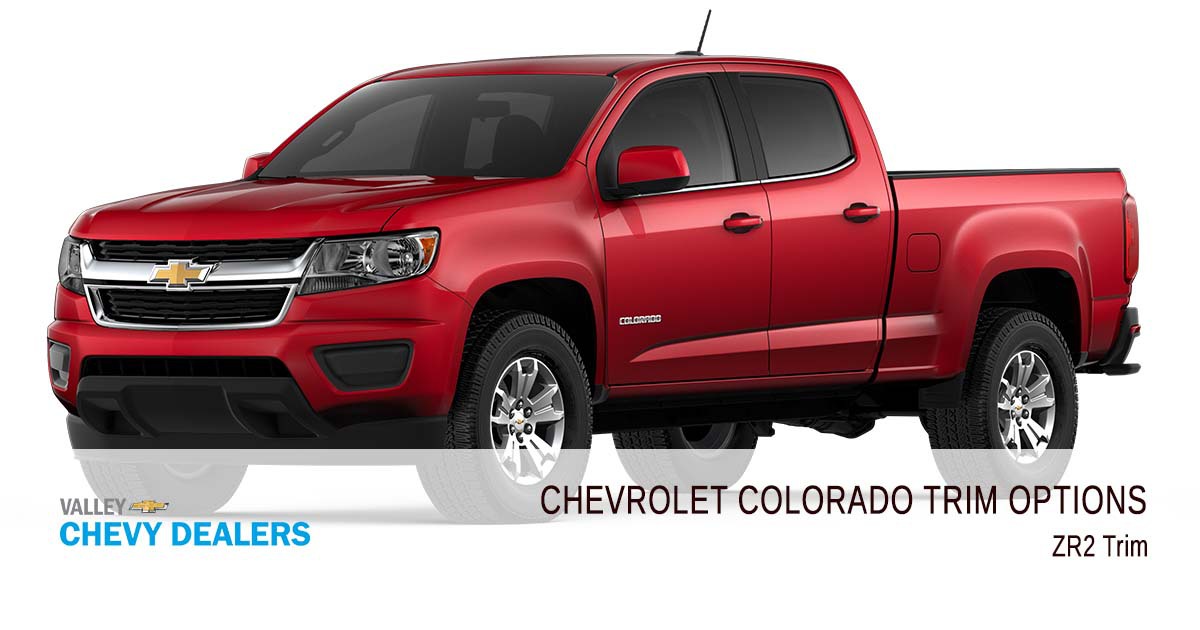 Welcome to the pinnacle of the midsize pickup heap. The Chevy Colorado ZR2 can't be beat on the road, on the trail, or anywhere else you might ever take a pickup truck. You might think a truck that's built to be this dependable in any condition would be as rugged on the inside as it is on the outside, but in that case you'd be wrong. The interior of a Colorado ZR2 rivals that of a posh luxury sedan. This truck delivers all the comforts and amenities you have at home, and maybe even a few you don't. MSRP on this puppy starts at $41,395.
Additional Features (also includes features at lower trim levels).
ZR2 Features:
Off-road suspension
Upgraded external appearance including off-road protection features
Wireless charging for your smart devices
Leather-appointed seats
Stylized ZR2 logo throughout interior and exterior
Spray-on bedliner
All-terrain Blackwall tires (17-inches)
Black rear bumper
Wheel flares
Multimatic Brand Dynamic Suspensions Spool Valve (DSSV) Damping Shock System
Lifted for increased ground clearance
Shielded transfer case
Standard trailer hitch and integrated brake controls
Infographic: 2018 Trim Options for Chevrolet's Colorado

Share this Image On Your Site
Where to Test Drive a New 2018 Colorado in Phoenix
If you think the Colorado is just another pickup truck that sounds great on paper, just wait until you see it in person. No comparison made of mere words can hold a candle to the feeling you get the first time you take one of these next-level machines for a spin. Drive the new 2018 Chevy Colorado to experience the best performance, technology, and comfort the truck industry has to offer.
There are plenty of new Colorados waiting for you in Central Arizona. Visit your local Valley Chevy dealer to take a test drive today. Even in the Valley, the sun never sets on dependable American quality.