Which Electric Vehicle is Best, the Fiat 500e or Chevy Spark EV?
How Electric Car Torque Figures Weigh into the Comparison
If you have been doing a comparison of electric cars, you have probably taken a look at the
Fiat 500e and the Chevy Spark EV
. These two have nearly identical curb weights, but this may be the only real similarity when it comes to these two autos.
By the Numbers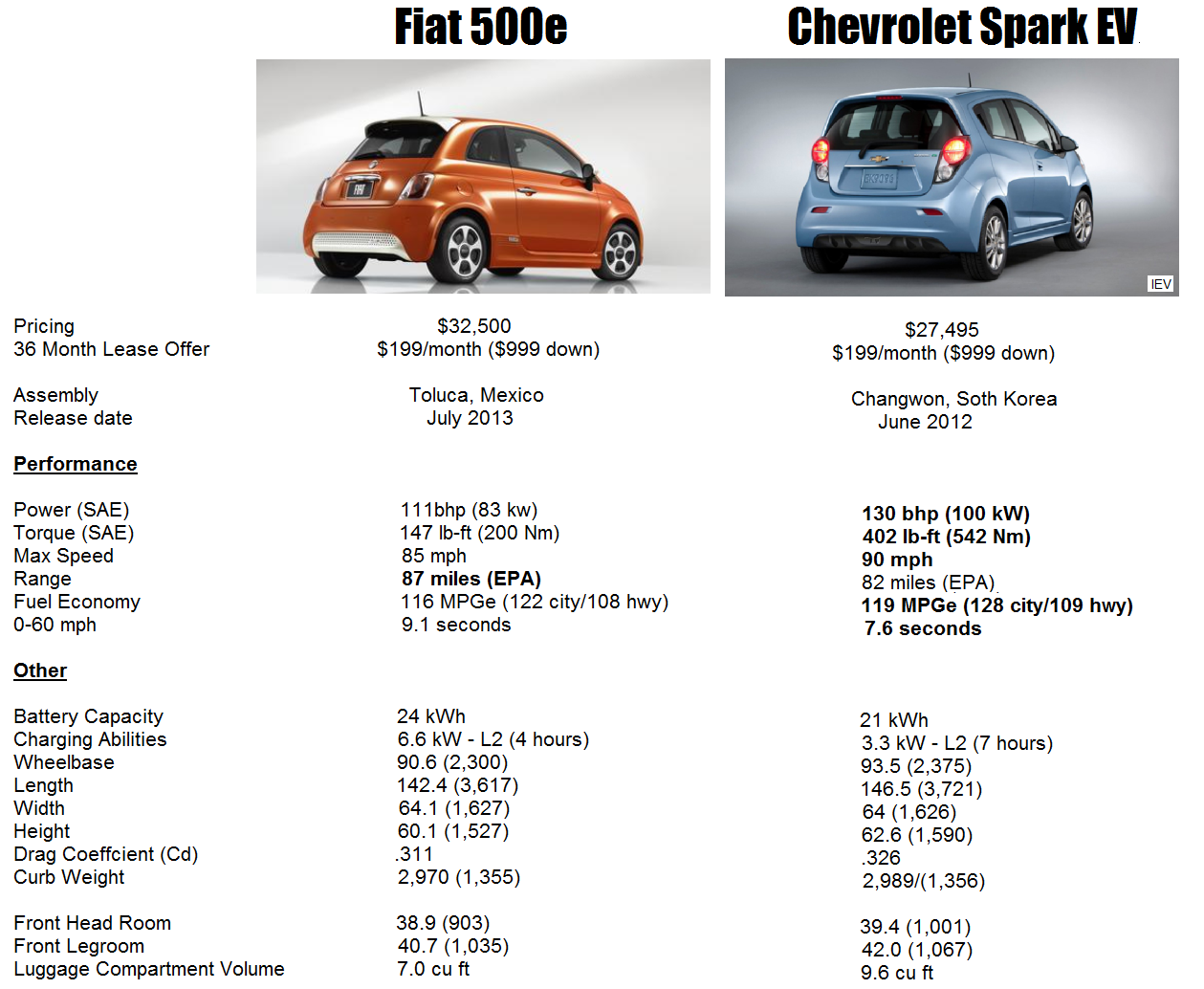 The Fiat 500e has much lower horsepower and torque numbers than the Chevrolet Spark EV. The Chevy Spark EV has 141 horsepower and 400 pound-feet of torque, while the Fiat 500e has 111 horsepower and 147 pound-feet of torque.
Interior
While both cars are compact, the Chevy has four doors and four seats. The Fiat is a two-door, four-seater. The Fiat is a bit more cramped than the Chevy, and the Fiat has a bit of an awkward driving position. Its small back seat is not for those with long legs. Both vehicles offer a relatively quiet ride inside.
Pricing
The Chevrolet Spark EV is priced at $27,495 and the Fiat is $5,000 more, starting at $32,500. The
Chevy is one of the lowest priced electric cars
, but offers tremendous value for the money.
Performance
Both the Fiat and the Chevy are very quick and handle well. The
Spark can go from zero to 60 in just 7.6 seconds
. The
Fiat 500e comes in at 9.1 seconds
. The Spark EV offers strong acceleration, especially at higher speeds because of its electric torque.
Efficiency
The Chevy Spark EV has a lot of performance dialed in and it has an
EPA rating of 82 miles
while the
Fiat has an EPA rating of 87 miles of range
. The fuel economy of both cars is almost the same. The Spark EV comes in at 119 MPGe, and the Fiat comes in at 116 MPGe combined.
Which Electric Car is Best?
The Spark offers drivers great acceleration speed and driving pleasure. At the price, it's a steal for an electric car. When comparing it with the Fiat 500e, it is easy to see that the Chevy is the winner. To see the Chevy Spark for yourself, visit
your local Valley Chevy dealer
. Take one for a test drive and we're confident you'll love the ride and the car itself.