2018 Chevy Camaro Safety Rating
Drivers looking for their next vehicle, including the 2018 Chevy Camaro, should take the time to carefully examine all information related to the car, including its safety rating. Safety ratings are determined after numerous tests conducted by independent agencies, letting you know you can trust the results without any bias. Vehicles that have a high rating are well-made and you can count on them to keep you and your family safe while on the road. The newest Chevy Camaro safety rating is incredibly impressive, regardless of whether you go with the 1LS or 1LT trim, making it a very safe choice.
2018 Chevrolet Camaro Safety Features
The latest Camaro boasts many things: (a) it's fast and (b) it has impressive safety features. Technology-wise, the car has an integrated infotainment-navigation system, giving you hands-free access to directions, weather reports, and even your phone, so you can make calls when lost or in an emergency without ever taking your hands off the wheel.
Drivers can also find the familiar safety features they are searching for in each new Camaro. For example, each one boasts a comprehensive airbag system, including driver, passenger, front head, rear head, front side, and rear side airbags. Brake assist, electronic vehicle stability control, and traction control also keep the vehicle stabilized throughout almost any driving condition. Daytime running lights and four-wheel ABS also work to keep you safe.
2018 Camaro Crash Test Safety Ratings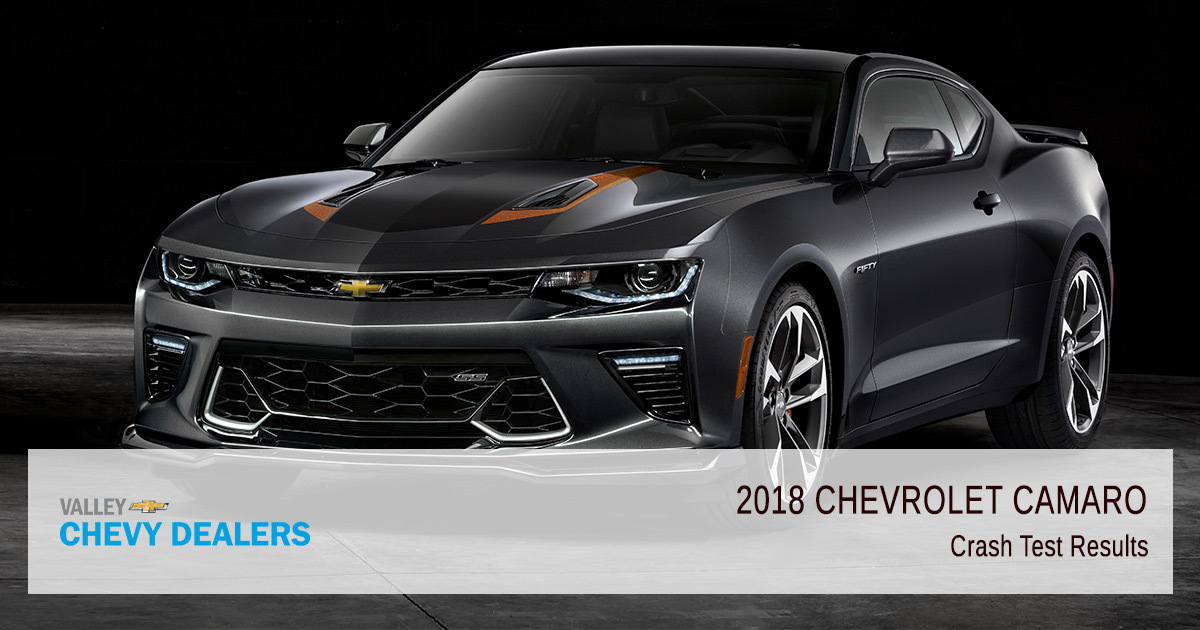 There is no single Camaro safety rating that you can view that gives you a perfectly clear picture of the vehicle's performance. Instead, it is important to take a look at both the Insurance Institute for Highway Safety (IIHS) Chevy Camaro crash test ratings and the National Highway Traffic Safety Administration's (NHTSA) safety ratings.
The IIHS rated the Camaro as "good" overall, which is one of the top ratings available. The vehicle performed well in impact tests, including side and rear crash protection results. NHTSA ratings were equally as impressive, giving the car a five-star rating overall, which is the top one available. In addition, the Camaro performed near the top of its class in terms of side crash and rollover protection.
2018 Chevy Camaro Safety Comparison
For comparison's sake, drivers may want to know that the Camaro outperformed both the Ford Mustang and the Dodge Challenger in IIHS and NHTSA safety ratings. This makes it a much safer choice for both highway and in-city driving.
Test Drive a 2018 Chevy Camaro in Phoenix Today
Once you learn the safety features behind this incredible muscle car, it may be impossible to resist its appeal. Come in to your local Valley Chevy dealership to test drive one of Chevrolet's new 2018 Camaros today and ask to see the ZL1 1LE track package model!