2021 Chevy Camaro Safety Rating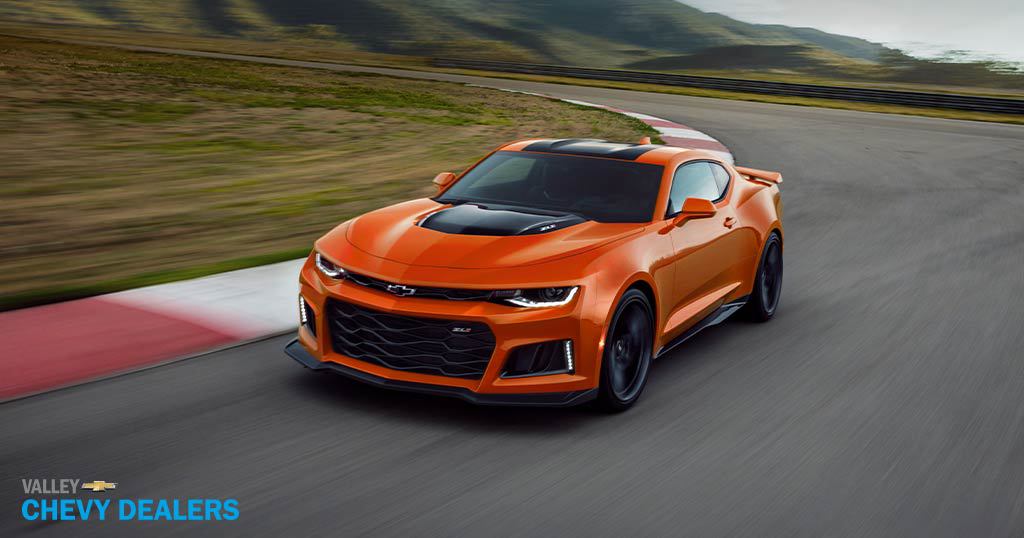 What You'll Learn
As you read about the Camaro safety rating, you'll learn:
Leading safety rating organizations have released positive Camaro crash test ratings.
The new Camaro includes a lot of driver assistance and active safety features.
All things considered, this vehicle should make you feel very safe and secure while delivering excellent performance.
Camaro Safety Rating
The 2021 Chevrolet Camaro is the perfect blend of speed and safety. Although there is no single definitive rating for the overall safety of the Camaro, it is important to look at and understand the two main crash test ratings that are often cited in vehicle safety reviews. The first of those comes from the Insurance Institute for Highway Safety (IIHS). The second ranking is from the National Highway Traffic Safety Administration (NHTSA). Looking at these two scores together helps to get an overall picture of the safety of the 2021 Chevrolet Camaro.
Chevy Camaro Crash Test Scores
The Insurance Institute for Highway Safety (IIHS) scored vehicles on a scale of Good to Poor on various metrics, with Good being the highest possible ranking. The 2021 Chevrolet Camaro received an overall evaluation score of Good, with the individual categories of driver injury measures, such as head/neck collision protection, chest collision protection, hip/thigh collision protection, and lower leg/foot protection receiving these high marks in all testing scenarios including driver-side, front, and side collision testing.

The National Highway Safety Administration (NHTSA) ranks vehicle safety on a scale of one to five stars. The 2021 Chevrolet Camaro was awarded five out of five stars overall, making the Camaro the perfect blend of safety and stability, protecting you and your family in style.
2021 Camaro Standard Safety Features
Standard safety features on the 2021 Chevrolet Camaro include the following:
Driver Air Bag
Passenger Air Bag
Front Head Air Bag
Rear Head Air Bag
Front Side Air Bag
4-Wheel ABS
4-Wheel Disc Brakes
Brake Assist
Electronic Stability Control
Daytime Running Lights
Traction Control Trunk Release
These features come standard on the 2021 Chevrolet Camaro, contributing to its overall high-performing safety rating.
2021 Camaro Active Safety Features
Depending on the trim level, additional features are added to increase the safe driving experience. Whether you are interested in the 2021 Chevrolet Camaro 1LS RWD Coupe or 2021 Camaro ZL1 RWD Coupe, you can check to see if the following safety options are available on your desired model.
Camaro Heads-Up Display

The Heads-Up display allows you to keep focused on the road. This feature projects important information and key warnings onto your windshield, so you don't have to look down. This optional feature can be activated or deactivated at your convenience. You can also adjust the display preferences to optimize your safe driving experience. The display positioning can be moved up or down. You can also adjust the brightness. Additionally, you can navigate through different pages of information.



Camaro Traction Select System / Driver Mode Selector

Make sure that you choose the right mode for the driving conditions. If you find yourself in inclement weather, on a track, or bumpy terrain, the Traction Select System / Driver Mode Selector allows you to easily adjust your properly equipped vehicle's performance mechanisms to changing road conditions or simply to your preference. Nothing is more important than the on-road experience, and the ability to access multiple driving modes allows you a greater degree of driving control, meaning a safer, more reliable ride.
You can choose from the following modes on select vehicles

Tour: This mode is designed for the everyday driver, emphasizing fuel economy and the quality of the drive.
Sport: Maximize your 2021 Chevrolet Camaro's speed capabilities in this mode, designed for a fun, sporty performance, ideal for dry roads
Tow/Haul: This mode is designed to improve your drive if you ever find yourself towing or hauling a heavier load
AWD: This mode is ideal for improving the drive on paved roads covered with water, snow, or ice. For vehicles without four-wheel drive options.
Snow/Ice: This feature is designed to maintain traction and keep the vehicles wheels from slipping when roads become slippery.
Off-Road: This is designed to improve performance, traction, and maneuvering if you find yourself off-road.
Terrain: If conditions are mixed or frequently changing, you can select the Terrain mode.

You can use terrain for low-speed or mild off-roading
With terrain mode, you will experience back and forth between gas and brake pedals and enables one-pedal driving.

My Mode: A customizable mode that you can tailor through your infotainment screen.
Z Mode: This allows you to choose your preferred powertrain setting, alongside the suspension tuning, steering, exhaust, engine sound, and the feeling of the brake.
Track Mode: When you're on the closed racetrack, this is the ideal setting. Track mode optimizes vehicle handling and control during vigorous, higher speed laps around the course.
Weather mode: This mode is perfect for achieving a greater degree of control on slippery roads.



Camaro Launch Control

With a car designed so uniquely for speed, the 2021 Chevrolet Camaro uses Launch Control to protect you from the start so you can safely maximize the power of your ride. Launch Control is designed to enhance the traction control of the vehicle. It optimizes wheelspin while the vehicle is launching, and this feature can be activated when you are in a competitive mode.

Camaro Rear Vision Camera

The Rear Vision Camera on the 2021 Chevrolet Camaro is designed to show you an image of the area directly behind your vehicle when you are reversing at low speeds.

This image is enhanced with helpful selectable dynamic guidelines. These lay over the display image to assist in parking maneuvers and generally show the path of the vehicle. Using this feature, you can easily avoid nearby objects or barriers. On model's equipped with the Chevrolet Infotainment System, this display will be in High Definition

Camaro Rear cross-traffic alert

If you need further protection when your vehicle is in reverse, the Rear Cross-Traffic Alert will detect when traffic is crossing in from the right or to the vehicle's left.

Camaro Rear Park Assist

The Rear Park Assist feature is incredibly useful when you need to safely park your car. This feature is designed to alert you if you are about to encounter an object in reverse when parking. This is ideal for easily, safely, and efficiently parallel parking your vehicle or avoiding damage in tight parking garages.

Camaro Lane Change Alert with Side Blind Zone Alert

Changing lanes on the highway can be stressful and dangerous at times. For greater safety in those moments or for everyday convenience, the Lane Change Alert with Side Blind Zone Alerts makes changing lanes easier. This system is designed to provide side-mirror visual alerts when a moving vehicle is detected and approaching your side blind zone. Utilizing this system can help avoid collisions caused by changing lanes on the highway. These collisions can be especially dangerous, due to the greater speeds and higher driver concentration.

Camaro Forward collision alert

The Forward Collision Alert can warn you if it detects an impending or potential front-end collision with a vehicle you are following. You can quickly take action to avoid damage. This system is also equipped with a tailgating alert for those times when you may be trailing a vehicle too closely. The video is deleted when performance data and video recorder are ordered.
Test Drive the 2021 Camaro in Phoenix
The 2021 Chevrolet Camaro is a vehicle designed to maximize your performance driving experience with the reliability and control you've come to expect from Chevrolet. From the five-star safety rating to a wide range of additional customizable features, the 2021 Chevrolet Camaro is the ideal blend of style and safety.
Find a Valley Chevy location and test drive yours today.