17 Day Trips From Phoenix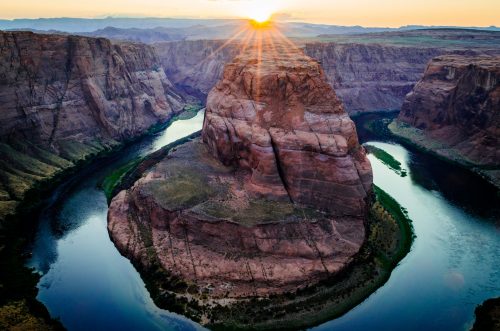 Updated: 7 June 2021
There is plenty to do within the city limits of Phoenix, but if you've been living in the area for a while, or if urban activities just aren't your thing, you may want to explore beyond the high rises and concrete.
The areas surrounding Phoenix are home to some of the most beautiful natural splendors known to man, and plenty of man-made attractions worth seeing as well. Whether you want to get a breath of fresh air, explore new landscapes, or shake off the city blues, you can do it all without traveling much more than a couple of hours in any direction.
Places to Visit Near Phoenix
Spend less time researching places to go for a day trip and more time doing—use this list of 17 one-day road trips from Phoenix to get you started.
---
1. Lake Pleasant AZ
(35 minutes from Phoenix)
Lake Pleasant is a 10,000-acre oasis in the middle of the desert. Its pristine waters are surrounded by 116 miles of shoreline on which you can sunbathe, play a game of beach volleyball, or even camp out for the night. Local residents visit for the day to cruise in their speedboats, race on their jet skis, or idle in kayaks. If you want to get wet while getting a workout, rent a paddleboard for the day and coast the coves.
---
2. Sonoran Desert AZ
(50 minutes from Phoenix)
Oh great, more desert, you're probably thinking, isn't Phoenix desert enough? While it's true that nearly the entire state of Arizona is desert, some parts of the vast wilderness are more breathtaking than others. The Sonoran Desert is one of those places. Spanning 100,000 square miles that reach as far south as Baja and northern Mexico, the Sonoran Desert features an astounding variety of landscapes and ecosystems. Within its radius, you will discover grasslands, tundra, desert, and coniferous and deciduous forests. You will also find man-made gardens that are every bit as splendorous as their natural counterparts. Friendly individuals paved paths on which you can hike and take scenic drives without fear of getting lost.
---
3. Saguaro Lake, AZ
(50 minutes from Phoenix)
Though Saguaro Lake is manmade and not so much a natural wonder, the surrounding landscape is breathtaking. The 22 miles of shoreline is framed by towering mountains and vibrant canyon walls. The plateaus of the canyons and the sides of the mountains are adorned with the majestic Saguaros. Aside from being a great site to see, Saguaro Lake is just plain fun. Once there, you can boat, fish, kayak, paddleboard or sunbathe, making this locale one of the best relaxing day trips from Phoenix.
---
4. Casa Grande Ruins National Monument
(1 hour from Phoenix)
You may be surprised to know that one of the largest prehistoric ruins in all of the U.S. is located just one hour from Arizona's capital city. Though Casa Grande is over 600 years old, it features a highly advanced irrigation system housed within a single structure. The irrigation tunnels are interconnected and give visitors a very good idea of how the first settlers were able to survive in what was, at the time, a virtual wasteland. Today you can visit the ruins from 9 am to 5 pm, weather permitting.
---
5. Grand Canyon AZ
(South Rim) (3 hours from Phoenix)
If you want to see the majestic Grand Canyon without traveling more than two hours, you're in luck. The south rim is undoubtedly the more popular rim and does become congested at the busier times of the year, but it's well worth pushing through the throngs of people to behold the splendor that is the canyon. Once there, take a hike along the rim, schedule a donkey ride down to the basin, or visit one of the park's many museums.
---
6. Montezuma Castle Monument
(1 hour 30 minutes)
Dubbed as one of the nation's first national parks in 1906 by Theodore Roosevelt, Montezuma's Castle is an amazing relic of the past. Carved into the side of the limestone cliff are apartment-style dwellings once used by the Sinagua, a Native American tribe that occupied the area more than 600 years ago.
Once there, you can walk along the side of the cliff and get a glimpse at what it would have been like to live in the Arizona desert before cars, roads, high rises, and technology took over. Found artifacts are placed strategically throughout the dwellings and campsites to give the outdoor museum a more authentic feel.
---
7. Montezuma's Well
(1 hour 30 minutes from Phoenix)
The term "well" doesn't do this site justice. Montezuma's Well is a natural mystery. The living desert oasis was discovered several hundred years after its more famous counterpart and is still often neglected by Castle visitors. The collapsed underground limestone cavern is filled with fresh water and is surrounded by lush desert grassland. It is 368 feet across, 55 feet deep, and sits at an elevation of 3,618 feet. More than one million gallons of water a day flow continuously into the sinkhole, but its source remains unknown.
---
8. Red Rock Scenic Byway
(1 hour 40 minutes from Phoenix)
Sure, you get to see the red rocks of the desert from just about anywhere in the state, but nowhere else on Earth are they nearly as breathtaking as they are in this byway. This 7.5-mile stretch of highway (State Road 179) will take you through the Coconino National Forest and into AZ's stunning Red Rocks Country. Along the way, you'll be captivated by views of the towering prehistoric rock formations and enticed by the numerous hiking and biking trails, dining options, art galleries, and shopping destinations.
---
9. Mission of San Xavier del Bac
(1 hour 50 minutes from Phoenix)
Whether you're a religious person or not, this mission is worth a visit. Built in 1797, this structure changed hands several times before becoming part of the U.S. in 1854. Having been built by Spaniards, however, it boasts beautiful Spanish-style architecture and is decorated with stunning murals and statues inside. You can attend mass on Sunday or take a tour any day of the week from 7 am until 5 pm. 
---
10. Prescott, AZ
(1 hour 50 minutes from Phoenix)
Prescott used to be the capital of the Arizona territory, but whereas other cities (such as Phoenix) flourished, it remained more or less the same. Today, its population is a modest 40,000 residents, and while those residents are not stuck in the past, they have made it their mission to at least preserve the wonders of the early years. Its streets are lined with Victorian homes, historic buildings, and museums. Of all the old, however, there is a wealth of new. The city has plenty of shopping, dining and lodging options, ensuring there is plenty to do for both the day visitor and the weekend warrior.
---
11. Jerome, AZ
(1 hour 50 minutes)
While you're in Prescott, visit Jerome, a town located at 5,000 feet above sea level and atop a 100-year old copper mine—and, what was, once the largest mine in all of Arizona. When the mine closed down, it went from being the largest mining town in the state to one of the largest ghost towns in America. Today, however, it has fewer ghosts and more attractions. Visit the winery, eat at a restaurant, or shop for antiques before heading back to your Prescott hotel.
---
12. Tonto Natural Bridge State Park
(1 hour 50 minutes from Phoenix)
If you're more of a thrill-seeker than a ghost hunter, head over to Tonto Natural Bridge, a natural land bridge that sits at an elevation of 4,500 feet. At 183 feet high, this landmark has been dubbed the largest natural travertine bridge in the world. It was discovered more than 140 years ago, but it wasn't until 1991 that the government decided to open it up to the public as a state park.
---
13. Titan Missile Museum
(2 hours from Phoenix)
Just two hours outside of Phoenix sits the only remaining intercontinental ballistic missile site left in the United States, and on this site sits the remains of the former Titan II Missile, a missile launched during the dark Cold War days. Take a guided tour of the missile silo any day of the week and enjoy a simulated missile launch while you're there.
---
14. Slide Rock AZ
(2 hours from Phoenix)
Slide Rock is a natural playland characterized by corridors of slippery creeks that visitors use to propel themselves into cool bodies of water. In short, Slide Rock is a natural water park—or, somewhat natural. The park came to be thanks to one Frank Pendley, who developed an irrigation system that allowed him to plant apple trees and water livestock in the dry AZ climate. Over time, his system formed the slippery rock waterways that visitors use as slides. When you get the urge to act like a kid again but, you know, in an adult fashion, head on over to Slide Rock.
---
15. Devil's Bridge Trail
(2 hours 10 minutes from Phoenix)
Located in the stunning Coconino National Forest, this 1.8-mile hiking trail STARTS at an altitude of 4,600 feet and is made of 100 percent sandstone. Thrill-seekers can hike across the arch, while less-daring souls can safely enjoy breathtaking views of the underside of the arch and the surrounding Sedona rocks from the ground.
---
16. Kartchner Caverns State Park
(2 hours 30 minutes from Phoenix)
New Mexico isn't the only state with tremendous caverns. Kartchner Caverns is a large cave system that features striking, "alive" limestone formations—alive simply meaning that they're still growing. You can take a 1.5-hour guided tour every day of the year save for Christmas.
---
17. Meteor Crater AZ
(2 hours 45 minutes from Phoenix)
If you've ever wanted to see a real-deal meteor, take a less-than-three-hour day trip to Meteor Crater, a 500-foot depression in Earth's soil. Research dates the meteor crash to approximately 50,000 years ago. Today, it is one of the world's most popular attractions.
---
Buy the Right Car to Take You There
Whether you plan on visiting one or all 17 of these destinations, you need a reliable vehicle to get you there. Before planning your day trips from Phoenix, visit your Chevy dealer for reliable vehicles that will take you on all of your adventures.