The 4 Most Dangerous Roads in Arizona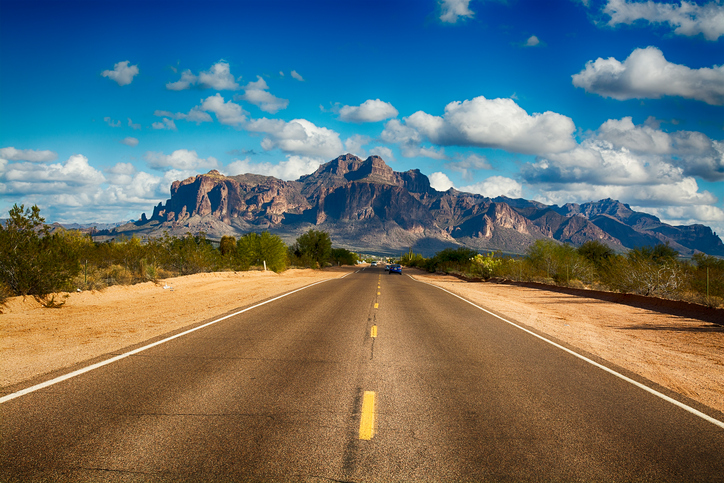 Updated: Nov 2021
Arizona may have a reputation for being very hot, but it also has some of the most scenic views in all of the country. The Petrified Forest, Horseshoe Bend and, of course, the Grand Canyon come to mind. But getting to those places can be dangerous. Never mind the hike, just driving to some of these premier spots means taking some of the most dangerous roads in Arizona.
The Beeline Highway
Arizona State Route 87, also called the Beeline Highway, connects from down in Eloy, all the way to Payson in the high country. Payson is a great escape from the heat, has great hiking, and is a good stop when making a bigger trip requiring Interstate 40. Keep going north on SR 87, and you'll run into the Painted Desert. And if you remember what you were told about running from bees, you don't run in a straight path, you zig and you zag. Driving to Payson means coming around a lot of looping turns, but the views as you ascend from desert to forest are worth it.
Salt River Canyon
A little outside of Globe, on the U.S. 60, your path will lead you through the Salt River Canyon. Some will drive through on their way to go snowboarding at Sunrise, and for some, the canyon itself is the destination – it might be the most scenic drive in Arizona. But that doesn't make it any less dangerous. Driving through might be a testament to your will to avoid taking in the views, as getting into and out of the canyon means braving a winding path along the walls, and you don't have the benefit of it being a divided highway like the SR 87. And while there are passing points, getting caught behind a semi can really test your patience and focus.
Interstate 10
Getting out of the heat by heading to the beach? Unless you're flying, the I-10 is going to be your best bet when heading to hit the ocean waves in California. Going across the entirety of the state, and connecting Tucson to Phoenix, I-10 routinely rates as one of the most dangerous highways in America, with the stretch leading to California getting a special mention. There are other things to check out along the I-10 within the Arizona borders as well, like the ostrich farm at Picacho Peak or Red Rock State Park.
Interstate 17
Interstate 17 connects Phoenix to Flagstaff, and in doing so you rise almost a mile in elevation heading north. Taking the I-17 means you'll go close to Sedona, and if you take keep going north after Flagstaff on the U.S. 89 you'll get to the Grand Canyon, so there's no shortage of scenery in the area. But taking that rise in elevation means road conditions on the I-17 can get icy. Add to it that the ends of the freeway are in densely populated areas, and you have a roadway that sees its share of accidents.
Your Valley Chevy Dealers
Driving can always be a dangerous proposition, but using these roads can take on an added degree of difficulty. Having a reliable, well-maintained car and, of course, slowing down and driving safely are the best ways to get to where you want to be. For more tips about driving in Arizona in a reliable car, visit your local Valley Chevy dealers.