Chevy vs Dodge on Reliability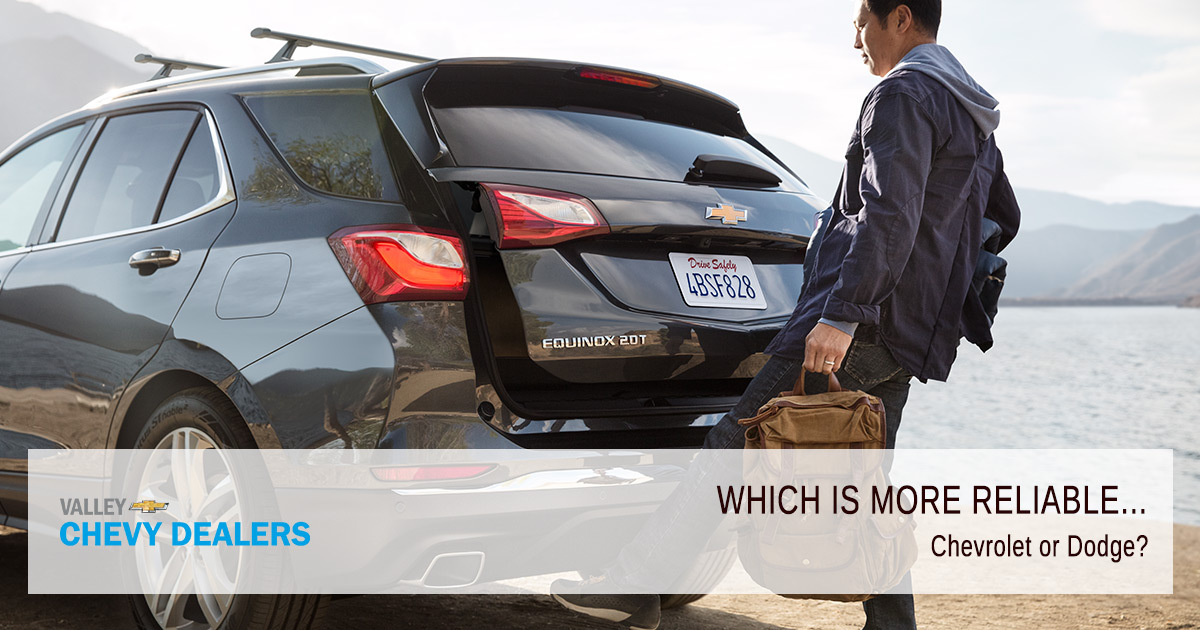 Updated: July 2021
Chevy vs Dodge is a common topic of debate among automotive enthusiasts, and ultimately that competition is settled thanks to Chevy reliability. Drivers have been thrilled with the practical efficiency of cars like the Chevy Cruze and Sonic in recent years, and those vehicles are so successful in part because of their legendary dependability.
Dodge does offer some impressive vehicles of its own and is not easily discounted. That said, one only has to consider workhorses like the Chevrolet Silverado pickup truck to see why critics agree that one American carmaker is head and shoulders above all its competition.
Chevy Versus Dodge Throughout History
Chevy and Dodge have both stood the test of time as far as automotive manufacturers go. Both vehicles have legacies that span 100 years, and that is certainly nothing to scoff at. Both brands have loyal fans that would never want to drive a vehicle from any other automaker. Personal preferences aside, though, it seems only fair to give both of these brands the highest possible marks for their ability to withstand the test of time.
Each manufacturer played its part in putting American engineering on the map, and both deserve recognition for proving that this country produces some of the hardest working vehicles on any road in the world. With nothing but the utmost respect for each brand, it seems only fair to call it a tie for their shared legacy of longevity.
J.D. Power Reliability Ratings
There comes a time when one has to put the past aside and ask, "what have you done for me lately?" J.D. Power, as one of the world's leading experts on the automotive industry, steps up to provide an answer to that question. Both brands were given the kind of thorough and unbiased inspection you would expect from an authority like J.D. Power and Associates, and a winner has been named.
Recent studies found that Chevy has a better reliability score. It should come as no surprise that Chevrolet is better than the industry average when it comes to dependability. After all, that's one of the biggest reasons that smart buyers choose this brand time and time again. The more surprising aspect of the study is that Dodge only has average reliability ratings according to J.D. Power and Associates. Things get downright shocking upon the revelation that Dodge actually falls below average for some of J.D. Power's reliability rankings.
The studies were extremely thorough, so it would be hard to dispute this kind of evidence. Dodge enthusiasts might chalk it up to a few bad years, and it certainly doesn't erase all the good work their beloved brand has done over the last century or so. Either way, though, this is a clear win for Chevrolet.
Chevy or Dodge Pickup Trucks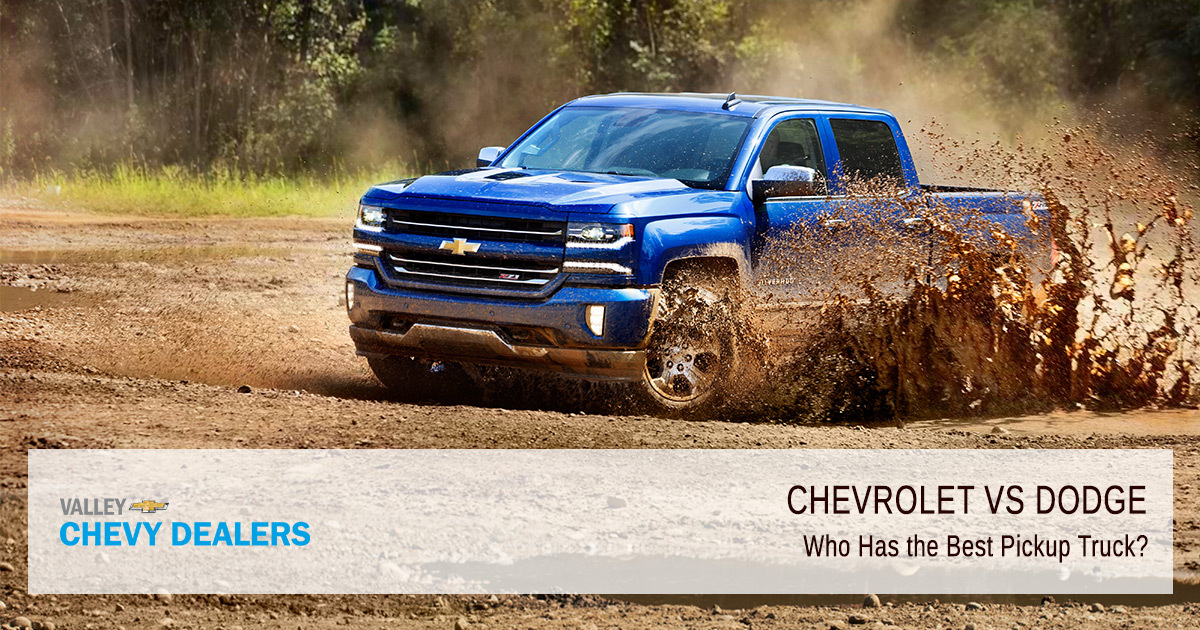 J.D. Power and Associates prides itself on conducting some of the most thorough research available on the automotive industry. Part of their expertise is in breaking their results down by a specific category, and one of the most telling segments for reliability is in the worker's vehicle of choice: the pickup truck. All J.D. Power and Associates research relies partially on survey responses from owners of new and used vehicle owners, and partially on annual dependability and quality studies.
All of these results are compiled, reviewed, and analyzed. The raw data is validated and studied to predict the long-term reliability, and Chevy's ratings blow their market competitors out of the water. Keep in mind that brands like Dodge are a worthy competition that automotive manufacturers everywhere should keep an eye on. While you're keeping that in mind, digest this: the Chevy Silverado heavy-duty pickup truck earned a spot at the very top of its segment.
The most reliable pickup truck in its class, the Silverado earned a J.D. Power Circle Rating of 4.5 out of 5. Even one of the toughest critics in the world conceded an almost perfect score to this pickup truck, which should tell you exactly what you need to know. The pickup truck manufacturing industry is partially a competition to see who can make the most rugged vehicle, and Chevy has won the crown. When reliability matters most, no one can beat Chevrolet.
Test Drive a New Chevy at a Dealer Near Me
Once you've seen all the facts and statistics, there is only one clear winner in the Chevy vs Dodge competition. Chevy reliability speaks for itself, and drivers can clearly see that Chevrolet vehicles work harder and stay on the road longer than their competition. If you don't believe it at first, you will after visiting your closest Chevy dealership and seeing how many older models are still in great condition on the pre-owned portion of the lot.