Ford F-150 Towing Capacity: A Review of All Trim Levels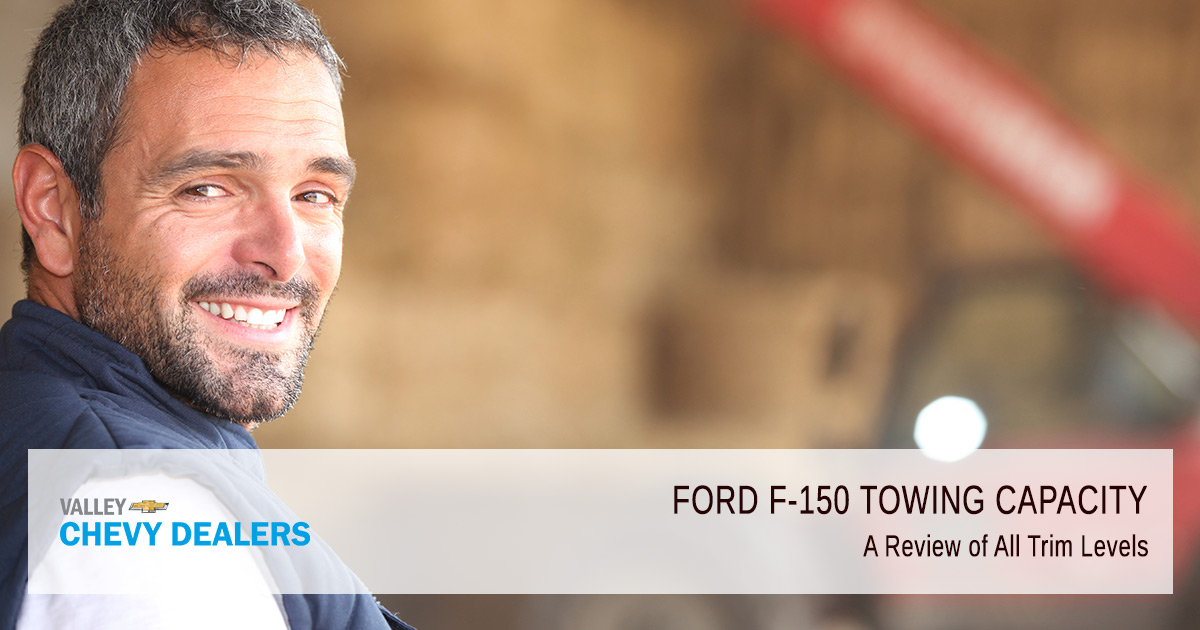 So you're looking to select that new all-American pickup truck you've always wanted, or maybe you're just replacing the older workhorse you've relied on until now. Which should you choose? One possible option is the Ford F-150.
While you're doing your research on the Ford F-150, be sure to compare its specs and facts with other similar cars to understand how it measures up. For example, the Chevy 2018 Silverado 1500 is a classic competitor to the F-150 and it has its own set of impressive numbers; which you need to compare with the Ford towing capacity specs to get the whole picture.
F-150 vs Silverado 1500 by the Numbers
There are a lot of metrics to consider, but let's cut to the chase and focus on the metrics that matter most – hauling and towing capacity. You may have heard that the F-150 is a great pickup, but so are its competitors, so you need to get serious and look at the numbers from Ford.com to learn how much a F-150 can tow.
The 2018 Ford F-150 comes with seven trim levels – the F-150 XL, the F-150 XLT, the F-150 Lariat, the F-150 Raptor, the F-150 King Ranch, the F-150 Platinum, and the F-150 Limited – all with a varying towing and hauling capacity depending primarily on the engine as you would expect.
According to Ford.com, the 2.7L V6 engine on the 2018 Ford F-150 Regular Cab can tow 9,000 pounds and has a payload capacity of 2,470 pounds when equipped with the 141" wheelbase and the F-150 tow package.
The 2018 F-150 with the 3.3L V6 engine has a maximum towing capacity of 7,700 pounds and a payload rating of 1,950 pounds with the 141" wheelbase.
The 3.5L V6 F-150 engine provides the most V6 towing capacity, coming in at 13,200 pounds and a payload of 3,230 pounds when properly configured with 141" wheelbase, and the Heavy-Duty Payload Package.
The 2018 Ford F-150 is also available with a 5.0L V8 engine that tows up to 11,600 pounds and with a payload maxing out at 3,270 pounds with the Ford F-150 max tow package, 18" wheels and a 141" wheelbase.
That may suit your needs, but keep in mind that the new 2018 Chevy Silverado 1500 crew cab models can haul up to 2,170 pounds and tow up to 12,500 pounds, making it superior to the Ford F-150. That's because the Silverado comes with a 4.3L V6 base engine, and you can opt to move up to a 5.3L V8 or 6.2L V8 power package as well.
Ultimately, you may find that there are many great options when it comes to towing and hauling specifications, which can lead you to other considerations when making your choice. In addition to hauling capacity, maybe legroom and headroom is important to you. If you like the feel of having ample space, you should consider interior cab specs too. Not surprisingly, the 2018 Silverado can give you a few precious extra inches compared with the F-150.
Only by looking at all the available choices can you be sure that when you finally make your decision, it's the right choice. If you want more help with identifying the best truck for you, locate and visit your nearest Chevrolet dealership. Our staff would be more than happy to help you understand your options and make a decision you'll be happy with for years to come. Find out which truck is best for you today!