Car Shows in Arizona You Must Attend in 2018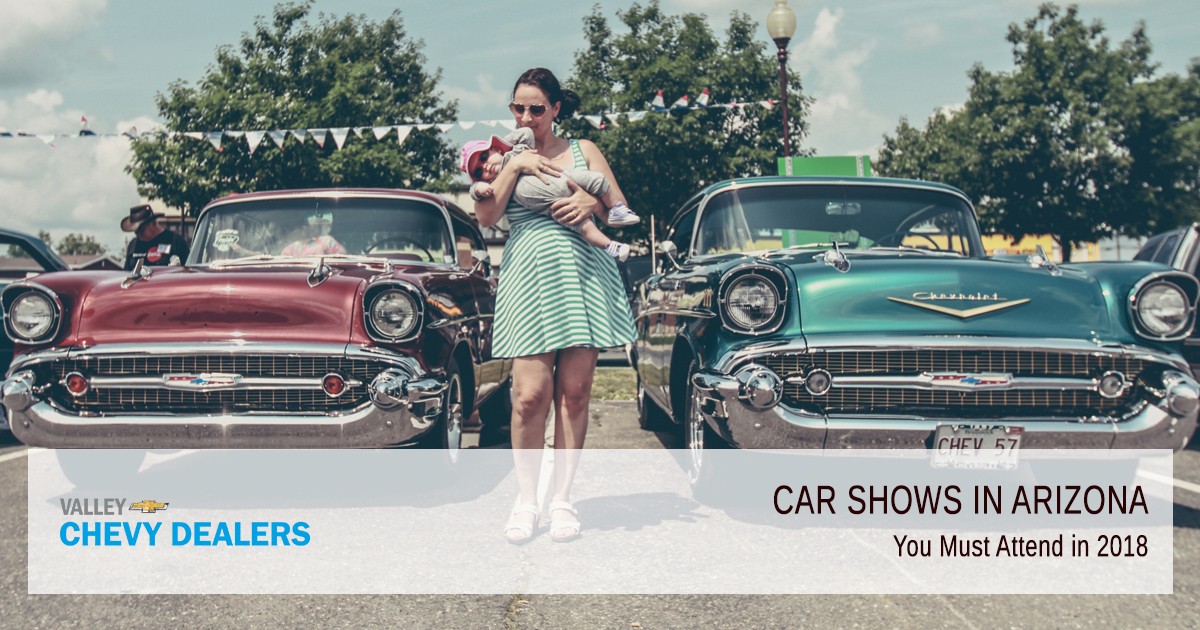 You don't have to travel far to check out some classic rides, American muscle cars or tricked out trucks; the car shows in Arizona have just what the doctor ordered. This year there are plenty of special events and recurring car shows to keep your motor love burning. Here are eight car shows you should attend in 2018.
Barrett-Jackson may have already come and gone for 2018, but they'll be back next year with a new selection of the greatest collection of cars around. Heart-pumping auctions for some of the most luxurious cars you'll ever see may be the main attraction but stick around for live music and other fun at this yearly event. The 2018 car show in Arizona included a visit from former President George W. Bush.
A chance to check out great cars and donate to a worthwhile cause, the REV'd UP for Autism show is April 7th and takes place at Hamilton High School. With 25 trophies for several different classes, the show is open to all cars and trucks, and all profits are donated to Pawsitive Friendships, a non-profit group that raises money for animal-assisted therapy to aid those with autism.
Coming up this February 10th is a full event happening at Apache Junction High School in benefit of the AJHS NJROTC program. Hundreds of participants and thousands of spectators show up to show off their rides while live music and other events are also held to raise proceeds.
Not only is this a great opportunity to check out cars, but it also doubles as a dog show for your favorite chihuahua. You can check out each of the four car competition categories, as well as races for smaller dogs. This fun-filled event is September 15th and takes place in Maricopa at the Ak Chin Pavilion. Food and beverage will be on-site, so come and show off your dog, your car or just relax.
Taking place over Thanksgiving Weekend this year, November 23rd-26th, is the Phoenix Auto Show. Located at the Phoenix Convention Center, adult tickets are $11, and kids are only $7. The event goes from 9 am to 9 pm on Friday and Saturday, and from 9 am to 7 pm on Thursday and Sunday. High-end cars will be featured, such as Aston Martins and Rolls-Royces and test drives for certain cars from valley dealers will also be available. Family day on Sunday, November 26th will even feature guest appearances from Star Lord and The Incredible Hulk.
The Chandler Classic Car Show, also known as the Ostrich Festival Car Show, gets the annual Ostrich Festival kicked off a week early with the 15th annual car show. This free event takes place in Downtown Chandler, placing you right next to some great shops and restaurants when you need a break from showing off your car or checking out others'. Get there a little early, and you can take place in the annual 5k Fun Run, and be sure to stick around to check out the Ostrich Festival Parade, all part of the kickoff weekend.  Don't forget to check out the Ostrich Festival the next weekend, celebrating one of Chandler's more interesting heritages with music, food and more.
Down in Tucson, this one is for all the GM and Chevy enthusiasts. The show takes place on April 28th at the Desert Diamond Casino in Sahuarita and includes 25 classes judged by the Classic Chevy Club of Tucson, with prizes awarded to 1st, 2nd and 3rd place in each category. This is a great chance to check out some of the Chevrolet classics with your fellow Chevy fans!
Just north of the state capital is the Phoenix Greens Car Show at Indian Steel Park. Free for spectators, this Sunday car show will have food, music and cool cars, with all proceeds going towards benefiting Phoenix Children's Hospital So come down and enjoy some classic cars while supporting a good cause at one of the coolest car shows in Phoenix, AZ on February 25th!
If you have a passion for cars, take the time to swing by one of your local Valley Chevy dealers and test drive the impressive line of vehicles Chevrolet has to offer. The new 2018 models might even turn some heads at one of the next AZ car shows!