10 Worst Cars for Reliability in 2018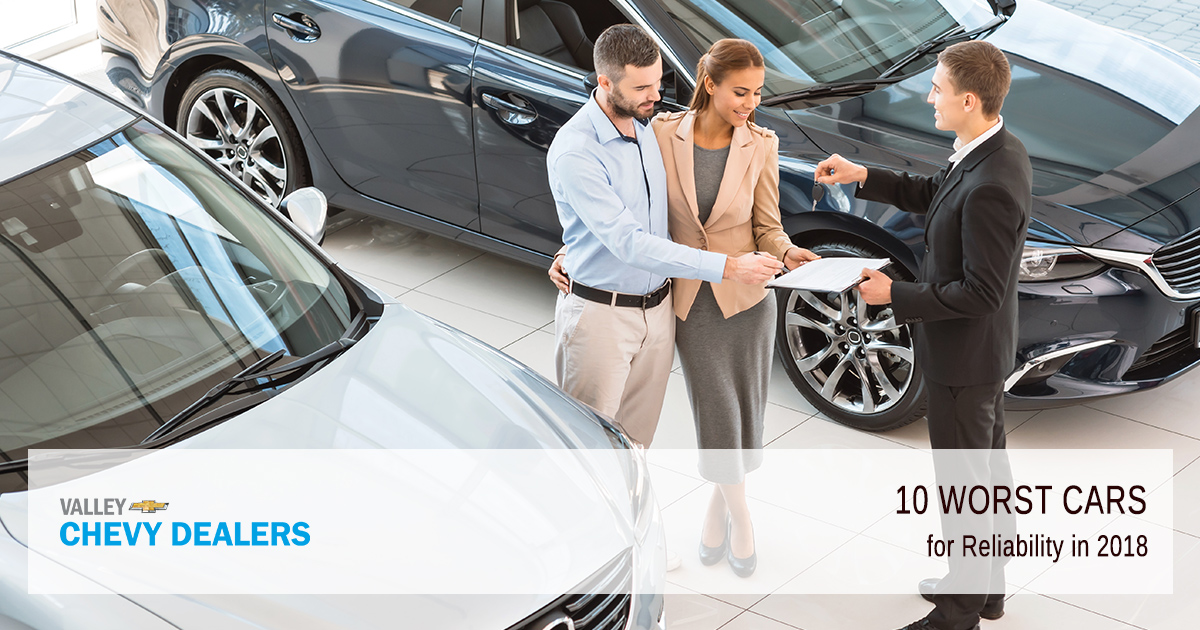 Purchasing a vehicle is a major investment, and like any other, it's important to make sure that your investment lasts. Nobody wants to drive home with a car that requires constant repairs or is subject to frequent recalls. Learn about the worst cars for reliability before you step onto the lot to save time and help narrow down your search.
2018's 10 Worst Cars for Reliability Infographic

Share this Infographic On Your Site
#1 Dodge Challenger
The Dodge Challenger has numerous issues, each of which requires a visit to the mechanic to fix. Over the lifetime of your vehicle, the costs can quickly add up. A few of the most commonly reported reliability issues include:
Stuck gears
Transmissions that need frequent repairs and replacements
Fluid leaks
Cruise control failure
#2 Ford Focus
Ford does not have the best reputation for producing reliable, durable cars, and the Focus is no exception. Reported issues include:
Repeated clutch replacement
Jerky and delayed gear shift
Inconsistent phone pairing
Display screen errors
In poor driving conditions, these issues can be incredibly dangerous, putting your safety at risk.
#3 RAM 2500
The RAM 2500 is widely considered an exceptionally unreliable vehicle. This is likely because of the numerous reported issues, including:
Leaks in air suspension
Faulty display screens
Difficulty engaging the four-wheel drive
Correcting these problems can be incredibly costly, and may take a lot of time.
#4 Fiat 500L
With one of the worst Consumer Reports reliability scores, at -276, the Fiat 500L is commonly considered one of the least reliable vehicles available. Known issues include:
Display screen freezing
Backup camera malfunctions
Failed battery
Gears that do not engage
Running lights that burn out with no warning
#5 Tesla Model X
One of the most surprising entries on the Consumer Reports list of least reliable vehicles was the Tesla Model X. It is a flashy car with a promising premise, but the final product simply lacks practicality and durability. Common complaints include:
Paint and trim chips and cracks
Climate system failures
Hardware failures
Issues opening and closing rear doors
While you may save some money on gas by investing in a Tesla, the repair costs alone could set you back thousands.
#6 Cadillac Escalade
For a luxury SUV, the Cadillac Escalade has numerous failings, making it one of the worst SUVs you can buy concerning reliability. It does not perform well, with stiff handling. The vehicle itself is massive but offers very little interior room or comfort. Some of the numerous reliability concerns include:
Frequent power equipment failures
Major transmission issues
Climate system failures
Collision warning and lane-departure warning malfunctions
Correcting these problems costs a lot of money, as the replacement parts don't always last.
#7 Ford Fiesta
The Fiesta is the second car from this manufacturer to make it on the list, contributing to its poor reputation. There are numerous issues with the Fiesta leading to its unreliability, including:
Frequent clutch replacements and adjustments needed
Jerky and delayed automatic shifts
Transmission failures
Loose trim and unexplained rattling sounds
These issues tend to repeat themselves, as replacement parts are also frequently unreliable.
#8 Mercedes-Benz GL-Class
The GLC advertises itself as one of the best compact SUVs on the market but fails to live up to its advertised promises. Known reliability issues include:
Collision warning and blind spot sensor malfunctions
Premature wear and tear on brake pads
Inconsistent phone pairing and voice recognition
Transmission frequently gets stuck, requiring resetting, repair, and replacement
In addition to those reliability concerns, important safety measures do not come standard and are only available by purchasing add-on packages with confusing wording.
#9 Volvo XC90
Volvos used to be known as a reliable vehicle. This is not the case with the XC90, which has several reported issues, including: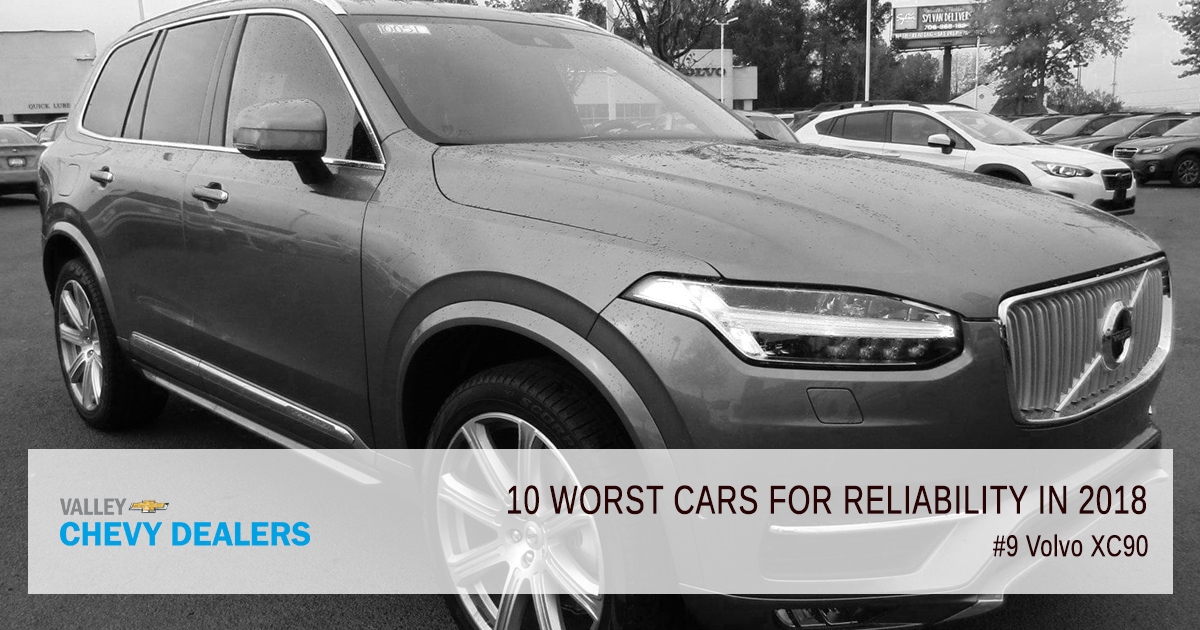 In-car electronics failure
Power equipment malfunctions
Climate system failures
Slow load times and frequent reboots, which can block access to in-car features
Most of the complaints involve electrical failures, preventing access to features such as climate control and the rear camera.
#10 Jaguar F-Pace
The F-Pace is Jaguar's first foray into developing an SUV. Unfortunately, its efforts resulted in a stiff ride, slow touch screen, and a lackluster air-conditioning system. Other common complaints include: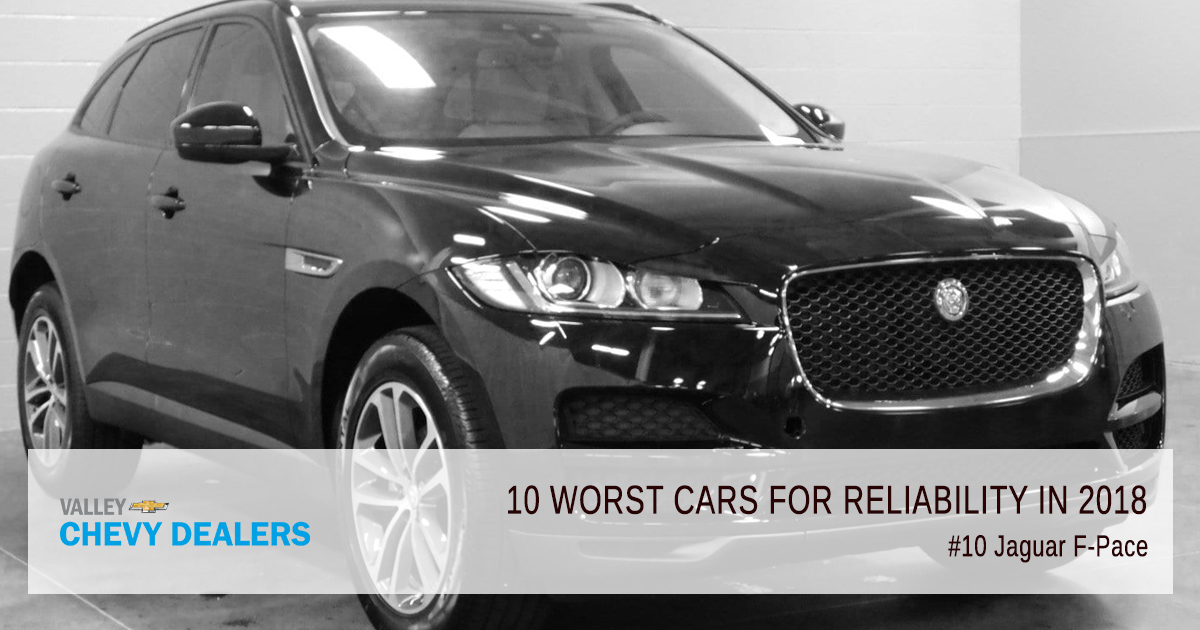 Touch screen infotainment system failures
Frequent fluid leaks
In-car electronic failures requiring frequent replacement
Unexplained noises and loose parts
The electronic issues, in particular, are a cause for concern for many owners, as these repairs must be done by a licensed mechanic and can be incredibly expensive. In addition, replacement parts are also known to fail frequently.
Ready to Get Behind the Wheel of a Car You Can Rely On?
Avoiding cars with known reliability and reputation issues is the best way to protect the investment you make in your vehicle. Chevrolet carries numerous cars famous for their reliability, durability, and strong performance, including the Chevrolet Cruze. Don't drive home in one of the worst cars for reliability. Instead, learn more about the benefits of driving a Cruze or other top-rated vehicle by finding a dealership through Valley Chevy today.
Image credit: Dima Sidelnikov/Shutterstock