2018 Silverado 1500 vs RAM 1500, Which Pickup Do I Buy?
New buyers looking to upgrade their pickups are faced with a classic conundrum: Chevy Silverado 1500 versus RAM 1500 (formerly Dodge RAM). Both vehicles offer users similar features and benefits, but the 2018 Silverado consistently comes out ahead.
Side-by-Side Comparison of the 2018 Silverado 1500 & RAM 1500
For starters, the 2018 Silverado 1500 has been awarded Best in Class Available V8 Horsepower as well as Best in Class Available V8 Fuel Economy, while still providing an impressive towing and hauling capacity. In addition, the Silverado has consistently been rated as the most dependable full-size pick up truck on the road.
Exterior
The 2018 Chevrolet Silverado 1500 can be customized to suit every lifestyle and style preference. Buyers can choose from eight different trim levels, three box sizes, three cab styles, and nine special editions. There's also a Centennial edition Silverado to celebrate 100 years of the Silverado! The 2018 models also introduce two new color options: Cajun Red Metallic and Havana Metallic. Thanks to choices like these, you can build the perfect Silverado for you.
The RAM 1500 is also customizable, with eleven different trim options. When comparing the RAM to the Silverado side-by-side, the RAM lacks the same classy yet rugged feel of the Silverado. None of the additional options give the RAM an advantage over the Silverado, including towing capacity.
Interior
With triple-seal inlaid doors, an exhaust system specifically designed to reduce noise, and an aerodynamic windshield, the Silverado provides the ultimate experience in a quiet ride. Thanks to duel-density foam seats, you and your passengers can stay comfortable regardless of how long the ride.
While the RAM 1500 does offer a sleek interior, it cannot compete with the Silverado 1500 in terms of quiet and comfort. The mix of material in the cabin can be distracting, aesthetically, and hard to keep clean, unlike the easy-to-maintain Silverado.
Technology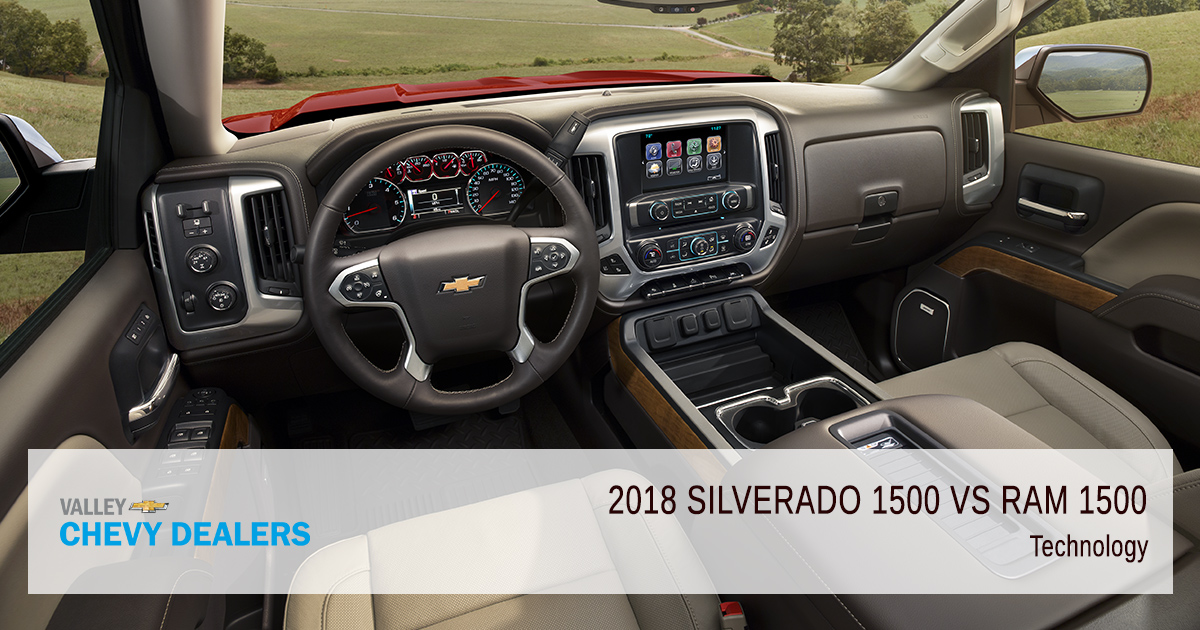 Chevrolet wants to keep its drivers connected, and it shows in the technology offered in the Silverado cab. Drivers can opt for Android Auto, Apple CarPlay, or Chevrolet's app to access music, maps, and answer calls, all hands-free.
RAMs come with similar connectivity, but without the same speedy response time as the Silverado. Unlike the Silverado, the RAM does not offer its riders a WiFi hot spot, setting it back, technology-wise, a few generations behind Chevy.
Safety Features
Safety is Chevrolet's top priority, and with six air bags, OnStar emergency services, and Teen Drive technology, it shows. These features are on top of existing safety measures such as rear vision camera, lane assist, and Autonomous Emergency Braking.
The 2018 RAM has similar features, but it consistently underperforms when compared to Silverado's five-star safety rating. In addition, the air suspension is shaky, especially at high speeds, creating hazardous driving conditions.
Test Drive One Today
The best way to compare the Silverado 1500 versus RAM 1500 is to stop into your local Chevy dealer and test drive a Silverado. Once you get behind the wheel, you can experience the cab's comfort, and the vehicle's superior performance on the road for yourself.
Silverado a Clear Winner!
In the great Dodge RAM 1500 or Chevy Silverado 1500 debate, there is one clear winner: the Chevy Silverado. With an aesthetically pleasing and functional interior, highly customizable exterior, and better towing capacity, the Silverado is perfect for any driver, regardless of need. In addition, the Silverado offers faster technology and superior safety features, making it perfect for those who want to remain connected and safe on the road.
Visiting your local Valley Chevrolet dealership to take a test drive is also a great way to test out the truck's technological and safety features. It is important to know that you feel safe and secure when on the road.