Are Chevy Trucks Better Than Ford Trucks?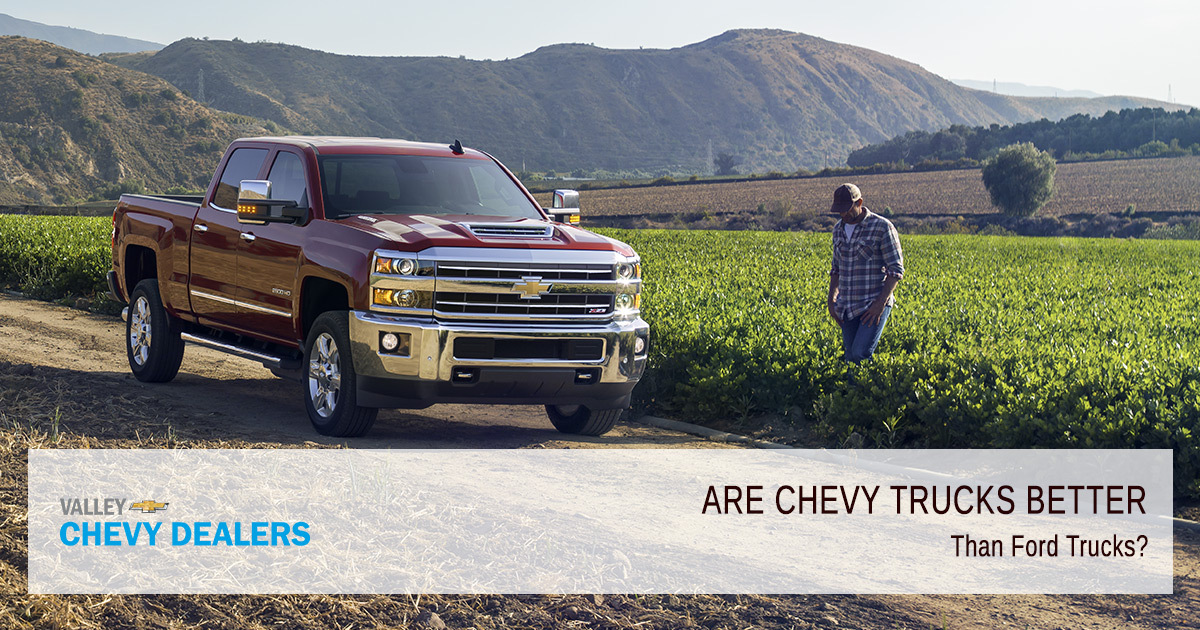 Chevrolet and Ford are both classic American brands. Both are defined by rugged toughness and powerful performance. Additionally, they both have long histories of making Americans proud of their manufacturing prowess. As such, it may come as no surprise that Chevy and Ford are competitive in so many different areas of the automotive industry.
Chevy and Ford Individual Model Comparisons
Car enthusiasts already know that comparisons between the Camaro and Mustang give the edge to Chevy for the pony car segment. Head to head matchups between the Corvette and Mustang further demonstrate Chevy's dominance when it comes to creating high performance American supercars.
Midsize family sedans don't always generate as much buzz as sports cars, but a recent examination of the Chevy Malibu and Ford Fusion shines light on some of the differences between these two brands that transcend different market segments. You might continue to find similar themes when you compare the Chevy Suburban and the Ford Expedition to see who reigns supreme in the competitive American SUV industry.
But who has the better trucks: Chevy or Ford? The F-150 is arguably Ford's flagship vehicle, and it is undeniably one of the best pickup trucks available. The F-150 regularly competes with the Chevy Silverado year after year as each brand strives to build America's highest-selling truck. A deep comparison of the different features offered by each model can help buyers make an informed decision when they buy their next pickup truck. Understanding the differences between the brand's flagship vehicles can also unlock a lot of truth about each brand's trucks as a whole.
Ford vs. Chevy: Price
If your top priority is your budget, the MSRPs of the base Silverado and base F-150 are within a few hundred dollars. However, buying a Silverado saves buyers looking for a top model about $3,500 on average. The difference in price is still small enough that performance determines which vehicle is a better purchase. A detailed look at the differences between the Silverado and F-150 across several key categories can bring clarity to which option gives more value for the money.
Ford vs. Chevy: Reliability
This category is where the new Chevy Silverado really makes its mark. Chevrolet is becoming synonymous with dependability due to a recent demonstration of its prodigious ability to earn awards and accolades for that characteristic. The F-150 uses an experimental aluminum-based body to reduce the weight of its truck. The stated purpose of this choice is to get more out of the engine, and aluminum is a great choice for that.
The Chevy Silverado wasn't willing to sacrifice quality for the sake of losing weight. Chevy's flagship truck is constructed from 100 percent steel. This uncompromising engineering improves carrying capacity, towing rating, and overall rigidity. Aluminum offers benefits in some areas, but it can never be as tough as steel, and that's why no truck out there is as tough as the Chevy Silverado. Chevrolet's refusal to cut corners on matters of durability mean you can always rely on their trucks when it matters most.
Ford vs. Chevy: Safety
Ford and Chevy both leverage cutting edge safety technology to protect their drivers. So not surprisingly, both of their flagship trucks are strong and safe. The 2018 Chevy Silverado earned a perfect five star rating overall on the National Highway Traffic Safety Administration (NHTSA) crash test. The Ford F-150 hasn't been tested just yet, but the very similar 2017 model received five stars overall.
The deciding factor in giving an edge to one truck brand or the other may come down to construction. This is another area in which the body of the truck makes a big difference. Ford's aluminum construction doesn't offer quite as much protection for the driver. The F-150 does still use a steel firewall, but the rest of the body is much more flimsy. When you choose a Silverado, nothing can touch you without going through a 100% steel design. Additionally, the Silverado has received more five star safety ratings over time, which keeps peace of mind high and insurance low.
Ford vs. Chevy: Performance
The Ford F-150's reduced weight and smaller engines give it a slight edge when it comes to fuel efficiency. The Chevy Silverado's massive 6.2 liter V8 produces 420 horsepower and 460 pound feet of torque, and it still manages 21 miles per gallon highway. That's efficient for as powerful as it is, but not quite as high as the 26 mpg highway the F-150 can achieve.
Ford also gets a slight edge on performance ratings for steering and maneuverability. The aluminum construction pays off in this area by making for a more lightweight truck. However, the heavy duty Chevrolet still gets the job done. By using a bigger engine, Chevy still manages to create more than enough power to get you and your tools where you need to go. The Ford F-150 uses its lightweight body to get away with using a V6 engine in many cases. Silverado does have a V6 engine, but it's defined by its V8 engines with 12,500 pound towing capability.
Ford vs. Chevy: Exterior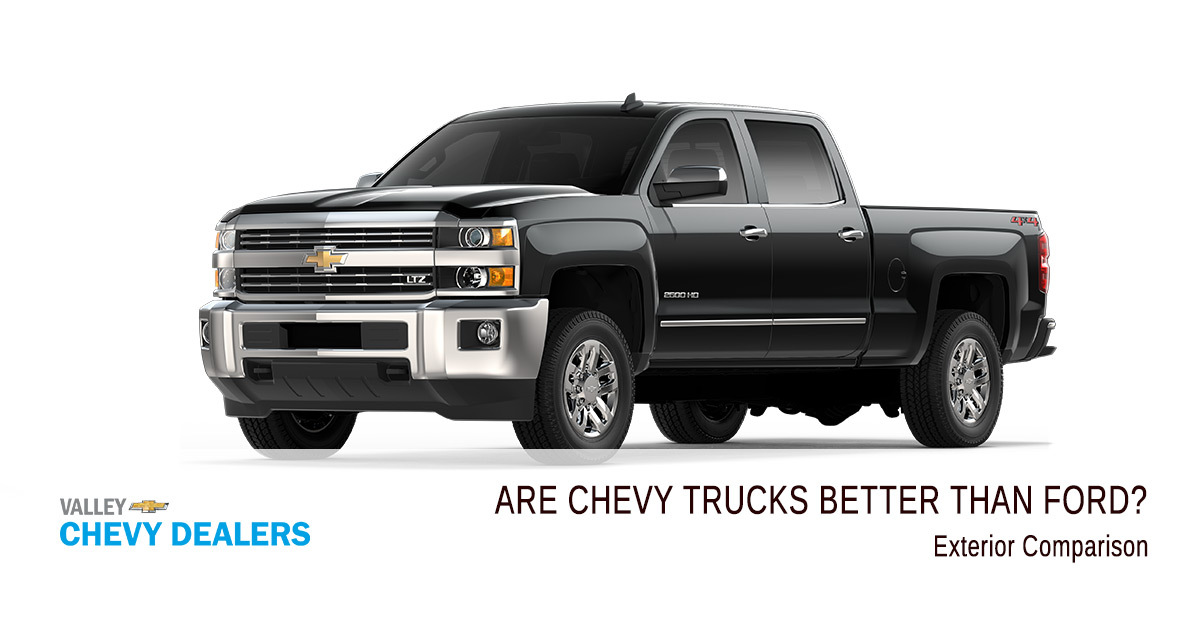 Nobody can deny that both Ford and Chevrolet offer great looking trucks. We like the slightly more nuanced subtlety in Chevy's design, but the appearances are similar enough that it comes down to a matter of personal taste. The essence of the material is far more important than the shape. Ford's aluminum body means more expensive repairs, while Chevy's durable steel is designed with less corrosion points to reduce repair cost and make maintenance fast and easy. The material choice gives Chevrolet a clear advantage in this category.
Ford vs. Chevy Interior Features
The Ford F-150's newest cabin offers comfortable seats, and the rear bench seat is spacious enough to comfortably seat three adults. The Silverado also comes with a roomy interior that's inviting even for those with long legs. Both manufacturers offer plenty of options to build a luxurious experience for passengers and drivers alike.
The F-150 Limited trim creates a pocket of comfortable elegance inside the body of a rugged work machine. The Chevy Silverado High Country trim still outclasses it with tasteful aesthetic choices, the Chevy MyLink infotainment system, and available active noise cancellation.
Test Drive Chevy and Ford Trucks
The Chevy Silverado does everything it can to earn its reputation as the America's highest quality truck. The F-150 still deserves a look though, as it is often considered a well-equipped vehicle.
The best way to decide which pickup is perfect for you is to get behind the wheel of both. To test drive the brand new 2018 Chevy Silverado, visit your neighborhood Chevrolet dealership. Valley Chevy dealers have locations all throughout the Valley of the Sun and Central Arizona. Come see us today, and we'll show you why we love our Chevrolet trucks.