Are Chevy Trucks Better Than Ford Trucks?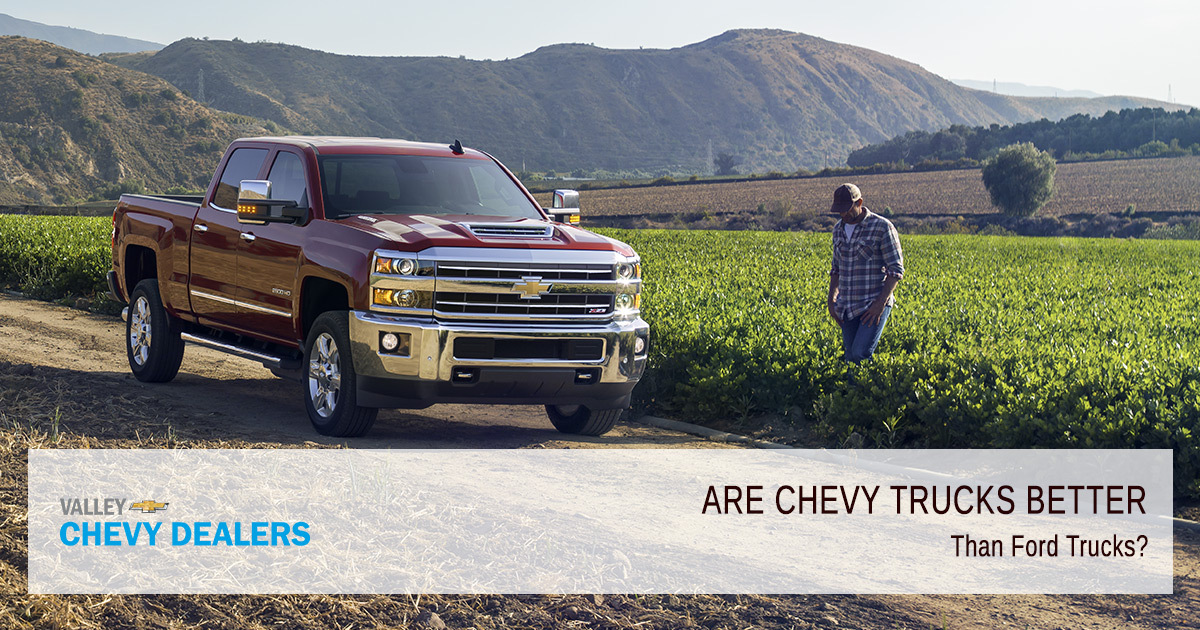 Updated: 12 April 2021
Are Chevy Trucks Better Than Ford Trucks?
Drivers who shop for a new truck often find that their best options come down to Ford vs. Chevy. Some people still choose RAM trucks, GMC trucks, Toyota trucks, or even Honda trucks, but there's a reason Chevrolet and Ford make some of the most popular trucks in the United States. 
Both companies have long histories of making capable, dependable pickup trucks people can rely on day in and day out. If you've already narrowed your choices down to Chevy vs. Ford trucks, you've come to the right place.
To really compare pickup trucks, it's important to make sure you're looking at vehicles from the same class. In other words, it's best to compare the Ford F-150 (or Ford Super Duty) with the Chevy Silverado and compare the Ford Raptor with the Chevy Colorado. Even before you take a look at the side-by-side comparisons of these specific trucks, though, there is one critical thing to think about on the brand level. Which of these legendary automotive brands is known for making the most reliable vehicles?
Chevy Vs. Ford Reliability
If you hang around with any pickup truck enthusiasts, you might hear them make comments like, "I'd rather drive a Chevy than push a Ford." Those quips are often rooted in years of experience, in which drivers find that their Chevy trucks just last longer and have fewer problems than Ford trucks. Still, that's anecdotal evidence. Even though Chevrolet already has a reputation for making the most reliable American vehicles, we still prefer to look at more concrete evidence.
First, let's turn to the experts. J.D. Power and Associates is undoubtedly one of the most respected automotive review organizations globally, and their experts speak highly of Chevy trucks. In fact, they selected the Chevy Silverado 2500HD as the large heavy-duty pickup truck with the highest dependability. Chevrolet racks up awards like this one, in part, because their engineers are so committed to quality and excellence.
The other reason Chevrolet is so known for dependability is that the company focuses on what matters most. Ford prides itself on selling as many trucks as possible, as well as on offering a bunch of different cabin configurations, engines, and other option groups. The problem with this mentality is that they're trying to learn how to make as many trucks as possible while also experimenting with several different designs. Leaders at Chevrolet seem to prefer keeping things simple, only producing and selling the trucks they know they can execute correctly.
Chevy Vs. Ford Trucks – Chevy Silverado Vs. Ford F-Series
If you're looking for a big truck to handle tough jobs, you're best off ignoring the smaller models. Instead, make your comparison between the Silverado and F-Series. Chevy creates a range of trucks under the Silverado name, while Ford occasionally likes to separate the F-150 from their larger models (the F-250 and up) by putting them under the "Super Duty" name. Compare these vehicles in a few different categories to see why so many savvy drivers ultimately choose Chevy.
Best Pickup Truck Engines
Engines are important to pickup truck drivers for obvious reasons, so this is a great place to start your comparison. The 2021 Ford F-150 offers more available engine options, but some of them are very similar to each other, and the large selection seems to have spread their engineers too thin. On the other hand, Chevy somehow provides a greater diversity of choices (ranging all the way from four to eight cylinders) without complicating a driver's selection by adding redundant options. After all, you can only put one engine in your vehicle.
Here's the full list of engine options for both of these American trucks:
3.3-liter V6 with 290 hp, 265 lb-ft

2.7-liter V6 with 325 hp, 400 lb-ft

5.0-liter V8 with 400 hp, 410 lb-ft

3.5-liter V6 with 400 hp, 500 lb-ft

3.0-liter V6 diesel with 250 hp, 440 lb-ft

3.5-liter V6 hybrid with 430 hp, 570 lb-ft
4.3-liter V6 with 285 hp, 305 lb-ft

5.3-liter V8 with 355 hp, 383 lb-ft

2.7-liter I4 with 310 hp, 348 lb-ft

6.2-liter V8 with 420 hp, 460 lb-ft

3.0-liter I6 diesel with 277 hp, 460 lb-ft
F-150 Vs. Silverado Towing
This category is a big part of why you see so many Ford and Chevy trucks on the road. They're both right at the top of the class, offering more towing capability than competitors like the RAM and others. If you select the 2021 F-150 with the 3.5-liter V6, your towing capacities max out at 14,000 pounds. The 2021 Chevy Silverado with a 6.2-liter V8 offers 13,300 pounds of max towing capability. You can be confident that either of these trucks will have plenty of power next time you need to pull something heavy. Before getting too caught up on the 700-pound difference, consider the limited payload space of the F-150.
Silverado Vs. F-150 Pickup Beds
In this particular category, the competition isn't even close. Ford prides itself on the F-150's max payload, but it can be hard to get anywhere near that because the beds on these trucks are so much smaller than those on other trucks. It almost becomes a vanity stat at some point, and you might as well be trying to fit all of your equipment into a sedan. The Chevy Silverado 1500 has more space in the bed than the F-150, no matter which type you choose (short, standard, or long box). In fact, the Silverado crushes just about every truck in this category, including the RAM 1500.
Just take a quick look at the numbers:
5.5-Foot Bed – 53 cubic feet of space

6.5-Foot Bed – 62 cubic feet of space

Eight-Foot Bed – 77 cubic feet of space
2021 Chevy Silverado 1500
Short Bed – 63 cubic feet of space

6.5-Foot Bed – 72 cubic feet of space

Eight-Foot Bed – 89 cubic feet of space
F-150 Vs. Silverado Technology
Some truck enthusiasts are excited by the new Ford F-150 cabin, and we can see why– Ford did add a lot of soft touches. Unfortunately, though, they didn't seem to put much thought into technology when making all of the upgrades to their flagship vehicle. The Ford F-150 has some limited trailering technology, but it just isn't competitive with the features you can get in a Chevy Silverado:
Up to 15 Available Camera Views

In-Vehicle Advanced Trailering system

Trailer Sway Control

Hill Start Assist

Auto Grade Braking

Electric Parking Brake Hookup Assist

Brake Gain Memory

Trailer Theft Alert
Silverado Vs. F-150 Price
Given that the new Silverado is absolutely loaded with today's latest and greatest technology, you might expect it to cost an arm and a leg. Well, prepare to be pleasantly surprised. The new Silverado is actually more affordable than the new F-150. The Chevy truck's starting price is only a little bit lower, but the difference in cost gets much more significant as you move up through the trim levels. Compare performance, features, and technology at different price points to see how the Silverado offers more value on every budget.
Ford Vs. Chevy Trucks – Chevy Colorado Vs. Ford Ranger
This is the comparison to make if you're looking for a slightly smaller pickup truck that still has some good capabilities. These trucks have been rivals for a while, but it doesn't seem like much of a competition when you compare the 2021 Chevy Colorado vs. 2021 Ford Ranger.  The new Colorado blows competitors out of the water for a few primary reasons:
1 – Small Pickup With a Diesel Engine
The Ranger is only available with the 2.3-liter four-cylinder engine that produces 270 horsepower and 310 pound-feet of torque. Those are respectable stats, but they're nothing compared to the 2021 Colorado engine options. Drivers can upgrade from the four-cylinder to a V6 or even a Duramax Turbo-Diesel engine. The Raptor just can't keep up.
2 – Better Passenger Space in a Small Pickup
There are two big problems people often have with small trucks: power and interior space. The diesel engine resolves the power problem, and Chevrolet provides plenty of room on the inside as well. The 2021 Colorado is more spacious than the 2021 Ford Ranger, offering more legroom in both the front and the rear.
3 – Best-in-Class Tow Ratings for the 2021 Colorado
Given the discussion of engines, it might not be a surprise that the Chevy Colorado can tow more than the 2021 Ford Ranger. The Ranger's one and only engine choice can tow up to 7,500 pounds, while the Chevy Colorado's Duramax Turbo-Diesel manages 7,700. This isn't a huge difference until you need it.
Are Chevys Better Than Fords?
If you've taken a look at all of the information above, you already know the answer to this question. In our opinion, Chevy trucks are far superior to Ford trucks, which is a big part of the reason we sell so many of them all over the Valley of the Sun. Reliability is always a big decision for drivers in this part of the world because desert conditions can be so tough on cars. The Silverado and Colorado's performance, technology, and towing capabilities only make the decision even easier for drivers looking for the best truck in 2021 or beyond.
Test Drive a New Chevy Truck
After you look at a side-by-side comparison like this one, you might be left wondering why anyone would ever drive a Ford truck instead of a Chevy truck. Sometimes people don't really look into their purchasing decisions, and other drivers might just be such brand loyalists that they don't care if their truck is inferior. Everyone is free to make their own buying decisions, but our goal at every Valley Chevy dealership is to make sure our buyers are informed. It's not our job to sell you on a car– it's our job to help you find a vehicle that meets your needs, works for your lifestyle and fits within your budget.
More often than not, we find that informed car shoppers choose either the Silverado or Colorado after comparing Chevy vs. Ford trucks. Still, reading about these different models is only the beginning of the process. We always recommend that you take a car for a thorough test drive before making your final decision. When you visit a Valley Chevy dealership, we'll make sure you understand all of the features and capabilities, so you can get the most out of your test drive. 
Find the nearest location to get started today.