2022 Bolt EUV Review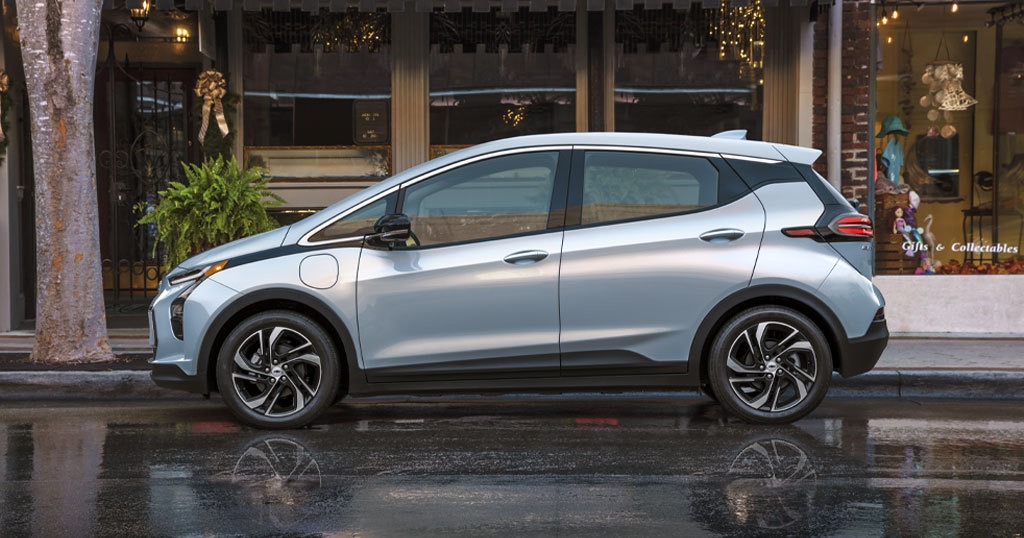 This might be the biggest Chevrolet Bolt news since the original Chevy EV won MotorTrend's 2017 Car of the Year award. One of the most affordable electric vehicles on the market is getting a sibling: the Bolt EUV. This electric SUV is a natural continuation of Chevrolet's mission to make electric vehicles more affordable to be accessible to more people. If you've been waiting for a relatively inexpensive electric vehicle that also offers plenty of space, you'll be delighted by this new electric SUV.
2022 Chevy Bolt EUV Review
If you were hoping for a 2021 Chevy Bolt EUV, we regret to inform you that it's not going to happen. The good news, though, is that the engineers at Chevrolet are taking their time to ensure that every aspect of their vehicle will be ready for a successful launch in the 2022 model year. Already, the early reviews from organizations like Car and Driver and MotorTrend have been positive:
Car and Driver's review takes note of the "competitive estimated driving range, perky acceleration, high-tech standard features" and affordable starting price before declaring that the new Bolt EUV will help bring electric vehicles into the mainstream.

MotorTrend seems to sing a similar tune, noting that "a Bolt EUV with a 250-mile range gets you a lot of automotive technology for $33,995." They also note that the Bolt EUV is an excellent buy for anyone with long highway commutes, especially when they choose the Premier trim level and Super Cruise. This combination, says MotorTrend's 2022 Bolt EUV review, "probably represents the biggest vehicular quality of life increase $40,695 can buy."
2022 Bolt EUV Overview
The new Bolt EUV (Electric Utility Vehicle) was inspired by SUVs, bringing EV efficiency to a class typically dominated by gas guzzlers. Its roots (in the Bolt EV hatchback) are also on display, but this vehicle is roomier than its sibling. The new Bolt EUV also looks more rugged on the exterior and could even draw comparisons to some of the other SUVs in Chevy's lineup.
The electric motor can churn out 200 horsepower, and it gets its energy from a 65-kWh battery pack that can deliver up to 250 miles of range on a single charge. It will be available in late 2021 and should stand up nicely against the Hyundai Kona Electric, the Ford Mustang Mach-E, and even the Tesla Model Y. Expect the Bolt EUV to separate itself from those other options with a relatively low starting price to go with its attractive styling and available semi-autonomous driving system.
Bolt EUV Performance
The 200 horsepower electric motor comes with every version of this electric SUV, as does front-wheel drive. All-wheel drive won't be an option at this time, even though the rugged appearance makes it easy to imagine this vehicle tearing through off-road trails. Given its respectable but not overwhelming level of horsepower, you may be surprised by how quickly your vehicle accelerates thanks to the instantaneous power delivery that defines EV performance. 
The Bolt EUV range is competitive for the segment, and it's maximized by things like regenerative braking that recaptures energy as you drive. The regenerative braking feature also allows for one-pedal driving, making life just a little bit easier for drivers. Car and Driver estimates that this EUV will be able to go from a complete standstill to 60 miles per hour in only seven seconds, which is certainly respectable for an SUV of almost any type. They also note that solid handling and a good deal of comfort are defined by the ride, even when the roads are rough.
Bolt EUV Range and Charging
Chevrolet estimates that the 65-kWh battery pack in this vehicle will be able to provide drivers with up to 250 miles of range on a single full charge. For anyone who's keeping score, this means the Chevrolet option is competitive with just about every other electric SUV, and it's not even too far behind the Tesla Model Y with its large battery pack and a 326-mile range.
When it comes to charging your Bolt EUV, you may be pleasantly surprised to find that you can get the job done with a standard 120-volt outlet at your home. If you need to get charged up and back onto the road faster, you may want to consider having a 240-volt connection installed. Since the EUV is capable of DC fast charging, you can get up to 95 miles of additional range in only 30 minutes.
2022 Chevy Bolt EUV Interior
The new electric SUV from Chevy looks nice on the outside, and the stylish appearance continues once you get inside. The seat upholstery is covered with triangles in a geometric pattern that make this car look especially modern (which, of course, it actually is). You can also expect to find thoughtful touches such as a push-button gear selector and flat-bottom steering wheel that come completely standard on every model of the 2022 Bolt EUV.
When you consider its size relative to the original Bolt EV hatchback, you'll find this newer offering to be bigger in pretty much every dimension. It's longer, taller, and wider, with most of that extra space going toward the comfortable rear seat, where the legroom is more than three inches better. The one downside to making the rear seat so roomy is that it leaves slightly less of a cargo area, but most drivers shouldn't have a problem fitting everything they need into this vehicle.
2022 Bolt EUV Technology
Once you consider just how innovative this vehicle is in its entirety, you won't be so surprised to discover that it's also loaded with some of the best infotainment and connectivity features available in today's automotive industry. The gauge display has been digitized, and everyone in the vehicle will appreciate the large 10.2-inch infotainment touchscreen, which ends up being a lot like having an entire tablet built into your vehicle. Use it to control things like the integrated climate controls, the music, and just about everything else you want on the road.
When it comes to available connectivity features, this vehicle has it all. It has a WiFi hotspot built right into the vehicle, and it has no problem connecting to different types of phones. Android Auto and Apple CarPlay are almost expected at this point, but the addition of Amazon's Alexa is a nice touch. If you want to stay connected to your vehicle from anywhere, just use the smartphone app to see charging alerts and connect with nearby charge networks.
2022 Bolt EUV Safety
This vehicle also uses state-of-the-art technology to keep people safe and make life easy for drivers. Key safety features include all of the following:
Standard automated emergency braking with pedestrian detection

Standard-lane departure warning and lane-keep assist

Available adaptive cruise control with semi-autonomous driving mode
Buy the 2022 Chevy Bolt EUV
Based on all of the Chevrolet Bolt news this vehicle is generating, we're guessing it will be in high demand right away. The good news is that you can reserve yours to ensure you get one as soon as possible. 
Contact a Valley Chevy dealership to get started.