2018 Chevy Volt Fuel Efficiency & Gas Consumption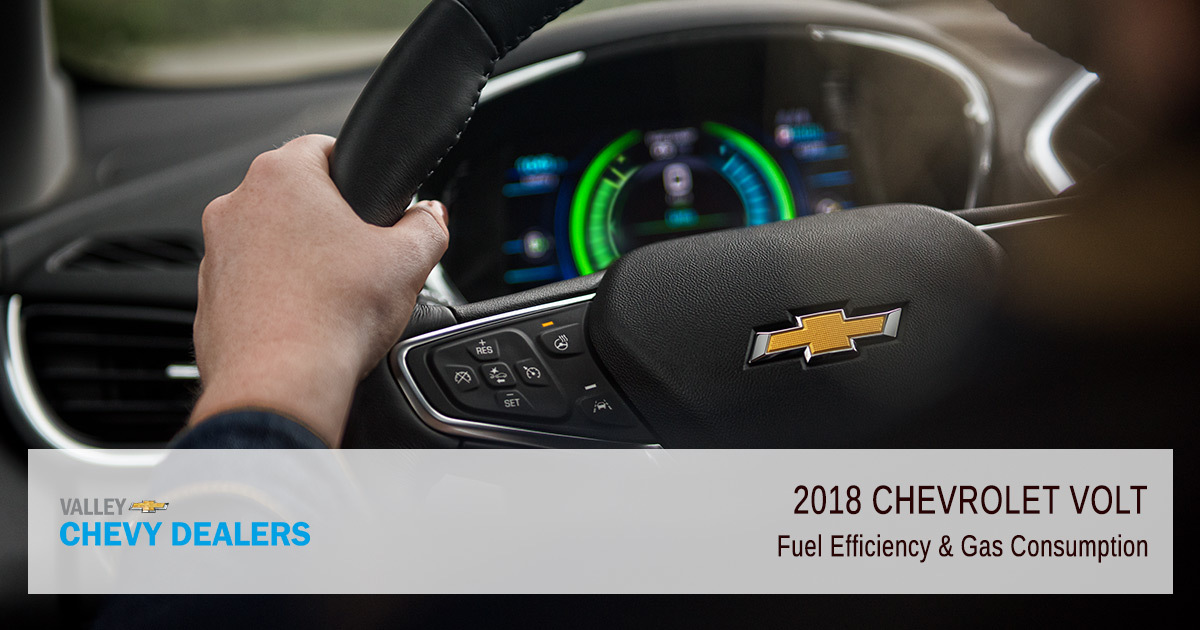 The 2018 Chevy Volt is a plug-in hybrid compact sedan that combines a battery powered electric capability with a regular gas engine. It's been a favorite of hybrid fans since first hitting the road in 2012, and has been getting better and better ever since. The Volt gives you the advantages of an Electric Vehicle (EV) for shorter commutes, including an ultra-quiet ride, but with the knowledge that you always have that gas engine to keep you going after the pure electric mode range has been reached. Given that the Volt has an impressive 53 mile range, with both the LT and Premier trims, with a fully charged battery, that may not be too often, especially if you're just using it in the city to get to work or run errands. But when that short trip ends up turning into a long one, the hybrid Volt has a total range of 420 miles.
2018 Volt Fuel Mileage
In terms of actual costs, the same report estimates that driving Chevy's Volt will save $4,250 in fuel costs over 5 years compared to a typical gas-powered vehicle getting 27 MPG. Your savings could be even greater if you drive a lot, or currently drive a car that doesn't get 27 miles per gallon. The average annual cost of fuel (both electric and gasoline) is estimated to be $700, and driving 25 miles will cost $1.01 in electric mode, and $1.68 driving on gas only. There are big savings to be had if you mainly use the Chevy Volt in electric mode, which is easy for many people who drive 50 miles or less each day. Simply plug in your Volt when you get home and you'll have a fully charged car ready and waiting the next day.
2018 Volt Fuel Efficiency
But what about fuel economy? This takes a little longer to explain as the Volt is a plug-in hybrid, meaning it can operate in different modes. When running using the gas engine, the US Department of Energy gives the Volt a perfectly respectable combined city/highway rating of 42 miles per gallon (mpg), which is not bad for a conventional sedan. But when operating in pure electric mode, it gets a combined city/highway rating of 106 miles per equivalent (mpe). This is the mileage the Volt gets using an amount of electricity with the same energy equivalent as a gallon of gasoline, which allows you to see how much more energy efficient the electric mode is.
See also: 2018 Chevy Volt vs Toyota Prius
Test Drive a New Volt in Phoenix Today
The 2018 Volt has also been described as a sporty, fun ride so you don't have to give that up to get great fuel economy and mileage. Stop by your nearest Valley Chevy dealership to test drive one and see for yourself.