Locate a Dealer
The 2018 Chevrolet Volt and 2018 Toyota Prius are some of the most popular choices for fuel-efficient cars, and for a good reason. Both offer advanced technology, smart design, and a bunch of great features to improve the driver's experience.
Even with all of the hard work Toyota puts into the Prius, the new Volt gets a slight edge. The Prius was groundbreaking in its time, but electric technology and other hybrids are catching up to it. Chevy's Volt earns a better review from The Car Connection and other renowned car reviewers because of its strong performance and superior looks.
Download Brochure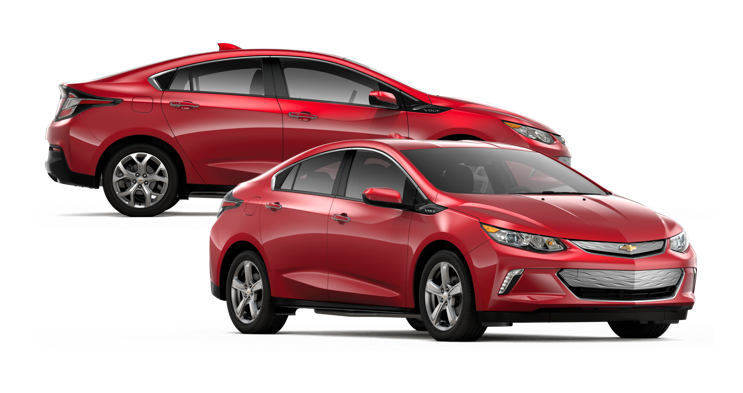 WHAT'S NEW?
The 2018 Chevy Volt remains mostly consistent with the 2017 model, but adds three new paint options for the exterior. It also includes a newly available driver assistance package with blind-spot monitoring, rear cross-traffic alert, and rear parking sensors.
The Prius hasn't changed much at all since 2016. That's when Toyota gave their hybrid a complete overhaul including an exterior redesign that left automotive enthusiasts scratching their heads.
Download Brochure
THE EXTERIOR
Chevy's three new exterior color options make it even easier to get the look you want. The 2018 Volt has a mature exterior design that looks right at home amongst other fashionable compact vehicles. Superior engineering gives it the aerodynamic profile to increase gas mileage. Tasteful design gives it the rare benefit of being an attractive hybrid.
Toyota might be late to the realization that hybrids can look good now. The most recent redesign of the Prius has been horribly received by critics. It features angular headlights and crimped body surfaces that look like a hurried first draft.
Download Brochure
INTERIOR
Despite being a compact car, the Volt offers a more spacious interior than the Prius does. Passengers will find more legroom and shoulder room in the Volt, and the added comfort makes a big difference when the car can go so long without stopping. The Volt has the quietest cab in its class at 70 miles per hour.
Car and Driver sums it up well when they say that the Prius sees an incongruity between its price and the interior features. There's a lot of plastic inside this vehicle, and the information gauges are towards the center of the dash, so the driver has to look away from the road to see them.
Download Brochure
SAFETY
Safety matters as much as any other feature of a vehicle, if not more. It's important to know that your car will keep you and your passengers safe in the unfortunate event of a crash. The 2018 Chevy Volt outscores the Prius in crash test ratings. Superior crash test performance and more advanced driver assistance feature makes for a much safer vehicle overall.
The Car Connection couldn't find a single crash test where the Prius performed better. Toyota's hybrid fared the worst in the side pole rating driver front seat crash test, where it earned only two out of five stars.
Download Brochure
2018 CHEVY VOLT
Locate a Dealer
TEST DRIVE ONE TODAY
There's no denying that the 2018 Chevy Volt has received better safety ratings than the Prius. The more refined style is a matter of personal preference, and there's no accounting for taste. The only real way to get a feel for which of these vehicles you'll be happiest in is to drive both and see how you like it in person. More importantly, get a feel for how it handles on the road.
Test drives are available at your local Arizona Valley Chevy dealerships.
Download Brochure
CHOOSE VOLT
The choice between the Prius and Volt is much easier after conducting thorough research across all categories. More legroom in the Volt creates a more comfortable experience for passengers, so they'll actually be excited to take your car. It doesn't hurt that the Volt also looks much nicer. Superior safety, better comfort features, and better style combine to make the 2018 Volt a clear winner.
1.5L
ENGINE
STANDARD
42
MPG
HWY10
17"
ALUMINUM
WHEELS
Download Brochure