2018 Chevy Cruze Trims & Options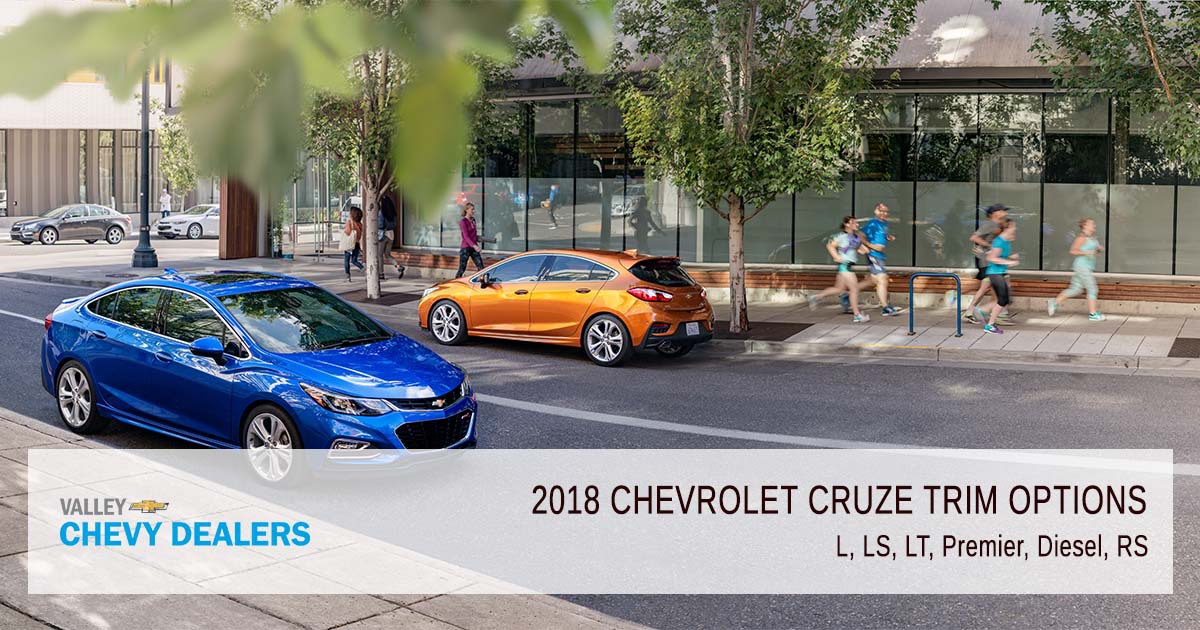 The 2018 Chevy Cruze is loved by drivers all over Arizona because of its versatility and usefulness as a daily driver. It's easy to decide that the Cruze is going to be your next car because of all the amazing features it offers. The only hard part is deciding which of the 2018 Cruze trims is just right for you. The 2018 Cruze offers plenty of good choices with eight trim levels and 13 possible configurations overall. Compare the different Cruze trim levels to make sure you're getting exactly the features you want.
2018 Chevrolet Cruze Trims
The different combinations make it easy to get the options you can't live without, and not pay for anything extra. The Cruze configurations are plentiful; guaranteeing you will find the right trim to match your lifestyle.
Cruze L Trim (Manual)
This is the most basic model of the 2018 Chevy Cruze. It offers drivers all the necessities with a low starting price of $17,850. If you can skip out on all the bells and whistles for your next daily driver, this is exactly the trim level for you. It comes in Summit White or Silver Ice Metallic on the outside, and gets 32 miles per gallon combined with a 153 horsepower 1.4-liter engine. The manual transmission has six speeds, and drivers experience front-wheel drive.
L Features:
Seven-inch MyLink touchscreen display
Apple CarPlay and Android Auto
Manual external mirrors
Hand brake for parking or emergency braking
Steel wheels (15 inches)
Center console with sliding armrest
Electric power steering
Projector headlights with LED accents
Heating
Four-speaker sound system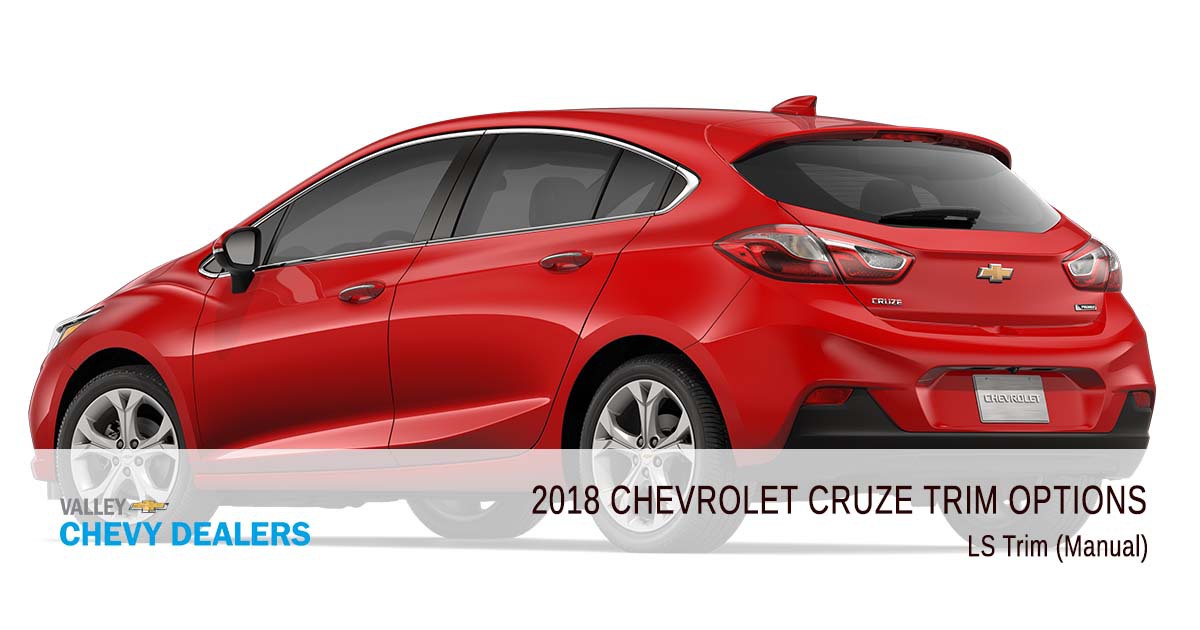 Cruze LS Trim (Manual)
The LS Manual is perfect for drivers who can drive stick, but want to add a little bit more style and comfort. It starts at $19,400. Drivers get front-wheel drive and a six-speed manual transmission. The Cruze LS has the same engine and gets the same mileage as the L trim level, but gives drivers more control of the look by adding even more new colors.
Everything in the LS includes L Trim features.
LS Features:
Rear view backup camera
Air conditioning
Deluxe steering wheel features
Folding rear bench seat with 60/40 split
Armrest for the rear seat
Pedal-mounted parking brake for foot operation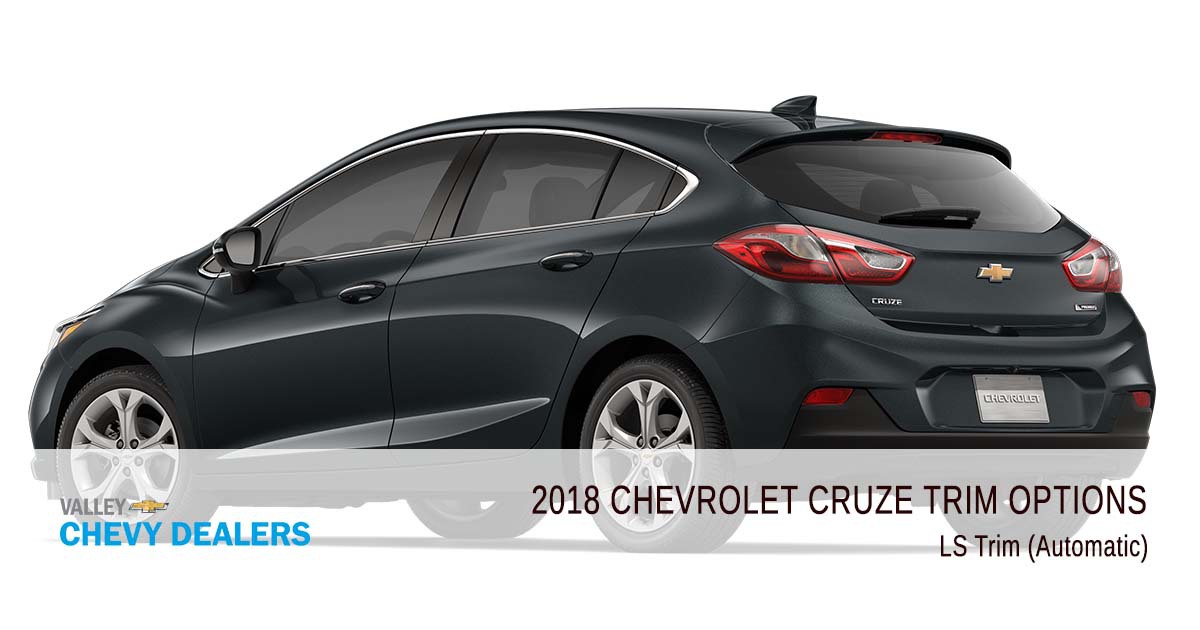 Cruze LS Trim (Automatic)
The Cruze LS Auto offers the same basic package as the LS Manual trim level, but now includes an automatic transmission. This can be a huge benefit for drivers who prefer not to drive stick, and can make for much easier commuting in cities or heavy traffic. The automatic transmission also helps this trim get slightly better gas mileage. MSRP starts at $20,400 for this Cruze trim.
You get the best of both worlds with the LT trim as it includes all of the LS features plus some for a mere $1,000 more onto the sticker price.
LT Features:
Steering wheel control interface
Cruise control
Optional safety belt assurance system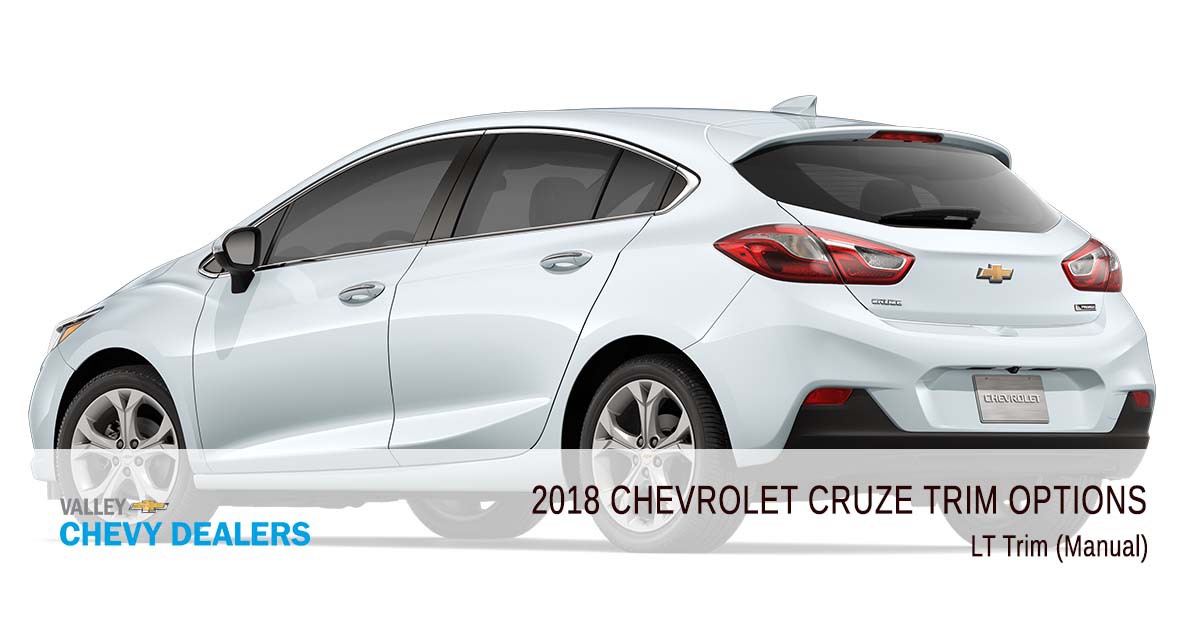 Cruze LT Trim (Manual)
The Cruze LT Manual trim level starts to add even more stylistic choices for drivers. It is available as a classic sedan or a hatchback. The sedan and hatchback both offer many color choices to round out the palette and let drivers have a lot of control over how they express themselves to the world with their new car. Both the hatchback and the sedan come with front-wheel drive and a six-speed manual transmission. The 153 horsepower 1.4-liter I-4 engine gets 32 miles per gallon combined in the sedan, and 31 miles per gallon combined in the hatchback. The sedan starts at $21,795, and the hatchback starts at $22,195.
The LT hatchback also includes the following specs.
LT Hatchback Features:
Optional heated front bucket seats
Double rear reading lights on the interior
Front passenger seatback pocket
Enhanced electric power steering
Bright Trim
SiriusXM Satellite Radio
Manual outside mirrors with heating technology
Cruise control
16-inch aluminum alloy wheels
USB ports for charging on the go
Projector headlights with LED accents
Audio system with six speakers
Fog lamps
Optional wheel locks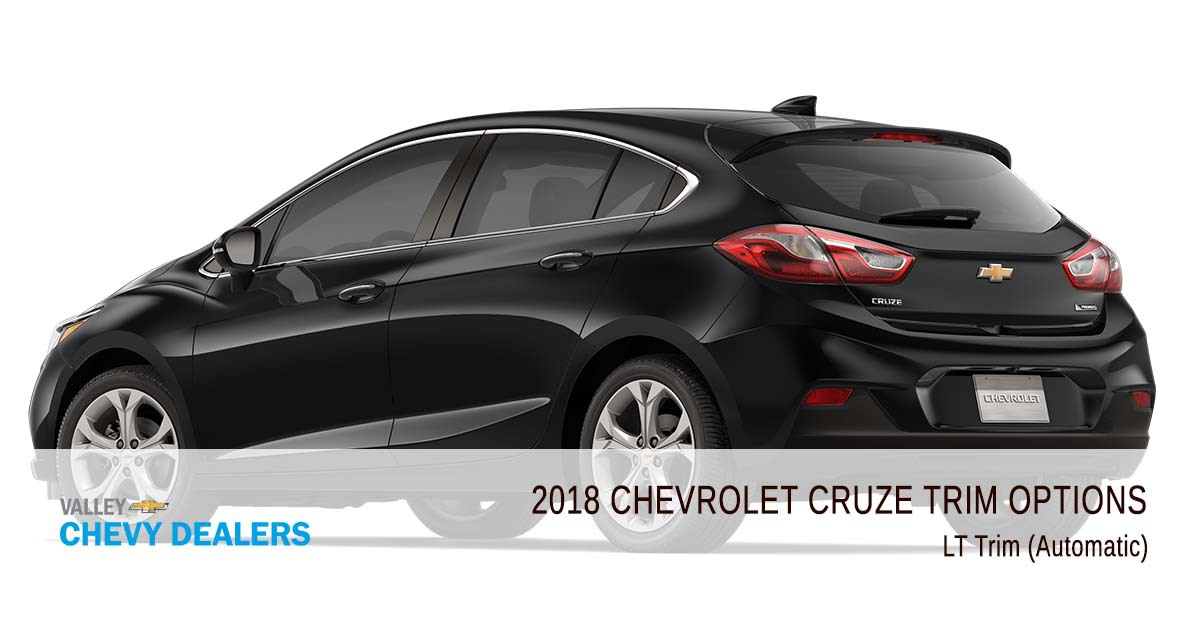 Cruze LT Trim (Automatic)
The Cruze LT Auto is on the same level as the LT Manual with the exception of the upgraded transmission. This change helps increase the mileage per gallon to 33 MPG combined for the sedan and 32 combined MPG for the hatchback. The sedan starts at $22,395, and it's $22,795 for the hatchback.
The LT trim in the automatic Cruze comes with the following.
LT Automatic Features:
Optional remote start
Optional illuminated vanity mirrors in visor
Optional Bose premium sounds system with nine speakers
Optional splash guards for front and rear
Available front fog lamp kit
Available rear spoiler
Optional power sunroof
Optional all-season Blackwall tires
Optional ambient lighting
Optional driver assistance and safety alert features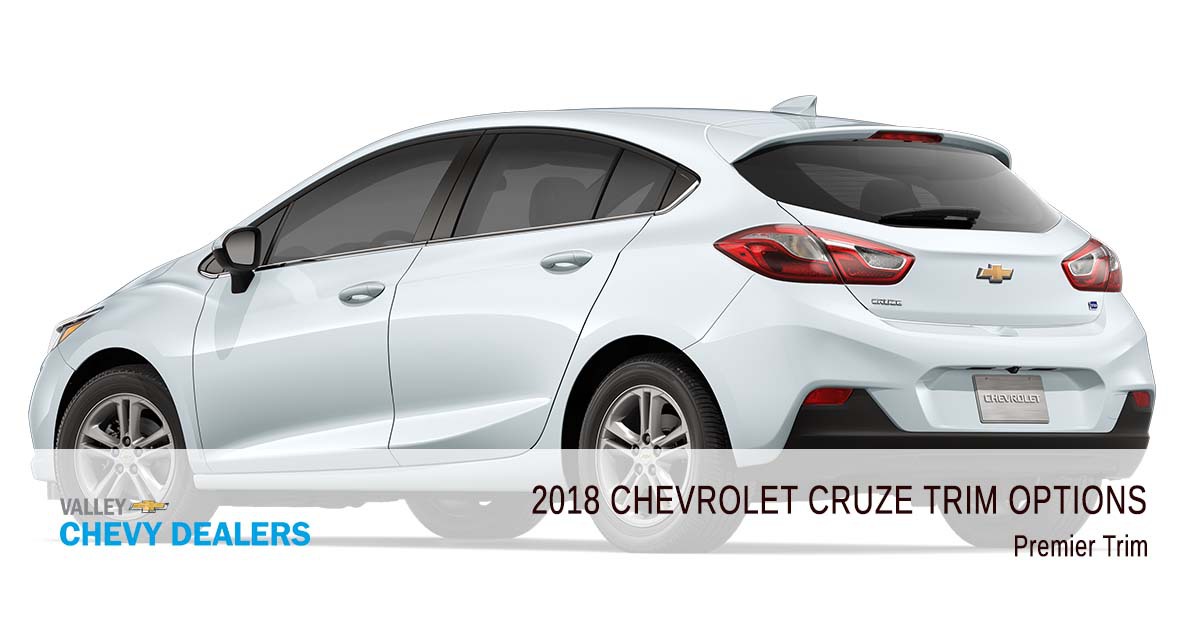 Cruze Premier Trim
The 2018 Chevy Cruze Premier trim level only comes with an automatic transmission, and it has a bunch of other great additions as well. Choose from either the sedan or the hatchback. Both are equipped with front-wheel drive and a six speed automatic transmission to go with the 153 horsepower I-4 engine. The sedan starts at $24,395 and gets 33 miles per gallon combined. The hatchback starts at $24,895 and gets 31 miles per gallon combined.
If you really want to turn heads, check out the features that go into the Premier Cruze.
Premier Features:
Seats with leather features
Heated steering wheel
Leather steering wheel wrapping
Power adjustable driver and passenger seats with multi-directional control
Heated external power mirrors
Turn signals in external mirrors
Aluminum wheels (17 inches)
Illuminated vanity mirrors in visors
Z-link suspension in rear
Chrome features for extra shine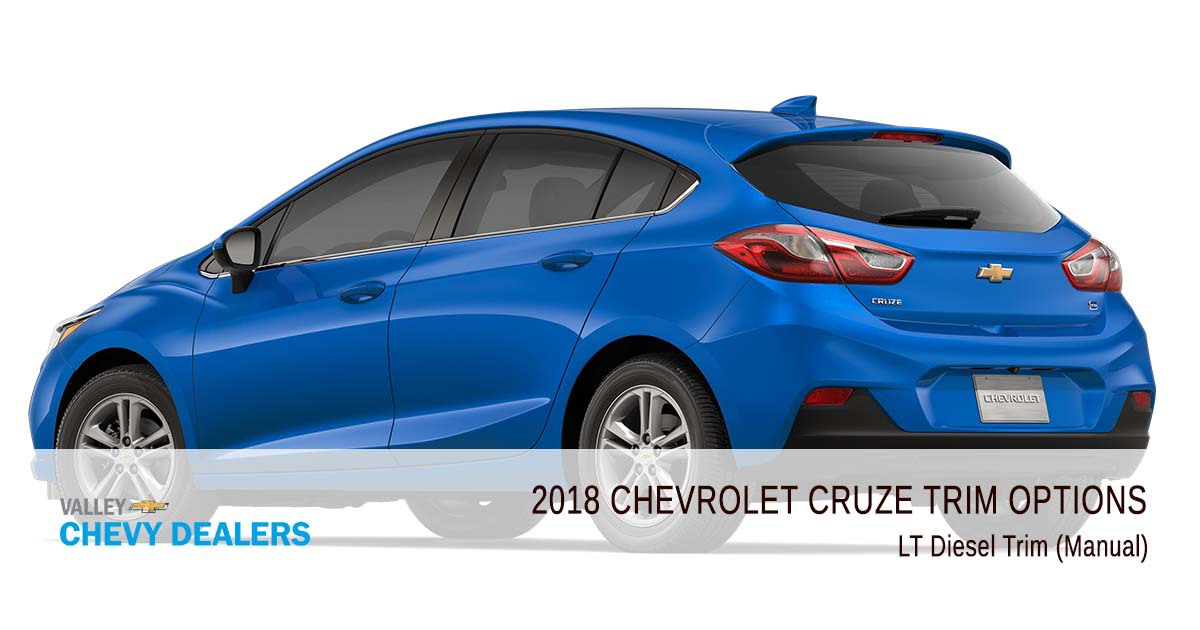 Cruze LT Diesel Trim (Manual)
The Chevy Cruze LT Diesel Manual takes things up a notch by adding diesel to the equation. This trim is available as a hatchback or sedan, and both come with a six-speed manual transmission. The transmission gets its power from a 137 horsepower 1.6-liter diesel engine. Both cars are front-wheel drive, and there are extensive exterior color choices for both the sedan and hatchback. The sedan gets 37 MPG combined, and the hatchback gets 35 combined MPG. This trim level starts at $24,695 for the sedan or $26,395 for the hatchback.
Want to get a few extra miles out of each gallon of gas? Try the diesel Cruze!
Diesel Features:
Optional oil pan heater
16-inch aluminum wheels
Standard all-season Blackwall tires
Optional cargo net in trunk area
Convenience package standard
Deluxe steering wheel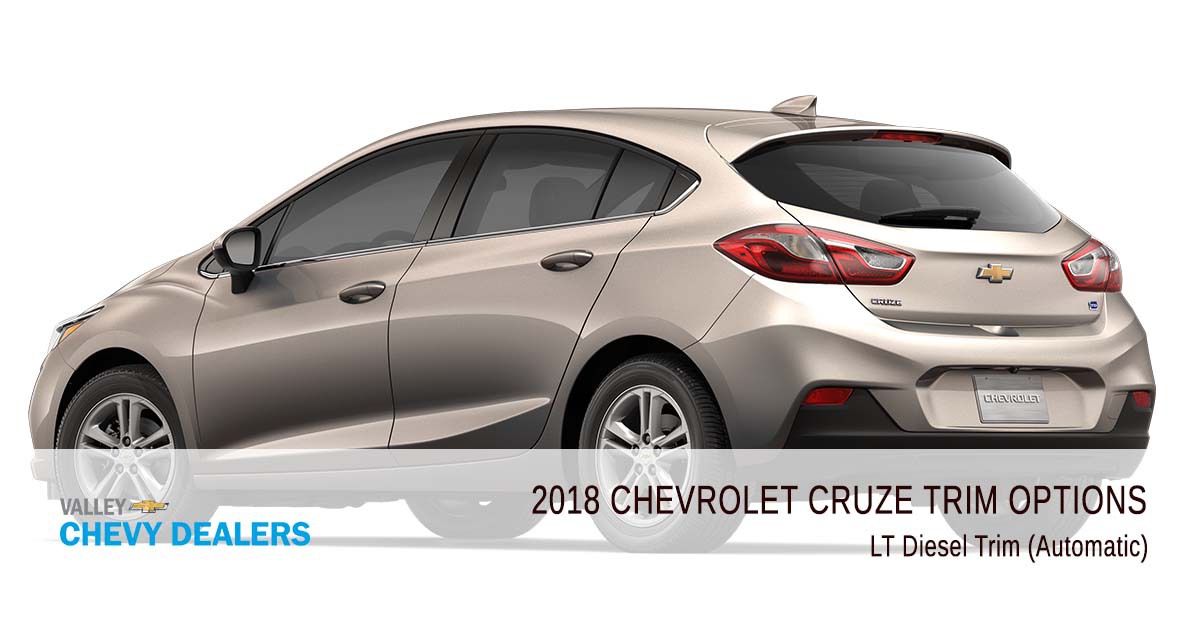 Cruze LT Diesel Trim (Automatic)
The automatic version of the Chevy Cruze Diesel brings an improved nine-speed automatic transmission with auto-manual capability. The starting prices are $25,420 and $25,920 for the sedan and hatchback respectively. This is the cream of the crop for this year's Chevy Cruze, and gives drivers a terrific impression of this new Chevrolet.
The diesel automatic adds a few more bells and whistles.
Diesel Automatic Features:
Optional driver confidence package
Optional power sunroof
Available 2018 Cruze Packages
If you want to enhance your chosen trim level even further, look into the following option packages to really put a cherry on top of your sweet new ride. Some packages are not available on all vehicles, so check with your local Chevy dealer in the Valley of the Sun to see which packages are available at your preferred trim level.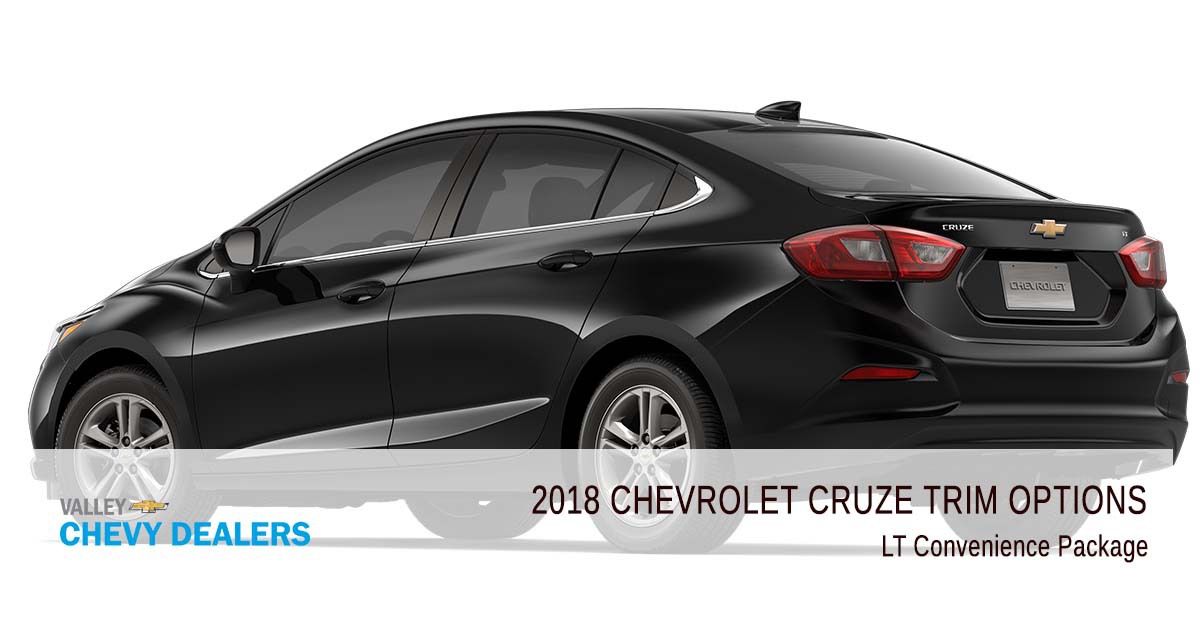 LT Convenience Package
Choose this package to make your daily commute just a little bit more luxurious and convenient. The Chevy LT Convenience includes three great features.
Keyless start
Keyless access
Eight-way powered driver seat adjustment for maximum comfort
LT Tech & Convenience Package
This package makes the drive more fun both for you and all of your passengers. It lets you bring all the comforts of home (and then some) with you when you hit the road. Your co-pilot will thank you.
Power sunroof
Bose sound system with nine speakers
Keyless access and keyless start
Eight-way power driver's seat
Upgraded infotainment center
Ambient lighting throughout the interior of the car
Illuminated vanity mirrors in the visor for both driver and front seat passenger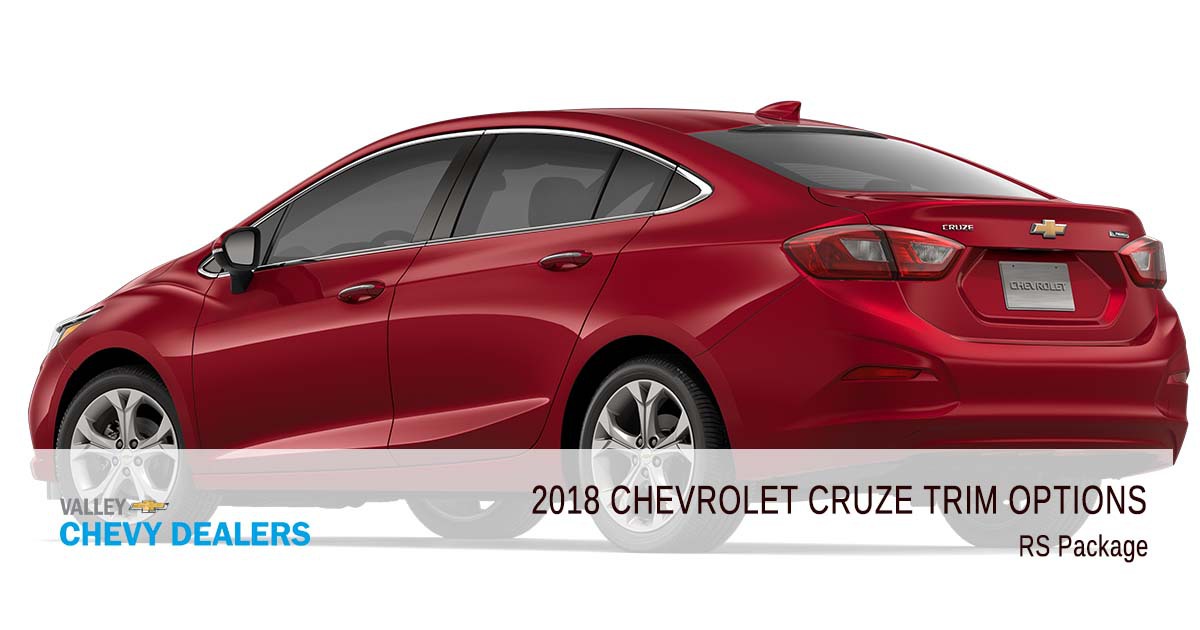 RS Package
Just because the new 2018 Cruze is a perfect daily driver doesn't mean it can't be have some sporty fun. The RS package gives the car a high-performance aesthetic by introducing additional features for a more aggressive posturing.
Rear spoiler
Fog lamps
Sport body kit
RS lettering badge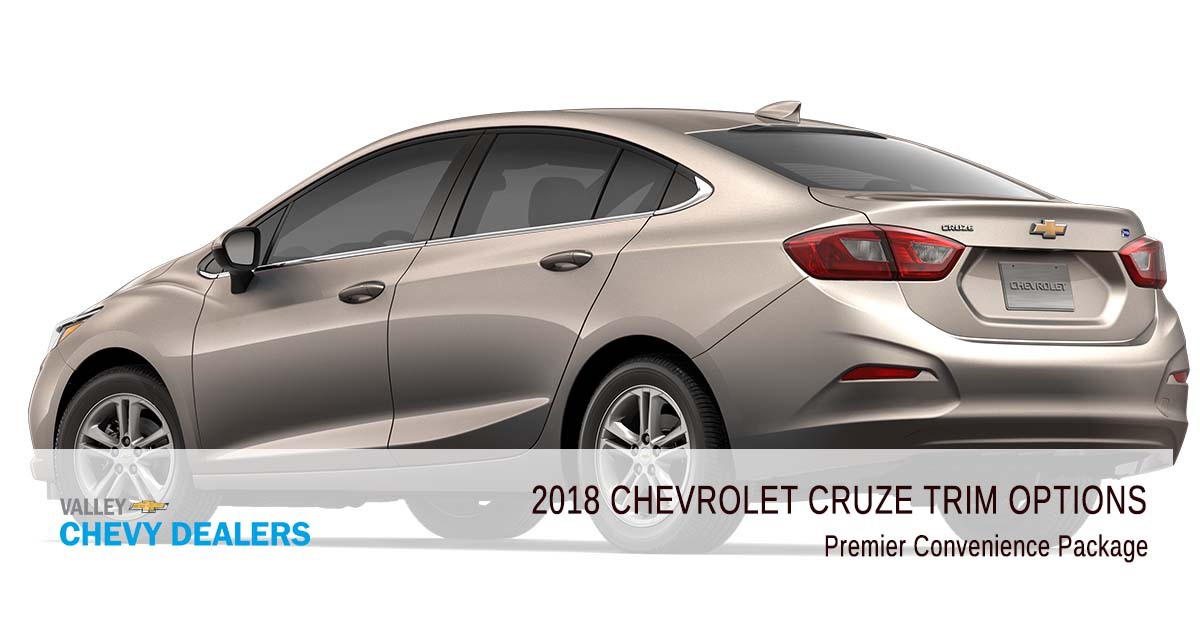 Premier Convenience Package
This package adds some extra pizazz to an already stylish premium trim level.
Heated rear seats
Wireless charging for smart devices
Automatic climate control
Additional power outlet
Automatic dimming for rearview mirror
Express power windows for one-touch control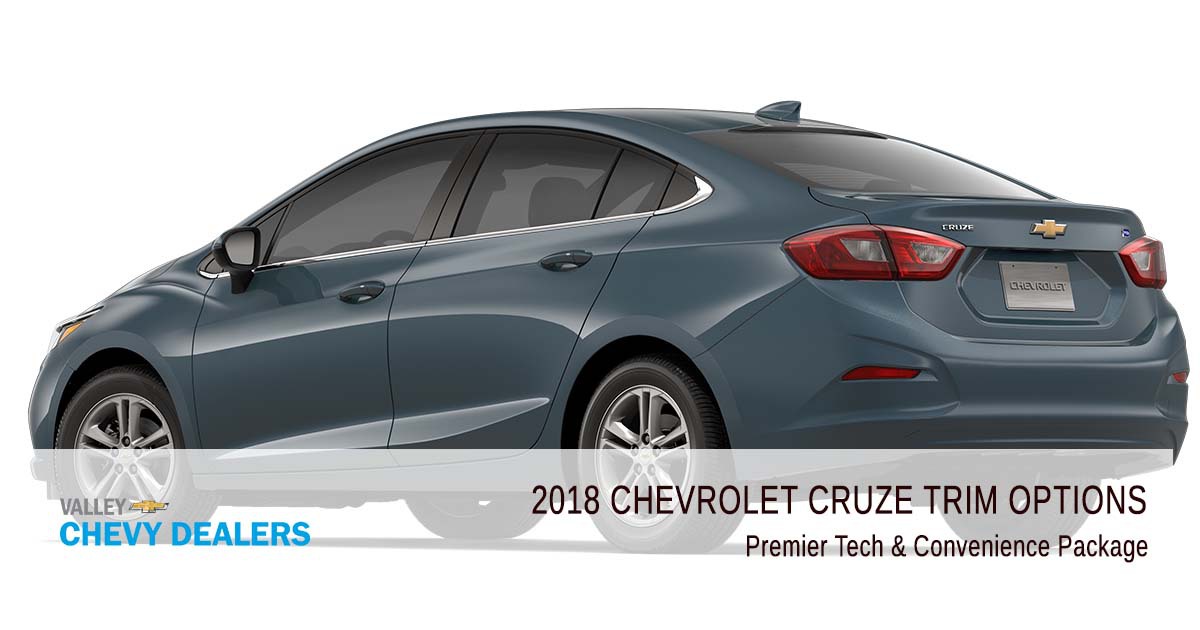 Premier Tech & Convenience Package
This package throws everything Chevy has at the new 2018 Cruze. All the bells and whistles are included, and it makes the Cruze the best driving machine it can be.
Power sunroof
Eight-inch touchscreen with built in navigation technology
Bose audio system with nine speakers for flawless sound
Driver information center
Heated rear seats
Wireless charging capability for your smart devices
Automatic climate control
Power outlet
Automatically dimming rearview mirror
Power windows with one-touch control
Where to Test Drive a New 2018 Cruze in Phoenix
Come play with all the new gadgets Chevy is offering in the new 2018 Cruze by taking a test drive. Visit your local dealership in the Valley of the Sun, where you can find the perfect trim level and options package to optimize your driving experience.
2018 Chevrolet Cruze Features & Specs Infographic

Share this Image On Your Site