2018 Chevy Bolt EV Safety Rating
The new Chevy Bolt is an all-electric car that can deliver a whopping 238 miles on a single charge according to EPA estimates. That makes it one of the best EVs available, but what about safety? Fortunately, the Chevy Bolt is a winner here too. In the most recent U.S. News & World Report rating, the 2018 Chevrolet Bolt earns a perfect 10 out of 10 for safety on each of its LT and Premier trims.
2018 Chevrolet Bolt EV Safety Features
The Bolt did well in all crash tests and was labeled superior in crash avoidance and mitigation with optional equipment. The Bolt comes with all the standard safety features you would expect, such as ten airbags, which includes front knee airbags and rear side airbags. The OnStar emergency system also comes standard. For the safest driving experience, opt for the Bolt Premier trim and add the Driver Confidence package. This gets you a whole range of safety-minded features, including blind-spot monitor, forward-collision warning, rear parking sensors, lane keeping-assist, lane departure warning, and rear cross-traffic monitor.
2018 Bolt Crash Test Safety Ratings
Chevy's Bolt EV was also selected as a Top Safety Pick by the Insurance Institute for Highway Safety (IIHS), making it the only electric car to receive that designation. The IIHS performs its own crash tests and requires the cars it honors to perform well in a comprehensive set of crash test scenarios. If you want a car with exceptional mileage, that's good for the environment, and which keeps you safe, then the 2018 Chevy Bolt is for you.
You know the Chevy Bolt is a safe and reliable car from the warranty offered. In addition to a three-year/36,000 mile standard warranty, the electric powertrain comes with a five-year or 60,000 mile warranty. As for the batteries and electric components, they are covered with an incredible eight-year or 100,000 mile warranty so you need not worry about whether your new electric vehicle will stand up. In fact, by going with a plug-in all-electric vehicle like the Bolt, there's a lot less that can go wrong, which gives you added peace of mind as well as keeping repair costs down.
2018 Chevy Bolt EV Safety Comparison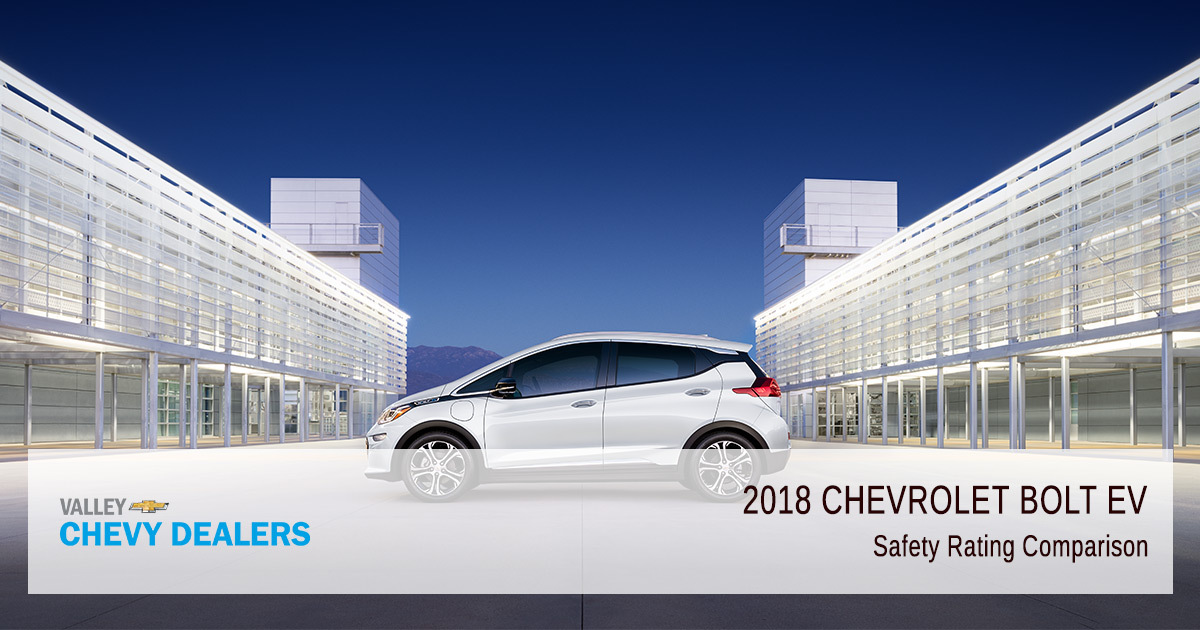 The Bolt is powered by a nickel-rich lithium-ion battery which has already proved itself in the hybrid Chevy Volt, and which can be charged overnight so you are always good to go. It's as easy as remembering to charge your cell phone, and the Chevy Bolt can also be topped up anytime, meaning you don't have to wait for the battery to run down before charging again. Click here to see how the Nissan Leaf compares to the Bolt.
Test Drive a 2018 Chevy Bolt in Phoenix Today
If you are looking to own an all-electric vehicle that scores high on safety, contact your nearest Chevy dealer in Phoenix to schedule a test drive of the Chevy Bolt (2018).