2018 Chevy Volt Reliability & Customer Satisfaction
Hybrid cars have been around for a while now and have a number of advantages that make them attractive to consumers, as they combine the economy and efficiency of an electric car with the range of a gas-engine vehicle; regardless of whether you opt for the LT or Premier model. You end up getting the best of both worlds. But without reliability, this doesn't count for much, as a car that's always in the shop or makes you nervous to drive isn't worth much. Thankfully this need not be a concern if that car is the Chevrolet Volt. It has been recognized as a standout among plug-in electric hybrids by Consumer Reports, Edmunds.com, and U.S. News and World Report.
2018 Volt Part & System Ratings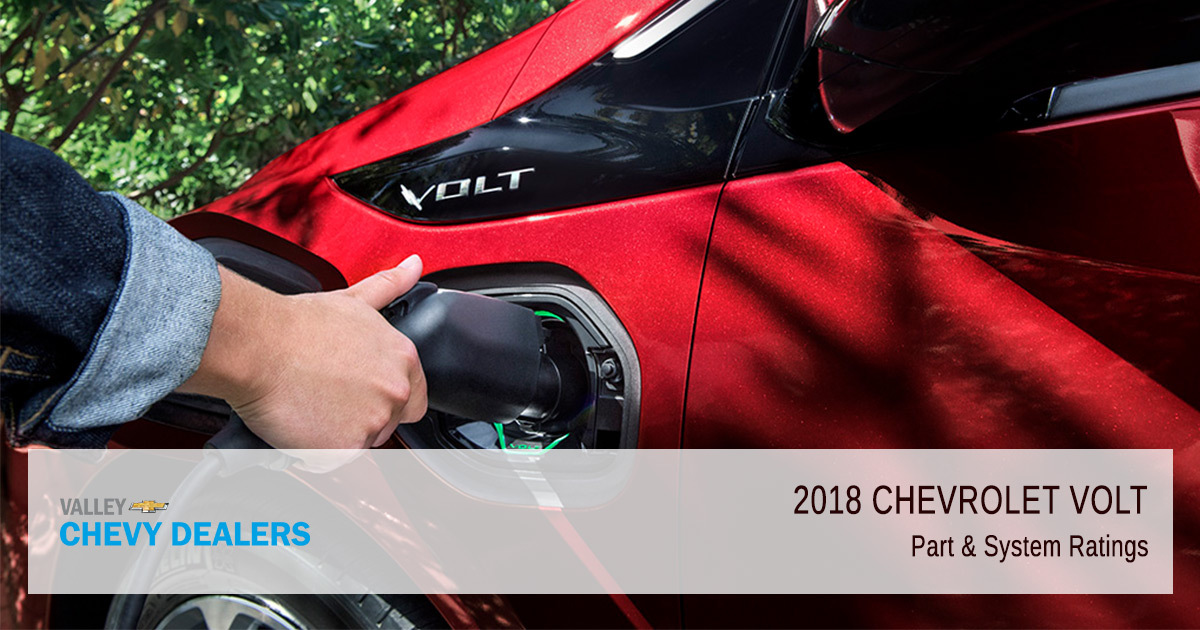 The Volt allows you to drive up to around 50 miles in pure electric mode, which is more than enough for most city commuters, who need never use any gas to get to work and back. After that, the gas engine kicks in, giving you the range of a conventional vehicle, and storing energy from braking in the battery as with any hybrid. This dependability means you get the benefit of cheap electric travel, with the knowledge that if you do need to go on a longer trip, you can rely on your brand new Volt to get you there. It also means you can still rely on it to get you where you need to be even if there is no easy way to plug in. Simply rely on the gas engine until you get the battery charged up again.
2018 Volt Reliability Ratings
The more reliable something is, the more likely someone is to stand by it. It's all right there in the warranty that allows you to choose the Volt with confidence. The Volt comes with an industry standard bumper-to-bumper warranty for three years or 30,000 miles, which extends to five years or 60,000 miles for the powertrain. But what can really give you confidence in the Volt's reliability is the eight-year or 100,000-mile warranty on the hybrid components, and that includes the battery.
2018 Volt Overall Owner Satisfaction
The reason Chevrolet can offer this is down to the excellent design and quality of the Volt, which has now proven itself over many years of providing reliable transportation in the most comfortable, economical, and environmentally friendly manner. It's what driving should be.
See also: 2018 Volt vs Toyota Prius, Who Wins?
Test Drive the New Volt in Phoenix Now
To try out the best plug-in electric hybrid compact sedan available, contact your nearest Chevrolet dealership to arrange a test drive of the new Volt today!